I asked, you guys answered! We're in the initial planning stages of our kitchen reno (eek!) and I'm already feeling overwhelmed. After meeting with a cabinet maker, he had so many questions about storage and the ins and outs of our cabinetry. I want to take full advantage of all the space we have and these kitchen reno must haves you all suggested are definitely helping me plan things out better.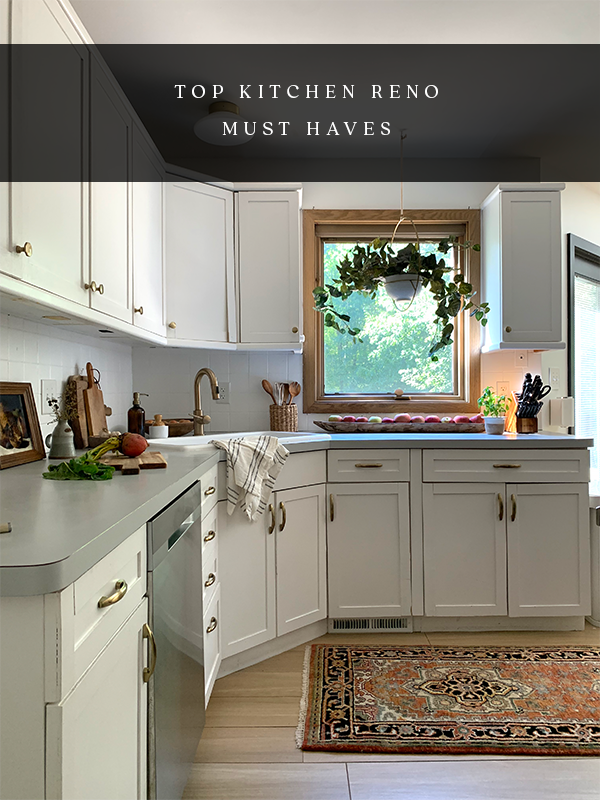 KITCHEN RENO MUST HAVES
DRAWERS, DRAWERS, DRAWERS!
This was by far the #1 answer. So many of you said you opted for drawers over cabinets on the bottom because they are much more efficient for storing things and things don't get lost in the back of a cabinet. It's also easier on your back, not having to squat down all the way on the floor trying to dig in a cabinet for something.
Going along with this, is making sure you have a large, deep drawer where you can store all your pots and pans. I found this storage idea for the lids and thought it was so cool! You'd just need to make sure it's tall enough for your lids and that if you ever buy new ones, they will still fit.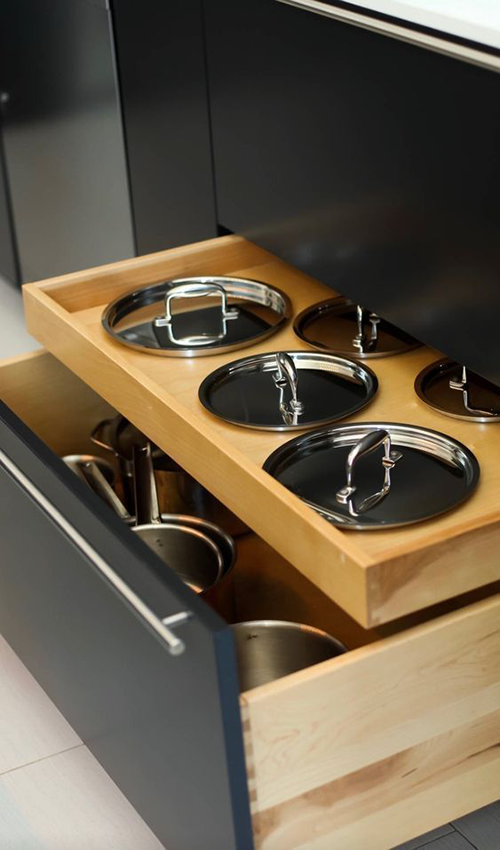 source unknown
TRASH/RECYCLE PULL OUT DRAWER
The second most popular response. This was already on my list and I'm SO excited about. Dilly AND Oakley both love to get into our garbage so I'm really looking forward to having it hidden away! I also recently saw an idea from Chris Loves Julia to have a little storage area right behind the cans to keep extra bags – genius! Or another trick is to keep extra bags at the bottom of the can so when you take out the full bag, you can just reach down and grab another!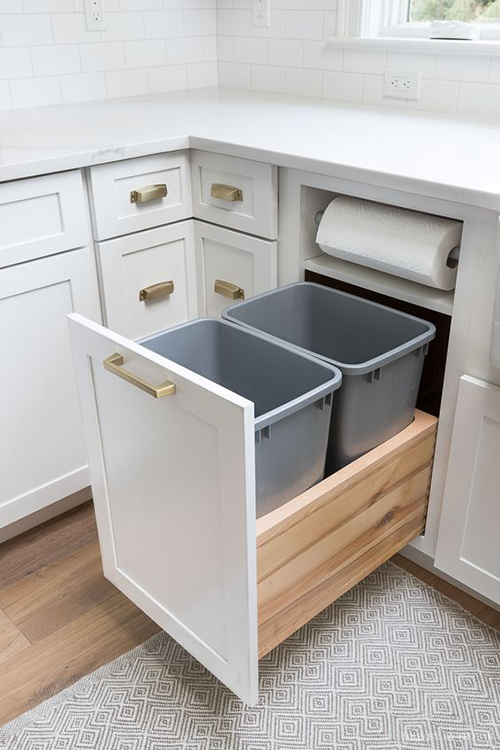 HIDDEN PAPER TOWEL DRAWER
You can put this in the same drawer with the trash. I've also seen it in it's own little insert but exposed so you can still access it. Or some people like having it attached underneath an upper cabinet. I'm all about getting as much stuff off the counters as possible, so we'll probably integrate ours into the trash drawer somehow.
PULL OUT SHELVES IN CABINETS
If you do have cabinets with shelves, make sure those shelves can be pulled out so you can still access everything in there! We will def be doing this in our tall pantry cabinets.
SPICE DRAWER/PULL OUT
Spice drawers are having a MOMENT right now. And for good reason. Who doesn't have a black hole spice cabinet where they can never find what they need? I feel like we just end up buying new spices because we're too lazy to dig through and see what we have. A drawer or skinny pull out rack is so much more functional! Not sure which we will do yet but I'm EXCITED.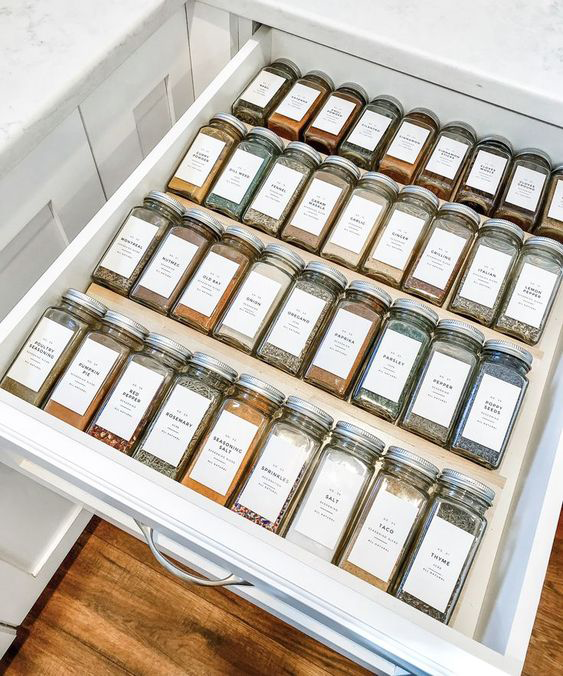 SOFT CLOSE DOORS/DRAWERS
An absolute must – especially with littles who like to slam things 😉
CUTTING BOARD OVER THE TRASH
This is super clever. Instead of grabbing a cutting board, just pull one out and drop all the scraps through the hole right into the trash!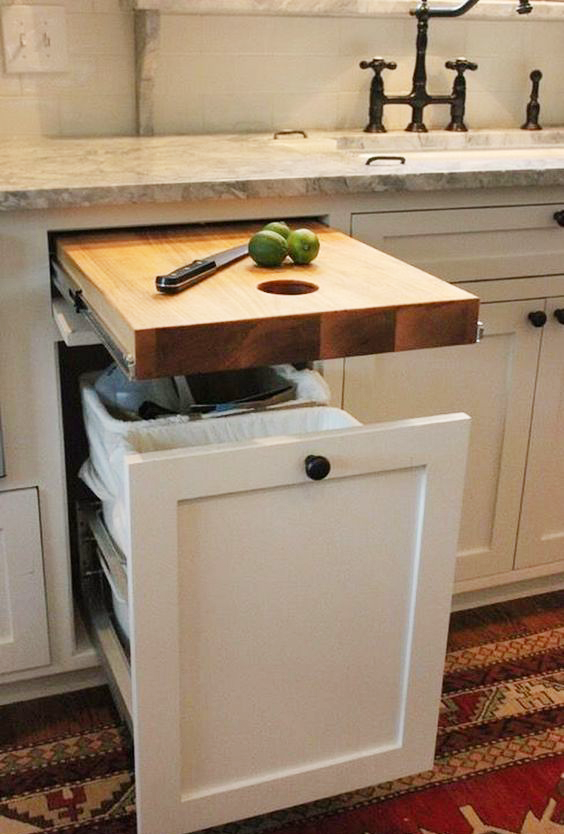 TOE KICK STORAGE
This was something our cabinet maker mentioned the first time we met and I thought it was such a cool idea! It's mostly used for cookie sheet storage since it's so shallow your options are limited what you can put in there.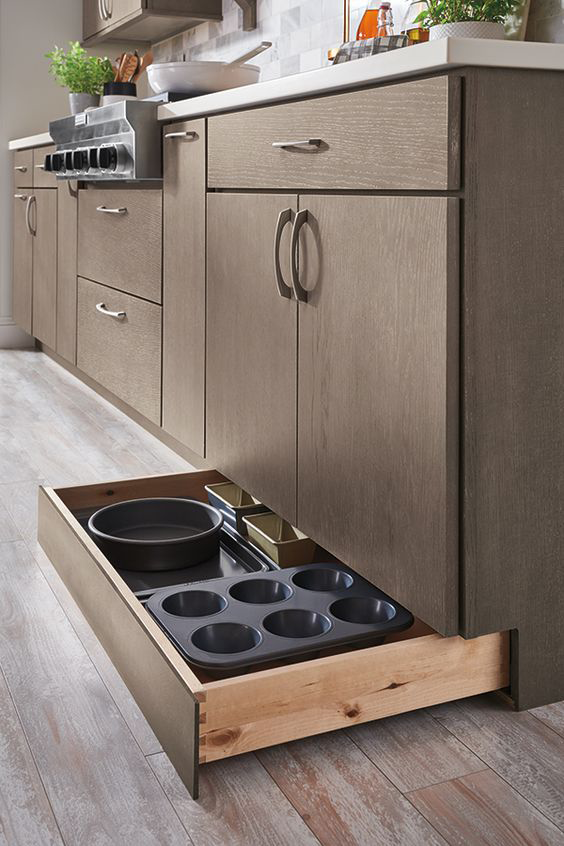 OUTLETS UNDER UPPER CABINETS
Instead of having outlets as eye sores on the backsplash, hide them underneath your uppers and you'll never even know they're there until you need them. You can also get skinny outlet strips for extra plugs!
DOORS ON BACK OF ISLAND FOR EXTRA STORAGE
If you have enough room in your island to do this its'a great way to use some otherwise wasted space. And with the counter stools there you'll never even notice them.
COOKIE SHEET STORAGE
If you don't do hidden toe kick storage for your cookie sheets, there are a few other options. Dividers in the cabinet above your fridge, a pull out drawer with vertical dividers or a skinny pull out rack.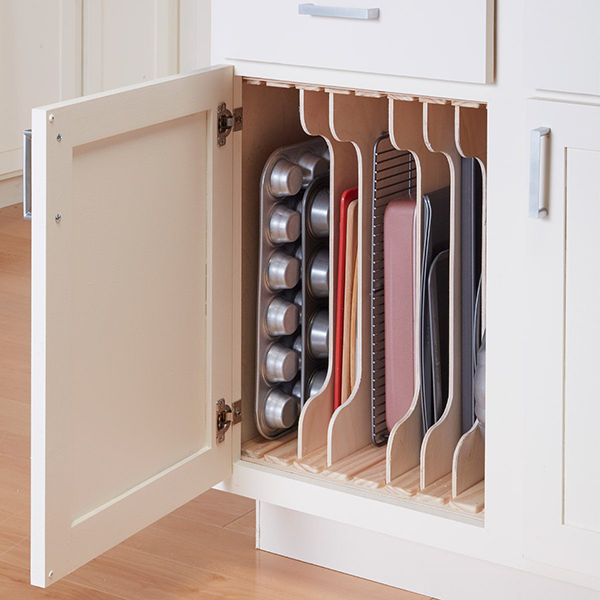 MICROWAVE DRAWER OR PULL OUT
I very much dislike having our microwave out on our counter. It's such an eye sore and I can't wait to hide it away. We plan to put ours in a tall pantry cabinet but you could also do a microwave drawer, which is exactly what it sounds like. Instead of opening like a door, it pulls out like a drawer and you put your food in it. You can put it on the backside of your island or in a more inconspicuous spot.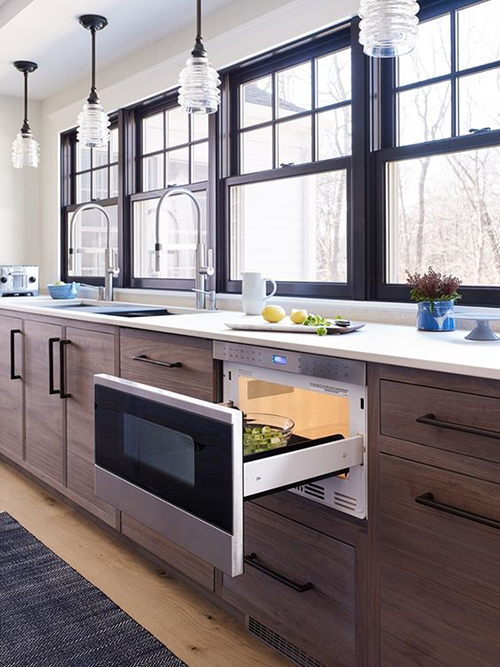 APPLIANCE GARAGE
Get all the appliances off the counter, am I right?! These are usually little areas within a pantry cabinet or section of cabinets on the counter where you can hide all your small appliances behind a door that easily opens when you need to access them. Make sure you put outlets in there for them!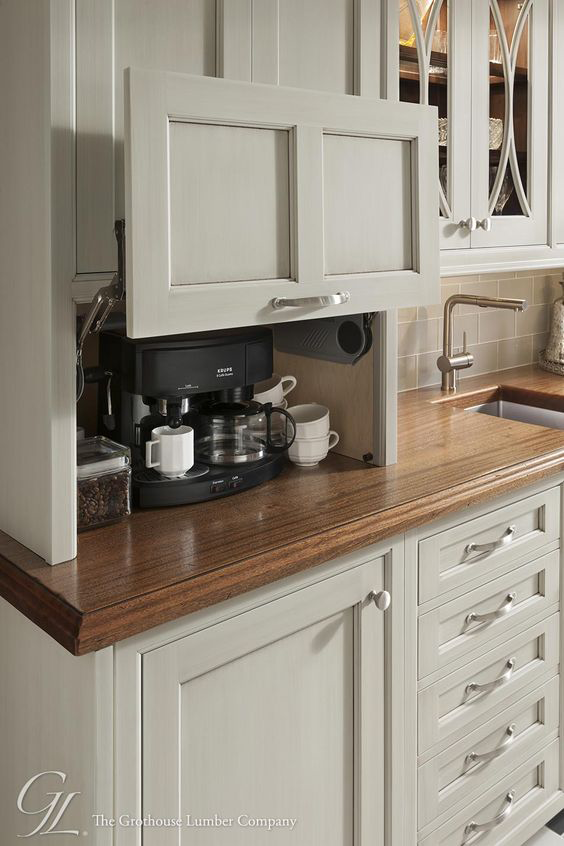 UTENSIL AND KNIFE DRAWER ORGANIZER
This is something we're leaning towards doing that I think will be much better than our current situation. It gets the knives off the counter and puts the utensils in an easy to access yet concealed place.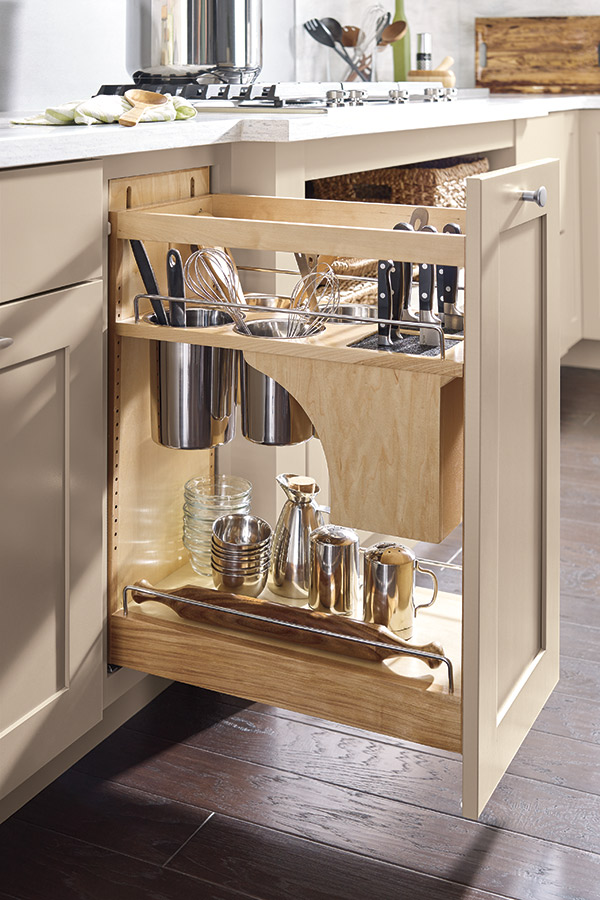 KNIFE DRAWER
If you don't do the above, a knife drawer is a great idea. Also, having a moment right along side the spice drawer, these are becoming super popular lately. You can purchase these inserts online or have your cabinet maker build it right in to your drawer.
UNDER CABIINET LIGHTING
We won't have any uppers to do this on but I definitely would if we did! Perfect lighting for the evenings so you can see your counters.
SINGLE BOWL SINK WITH HOSE AND DISPOSAL
I'll never NOT have a sink with these features. I need all the space I can get in the sink without a middle divide getting in the way. Our current faucet has a pull down hose but I'm not sure our new one will so I will def be getting a separate hose. I'm constantly using it to wash all the crumbs and debris off the sides and out of the corners of the sink into the disposal. Which is another absolute must have. I'd be lost without my disposal.
KITCHENAID STAND IN CABINET
I'm definitely in the minority here but I don't own a kitchenaid mixer! I have a handheld mixer I use which I get by just fine with and for the amount of baking I do, it works for me! But if you do have a mixer, these pull out stands are so cool!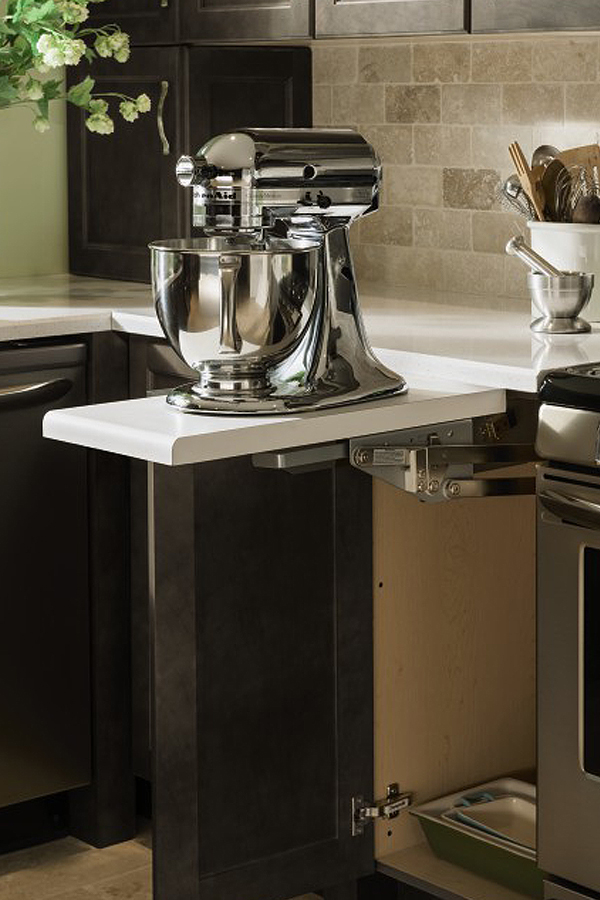 ELECTRICAL DRAWER FOR HIDING AND CHARGING PHONES
I love this idea of not only having a designated spot to charge your phones, but that it can be hidden. We all need to forget about using our phones more anyway 🙂
BROOM CLOSET
This is so clever! It was on my list and now I'm second guessing it because I actually don't ever use a broom! ha. Our cordless Dyson is plugged in in our laundry room which I use constantly. I don't know if we'll have enough space to make it large enough for the Dyson or we'll just do it anyway and I'll become a broom person :-p Stay tuned!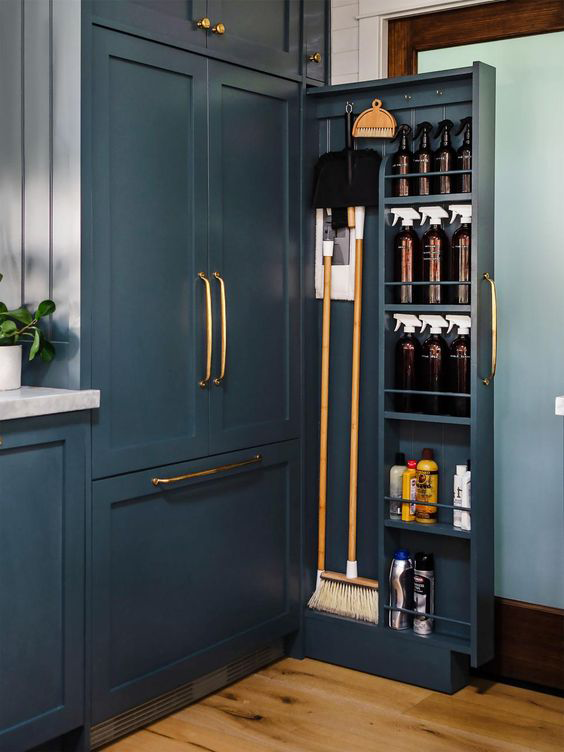 POT FILLER
In my dream kitchen I would definitely have one of these but I'm not sure yet if it will work for us in our space. Our sink isn't far from the oven anyhow, but I do love a good pot filler!
HAT WATER TAP
I didn't even realize these were a thing, but such a great idea if you live somewhere where the weather gets cold and especially if you're a tea drinker!
OUTLET ON ISLAND
I'm always sitting at our island doing work and my laptop is constantly running out of juice. My cord reaches the wall but it then creates a game of limbo for the kids and always ends up getting pulled out. Def putting an outlet on our island!
COFFEE STATION
Having a designated area for coffee/tea creates such an enjoyable experience! If you don't want it all out on the counter, you can put it all away similar to an appliance garage situation where the door lifts up.
PEG DIVIDERS IN DRAWERS
A great way to store plates/cups etc. in your drawers without having them move around and bump into one another. Plus the pegs can be moved around so you can change the size and shape!
This is all getting me very excited for our kitchen reno – I'll be sharing some inspo soon and then my mood boards! Hope these ideas help inspire you too if you're thinking about a kitchen makeover!