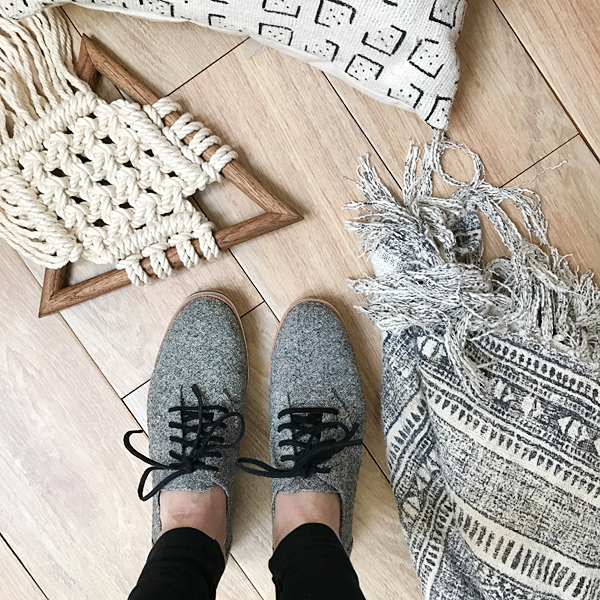 This post is sponsored by Floor & Decor. All opinions are my own.
We're getting closer and closer to installing our new hardwood tile floors in our bedroom! Ahhh. I'm so happy with the one we picked and I wanted to share with you guys a little bit about how we came to our decision and our trip to Floor & Decor to pick it up!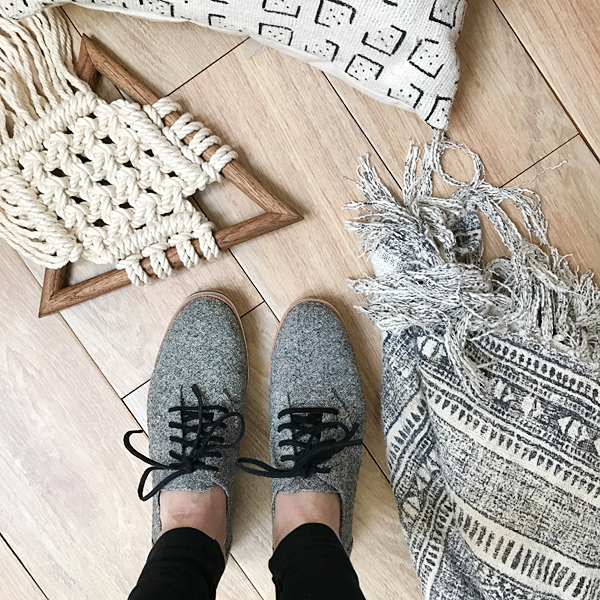 We had to travel a little ways to get the tile but it was totally worth it and such a great experience to see the store and how everything works. We went to the store in Hilliard, OH so if you're nearby you definitely need to check it out! We had a tour scheduled and had two amazing guides that were incredibly knowledgeable; Joe and Jerica. You could tell they both knew what they were talking about and were very informative and answered any and all questions we had.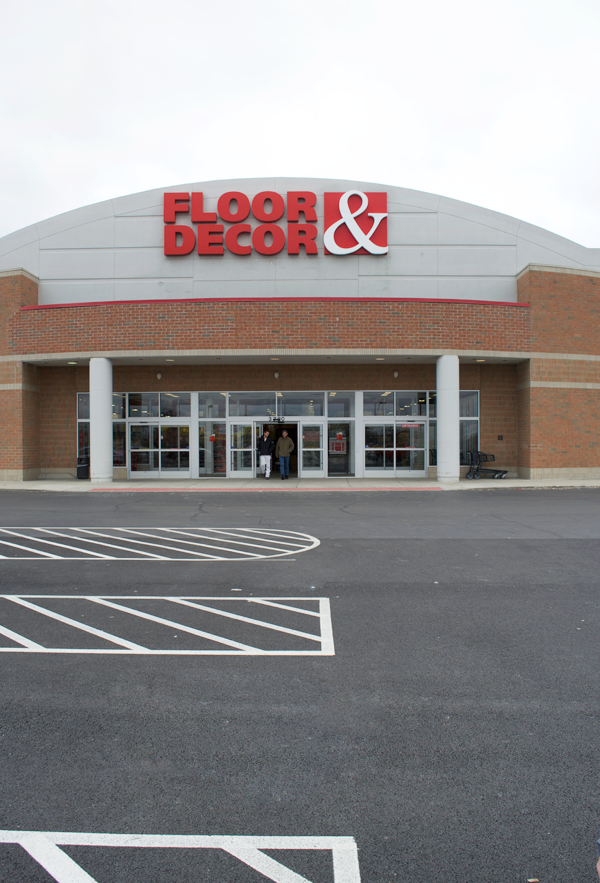 Even though we had picked out our tile before heading to the store, it was still so cool to see all the options they have. We went with wood look tile mainly because of it's durability. With a dog and a kid we knew our room would get a lot of traction, especially since it's a large space that we hang out in often. So for us it seemed like the best option, plus it's extremely affordable. That's one of the best things about Floor & Decor; their prices. They pride themselves on being the cheapest in the business without sacrificing quality.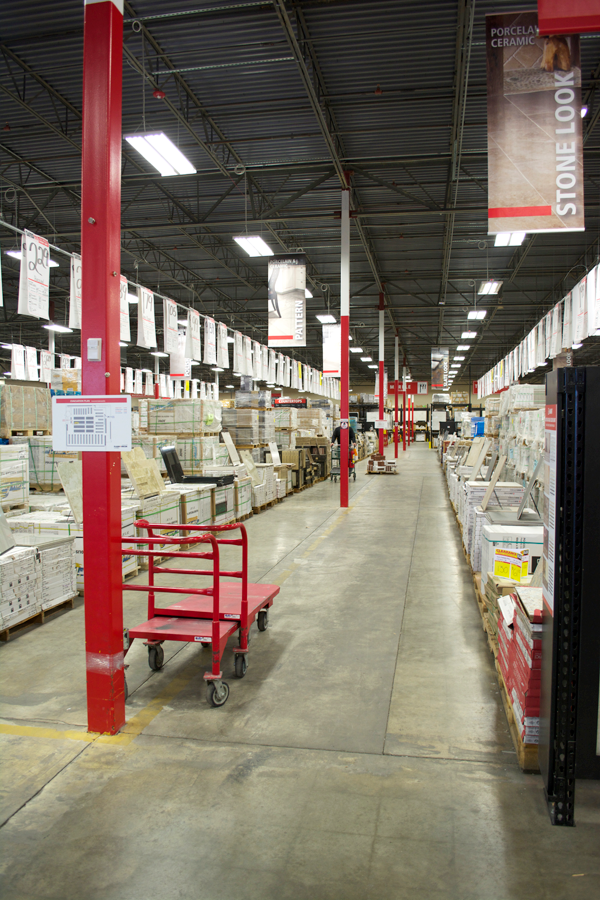 You can see the big signs they have hanging above each product which is super helpful. If you're looking based solely on budget, it's an easy way to navigate to what's in your range. At the end of the day, price is always the most important, and Floor & Decor makes it easy to find and doesn't try and hide it. I hate when I'm in a store and the sticker for a product isn't there or isn't lined up and I don't know if it's matched up correctly. You definitely don't have to worry about that here.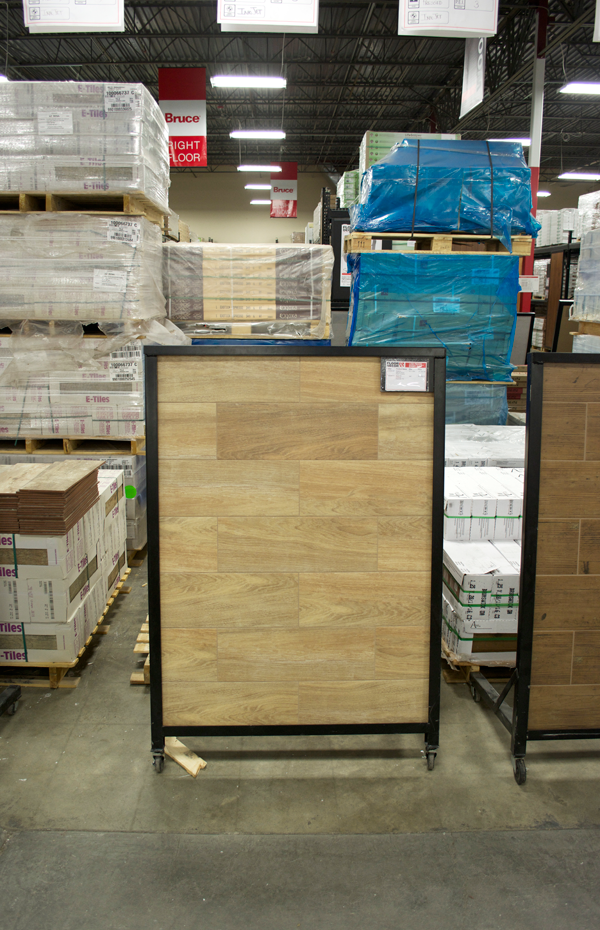 So the above is the tile we ended up buying. It's the Brighton Natural Wood Plank Ceramic Tile and it's $1.39 sq.ft. I loooove that they have these cut outs of all their products so you can actually get an idea of what it will look like when it's installed. I ordered samples which can be kind of hard to picture in a whole room, but I took a chance on it and I'm so happy with my choice. One thing to think about with tile is that the larger pieces help give a more realistic wood appearance. If there was one thing I could have changed it would be the size. This color/style only comes in 7″x20″ and that was my only hesitation. I would have preferred it in an 8″x36″ or something a little longer but the color was more important to me and after seeing this cut out I felt much better about it. I think it's still going to look amazing.
Another awesome thing they do with these cut outs is tell you what color grout they used. If you've ever dealt with tile before, you know that picking a grout color can be just as important as the actual tile itself. This was super helpful and we ordered our grout while we were there and brought home 4 bags of it so we're ready to go. They also have a calculator that tells them how much grout you'll need per the sq. ft you're purchasing.
Wood look tile is definitely becoming more and more popular and it's crazy how realistic it looks. Check out this one below that looks like super chippy wood. Even way up close to it, it looks like wood.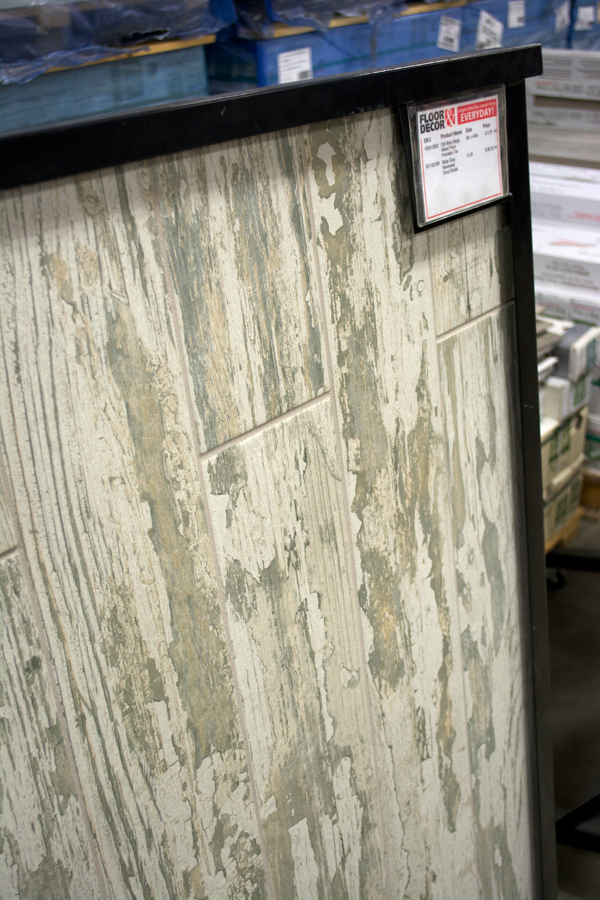 They also have a huge selection of real wood floors and have these larger cut outs to show you how they look. The aisles just keep going and going, there are seriously so many choices! I'm actually really glad I picked ours out before we went otherwise we probably would have been there for hours while I made a decision.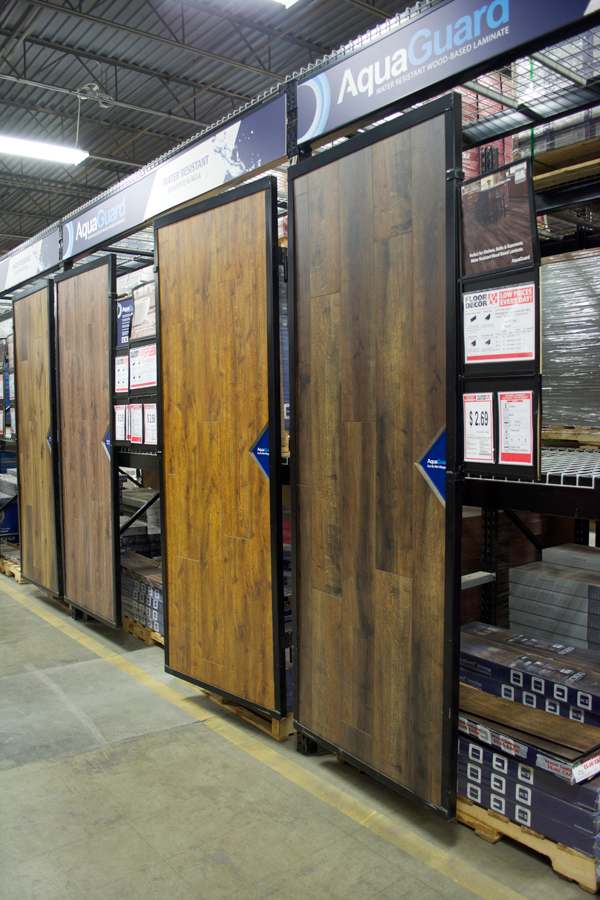 Along with hardwoods they have tile for bathrooms and back splashes and all that fun stuff. It's coordinated by color which makes it super easy to find what you're looking for. Again, so.many.options.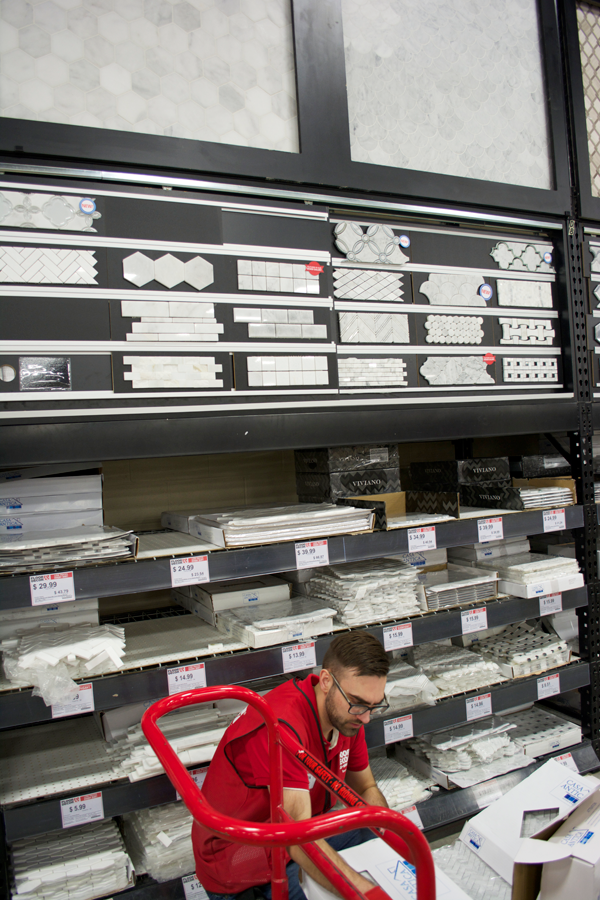 Ok this stuff is amazing. It's an Antique Wood Interlocking Mosaic and it's made out of old ships! How cool is that?! I could totally see that somewhere in our house.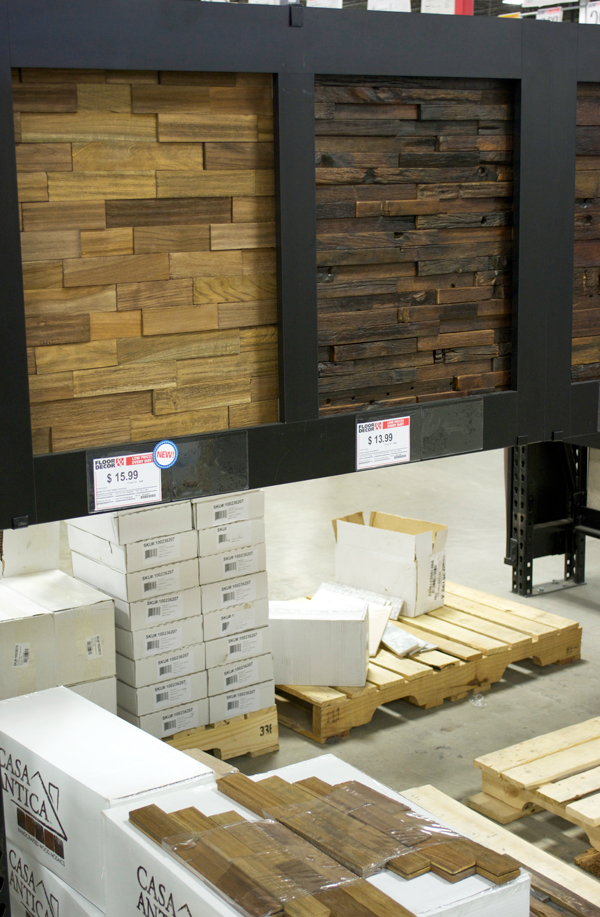 And if you're in the market for some countertops they have those too. Butcher block as well as various pieces of marble.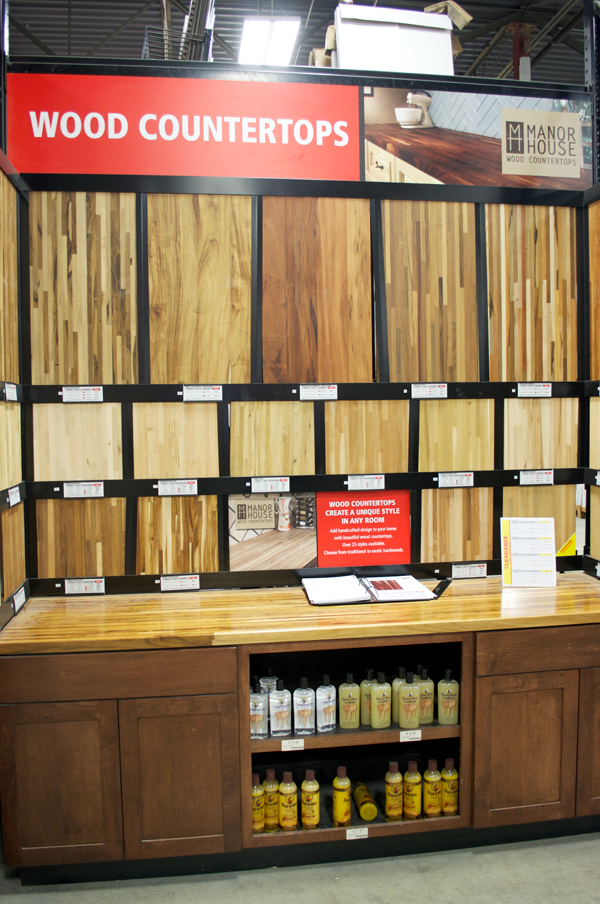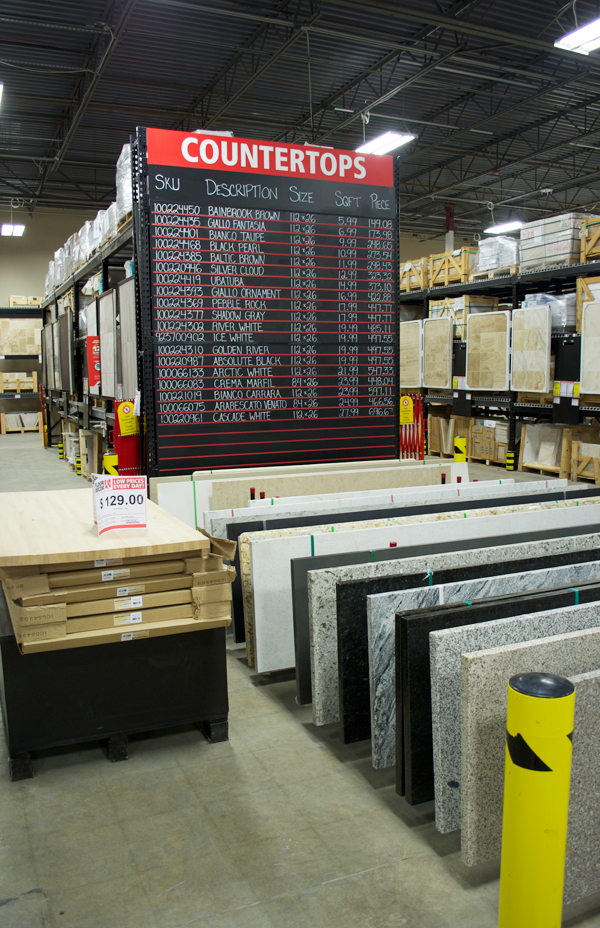 There is also a big clearance section at the front of the store where you can find some pretty decent quantities of stuff. So you could totally get lucky and find something you like for even cheaper than it already was.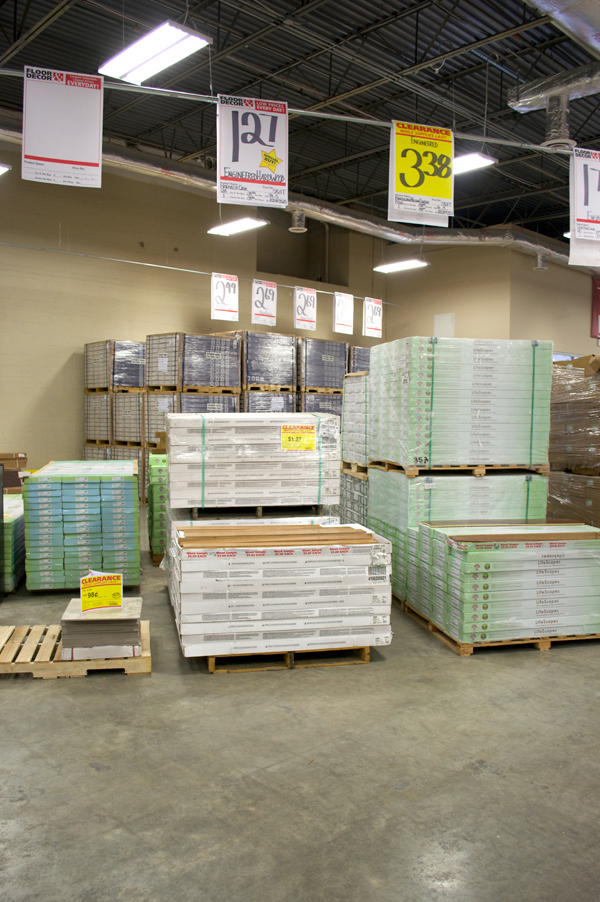 They basically have every type of flooring you can think of along with all the supplies and accessories you'd need to install it.
And while they don't sell showers or tubs, they do have some show rooms set up to show you how some of their products look and they work with different companies to help you purchase what you need.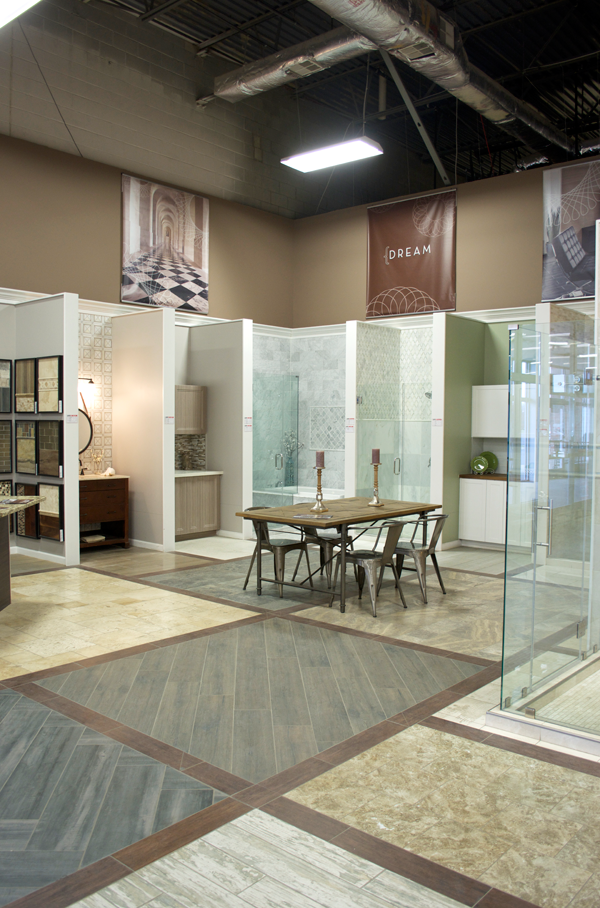 Another really cool thing that Floor & Decor has is a free design service. Jerica, one of our guides works as a design consultant and helps people daily bring their visions to life. With all the options, it can be extremely overwhelming, so it's nice that they have this service available to ease the stress and give you someone to bounce ideas off of.
Lastly, probably the most convenient thing about shopping here is that they have large quantities of everything they sell in stock. So if you're on a tight deadline or just don't feel like waiting, chances are you can walk into the store and walk out that same day with all the materials for your project. Pretty cool right?
I honestly had never heard of Floor & Decor before I started doing research for our bedroom but I'm blown away by all the options they have and their unbeatable prices. I couldn't be happier with the tile we picked and I can't wait to get it installed and share it with you guys!
A huge thanks to Floor & Decor for supplying the tile for this project and to Joe and Jerica for being the best tour guides ever.