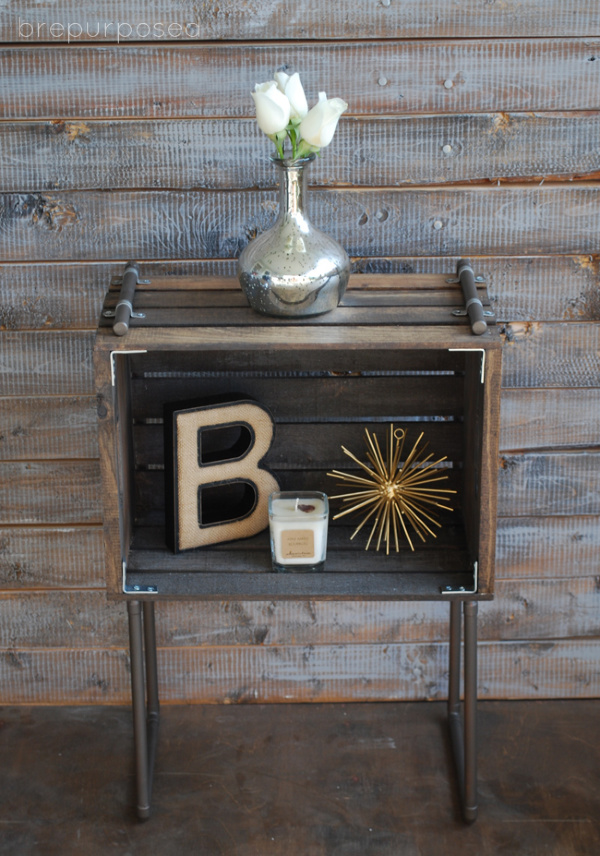 I'm super excited to be teaming up with all these fabulous ladies on such a fun project! We all bought the same wooden crate from Michaels, and thought it would be cool to see what everyone came up with.
We didn't really set any rules so anything is fair game! Be sure to check out the gallery at the bottom of this post to visit each blog 🙂 I came up with this DIY Crate & Pipe Industrial Table and I love it!
this post contains affiliate links
DIY CRATE & PIPE INDUSTRIAL TABLE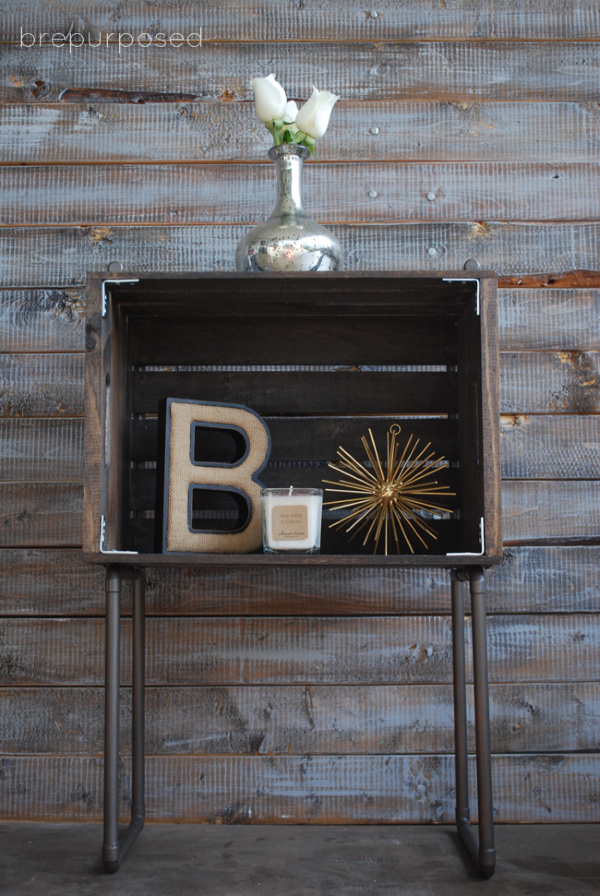 Of course, naturally I wanted to turn my crate into a piece of furniture; but it took me a little while to figure out how. I wanted to just pop some hairpin legs on it and call it a day, but I was turned off by the price. 🙁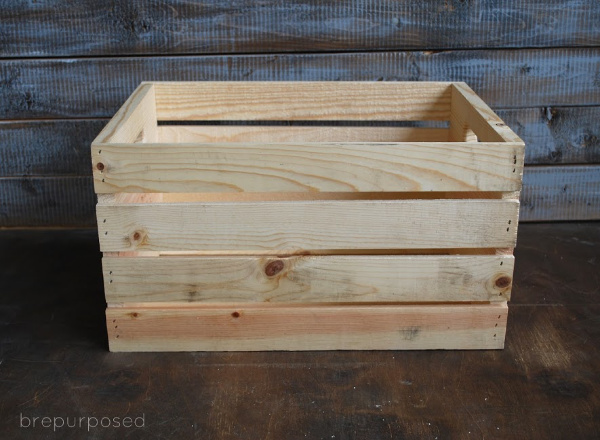 I thought about how I could make my own, but without being welder, I didn't see many options. Then I thought about putting dividers in the crate and turning it into a wine storage table. Clearly I didn't follow through on that.
I did know that I wanted it to have that industrial look so I decided to go with piping. Off to Home Depot I went and god bless the people who work there for putting up with me. I went without having a firm idea of how I was going to structure the base so after staring at all the copper pipes for a solid half hour, I finally asked for some help.
Luckily, Home Depot sells the same wooden crate and I was able to use one as a guinea pig. I told the kind worker my plan and he so very nicely helped me visualize my idea, "assemble" it in the aisle on the floor, and write down all the measurements. Let me just say more than one person walked by with an extremely confused look on their face. Here's proof: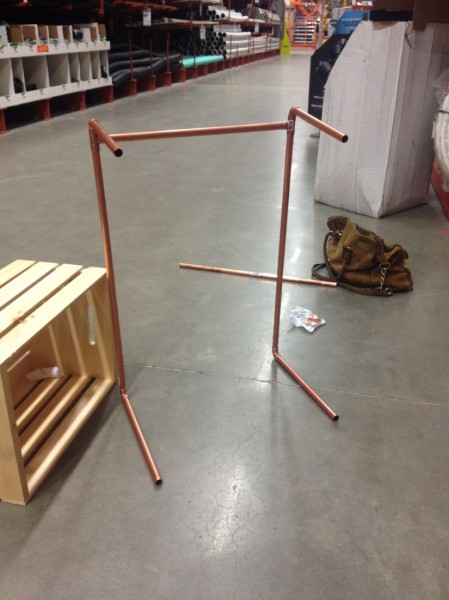 My original plan was having the base look like that and put the crate on top. Silly me. Terrible idea. It needed way more support. Which I didn't realize until I got home. So I had to make another trip back to the Depot and bought some more pipes and adjusted the frame.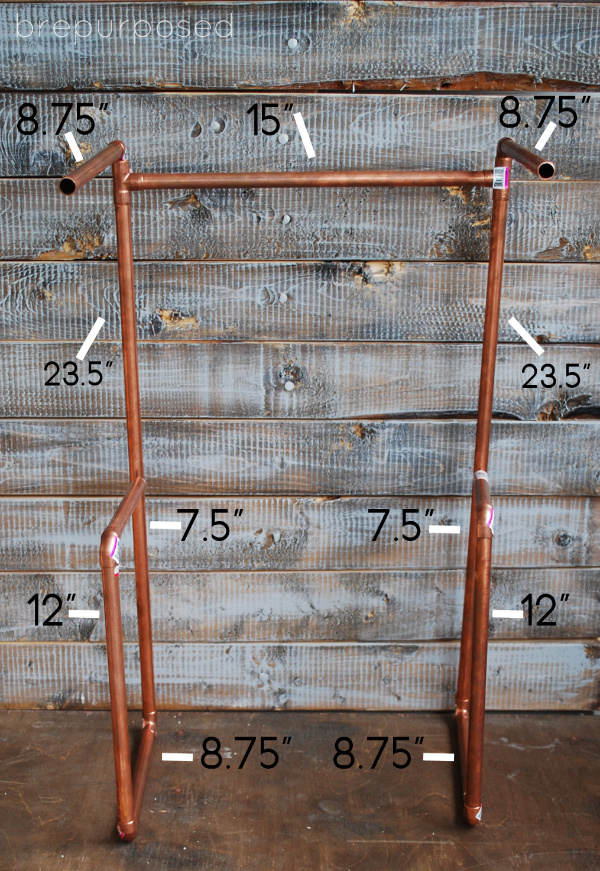 MATERIALS

:: 1/2 inch Copper Piping
:: Pipe Cutter (optional)
:: Eight 1/2 inch Copper Tube Straps
:: Two 1/2 inch T Bars (totally made that name up)
::Six 1/2 inch 90° elbows
::Two 1/2 inch 90° Street Elbows
:: Two 1/2 inch Tube Caps (not pictured, fail.)
:: Liquid Nails
:: Spray Paint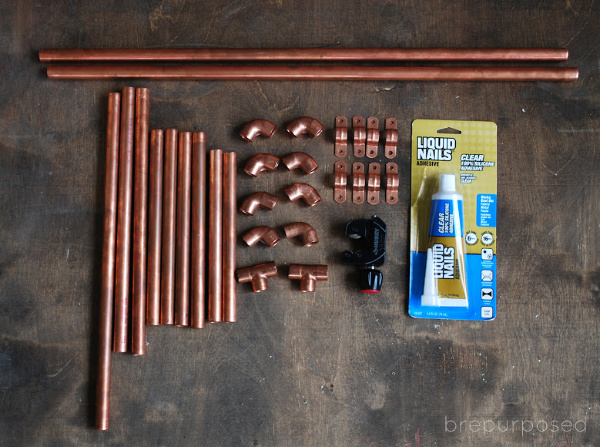 MEASUREMENTS
:: 2 @ 23.5″
:: 1 @ 15″
:: 2 @ 12″
:: 4 @ 8.75″
:: 2 @ 7.5″
You can have someone cut your pipe at Home Depot (which I did when I first went), but when I went back to pick up more I was impatient and didn't feel like waiting so I bought one instead. It's super easy to use!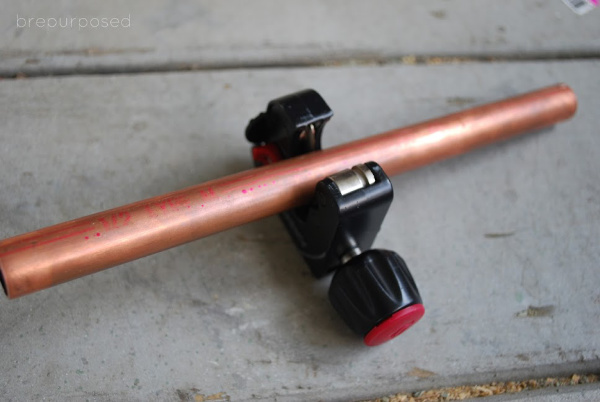 So once I had my frame laid out, I took it apart and applied some Liquid Nails in all the connectors. I wasn't super impressed with how this glue worked. I let it sit overnight and I was still able to wiggle the pipes around. Since I was securing the pipes to the table with the straps I figured I didn't need too much extra support, which ended up being fine.
I considered keeping the copper color, but wasn't really sold on the way it was looking. Enter spray paint.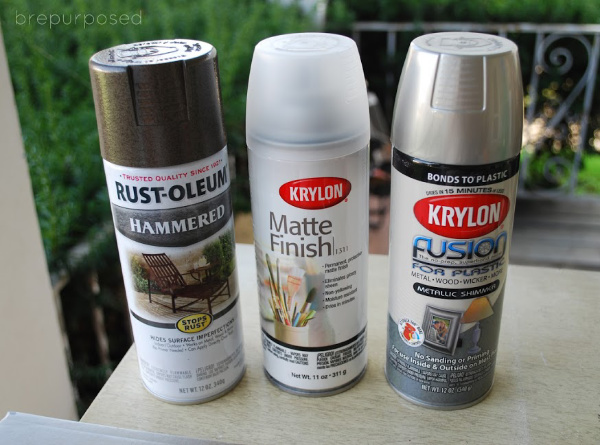 I used the Hammered paint for the frame, which is AWESOME. If you haven't tried this stuff, you need to. It gives it such a cool "textured" look. It amazed me. Then I coated it with the Matte Finish. I originally painted the tube straps in the Hammered too, but wanted a little more contrast so I went with the Metallic Fusion for the ones I was using on the top.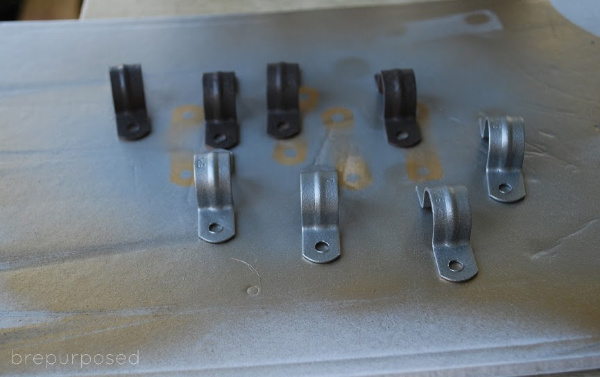 I used four straps on the top and 4 straps on the bottom to secure the crate.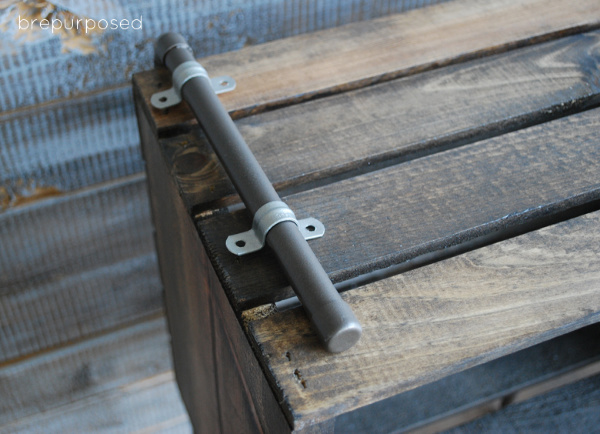 Speaking of the crate…I started out by sanding the inside down. It's really quite annoying that the outside is smooth and the inside is so rough. I should have sanded more, because rough wood like that is a pain in the buns to stain.
I followed a tutorial from Shannon over at AKA Design & Life for the look on the crate. She used it on this incredible DIY Brickmaker's Coffee Table. Unreal right?. I started out using Dark Walnut like she did, followed by the Classic Gray. I'll tell you right now, adding the Gray over the Dark Walnut did absolutely nothing. I'd skip that step in the future. What really makes this an incredible finish is the white wash.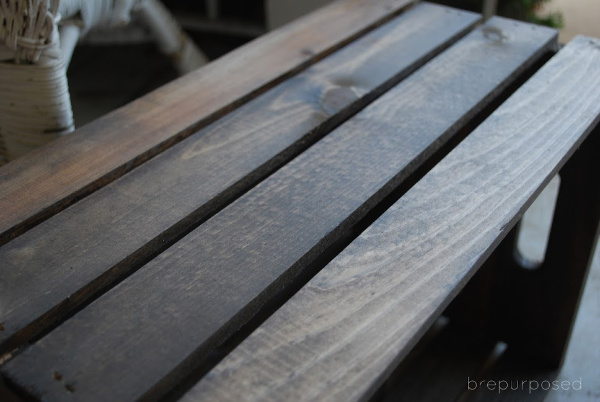 Mix about a spoonful of white paint with half a cup of water and mix thoroughly. I applied it and then gently wiped it off with a rag. It gives the wood the perfect antiqued look! (The picture really doesn't do it justice).
I sealed it up with some General Finishes Flat Topcoat and added some L Brackets in the corners just for an extra little touch. 🙂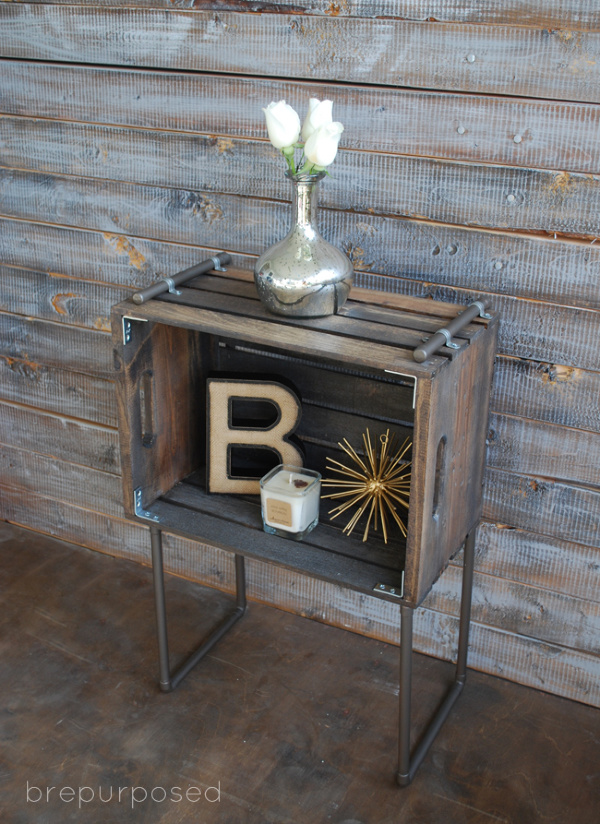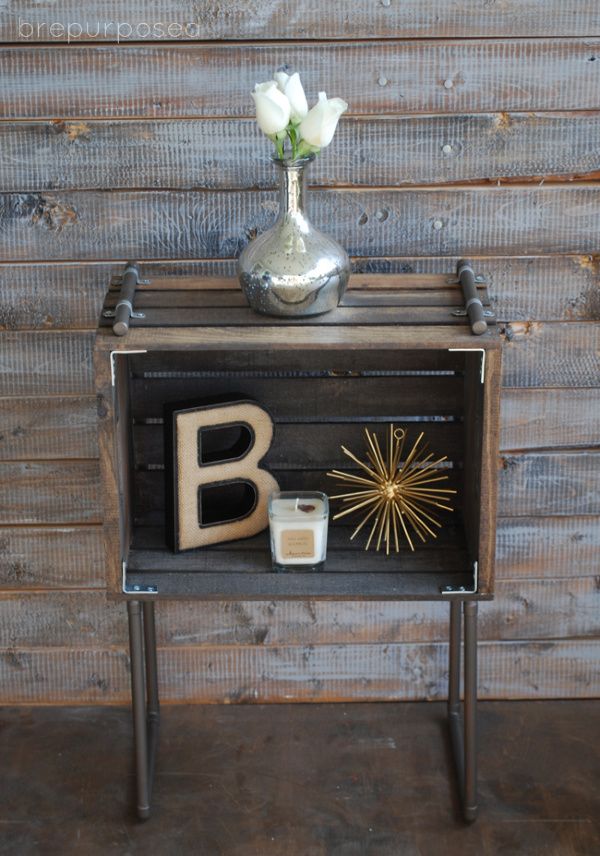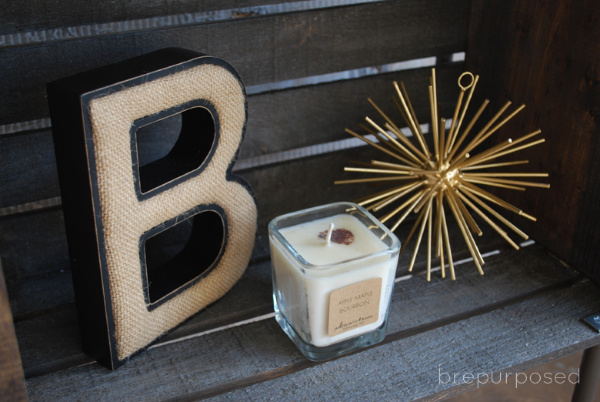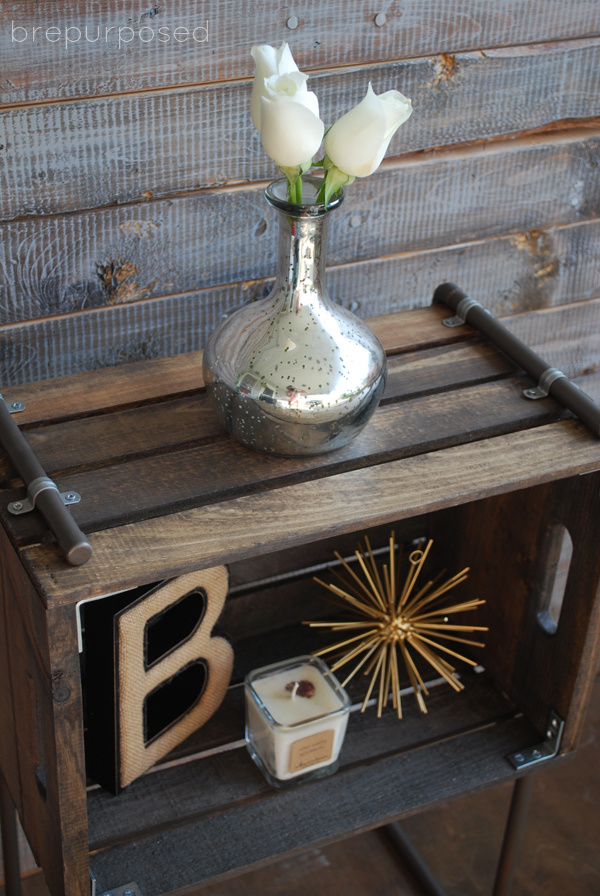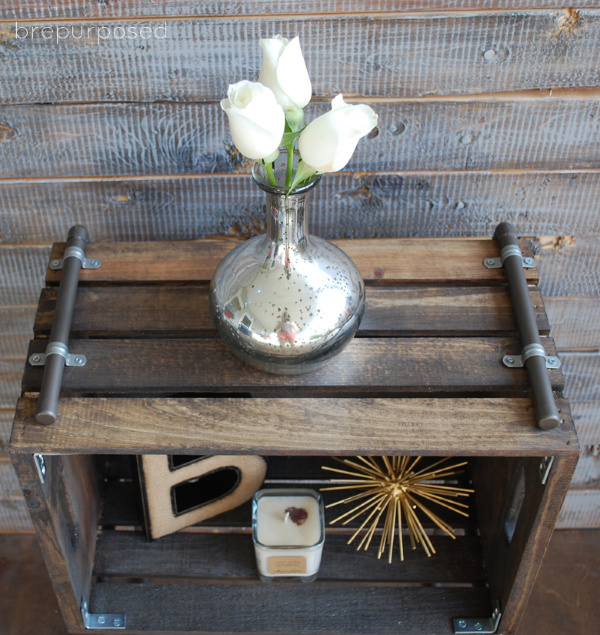 I'm thinking I want to make another one and use them as our night stands! I really wasn't sure what this thing was going to look like but I love it. And it will be much easier to make the second one.
I never would have made something like this if I wasn't a part of this challenge, and I'm so glad I was. I love painting furniture, but I was getting the itch to build something. This was the perfect little project for me.
Do you like what I did with my crate? What would you have done?? Make sure to browse the gallery below and see what all my other bloggy friends made 🙂
Have a great day everyone!