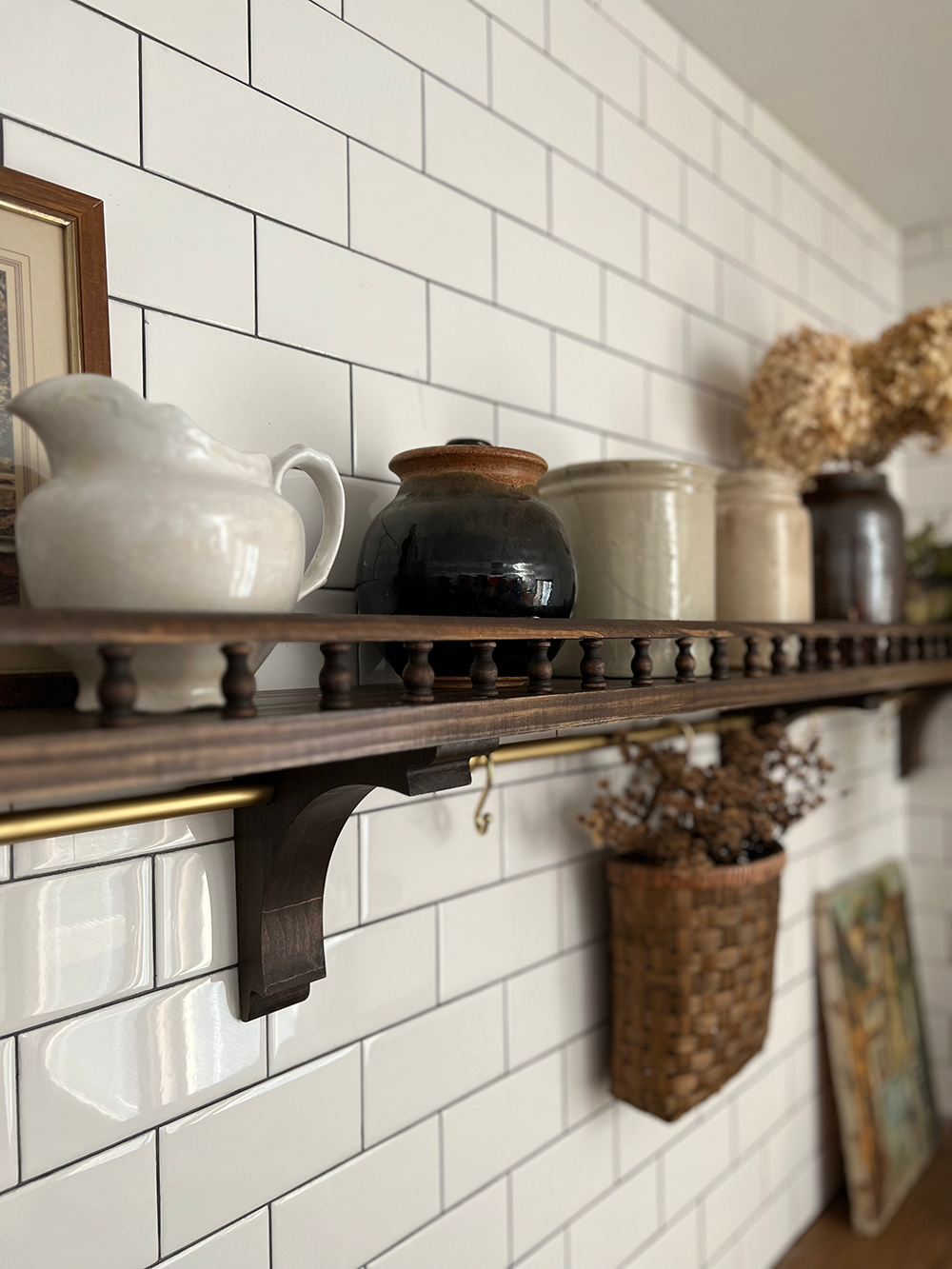 We're in the midst of a little laundry room refresh and I've been slowly completing projects to update this space. We finished it almost 7 years ago and it's one of the most used rooms in our home (after the kitchen). But now that we have 3 kiddos and my style has evolved it's time for some changes! My most recent project was building a shelf with a wood gallery rail and I'm here to share all the details with you!
When we first completed the laundry room, we put a shelf on the wall above the washer and dryer that was around 5′ long. I have no idea why I decided on that length or why I didn't extend it all the way across the wall. It was early in my design journey and the laundry room was the first room I ever designed from top to bottom!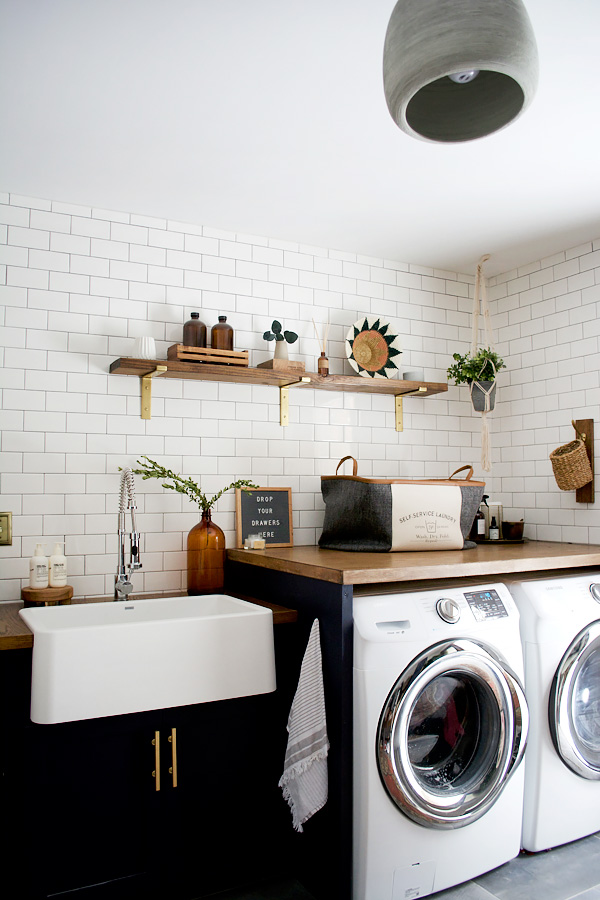 The more I looked at it, it just seemed unbalanced and there was more room for additional storage and functionality. So I came up with the idea to create a shelf with a wood gallery rail on top and a hanging brass rail on the bottom.
I was inspired to create the wood gallery rail after creating a dog food holder for Oakley out of larger wood spindles. Brass gallery rails have become super popular in design – we have one in our kitchen and I love it – but I wanted to put a different spin on it. A lot of older antiques have this element which is such a beautiful detail, and I wanted to do it in a more modern way that fit my style better.
SUPPLIES FOR SHELF WITH A WOOD GALLERY RAIL
STEP 1
Drill the holes for your finials. You'll want to measure out your spacing first – I spaced mine 2.5″ apart from one another but you can do whatever looks best to you! I placed them about 1/2″ from the front edge of the board.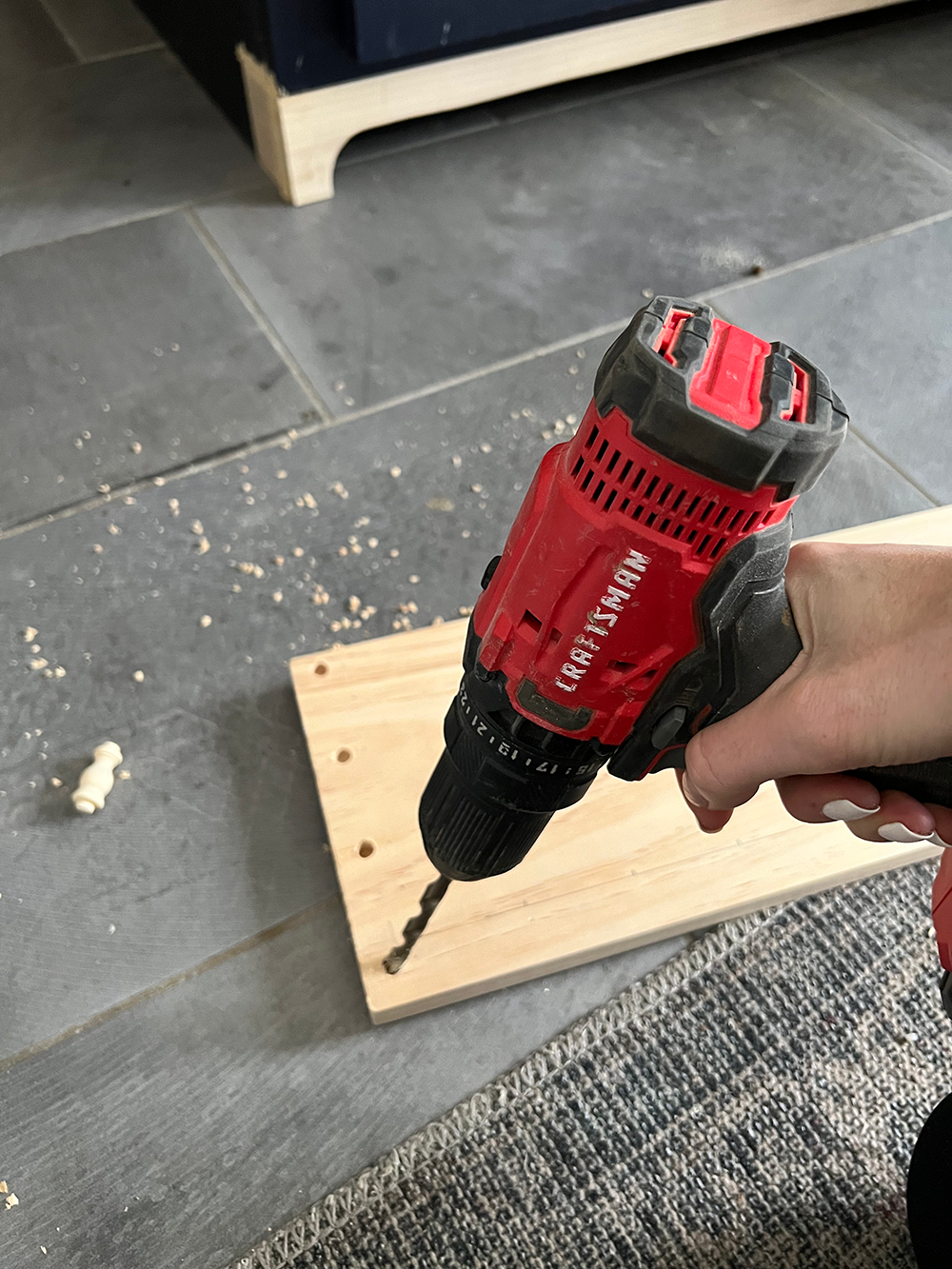 To drill the holes I used a 5/8″ drill bit. You could also use a spade bit but since those have a pointy end, I didn't want to risk drilling through the wood!
STEP 2
Trim the top part of the finials off. It was fairly easy to drill into the shelf board, but drilling into the corner round would be really tricky. So to avoid this, I just trimmed off the top part of the finials so that the corner round could sit flat.
I used the band saw to do this and it was so quick and easy! If needed, you can then sand down the tops for a completely smooth surface.
STEP 3
Cut and miter your corner round. It helps to place your finials in the holes to get a better idea of where the corner round will sit. Then you can use your mitre saw set at a 45° to cut each piece.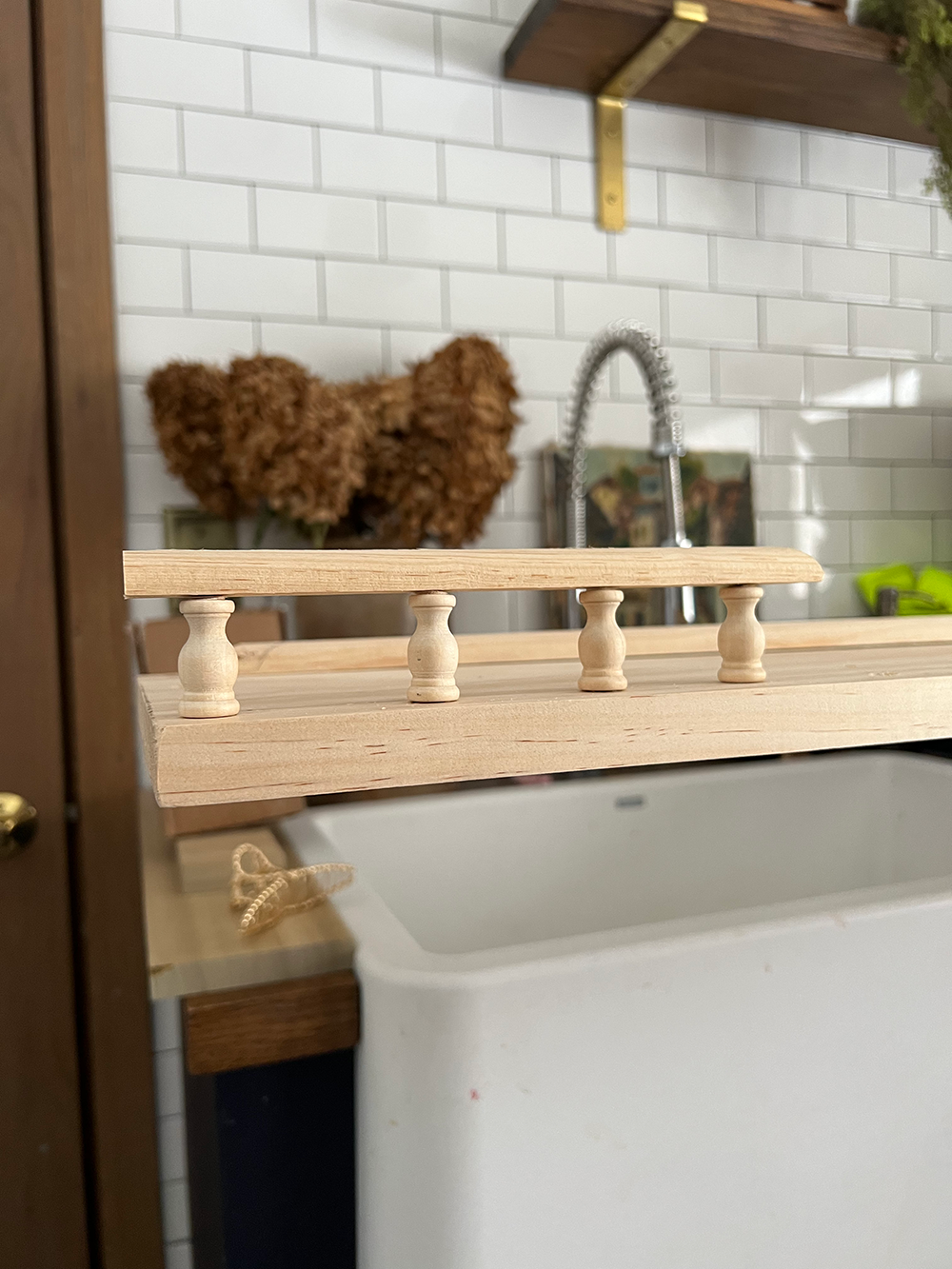 STEP 4
Drill the holes in your corbels. If you have a drill press that's the easiest way to do this, but we don't so I used some clamps and my regular drill. The copper pipe I used for the "brass rail" is 1/2″ and I used a 5/16 spade bit for the holes.
I stained my corbels first, but I suggest drilling first and then staining!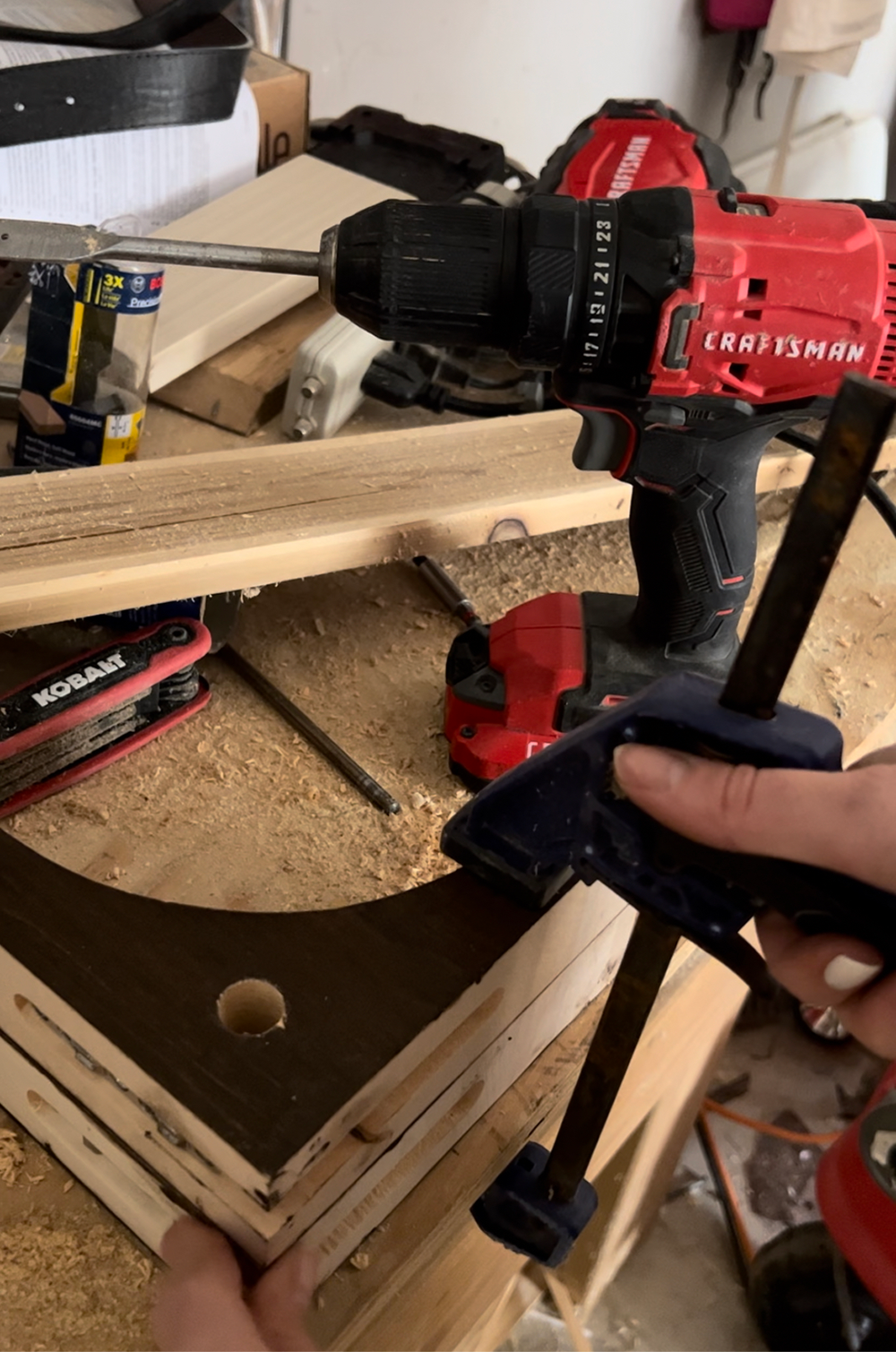 Start by clamping two corbels together. Make sure they are aligned the proper way (ie. the brackets on the back are facing the same way). Eye ball the center area of your corbel where you want the pipe to go and drill down as straight as you can through both corbels.
Once you've done the first two, take one of them and place it on top of a non drilled corbel. Use this as a template to drill into the one underneath. Repeat until all corbels have been drilled through.
STEP 5
Now that all your wood is cut and ready it's time to stain. I used a wood conditioner first which helps to eliminate splotching and gives you a nice even finish. You can apply this with a black foam brush.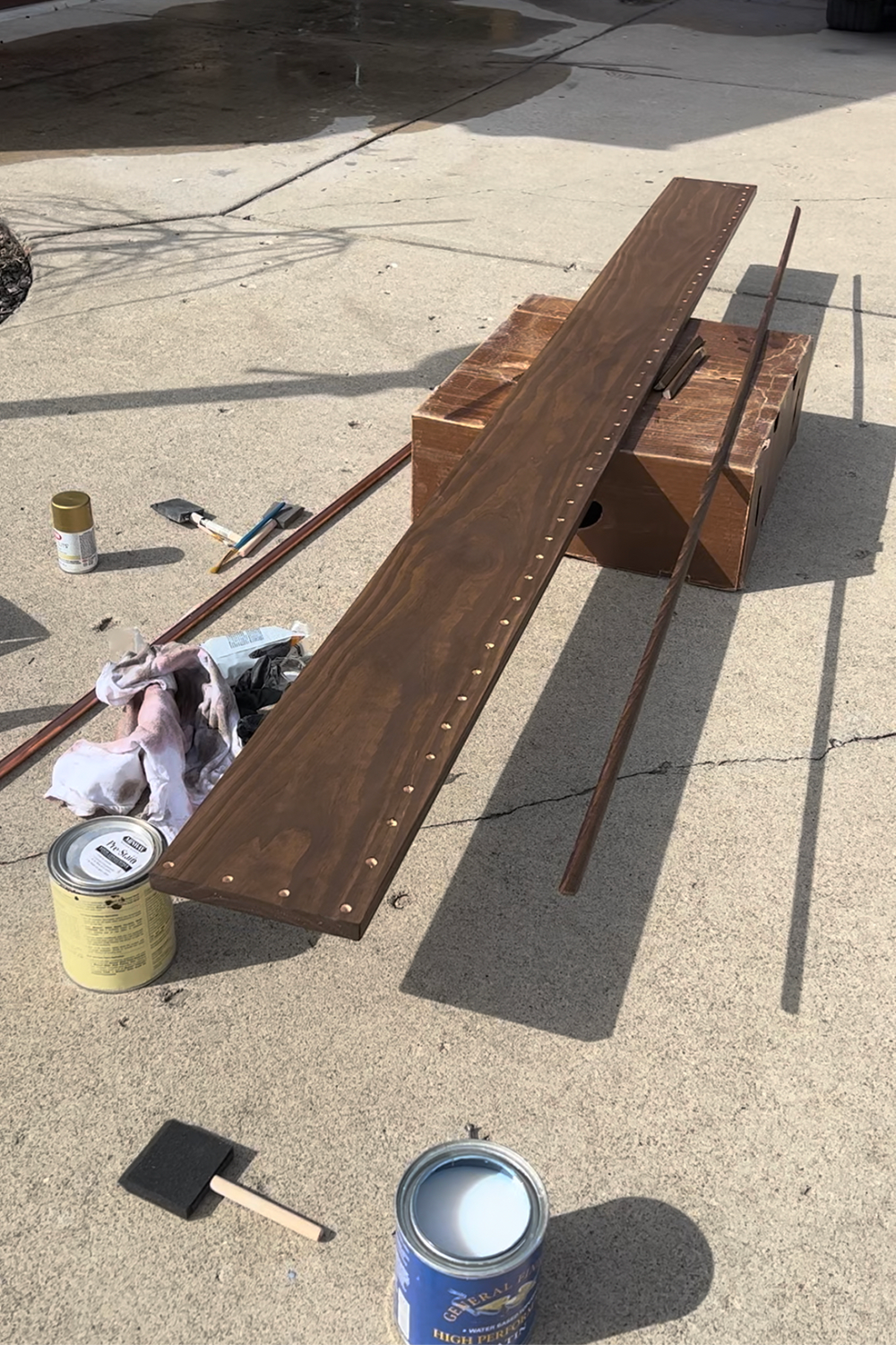 Then I used my favorite Dark Walnut Gel Stain to stain everything. I used a staining pad for the actual shelf and corbels and then used a small craft paint brush for the finials. Then I wiped the finials off on a rag to remove the excess.
STEP 6
Once the stain is dry, apply a top coat. I used General Finishes High Performance Top Coat in Satin and only did one coat since this isn't going to get a lot of action 😉
STEP 7
Cut your copper pipe. Before you cut, measure out the length you need by placing the two end corbels on the wall. This will give you a more precise measurement but you do have some wiggle room since the pipe will sit an inch or so into the corbels.
We decided to have the pipe go all the way through all 5 corbels in one piece but you could also cut the pipe into sections and have the seams be hidden within the corbels.
Cutting copper pipe is super easy with this little pipe cutter you can get at the home improvement store.
STEP 8
Spray paint your pipe. I used this gold leaf spray paint and then this clear coat on top of that.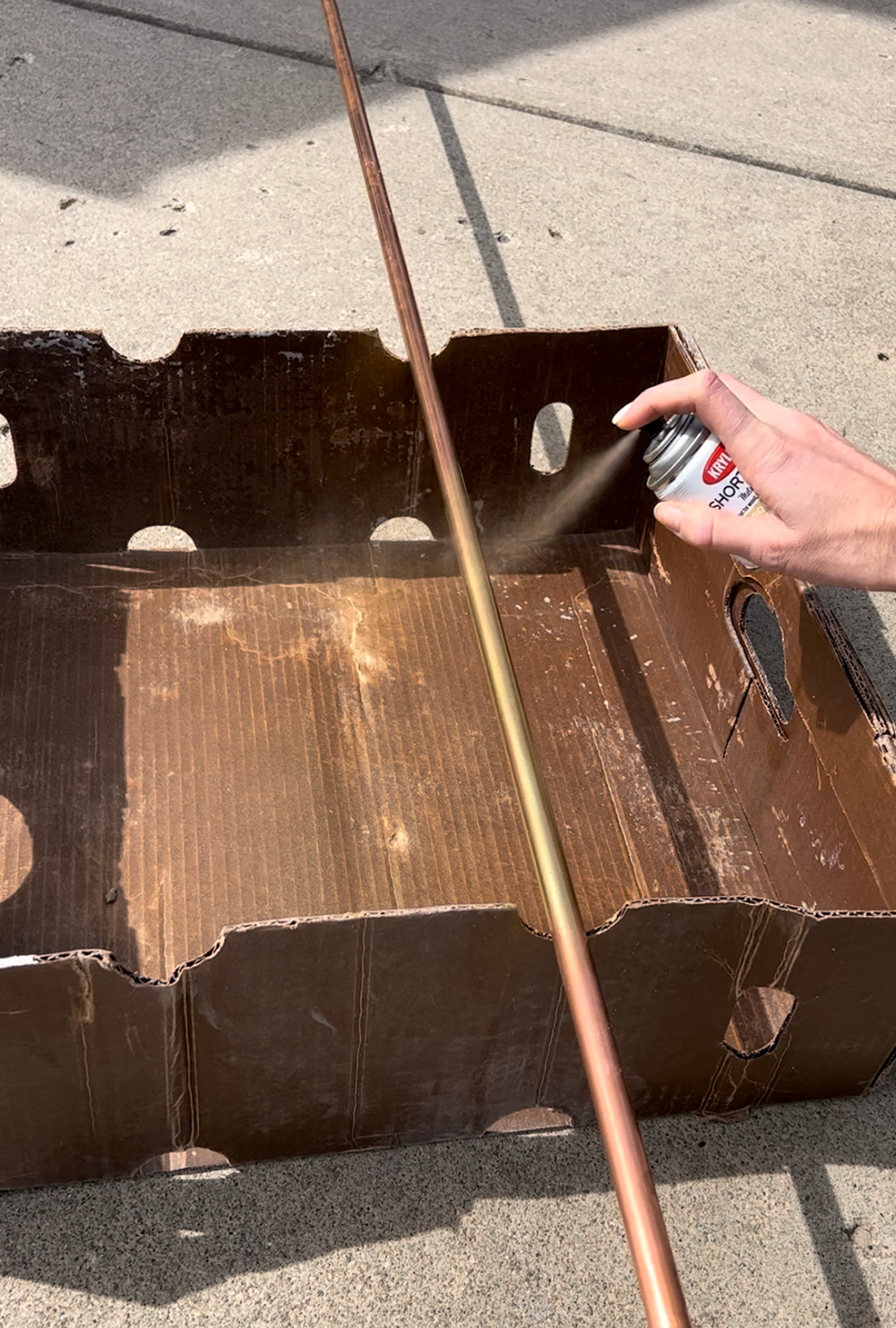 STEP 9
Create your wood gallery rail! Glue your finials into the holes you drilled and then glue the corner round on top. This DAP Rapid Fuse glue is my favorite. It dries super quick and is so durable!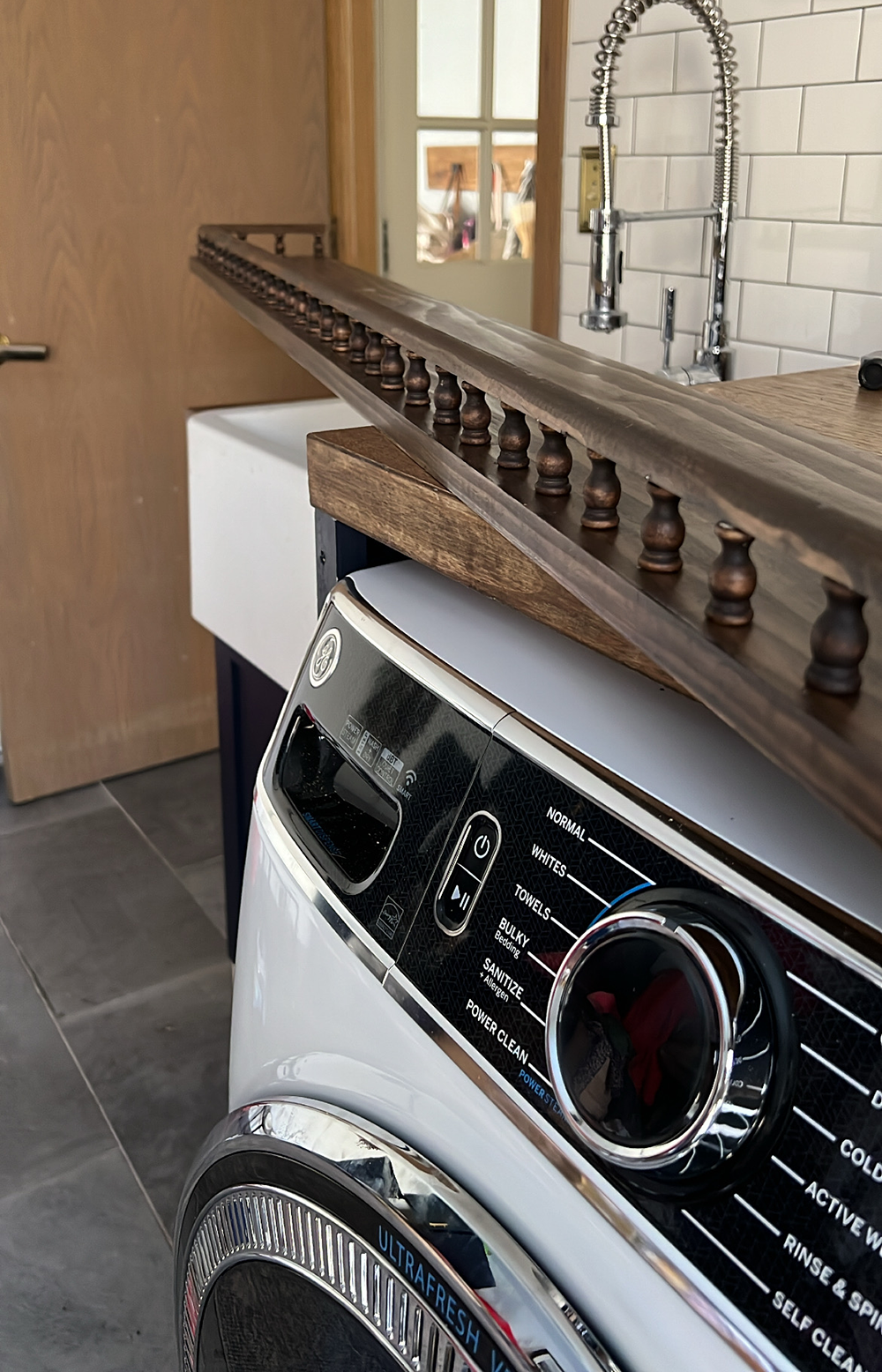 STEP 10
Hang your shelf! Pull the pipe through the corbels and hook the corbels onto the screws in the wall. We were able to use some of the existing holes that were there already and then had to drill new holes on either end. To drill into tile, just make sure you use a masonry bit!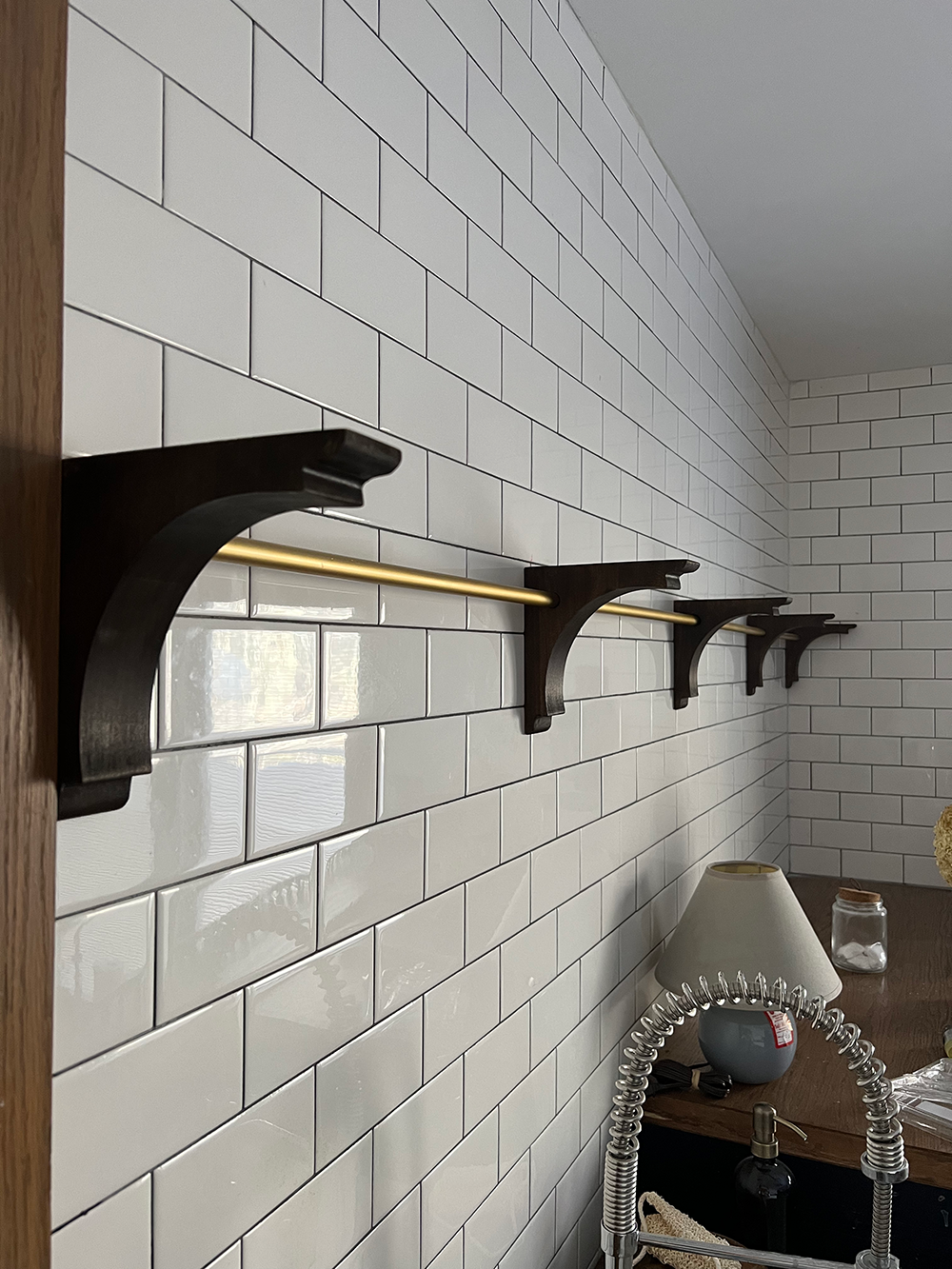 We had a little trouble getting all 5 corbels to slide into BOTH screws for each one so we ended up only using one screw per corbel and it was still super sturdy.
STEP 11
Spray paint your hooks to match the pipe. Whatever color you spray your pipe, make sure you use the same for your hooks if they aren't a good match. I used these shower hooks and love the little ball detail they have.
Now it's the fun part – time to decorate and enjoy your shelf!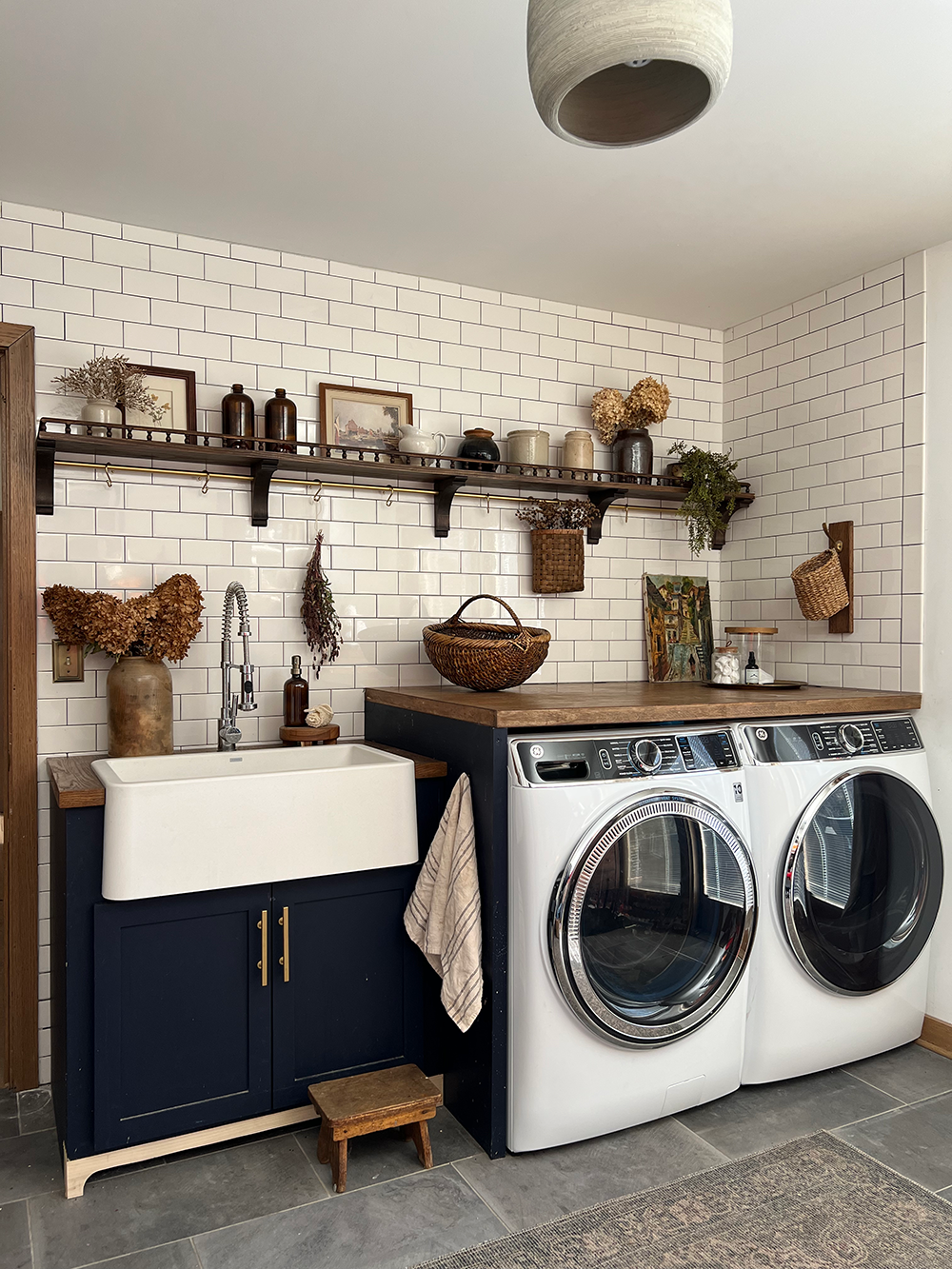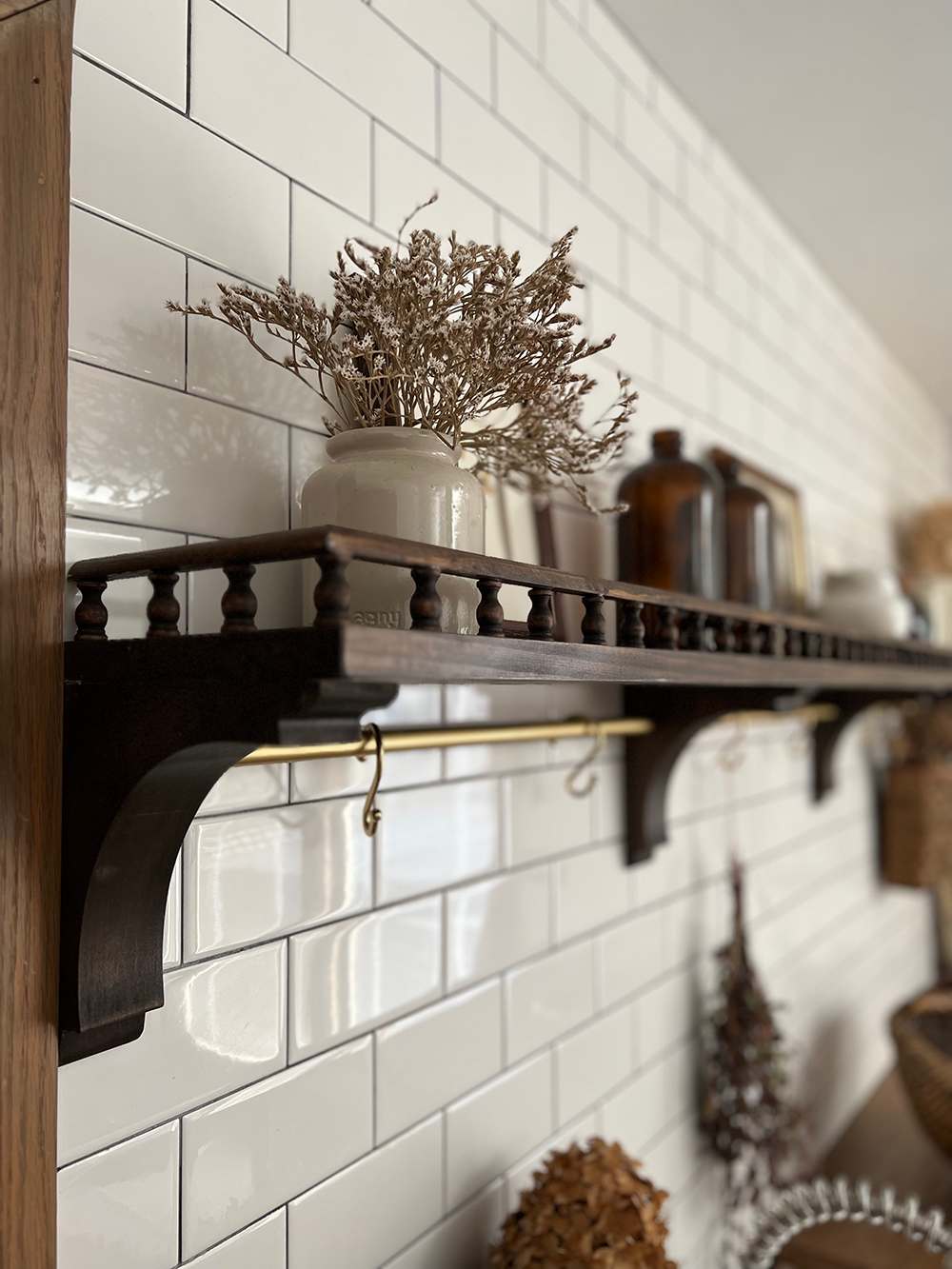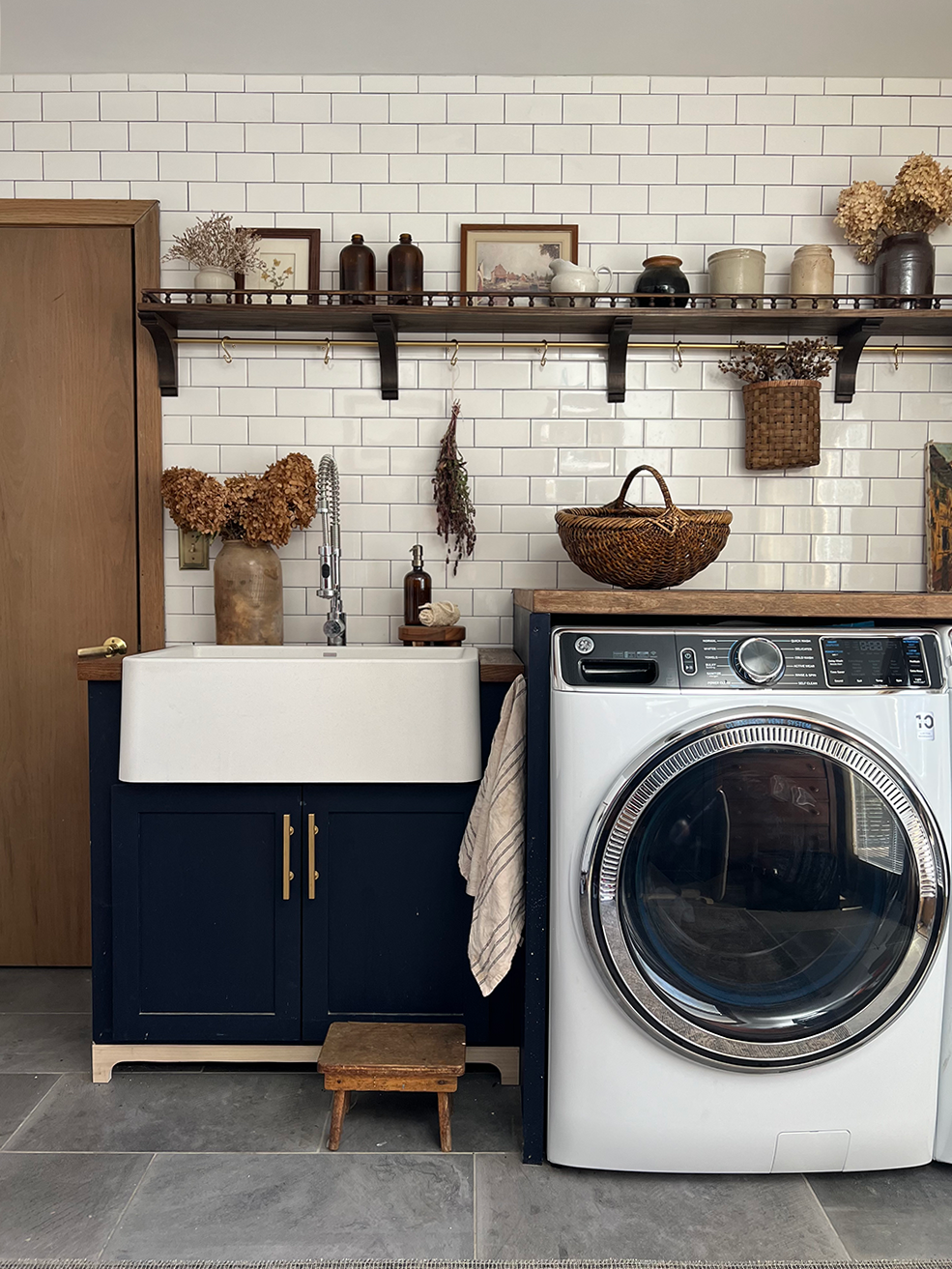 This wood gallery rail shelf feels SO much better than the original one did in this space. I love that it fills up the whole length of the wall and has the additional brass rail underneath to hang things from. It's also a lot prettier and added a lovely touch of charm and character to our laundry room.
What do you think? Would you build your own shelf with a wood gallery rail?