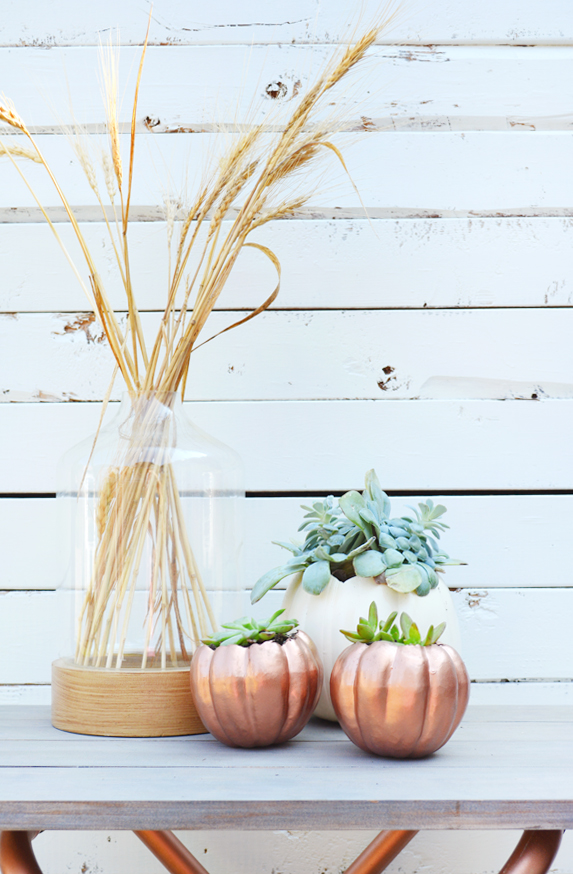 So what did you think of my Home Depot Style Challenge?! I hope you guys enjoyed it! That was honestly the first space I've ever completely made over and I'm so happy with how it turned out! Now I just need to do the rest of the house…I do have some living room updates to share with you soon that I'm super excited about! But today I'm here to share these cute little DIY Pumpkin Planters perfect for fall.
If you know me at all, you know I love a good planter, and succulents. So it only seemed fitting to make some holiday themed planters for fall and what is more perfect to use than pumpkins?! I'm not a huge decorator for every season but adding some new plants is always a good idea, right?
DIY PUMPKIN PLANTERS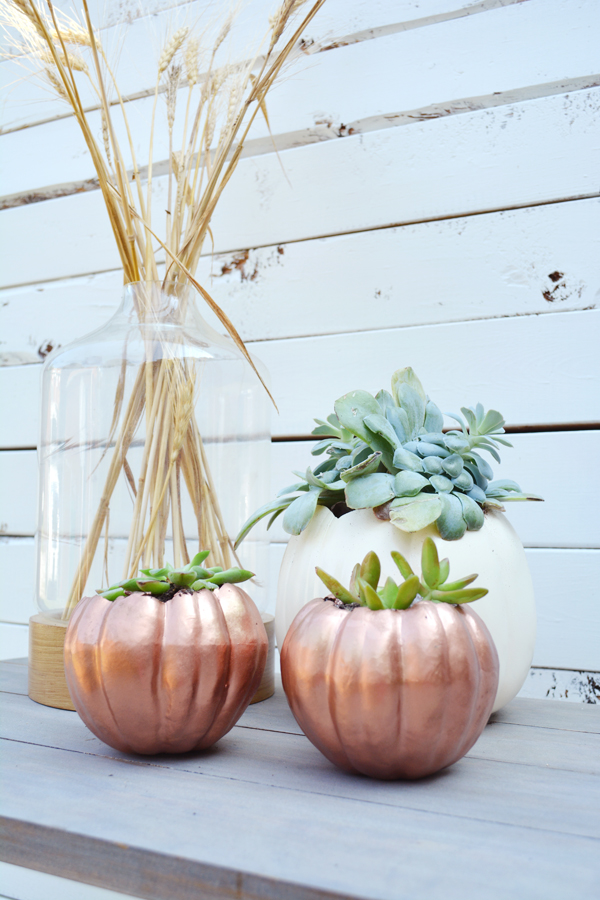 I used them throughout our porch space and they were so easy to make – plus they're super cute. You can never go wrong with succulents right?
MATERIALS FOR DIY PUMPKIN PLANTERS
*this post contains affiliate links
Plastic Pumpkins (hollow ones work best, but I also used some styrofoam ones)
Sharp Knife
Spray Paint (optional)
Soil
Succulents/Plants
STEP 1
For the hollow pumpkins, which you can find at Michaels, use your sharp knife or an X-Acto Knife and cut around the top of your pumpkin like you would if you were carving it. The top should come right off and you can just toss it in the trash.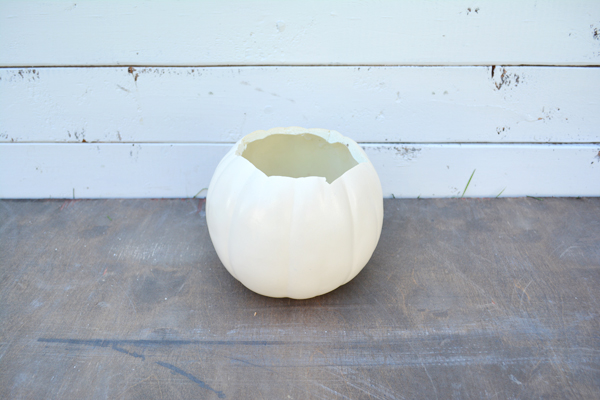 If you have styrofoam, which I really don't suggest, this step is a little trickier. Home Depot sent me these to use, otherwise I would have stuck with the hollow ones. But this was just another part of the challenge!
Cut around the top like you would with a plastic pumpkin. Try and cut at an angle going in towards the middle so that you form a cone shape and it's easier to remove. You might need to do some extra cutting to get the top off. Once you do, grab a spoon and start scooping out the inside to make it as hollow as possible.
*Do this over a trash can because those little particles get everywhere!
It takes a little work but it comes out pretty easily and you're left with the perfect little spot to add your succulents.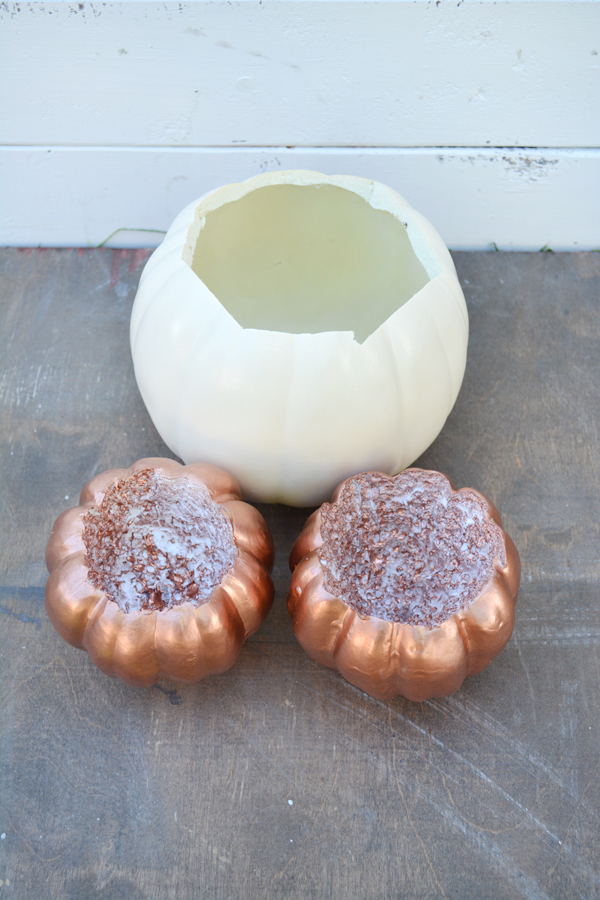 STEP 2
The next step is optional depending on what color you want your pumpkins. I kept the white plastic ones as is, but spray painted the styrofoam ones copper to match the rest of my decor. I love how to copper and white look together!
STEP 3
Next up just fill your little pumpkins with some soil and plop your succulents in! I used some regular garden soil and you definitely don't need a lot.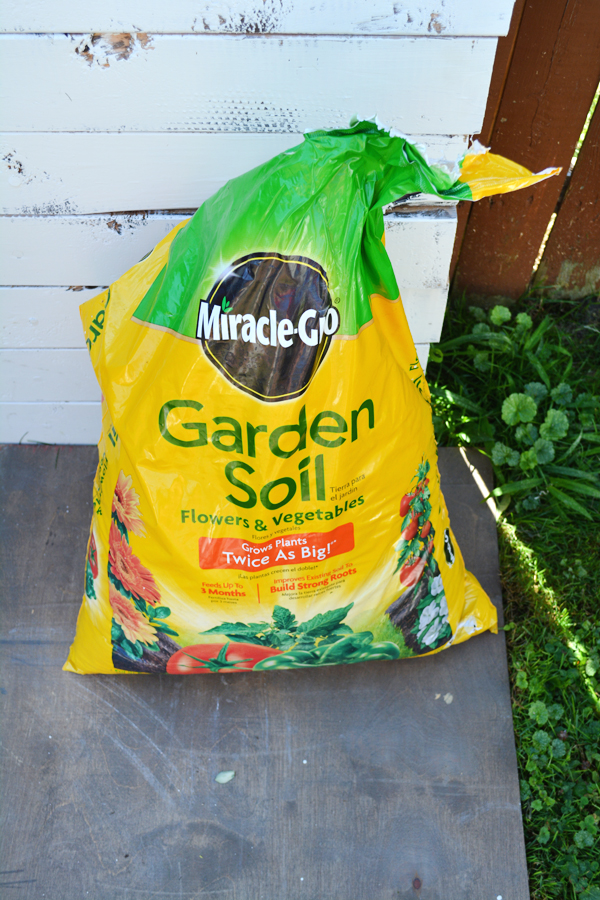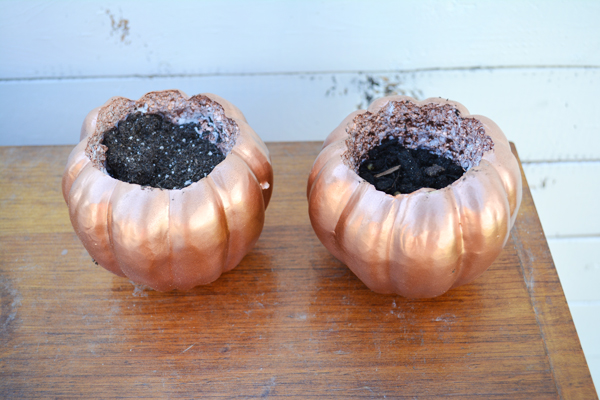 You can probably just expect some sort of planter DIY for every season. I don't think I'll ever get over succulents. Look how pretty! And they stay alive for a while which is perfect for me and my black thumb.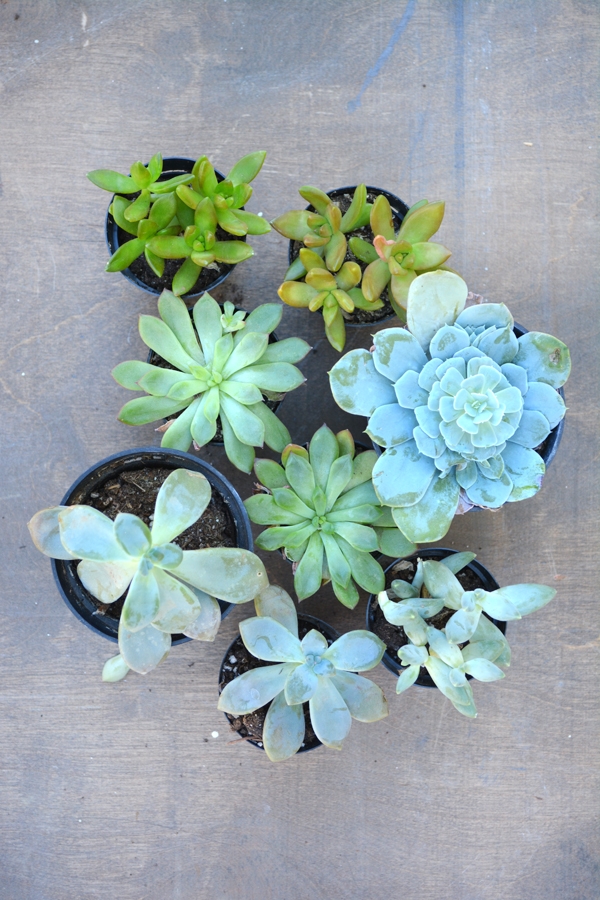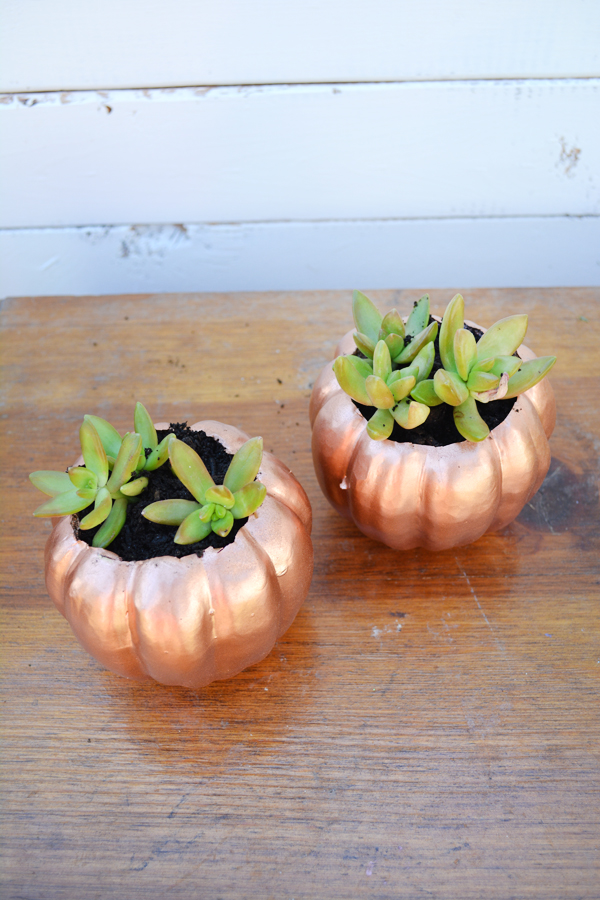 I'm totally loving the copper, white and green palette I used. It's a great alternative to bright orange, if you're not a big fan like me.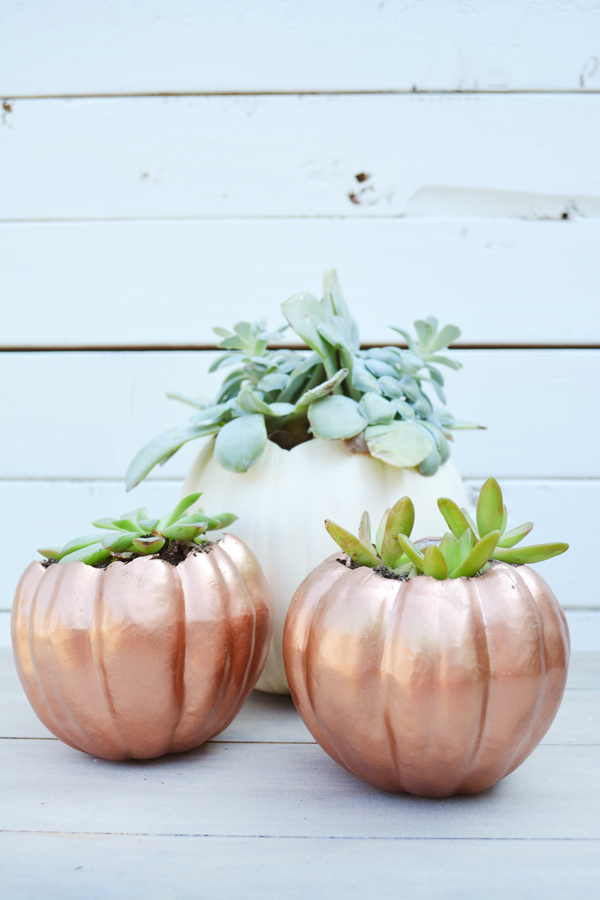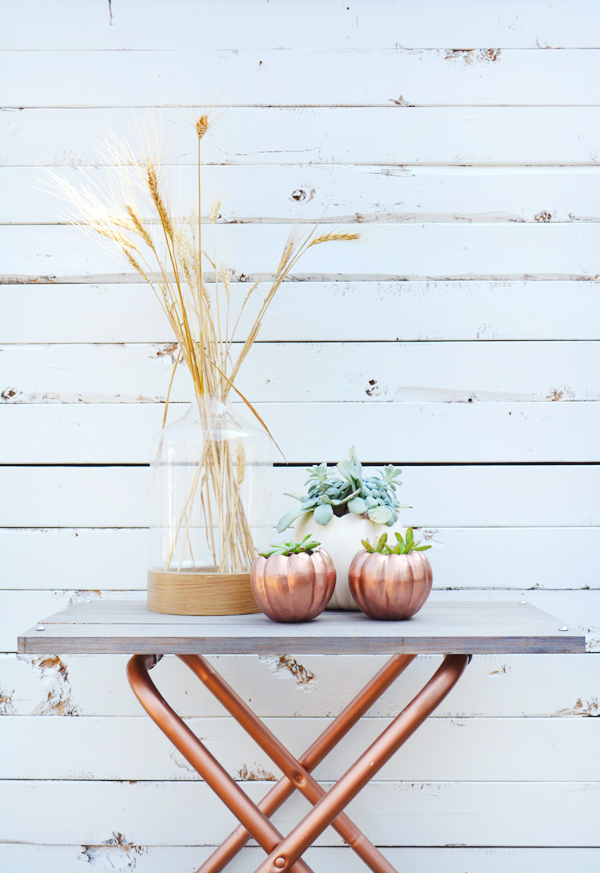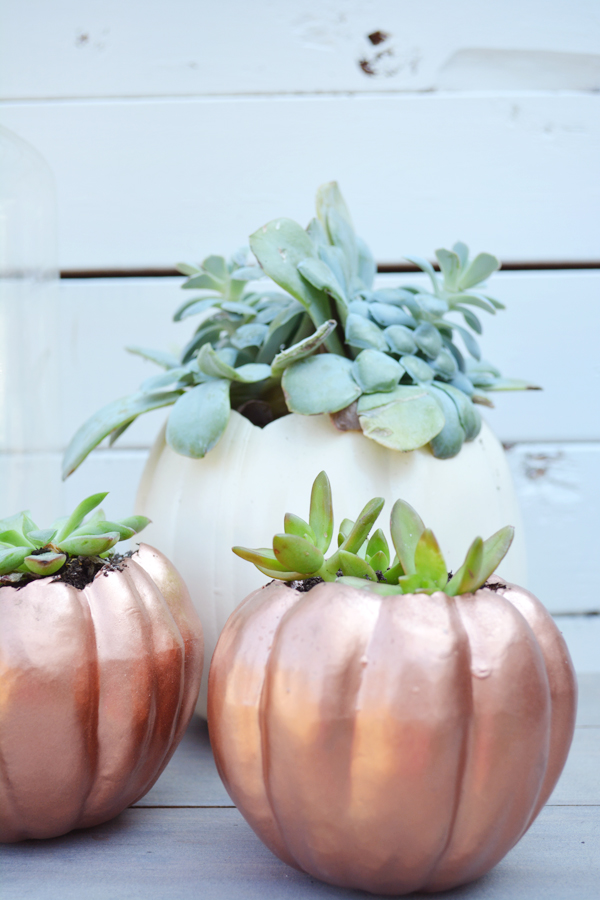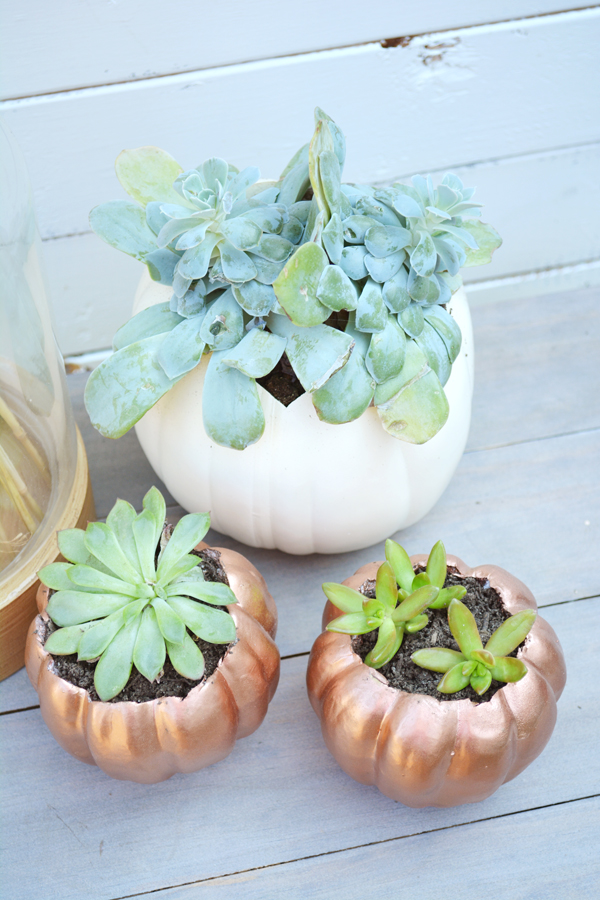 Have you started decorating for fall yet? Succulents should probably be included in your decor if they aren't already 😉 You could even use these as little place settings for Thanksgiving along with these fun fall printables!