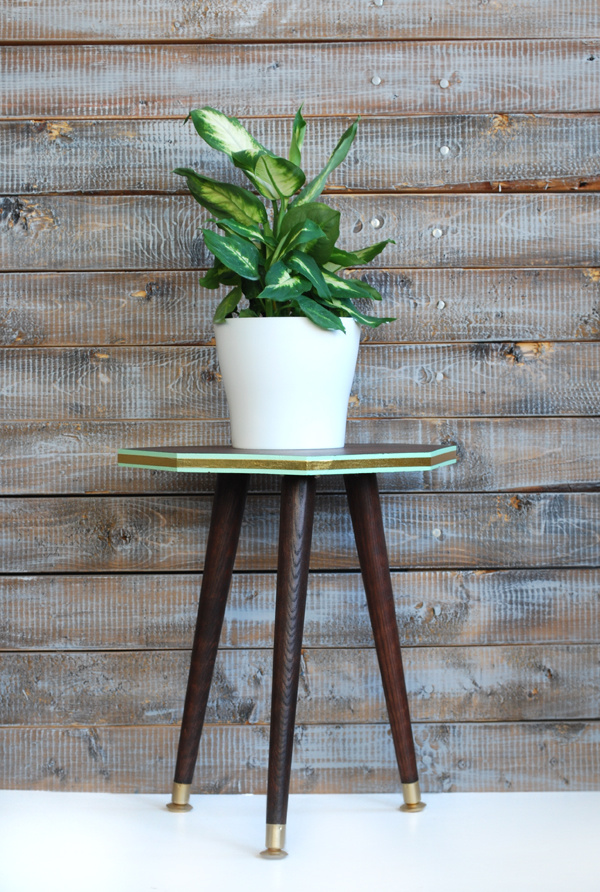 Well, mission get a selfie with Chip and Jo Jo failed. They were supposed to do a "meet and greet" and that never happened. Rude. BUT, hearing them speak was amazing. They're just as cool as they seem on TV and are so down to earth.
It was really interesting to hear them tell their story and hear how this whole journey started for them. Not only are they incredibly talented, but I think the reason they are successful is because they have this enormous respect and love for one another. It's really amazing. They did both favorite my tweet on twitter, so that kinda makes up for not getting a pic with them.
DIY MID CENTURY OCTAGON TABLE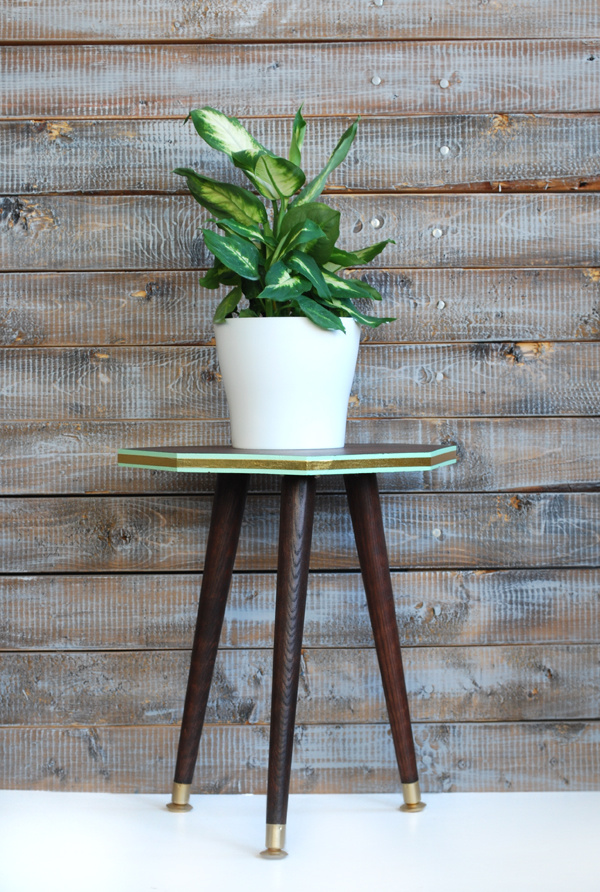 Anywayssss, let's talk about today's post. If you're not familiar with Ashley over at Sugar and Cloth you need to be right now. I won't even be mad if you go check her out right now. Just come back and finish reading my post after you do 😉
She recently created this amazing Mid Century Side Table and these Mid Century Planters which were the inspiration behind my little table. I was perusing a local garage sale site a few weeks ago and came across this: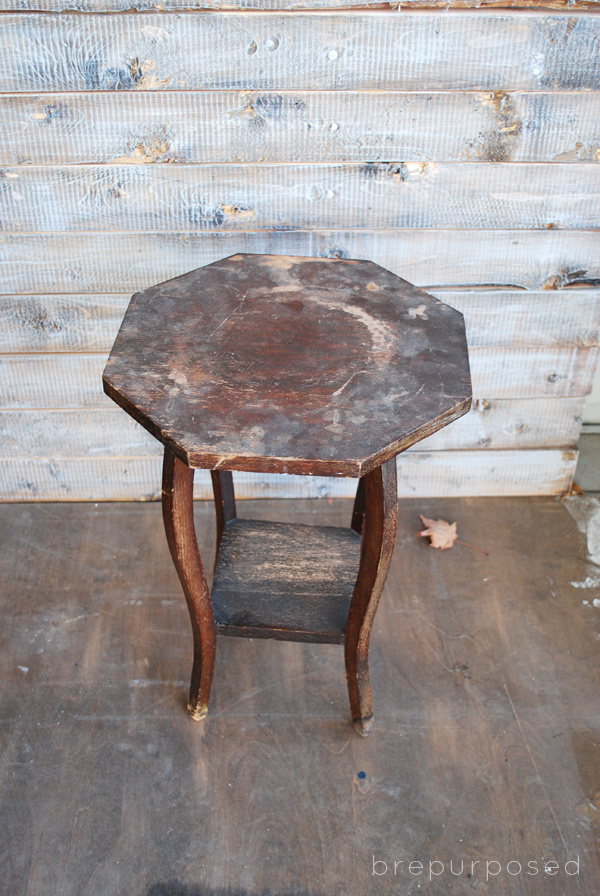 It was $8 and there was a whole thread of people interested in it. Somehow, no sale ever got finalized and I was next in line. #happydance I already knew I was going to take the top off but wasn't sold on turning it into a new table. I thought about a clock, maybe a cool piece of wall art. But after seeing Ashley's posts, I knew I had to get those legs.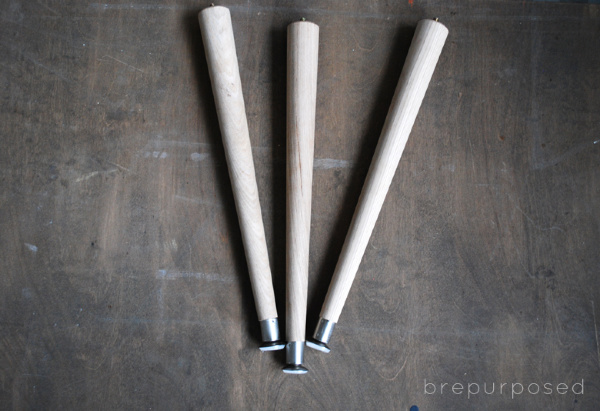 ---
SUPPLIES
Craft Paint in color of your choice
Gold Spray Paint (for the end of the legs)
Gold Foil Tape (found at Michaels with the Washi Tape)
Stain
Wooden Top (you can buy round ones at most Home Improvement stores or you can cut out your own shape)
---
After I detached the top from the rest of the table, I gave it a good sanding with my new toy 🙂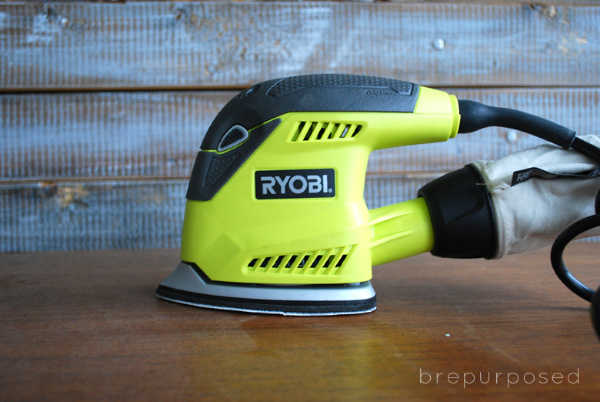 I got this guy during Black Friday when Home Depot was having an online sale for $15! Holla. It's so smooth and of course that color is amazing.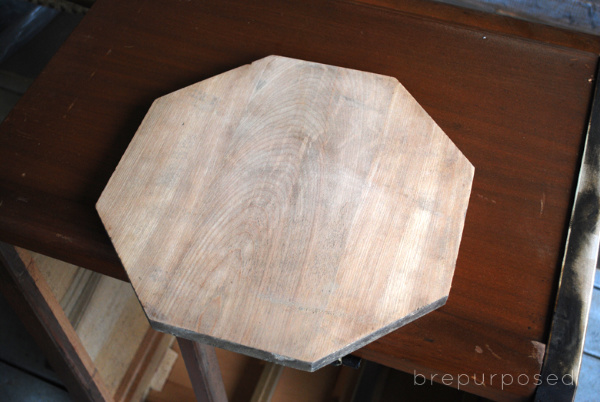 Once sanded, I used some Java Gel Stain to give it new, rich color.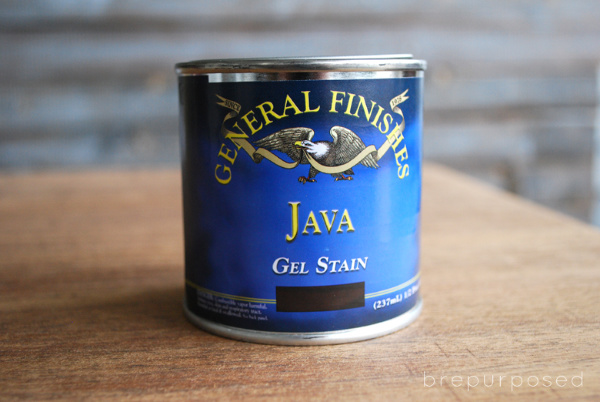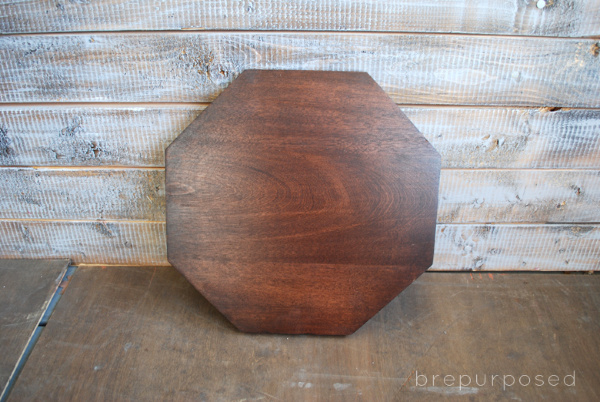 Much better 🙂 I did the same with the legs and then spray painted the ends gold. I sealed the top and legs using some General Finishes Satin Topcoat.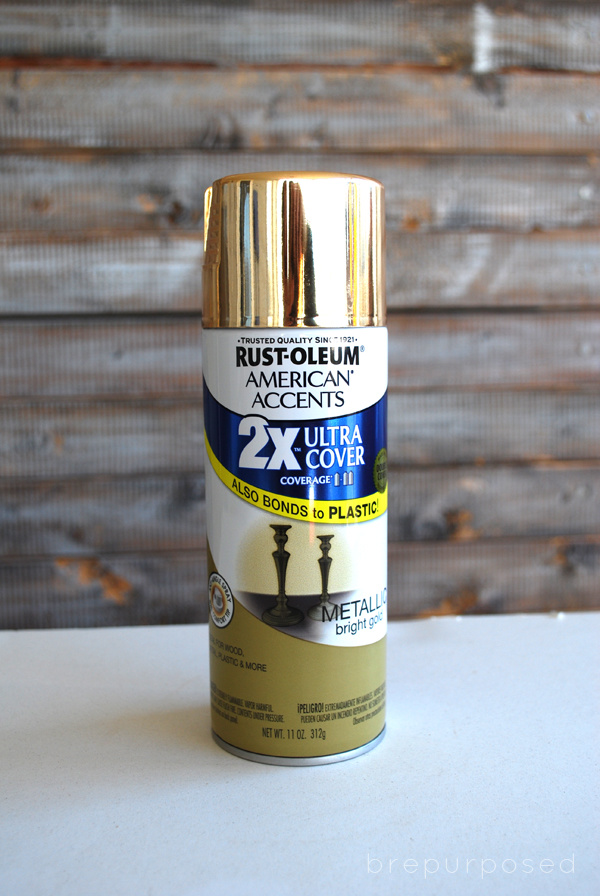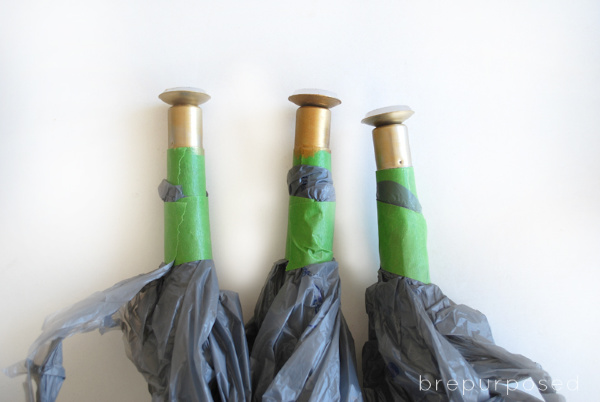 Next, I taped off the top and bottom so I could paint the edge.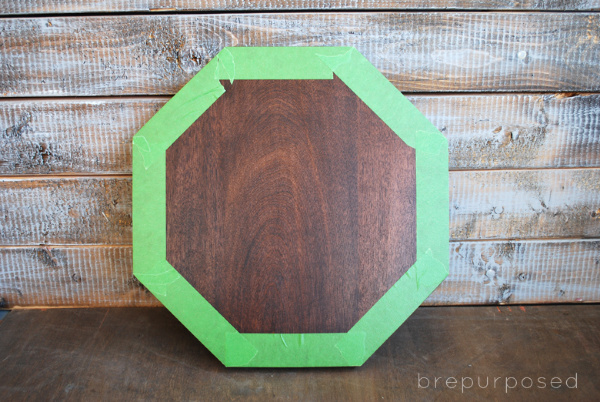 I used some Martha Stewart Craft paint in Pea Shoot. And now about this gold foil tape. It comes in a pack of 3, along with copper and silver. And it's amazing. I love gold foil but it can be a pain in the buns to work with, let alone get a straight line. This stuff makes it so easy. It has a backing you just peel off and then stick it wherever you want.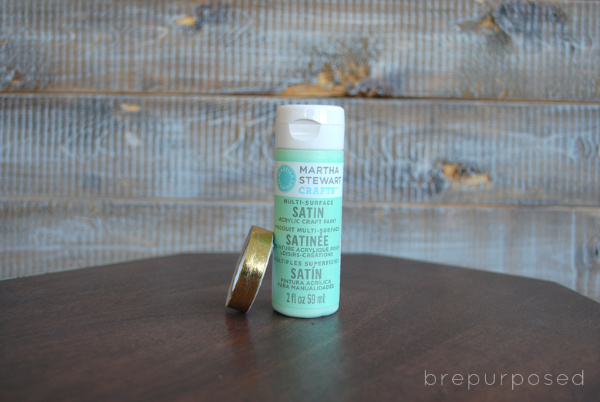 Once everything was dry, I attached my legs using the angle plates. I gave these a quick coat of gold spray paint as well.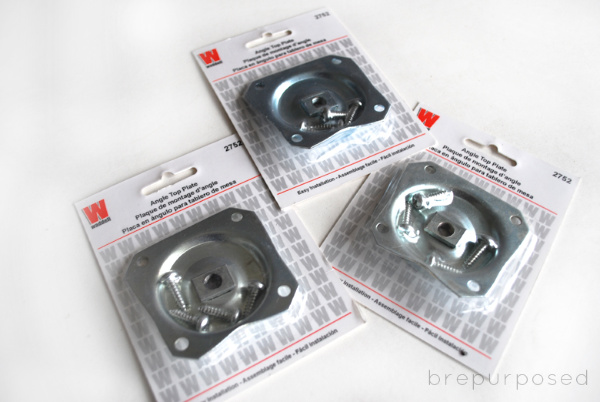 Not gonna lie, it took me a couple tries to get these in the right place. It's hard to make a tripod table not look awkward and not look like it's missing a leg.
Such an easy little DIY and perfect for my new plant 🙂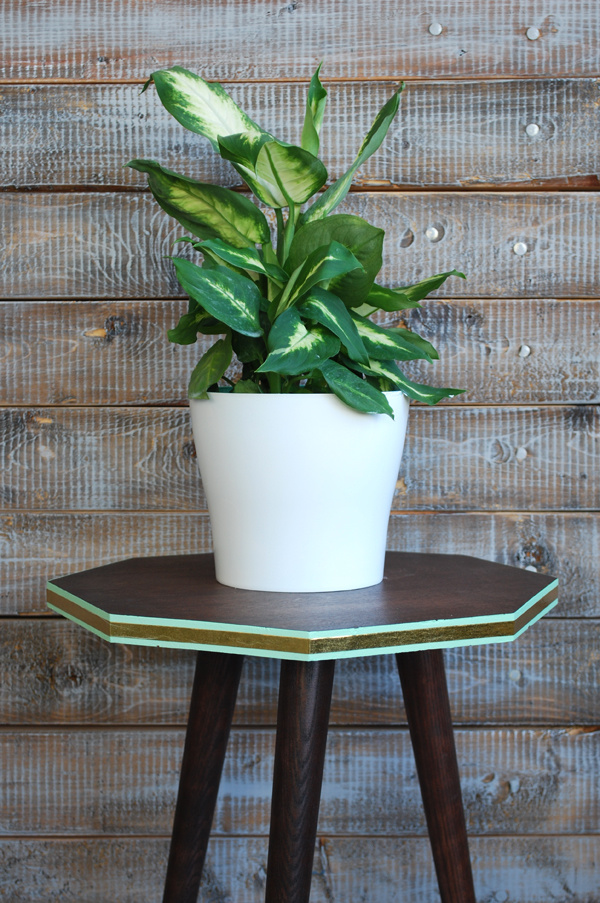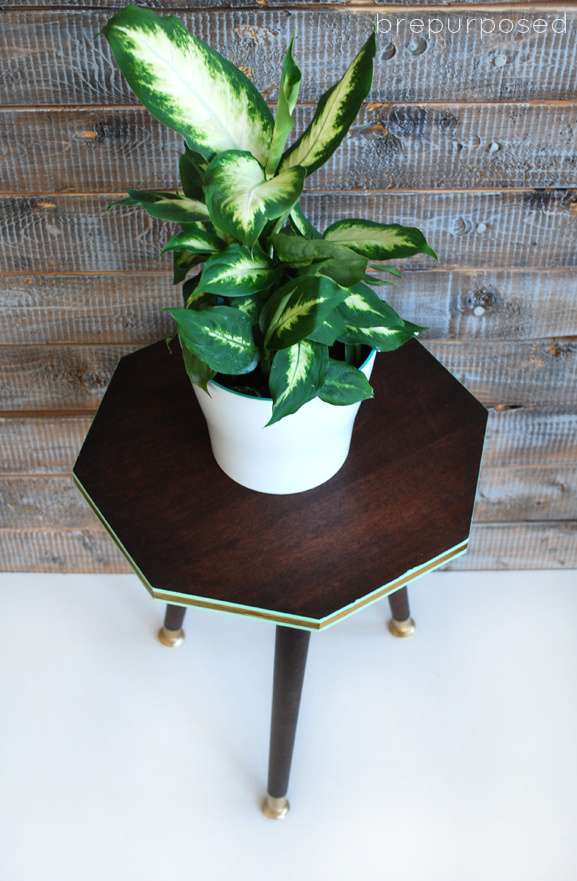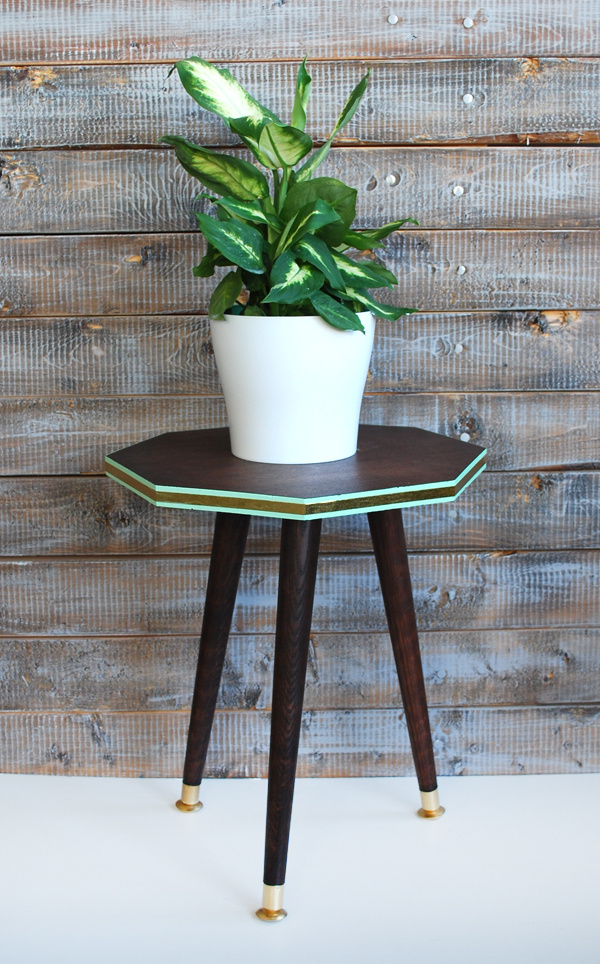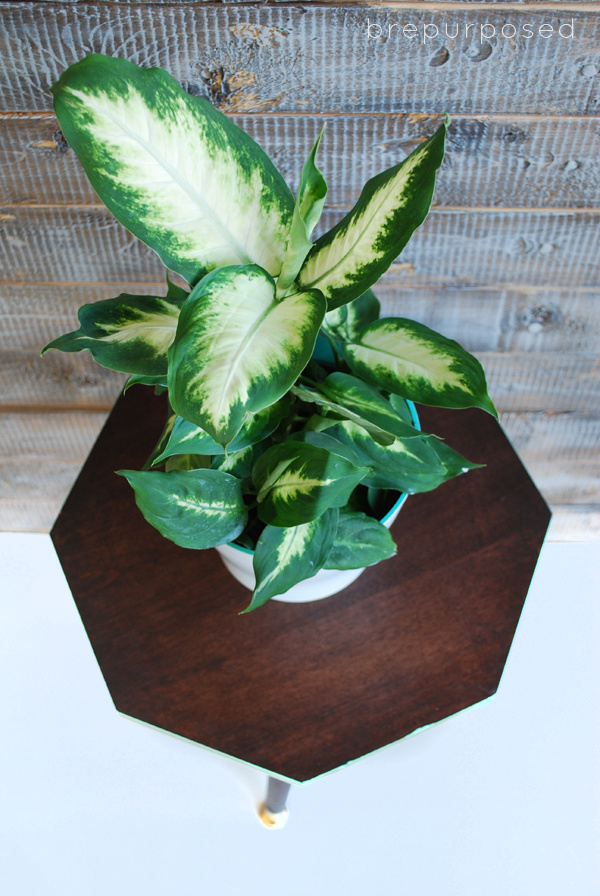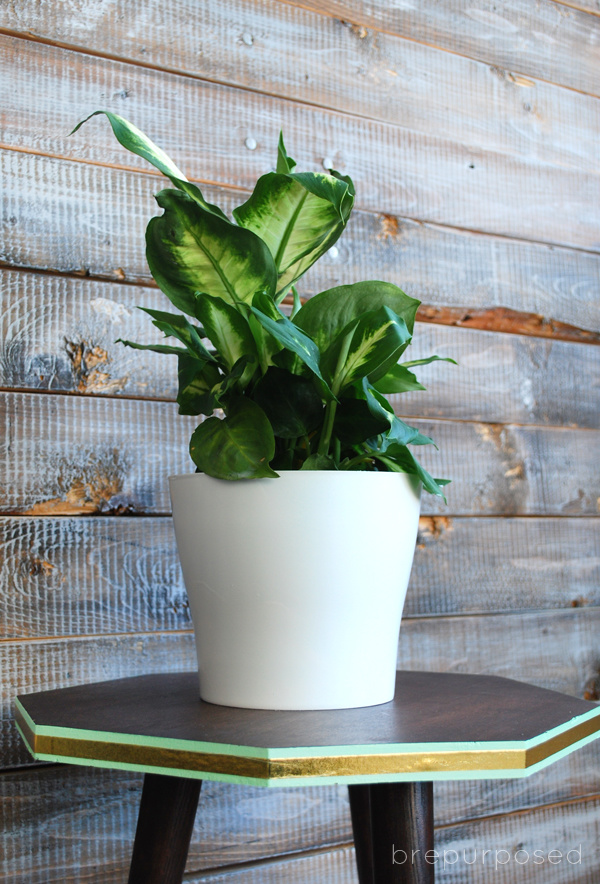 Big thanks to Ashley at Sugar and Cloth for the inspiration on this guy!
I might need to cut out some more octagons so I can give him some friends. And then of course I'd have a reason to buy more plants 😉
Please tell me I'm not the only one who can't resist buying some new flora every time I walk into Home Depot?
Oh! And today is the last day to vote for my Klein Blue Cabinet in General Finishes Design Contest. Voting closes at midnight so if you haven't voted yet, I'd love for you to head HERE and show me some love <3
Have a fab day everyone!