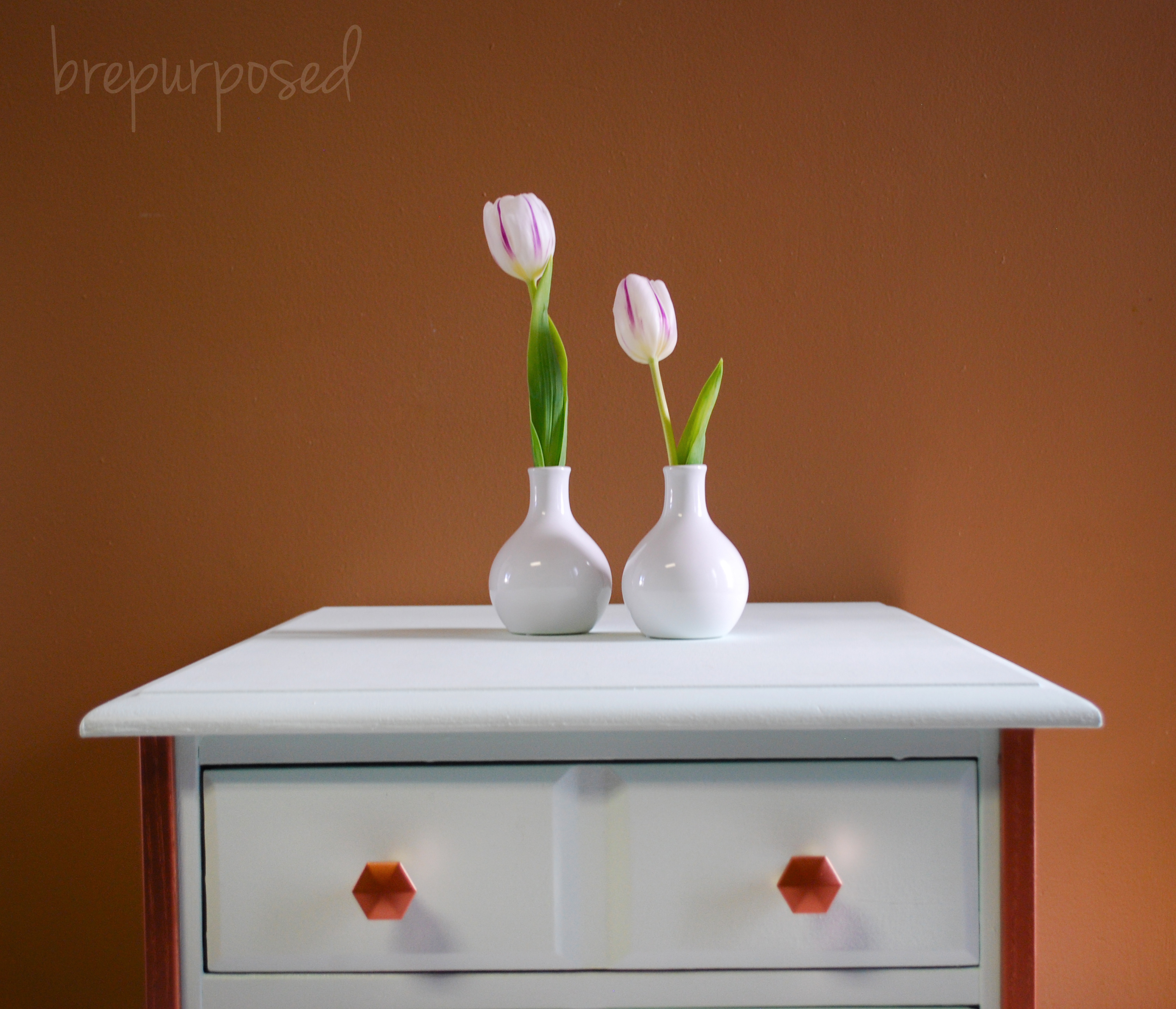 I feel like this is one of those projects where people are going to either love it or hate it. It's definitely bold and will only work in the right space, but I love it and I hope you do too! I bought this table a little while ago in a pair. The other one was slightly smaller and only had one drawer on the front. I debated redoing them together, but decided to let them go their own ways since they aren't quite identical. So let's talk about this Aqua Table with Copper Knobs!
I've been loving all the pastels that are on trend this spring and wanted to give one a go. I was originally going to go with a mint color, but couldn't find one that I really liked. I've never used Pantone's paint before and they had tons of pretty pastels to choose from. I ended up going with Aqua Glass and from the start new I was going to get some more use out of my copper spray paint with the knobs. The fabric I used is from Modern Cloth, an Etsy store run by the lovely Mariah. She has SO many wonderful fabrics. Seriously. Go check her out! I searched for a pretty floral fabric for a while, but when I spotted this one I just couldn't resist. It may look a little familiar, as I used it as the background for my DIY Leather Plant Tags photo shoot 🙂
Here's a quick before and after before I show you the rest!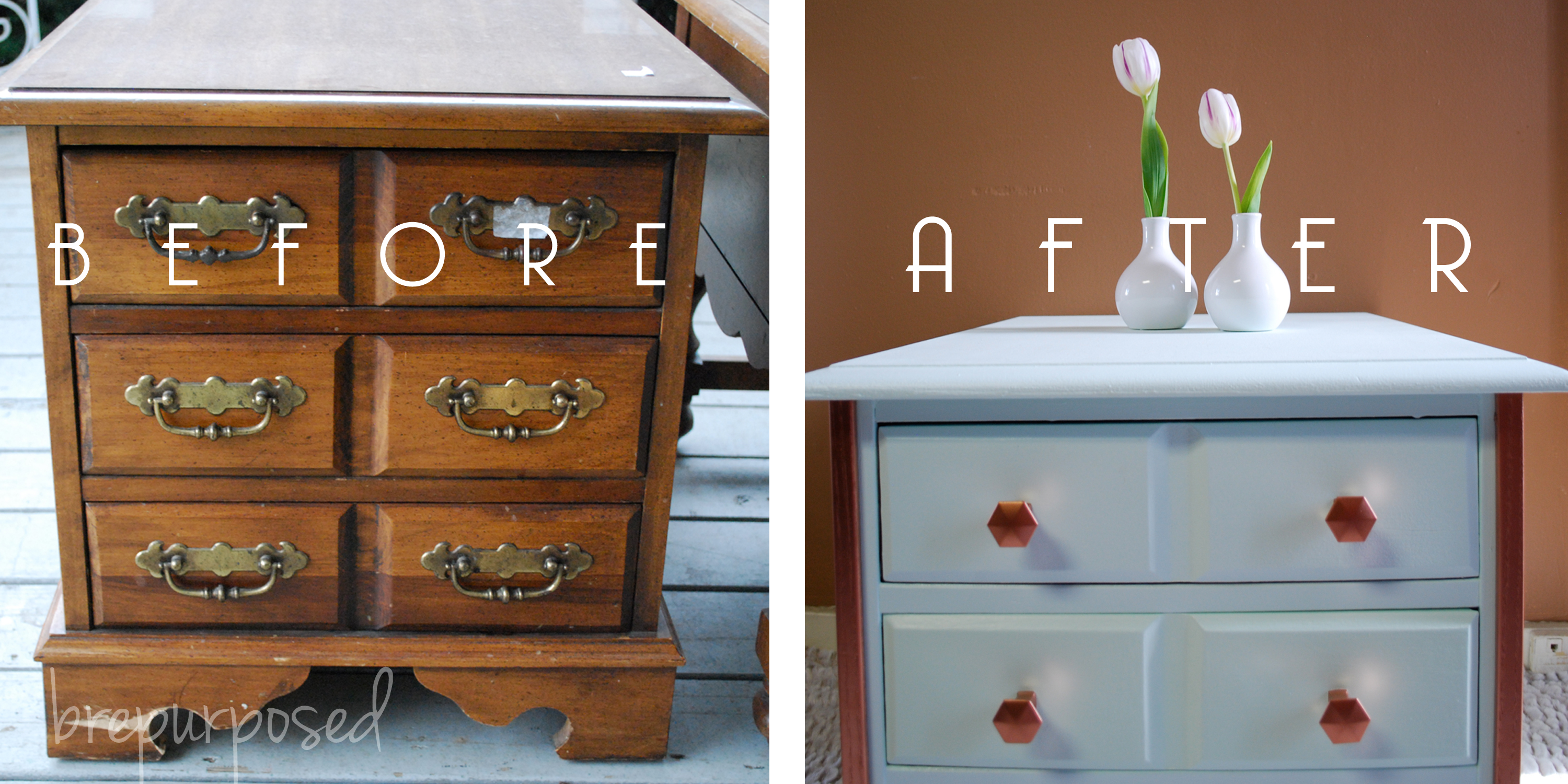 This guy was in pretty good shape and I was priming, so I didn't need to do too much sanding. There was a little chunk missing on the bottom left corner that I filled in with Elmer's Wood Glue and sanded down smooth. I did the same to the holes on the drawers since I was using new knobs. I did two coats of Zinsser's Cover Stain in the brown can and followed that with 3 coats of the Aqua Glass.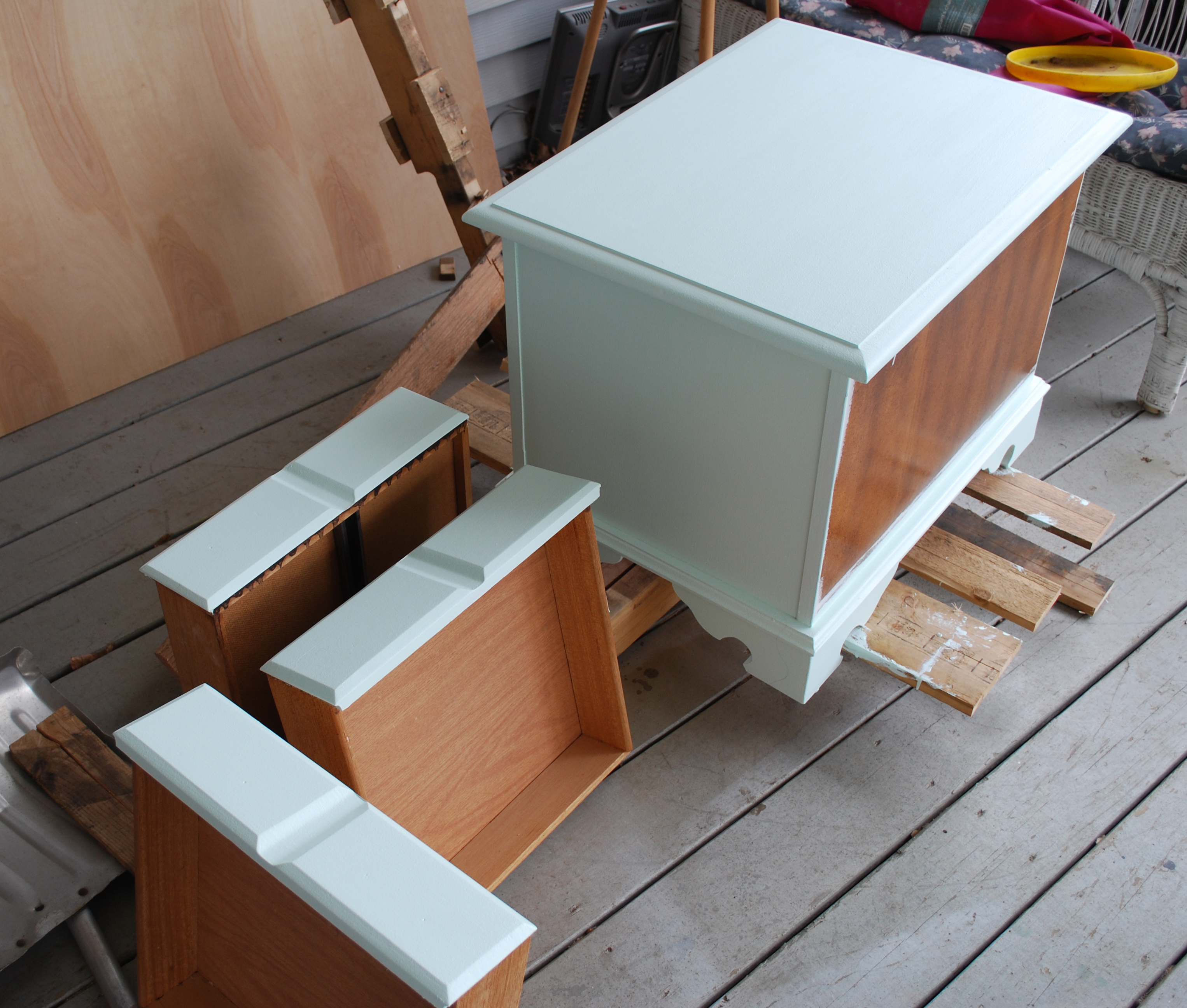 I don't know what my deal is but I feel like I can never get the holes on drawers filed properly. I filled and sanded about 3 times on each hole to get it (what I thought) was smooth. After my first coat of paint I could still see a couple tiny little holes but thought they would disappear once I added the other coats because that was the case on another project. I was wrong. And now I had totally painted my drawers. UGH. I thought about keeping it as is since the holes were quite small, but the perfectionist in me took the reigns. I completely sanded down the areas around the visible holes and refilled them and repainted them. Anyone have any good tips on using wood filler? PLEASE SHARE!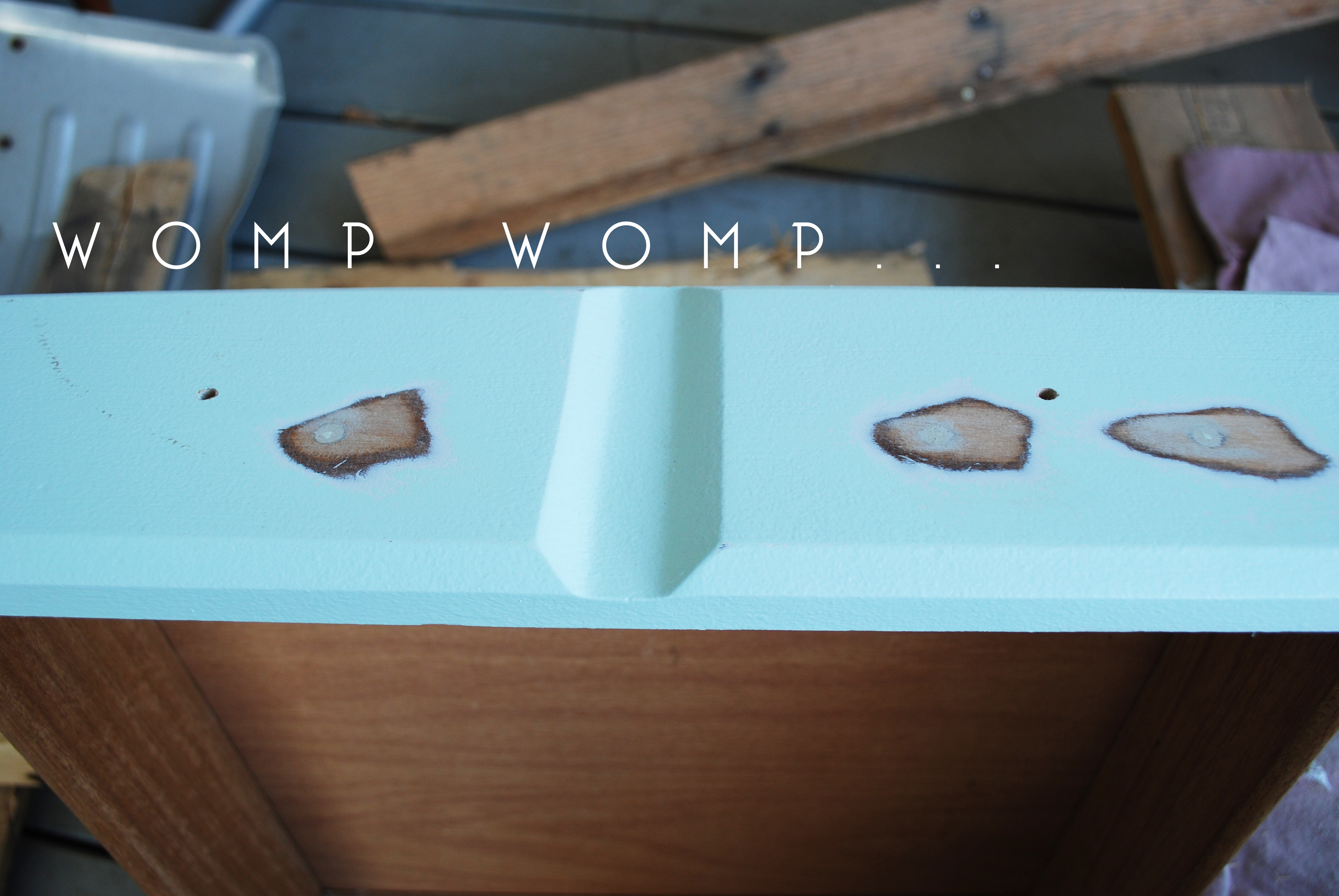 Moving on. Once that was all fixed I covered it in Rust-Oleums 2X Ultra Cover in Gloss. I'm not typically a fan of a spray finish like this but every once in a while it gets the job done quick and easy.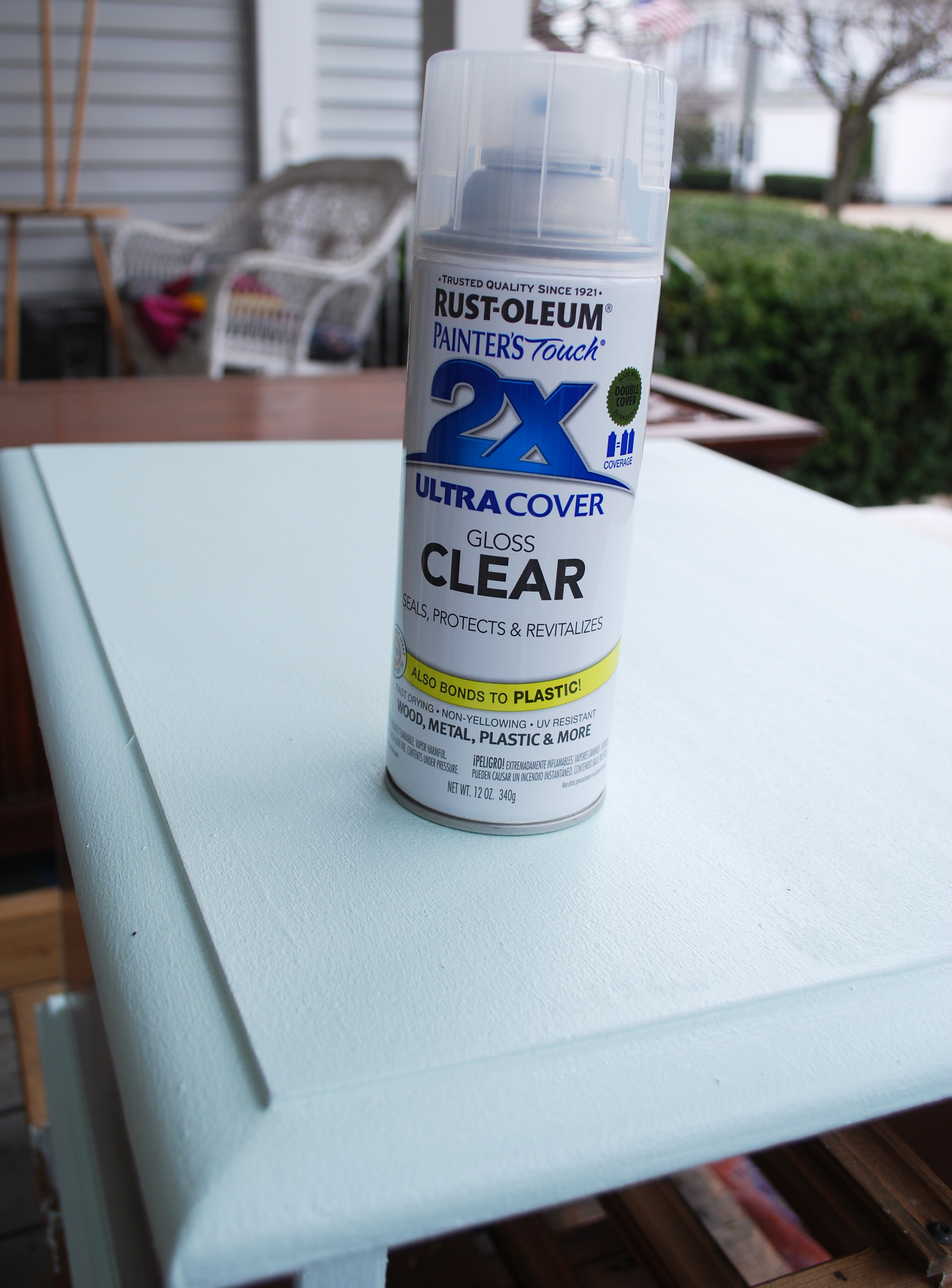 Next up was my fabric. I cut my pieces for the side panels and used Mod Podge to adhere it, using a credit card to smooth it out.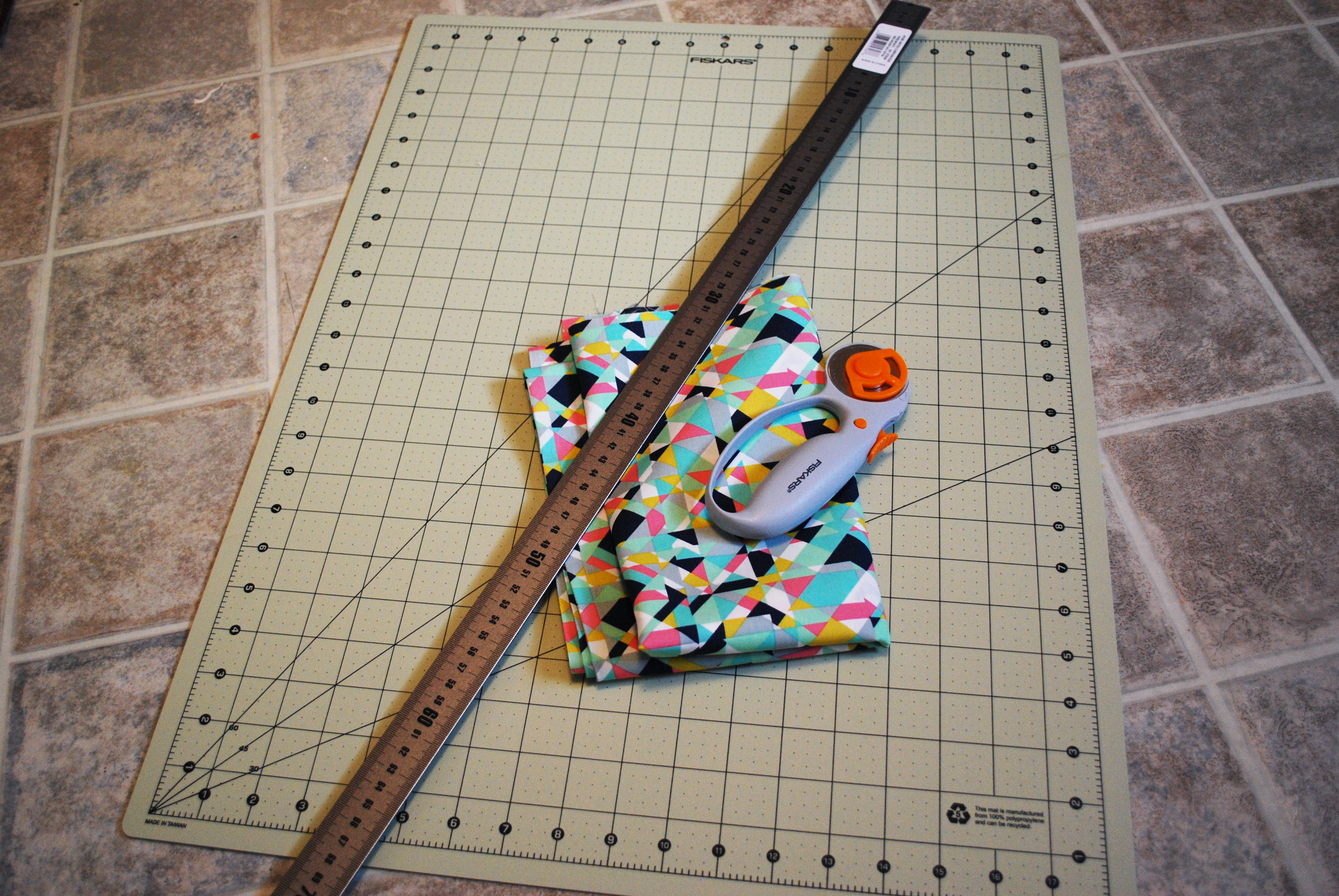 I cut my fabric relatively straight but of course it didn't look that way once it was glued on. It was coming over the edges a little bit and I knew I wanted a cleaner look. I decided to get some corner molding from Home Depot and use that on all 4 edges. You can get it for about $1 a foot. I chopped that up with my Miter Saw and spray painted them along with my knobs.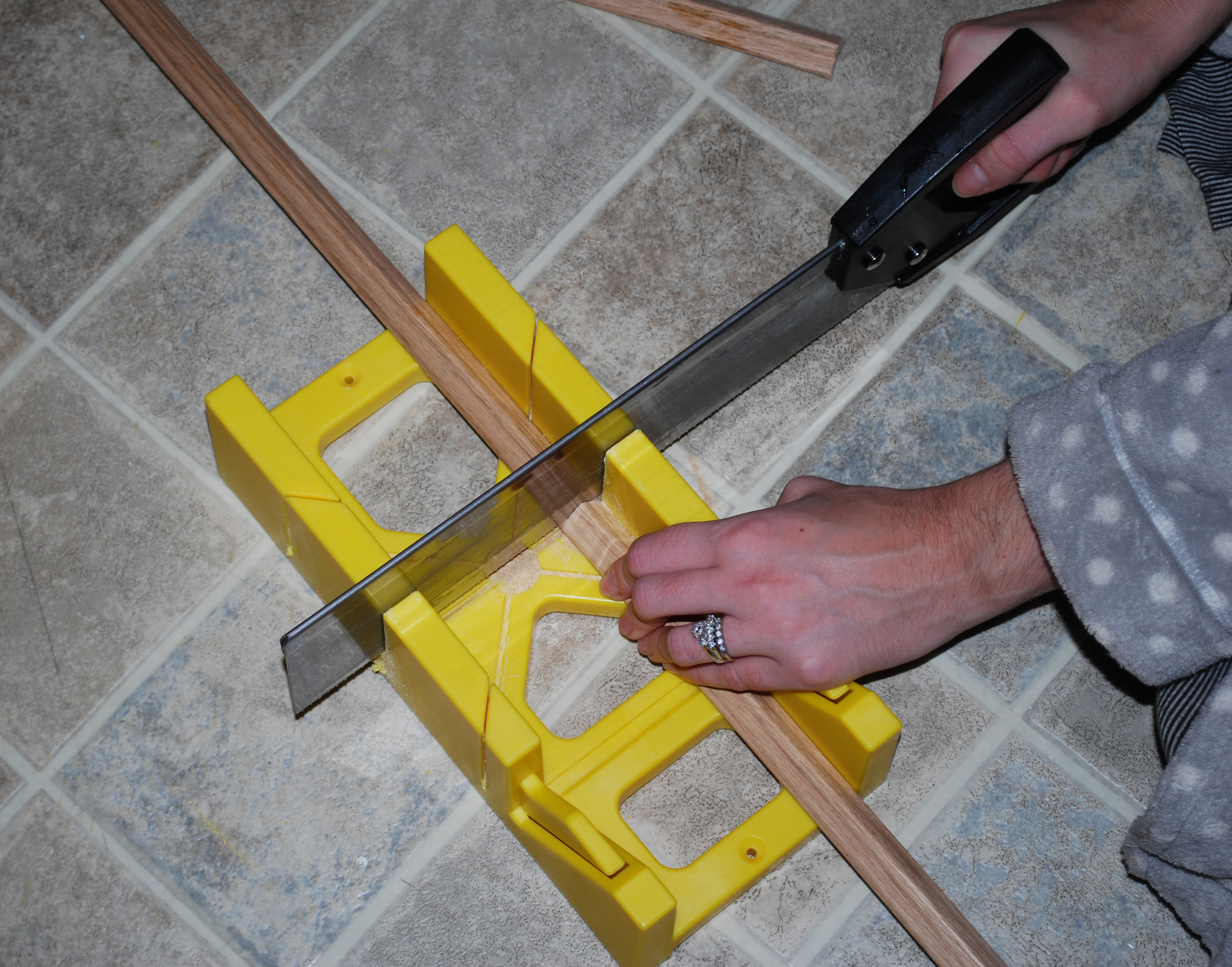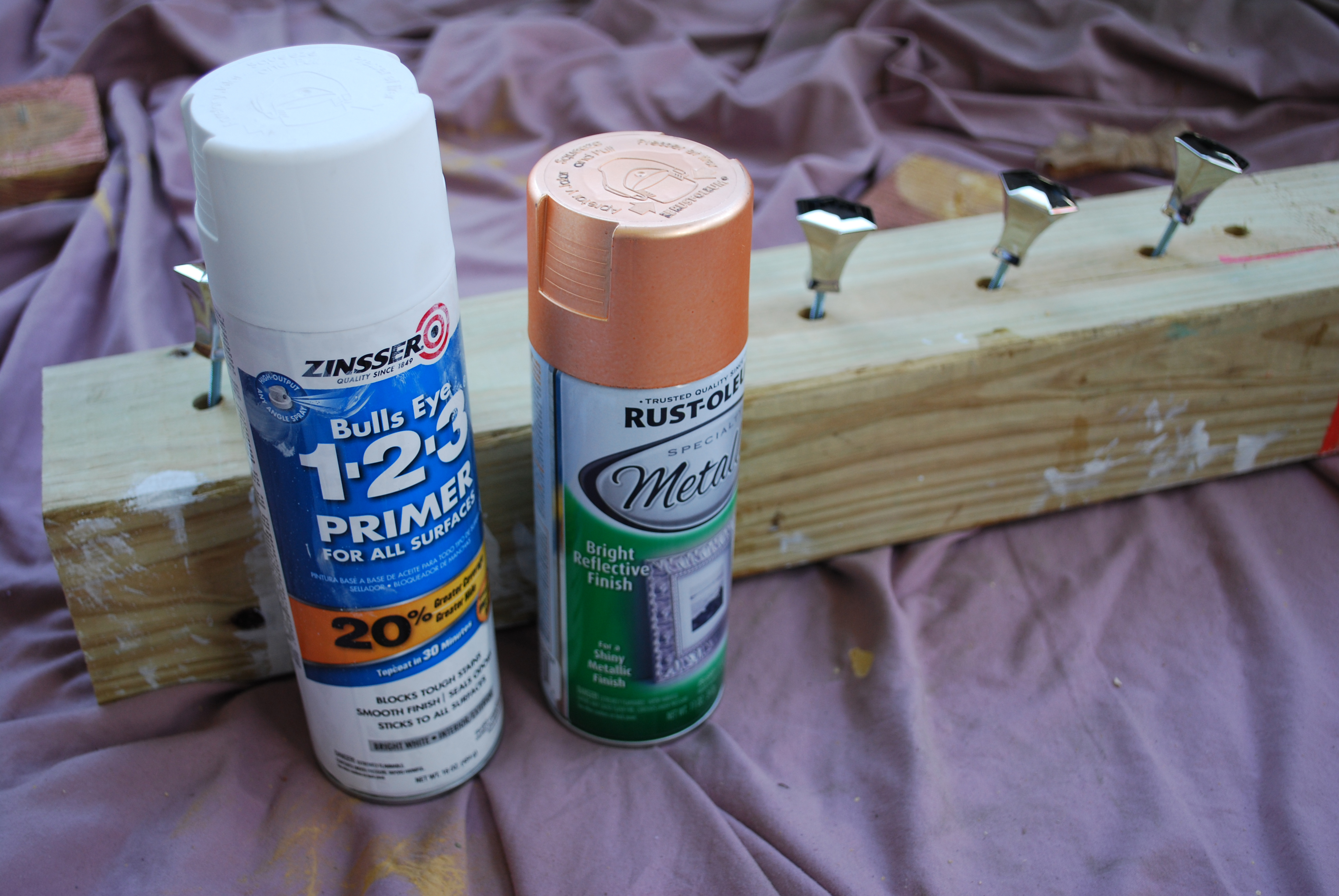 I was pretty pumped about the little set up I made for spray painting my knobs. I drilled holes in a scrap piece of wood I had and screwed the screws into the knobs and BAM! Hands-free spray painting station. I hope we start seeing more copper knobs and pulls out there that aren't crazy expensive. I'd love to start my own line of drawer pulls. How SWEET would that be?! Stay tuned… 😉 For now, good 'ole Rust-Oleum's Metallic in Copper does the trick!
I struggle with finding good spots to photograph my projects in our tiny apartment for a few reasons. 1. You heard me say tiny right? 2. Our wall colors are not much to be desired. 3. Lack of good lighting. Although it's always a challenge, I think I found the one spot at the right time of day that gives me shots that I'm most happy with. At least for now 🙂 Just before we were heading to Ohio for Easter, the sun was shining through the window so beautifully. I had to take some more pics. Hubs was anxiously waiting for me and I believe his exact words were, "Is this thing a model? How many pictures do you need to take?" Ha. Sorry babe! I think he was just jealous I wasn't taking pics of him 🙂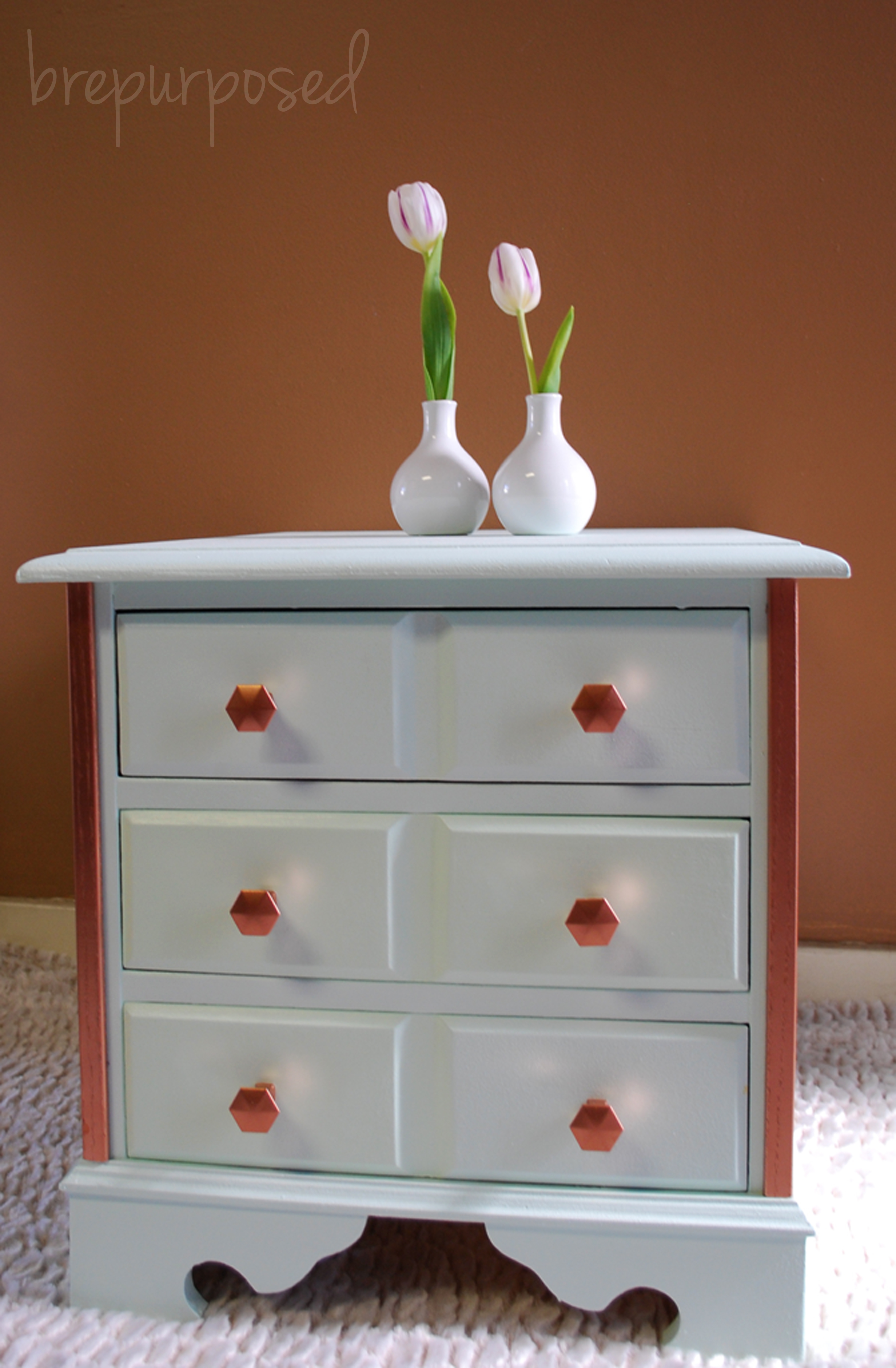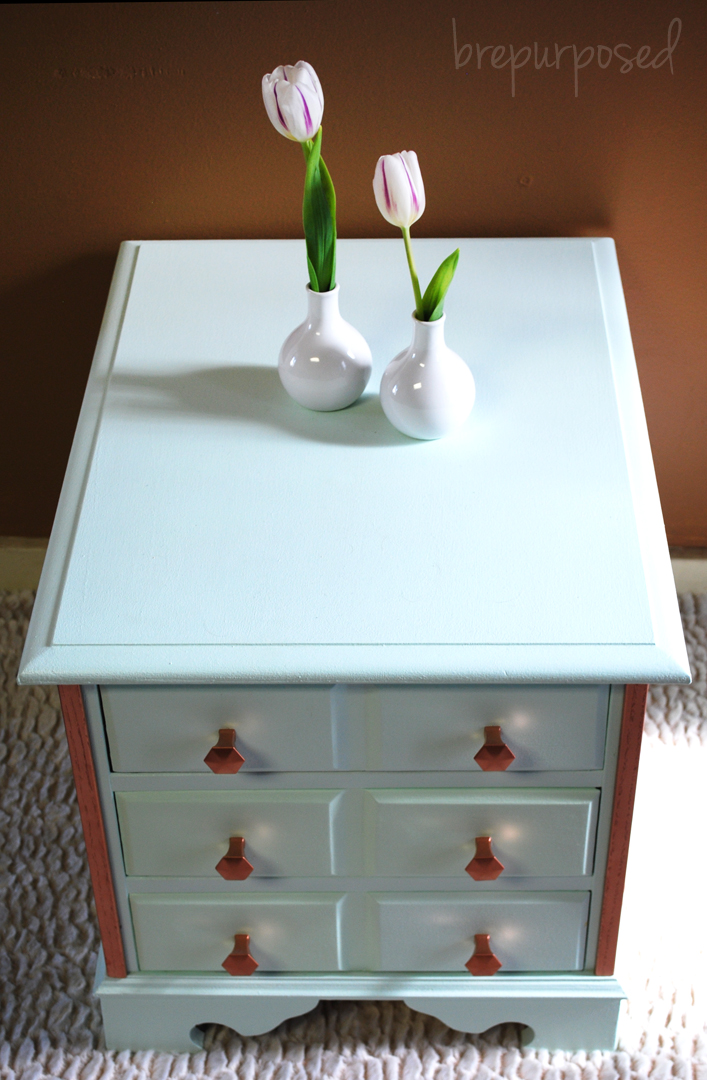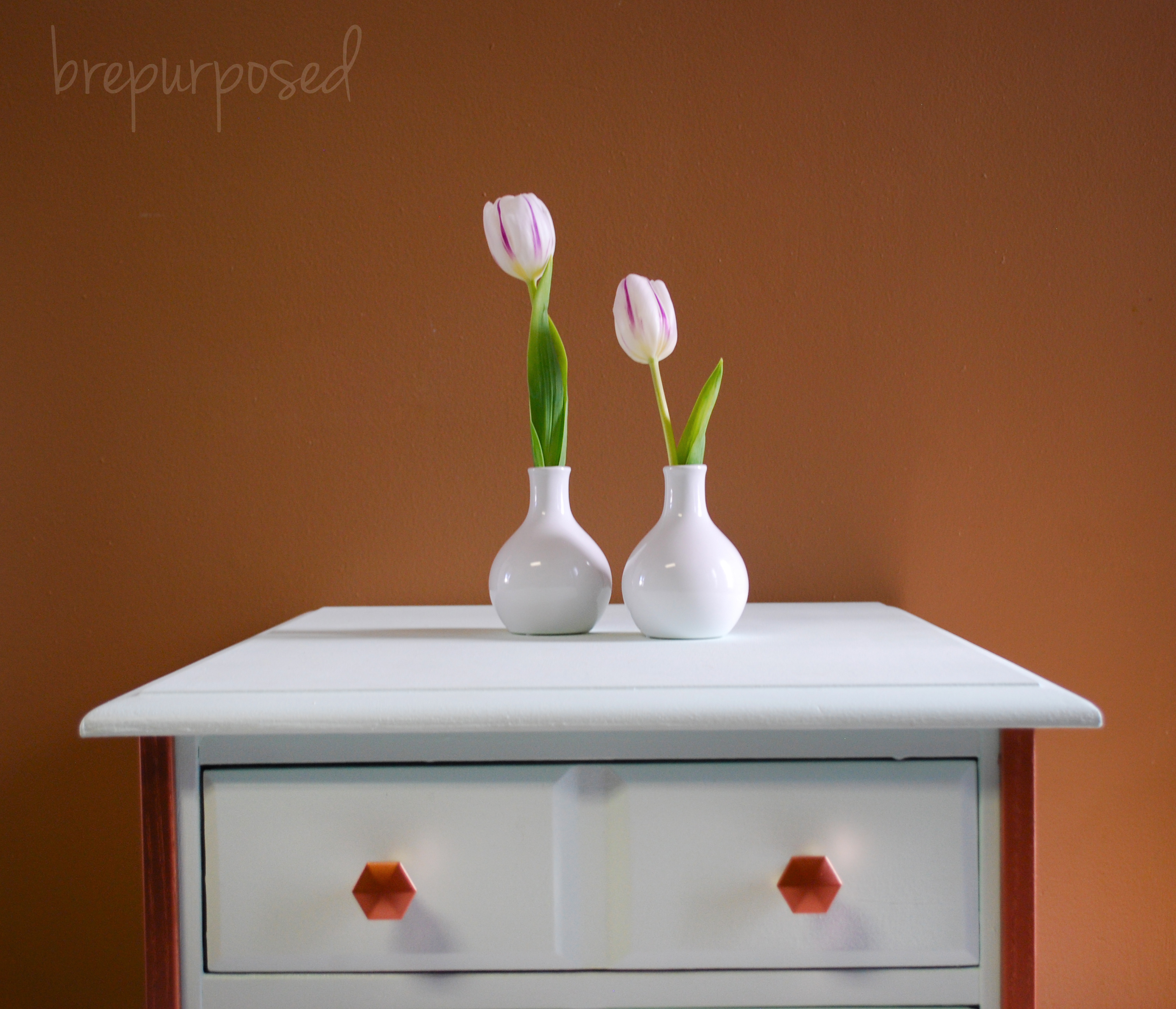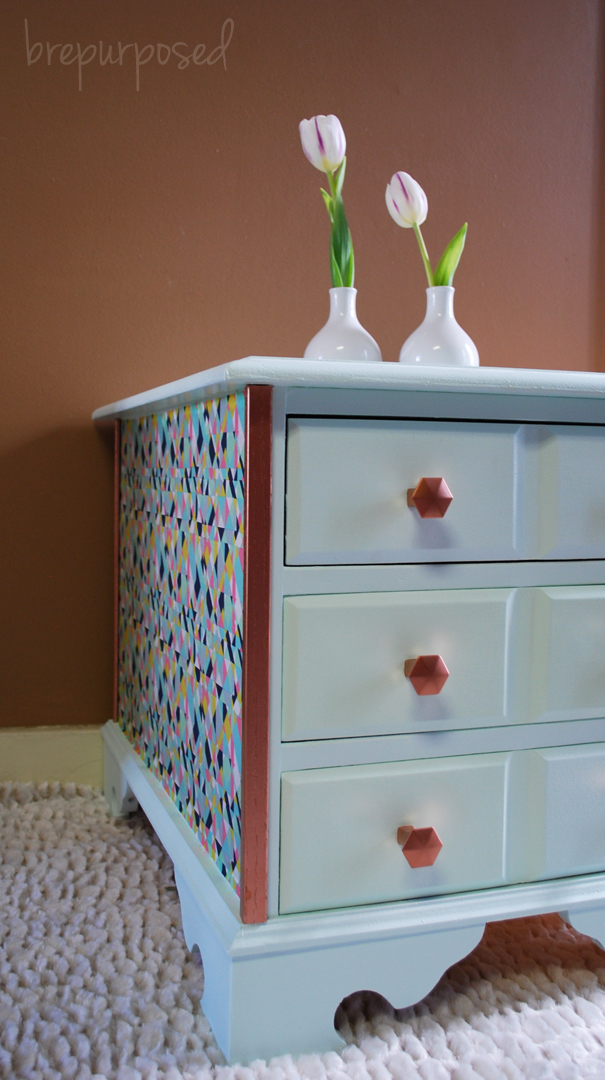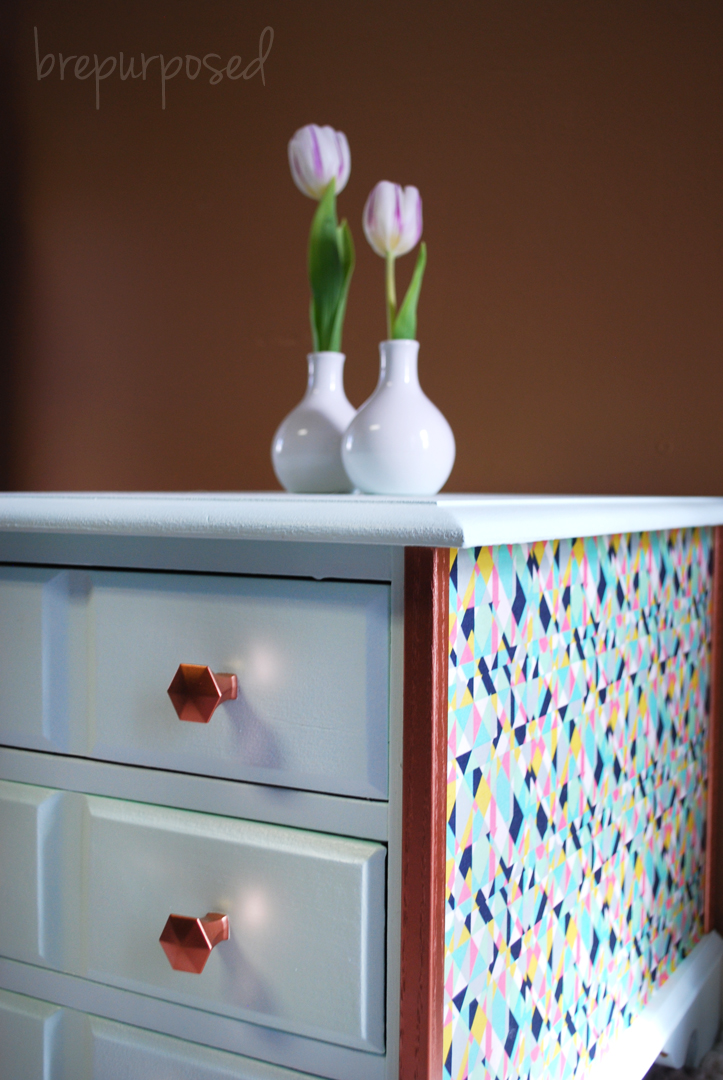 So what do you think? Love it or hate it?! I'll be unveiling this guy's brother soon so be sure to check back!
P.S. It's for sale! 😉