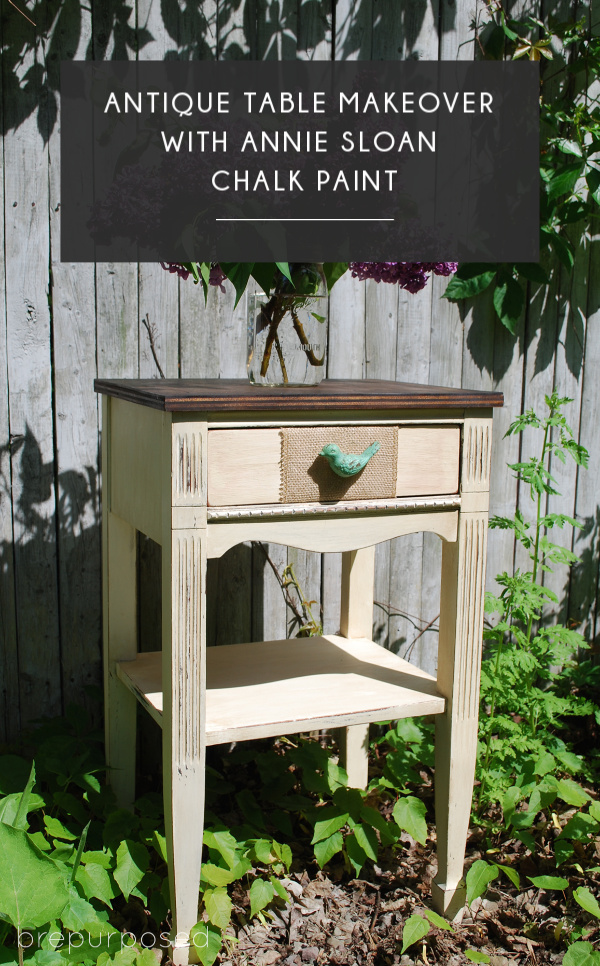 TGIM! Said no one ever…except Eric Thomas. And me! I'm seriously so excited it's Monday because even though I loved every second of The Home Girls Giveaway last week, I've been anxiously waiting to share some more projects with you! This little chalk paint table is one of my favorites so far!
As I was shopping around at my go-to local antique store, I found this side table for just $15 and knew it was perfect. I love doing small tables like this because I'm SUPER impatient and they usually don't take as long to complete as a dresser or larger piece.
ANITQUE TABLE MAKEOVER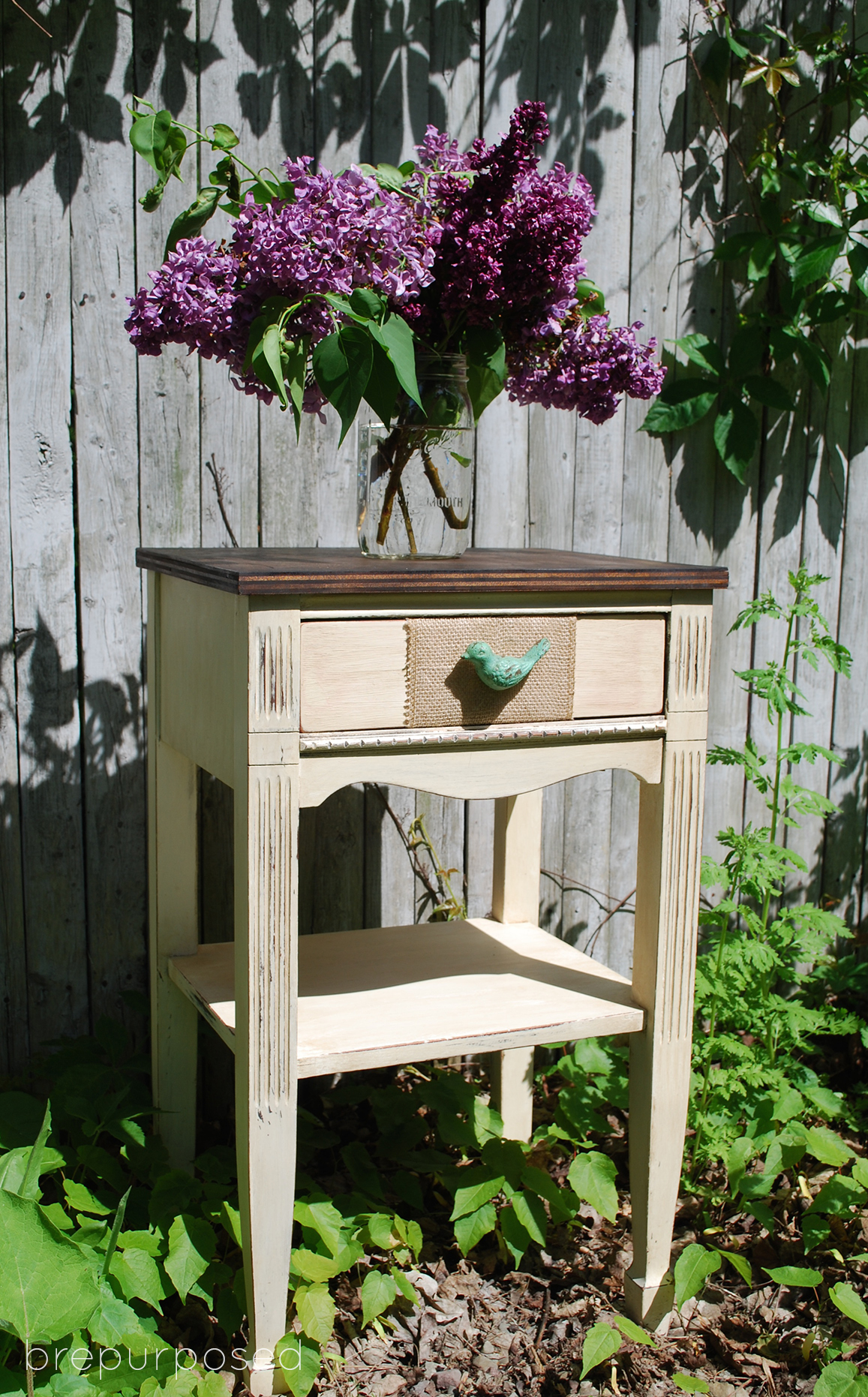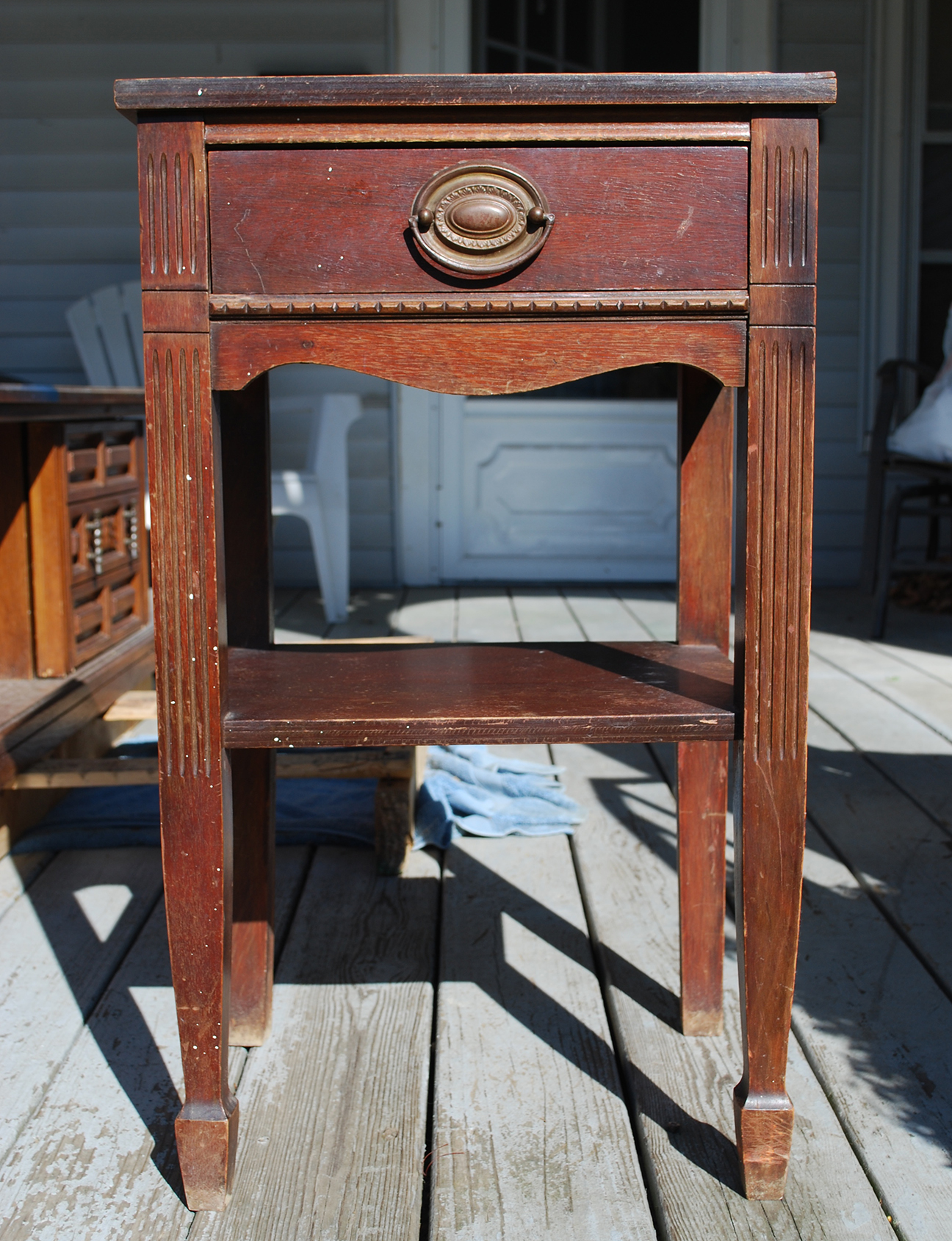 I had a small sample pot of Annie Sloan's Old White, which I've never used before but was super excited because I know it's one of her best sellers. Before I tackled this guy with paint though, I needed to address the top. There was some wood veneer that was starting to peel off which I originally thought I would just glue back down.
The longer I investigated it, the more eager I was to just rip it off. I got my putty knife and started peeling as much of it off as I could. It seemed to be going somewhat easily, minus a few bloody knuckles, but I came to a point when I just couldn't get anymore off. After doing a few google searches I came across a great technique that worked wonders for me.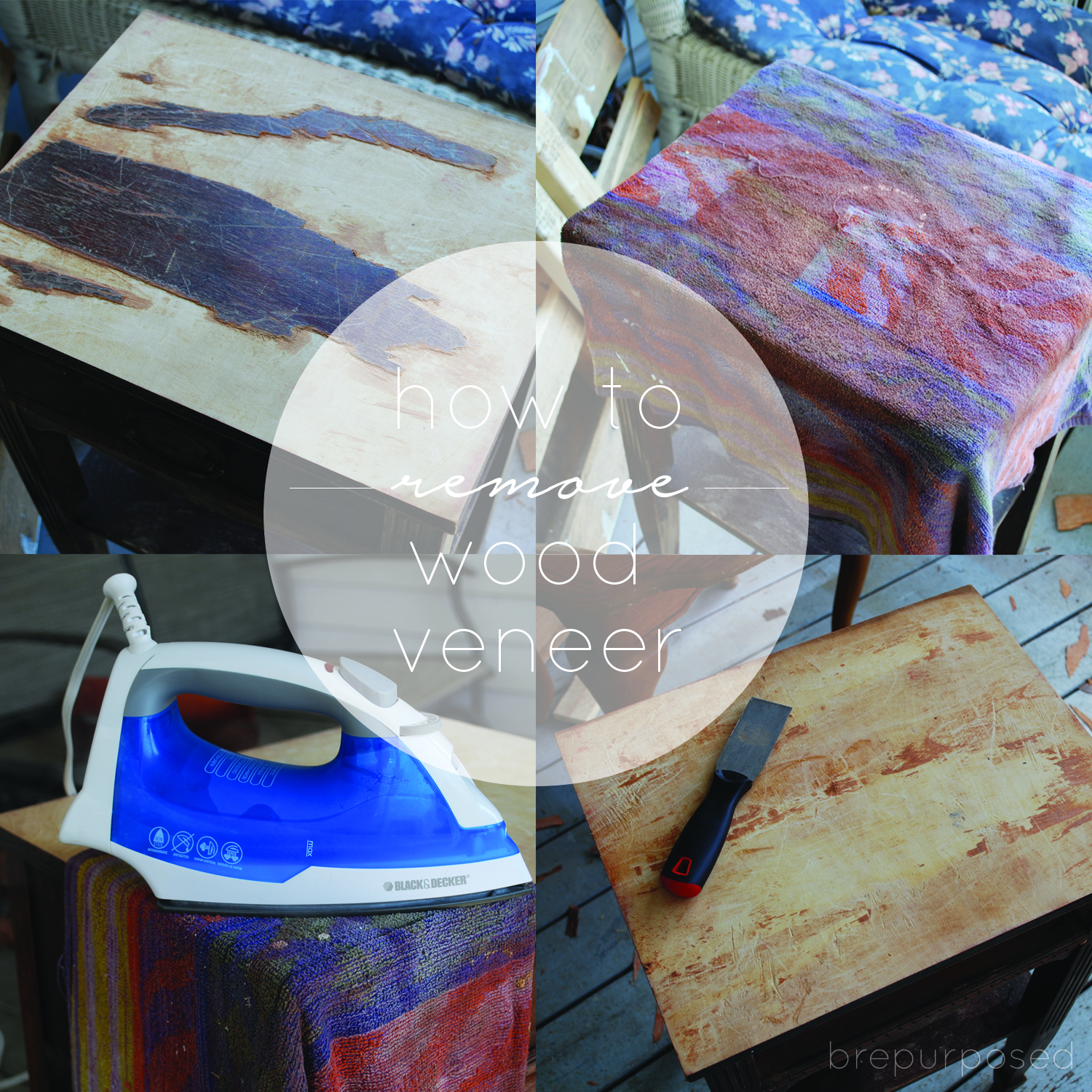 After you've gotten as much of it off as you can with a putty knife, it's time to bring in the big guns. AKA: an iron. So here's what you do:
STEP 1:
Dampen your table top with some water. I simply used a cup and just dumped it on.
STEP 2:
Soak a towel in water and place it over your table.
STEP 3:
Place the hot iron on sections of the veneer and let it sit there for about 30 seconds. (repeat as necessary)
STEP 4:
Use your putty knife to remove the loosened veneer.
What happens is the water on the wood and towel soaks into the veneer and loosens the glue underneath it. If you have some stubborn veneer (which I did), just keep repeating these steps until it finally loosens. It might take a couple tries, but it comes off SO easily.
Once that was taken care of, I sanded the top to smooth everything out. Apparently I was getting a bit aggressive with the knife because I had quite a few dings and scratches on my table. I actually really liked the way the stain soaked into them and added an aged look, so I left it as is.
Next, I applied 3 coats of Old White. Then I distressed it and used a custom blend of clear and dark wax I got from a friend. I love how it still deepens the white and really brings out the details, but isn't as harsh as the dark wax can be when you use it alone.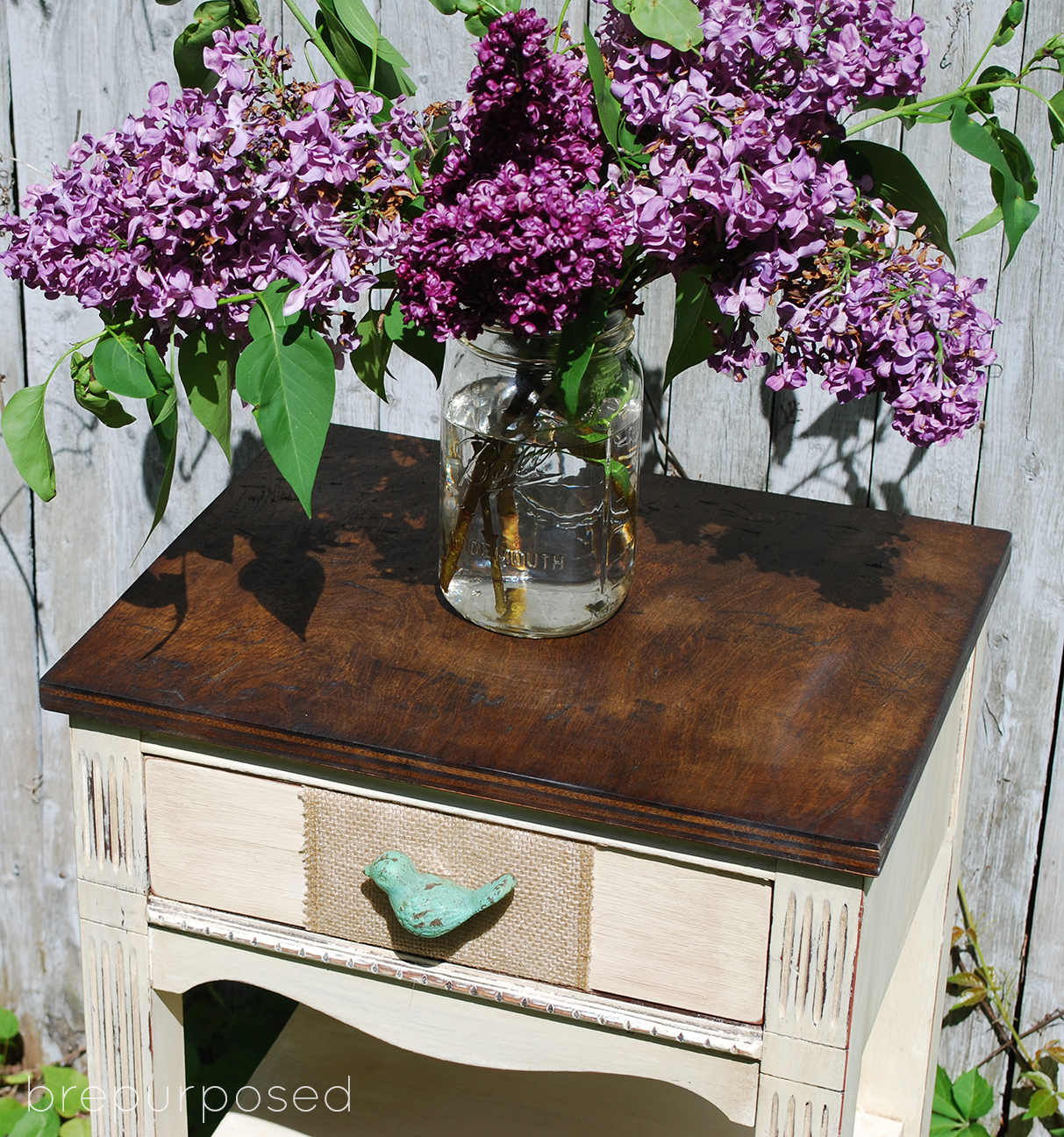 I wanted to do something fun for the drawer but wasn't quite sure what that was going to be. At first I thought about using fabric, but couldn't find any that I really liked for this piece. Then I thought about burlap. Perfect. I found this gorgeous burlap at Hobby Lobby that had a lace overlay on it.
Super pumped I covered the drawer using a staple gun, only to find that since it was so thick, the drawer wouldn't slide all the way in 🙁 womp womp. Maybe I should just stain it? Paint it? I REALLY liked the way the burlap looked with this table and was determined to find a way to use it.
So I simply turn it over (lace side down) and since it was pre-cut there were none of those annoying loose threads that you get when you cut burlap. I stapled it in place and voila! I'm in love, I'm in love and I don't care who knows it!
Now can we please talk about that amazing little birdie? Hobby Lobby has upped their game folks. They have some incredible new hardware that I was drooling over for a good 30 minutes before picking out this little guy. SO cute.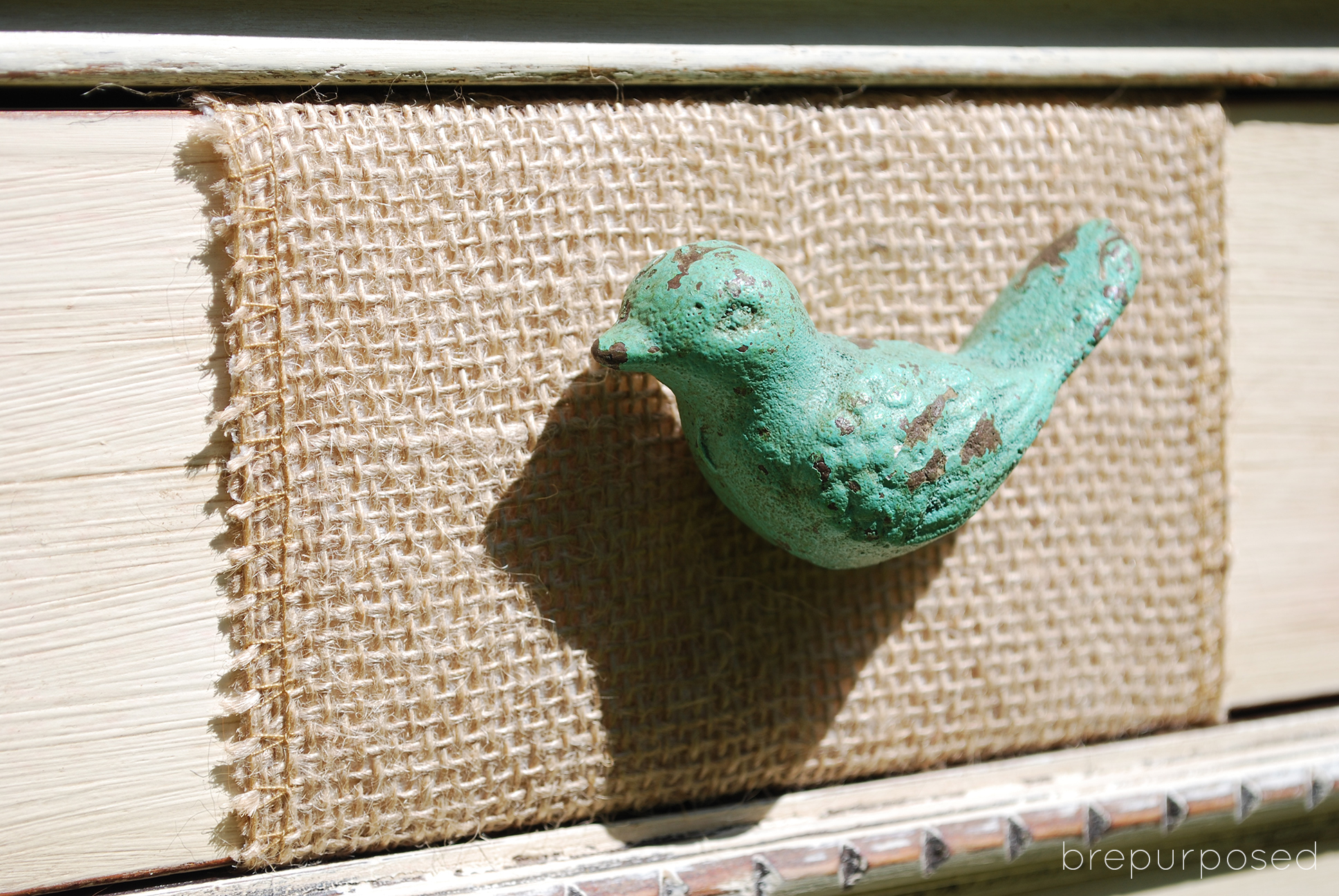 With some fresh lilacs and a bird for a handle, it only felt appropriate to photograph this table outside 🙂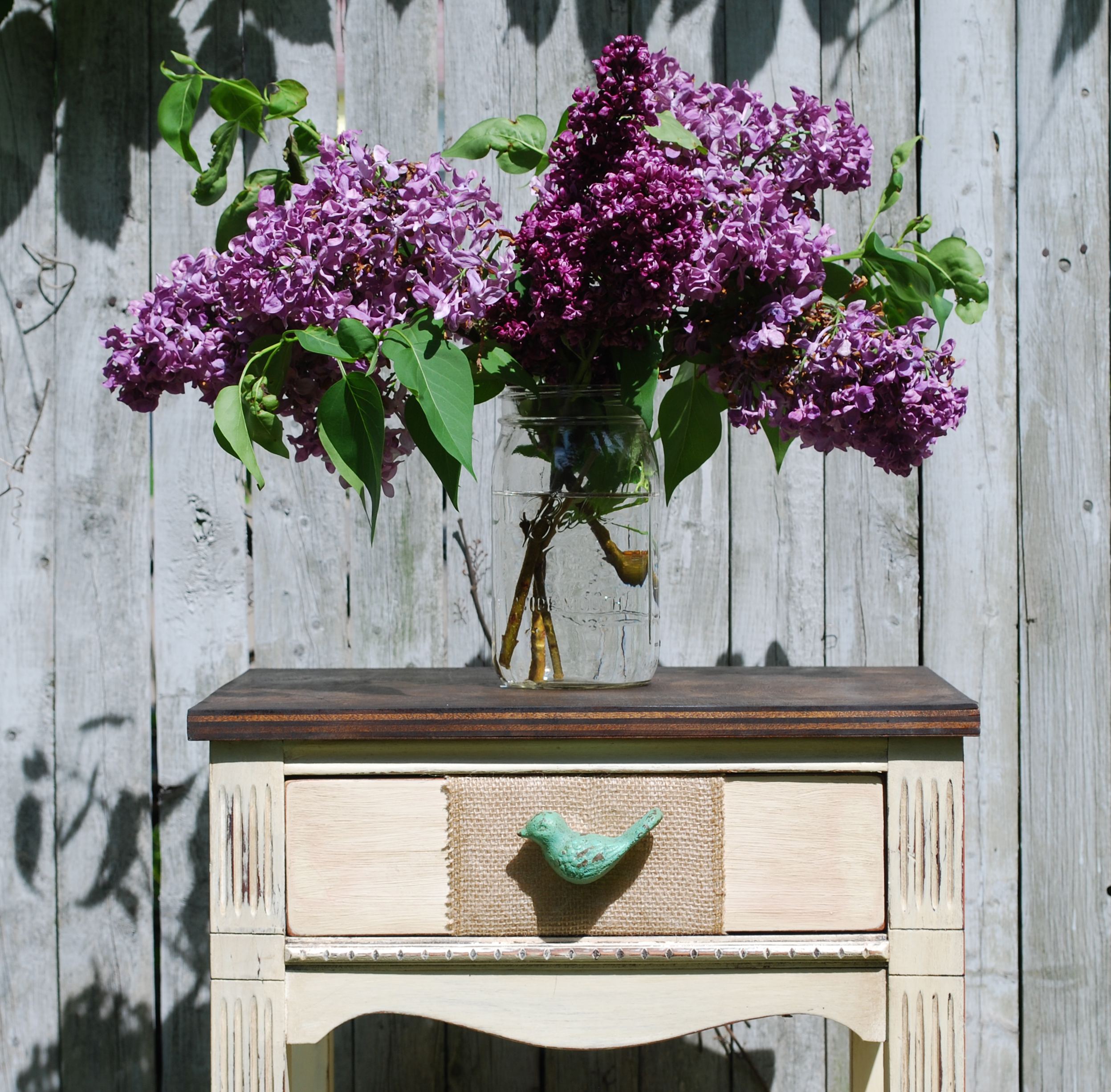 Are there any places you recommend to find some good drawer pulls? Let me know! I probably need to branch out from Hobby Lobby, but I just can't resist! Have an amazing week everyone!