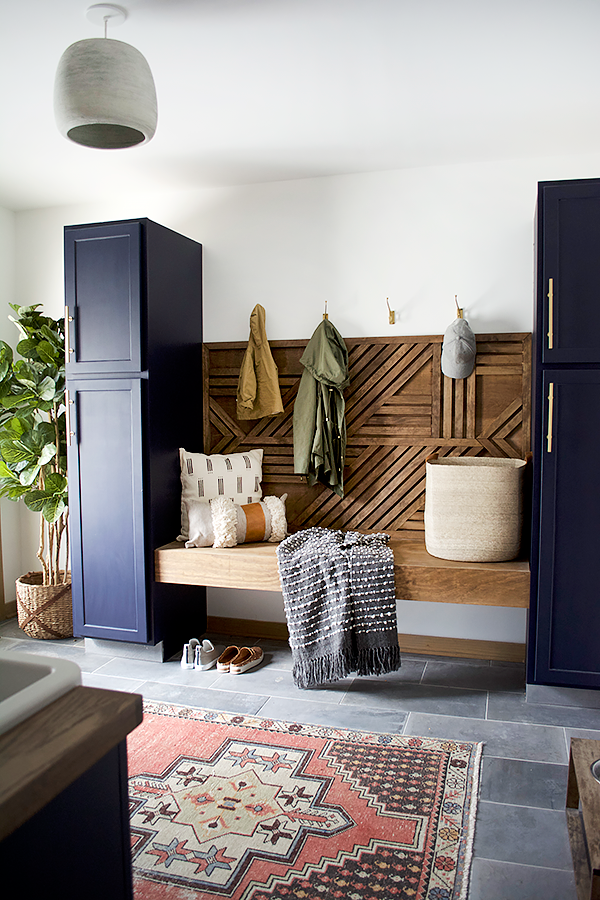 Since we don't have any major projects or renovations happening around our house right now – I was getting the itch to do something. We don't have many rooms I could really rearrange so I decided to just freshen up some decor instead. And my victim was the laundry room. It's been a year and a half since we finished that space and I've really never changed it up that much. I've switched up the pillows here and there but the shelf has been the exact same and I thought it was time I updated it a bit. So today I'm going to share with you my Modern Navy Laundry Room Refresh!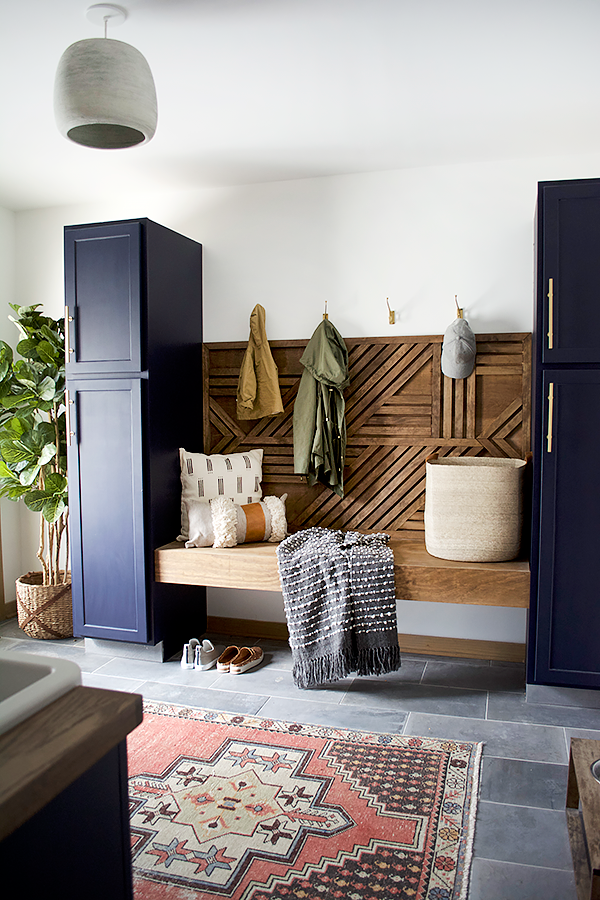 Modern Navy Laundry Room Refresh
It actually all started when The Citizenry reached out about working together and since I totally love their stuff I couldn't say no. They recently launched a new collection from Chile and it's SO GOOD. Totally drool worthy, as is all their stuff. The throw blanket on the bench is from that collection, and the basket and mudcloth pillow are both from The Citizenry as well. Those three pieces sparked this little refresh – I mean if I was going to update this side of the room I couldn't leave the other side hanging right?
And trust me, this space never looks this clean. There are always shoes thrown all over the place and tons of jackets hanging up. It's not always color coordinated like this, promise ha. But now with that big new basket I can hide some of our shoes in there.
Oakley's dog food holder I made is still holding up great and he loves it. You can find the tutorial for that HERE.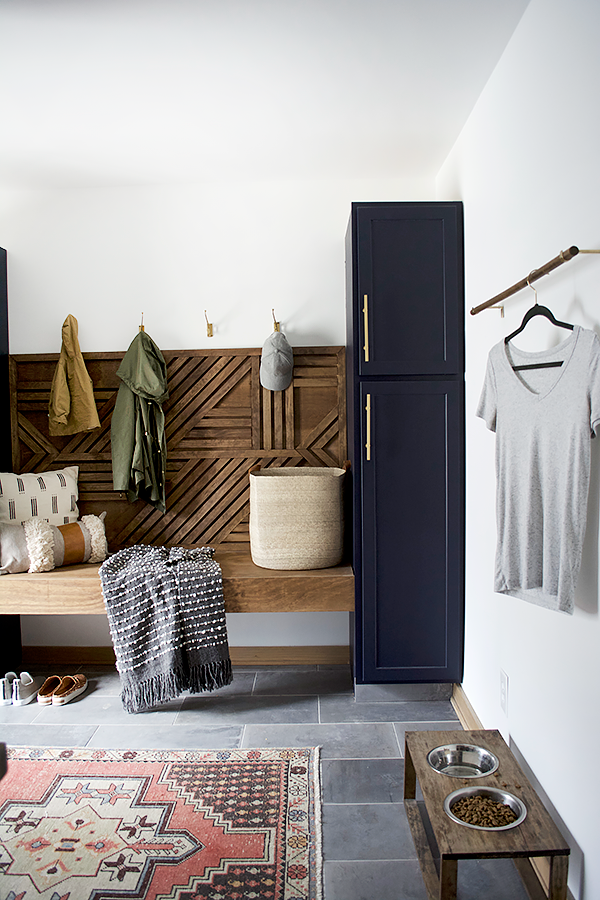 I just love the texture on that blanket – it's so cozy! I might end up stealing it for the living room :-p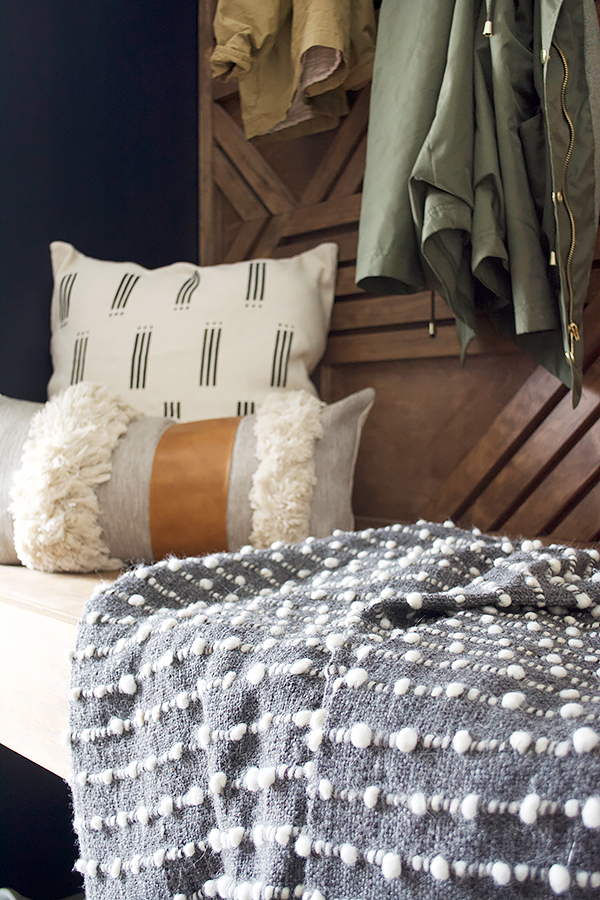 One thing I love about this room is that there are doors that lead out to our back porch. A lot of people don't realize that since I don't show that view often but I wanted to include them this time so you could see! Especially now that the weather is starting to warm up, I love being able to open those doors and let some fresh air in while I'm folding laundry.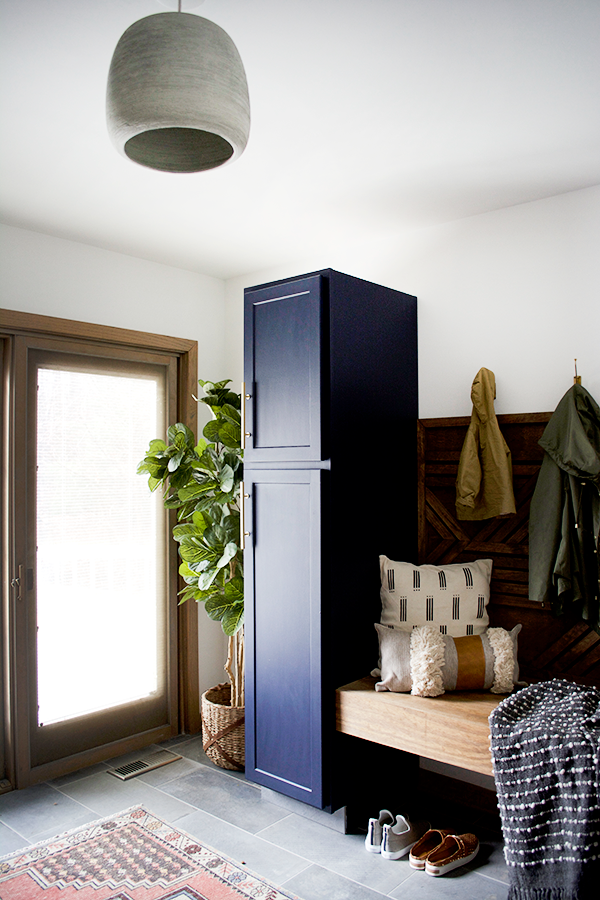 And of course that wall is still one of my all time favorite DIYs. I'm still proud of myself for building it all on my own and it's definitely one of my favorite spots in our home. It puts a smile on my face every time I walk in the room. You can find the tutorial for the wall and floating bench HERE.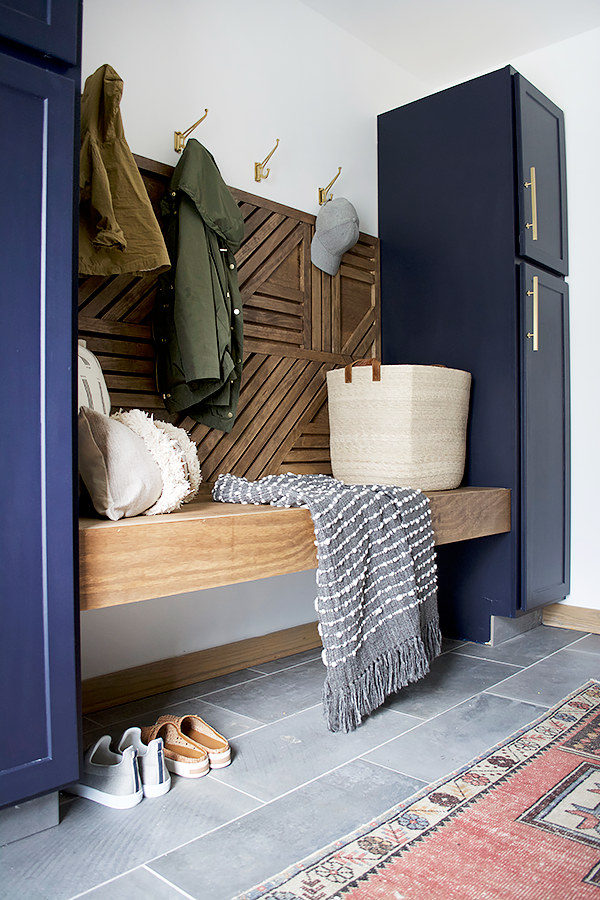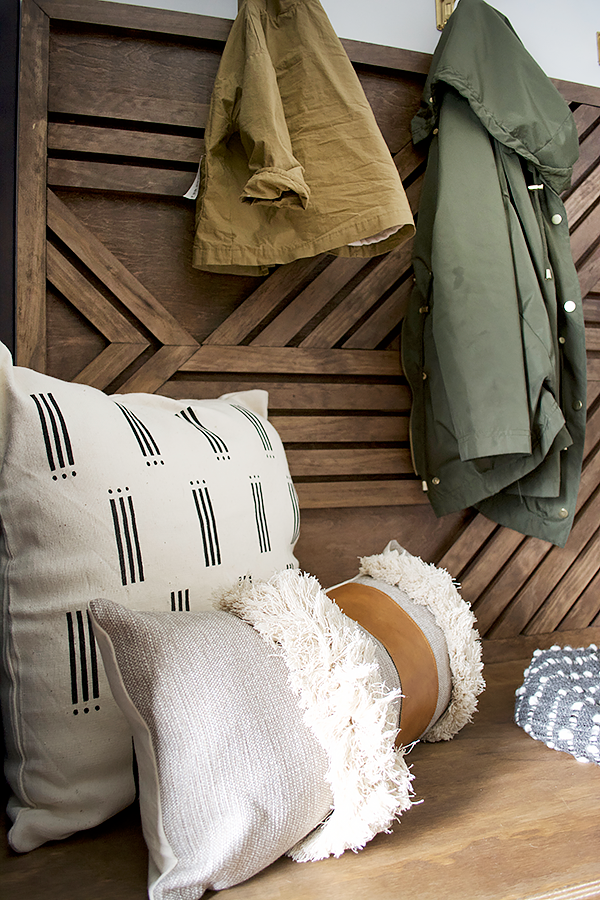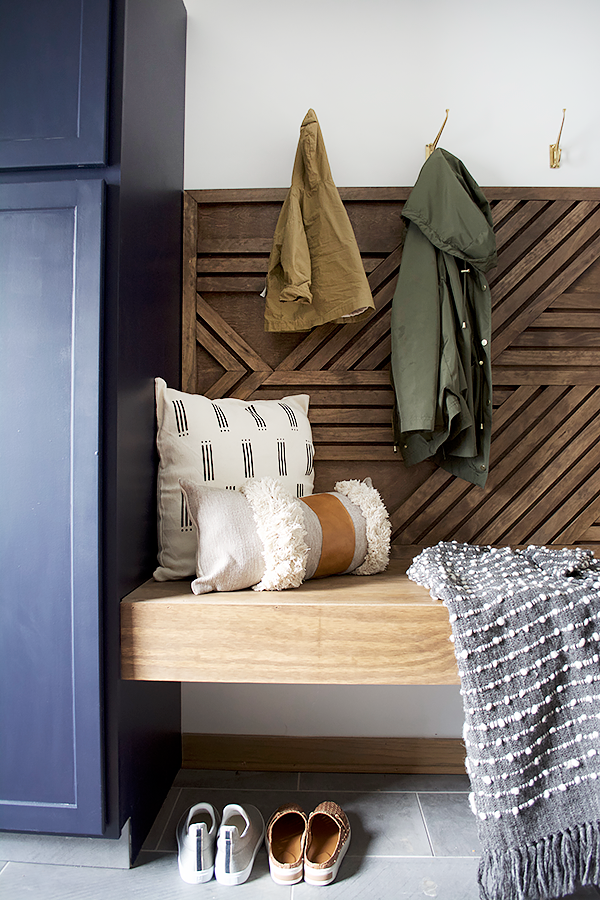 On to the other side!
I get so many compliments on this view and so many comments about how it must make doing laundry so much better ha. Truthfully, I still hate laundry, but it does make it a little bit better when I'm surrounded by all this prettiness.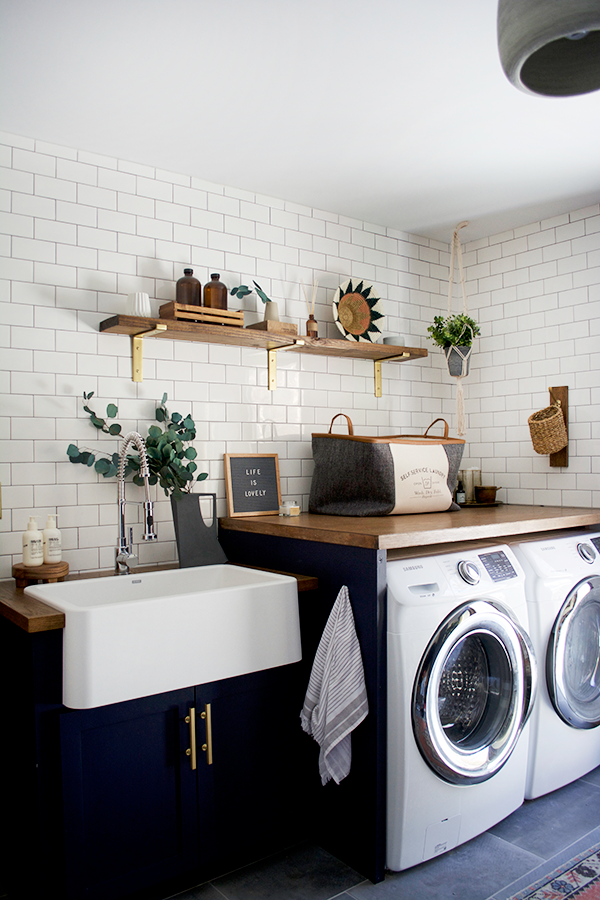 I left a few things on the shelf the same, but added some fun new stuff too. One thing I love about these shelves is that you would never know they were in a laundry room if you didn't see the rest of the space. The shelf is high, so it didn't make sense to put practical things up there that I would need to use everyday. So instead I decided to put pretty things that make me happy. And if you're wondering where all the detergent and stain remover and all that fun stuff is, it's all in the blue cabinets on the other side of the room 😉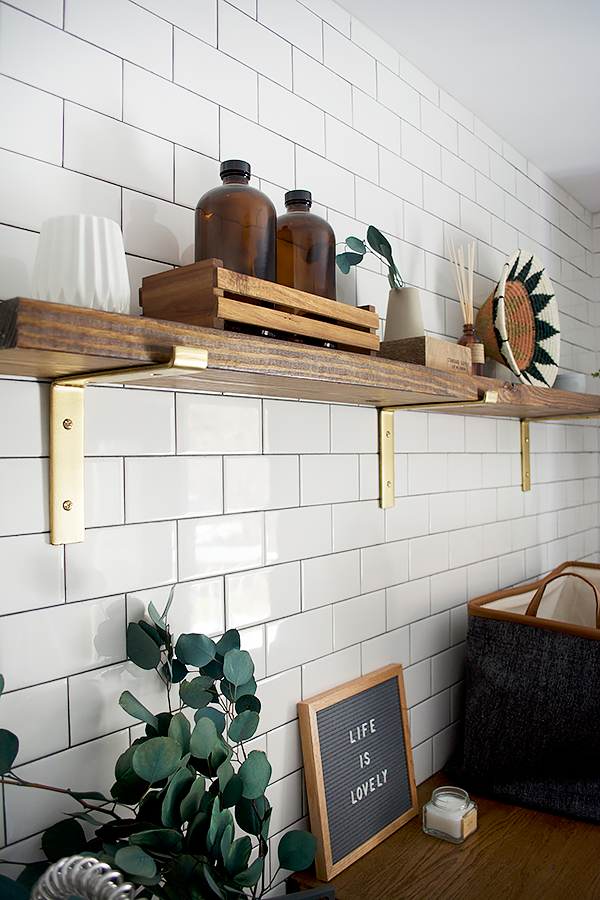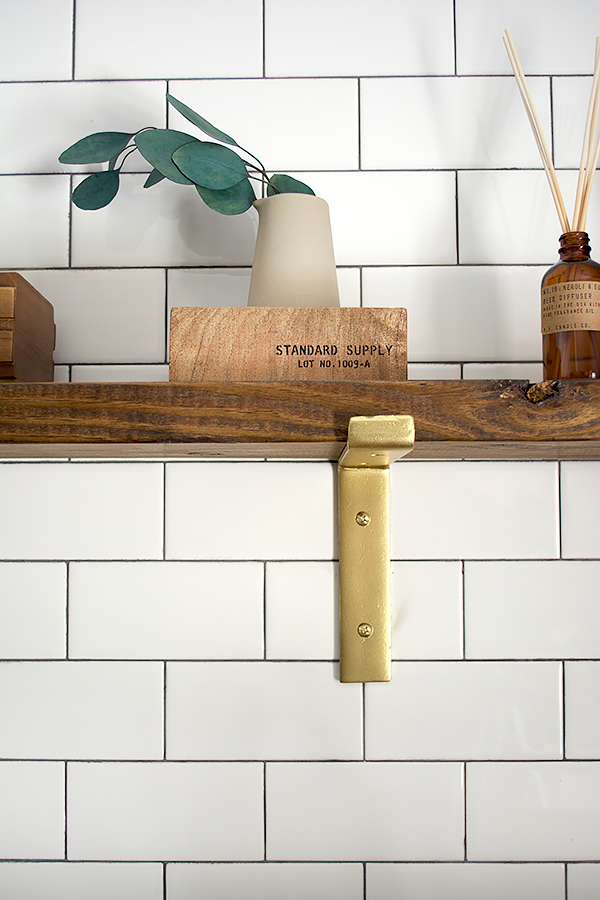 I always think it's really funny when I share this view below on instagram where you can't really see the dryer and people say "I love your kitchen!". Obviously if you've been following me for a while you know this space but I guess I'll take it as a compliment that our laundry room could be mistaken for a kitchen? :-p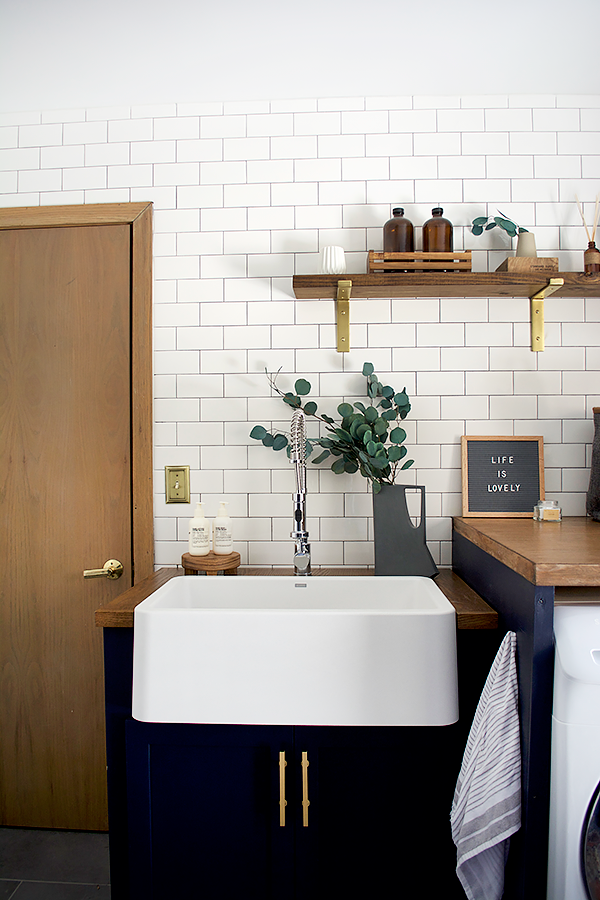 I have to admit, this little wooden stand is the first thing I've bought from Chip and JoJo's new line at Target. I've been eyeing everything since it came out, but hadn't pulled the trigger yet. This little guy is super cute though and I'm not really sure what it's intended use is but it's perfect for my soap and lotion from Le Labo.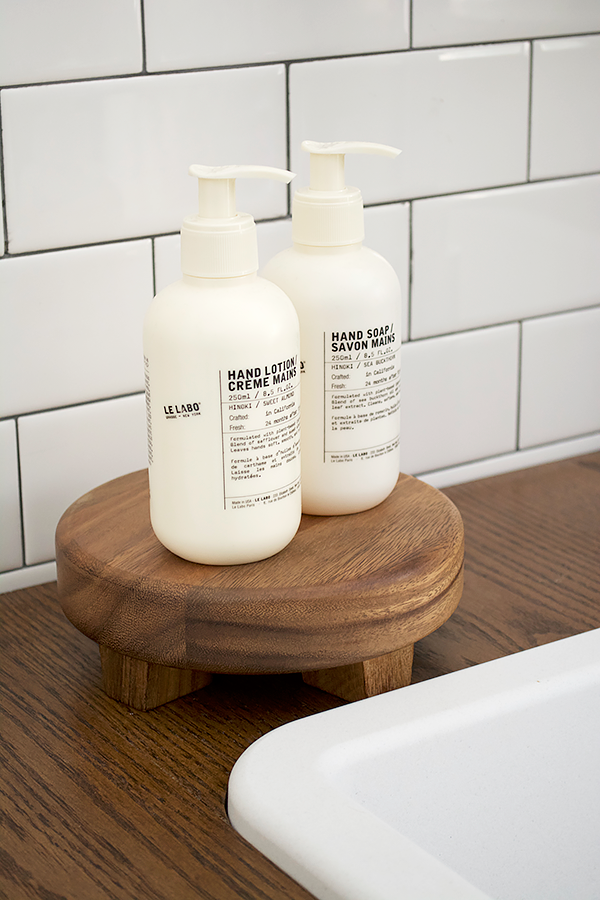 I kept our letterboard but moved it over to a new spot and added some of my fav eucalyptus. I'm pretty sure the laundry room was the only room in our house that didn't have any so obviously I had to do something about that.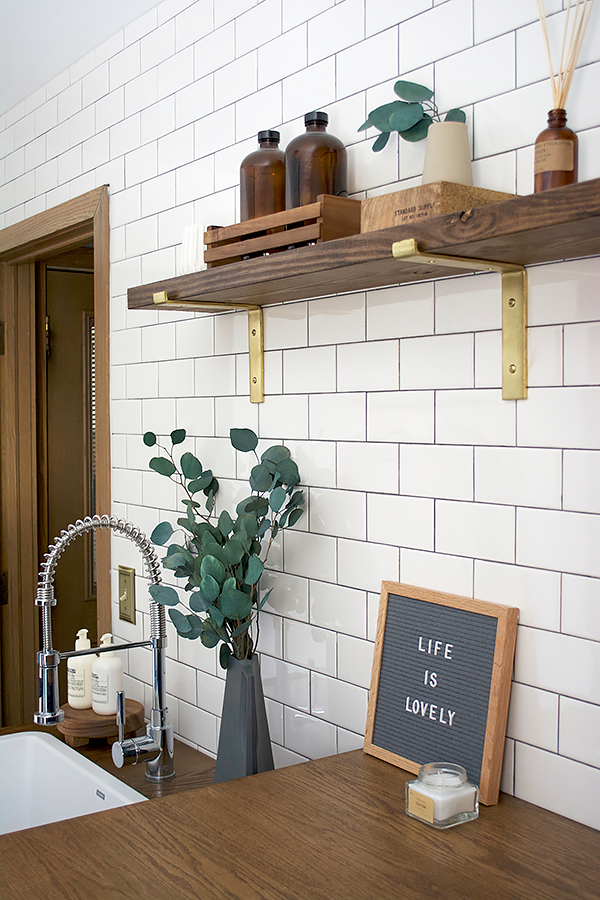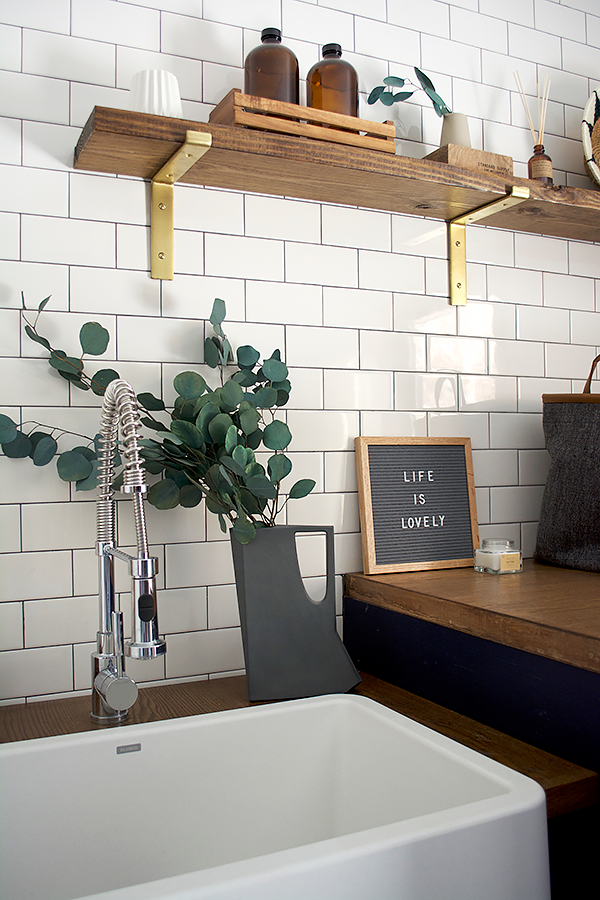 I always always get questions about our laundry basket and I so wish I had a link I could share with you, but I found it at our local TJMaxx/HomeGoods and have never seen it there again or have been able to find it online anywhere. Sorry!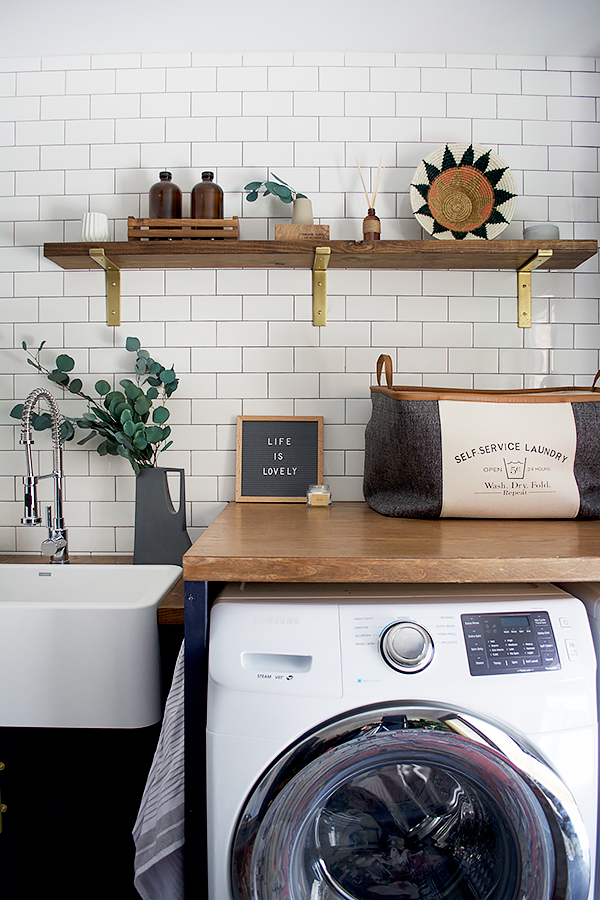 And here's a few more pretty pictures to look at 🙂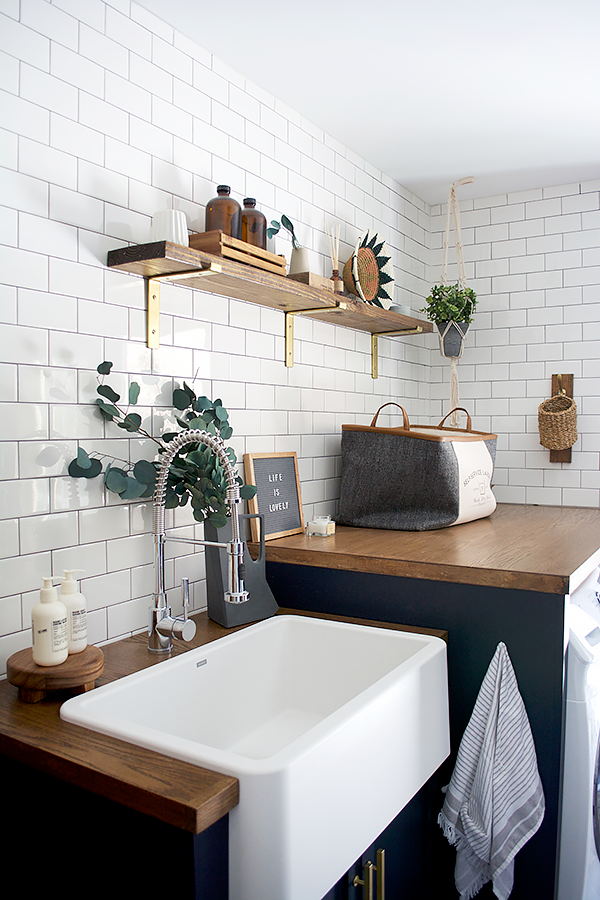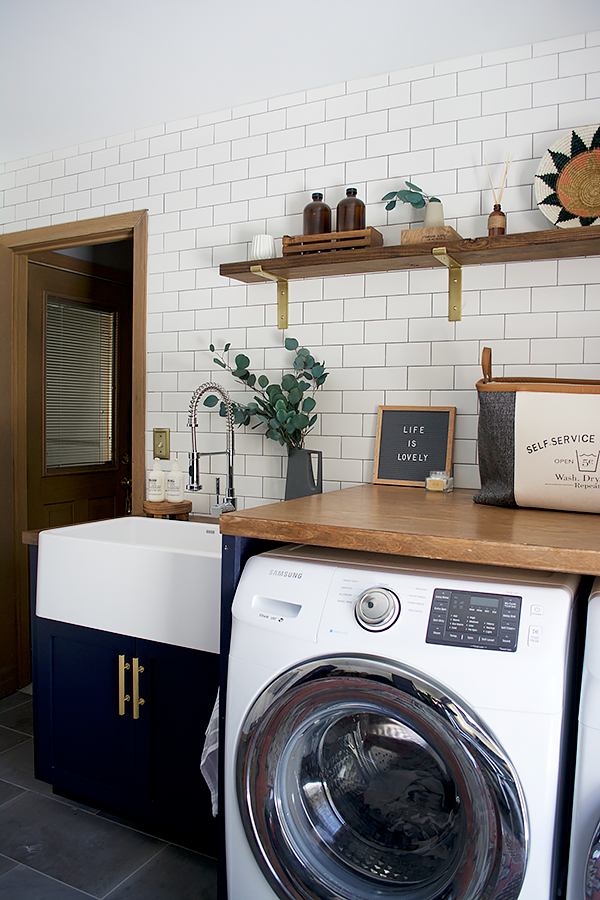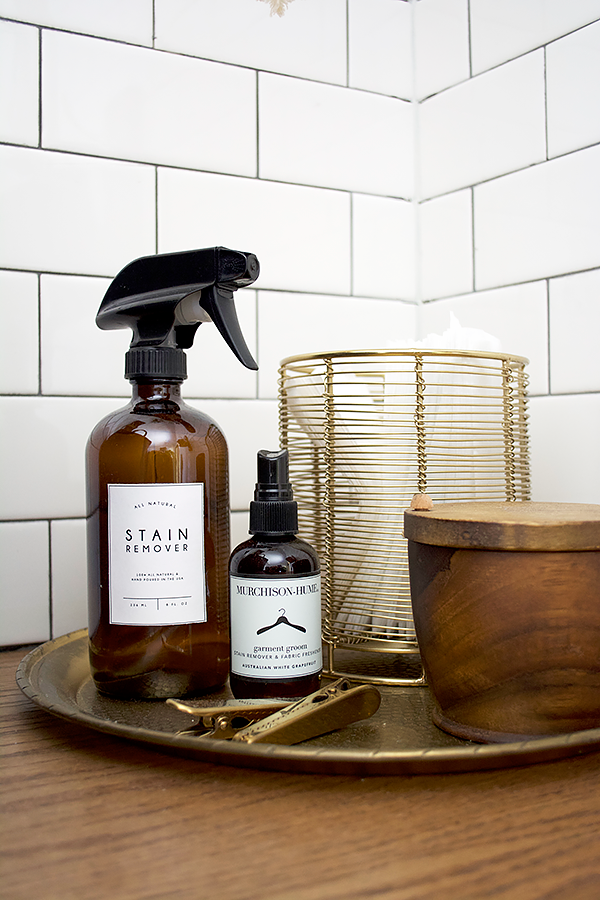 I'm so happy with all the little changes I made in here and this room will forever hold a special place in my heart since it's the first room we ever really redid.
Get the look by shopping these products!

Cabinet Color : Anchors Aweigh by Sherwin Williams
Floor Tile : 12 x24 Porcelain Tile from Sintesi – Atelier Series in the color Fumo bought locally from Buckeye Ceramic Tile
Sink Cabinet built locally by Salem Mill & Cabinet Co.
Wall Tile : American Olean Bright White 3×6 Subway Tile with French Gray Grout
Mudcloth Pillow
Throw Blanket
Basket on Bench
Pillow with Fringe
Rug from this Etsy Shop
Letterfolk Letter Board
Brass Tray from this Etsy shop
Garment Spray
Reed Diffuser
Basket and hook for Lint Holder – Hobby Lobby – DIY found here
Laundry Hamper – HomeGoods
Colorful Basket on Shelf – HomeGoods
Pitcher
Eucalyptus
Countertop – Door Slab from Construction Junction