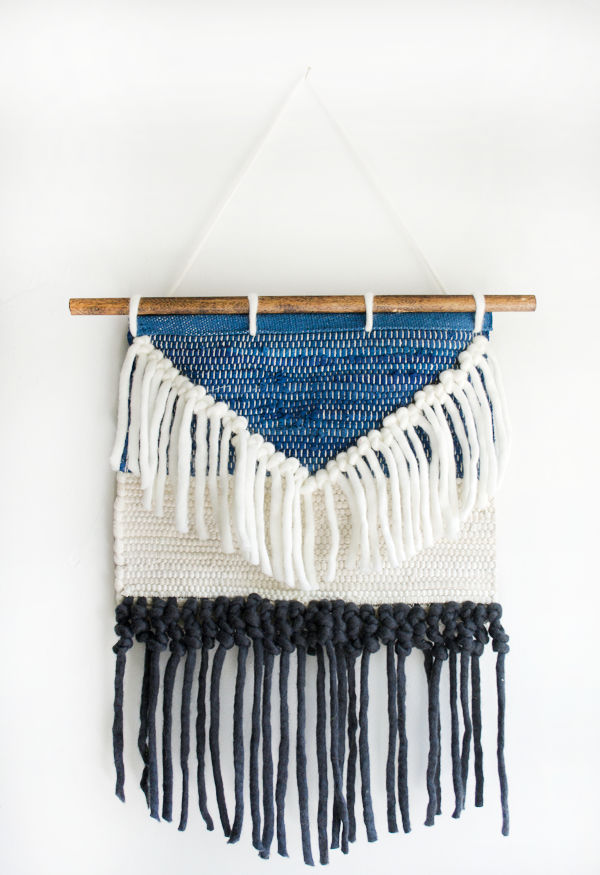 This was one of those projects where I had an idea but wasn't really sure how it would turn out. But I totally surprised myself and am absolutely in love with this DIY No Weave Wall Hanging. And it's SO easy you guys.
DIY NO WEAVE WALL HANGING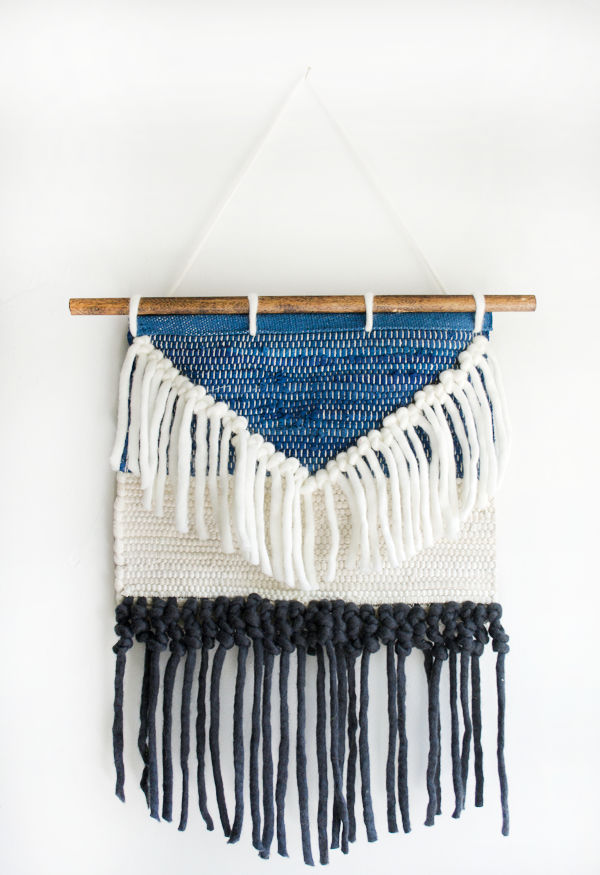 I've been obsessed with all the woven wall hangings that are floating around out there for a while now. I would like to learn how to weave at some point, but I just don't have the time right now. I thought about buying one, but they're usually pretty pricey and the thought of DIYing one scared the crap out of me. Until I had a lightbulb moment. Find a cheap woven rug somewhere and add some of my own yarn to it. Boom. It took a few stores before I finally found the perfect rug at Ollies and it was like $10. I cut out a piece of it that would be the base for my project.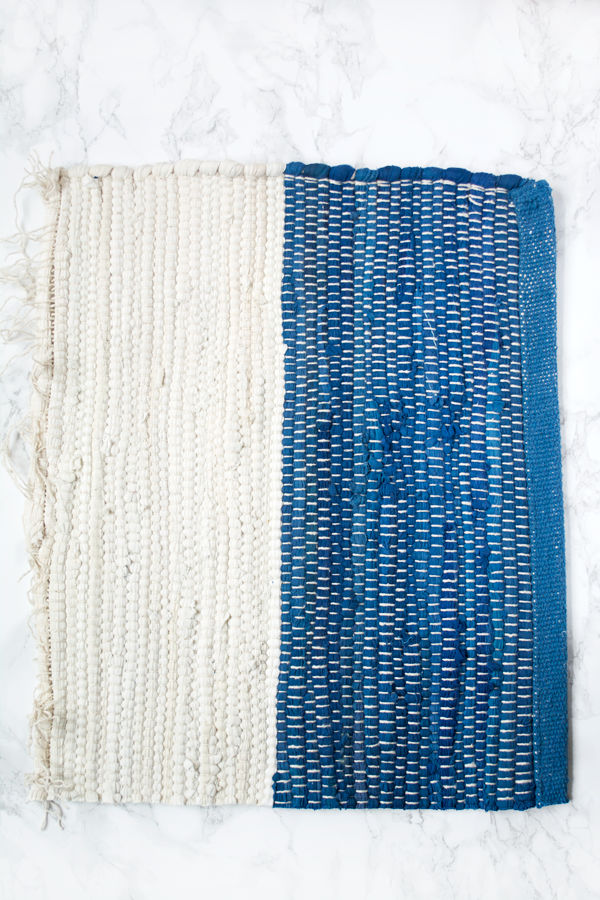 Before starting I did some research and found a wall hanging to base my design off of. A simple "V" pattern and then some hanging pieces at the bottom. For the "V" I used a ruler and just drew right on the rug so I had a line to follow. Since the yarn would be covering up the line anyway, I just used a sharpie.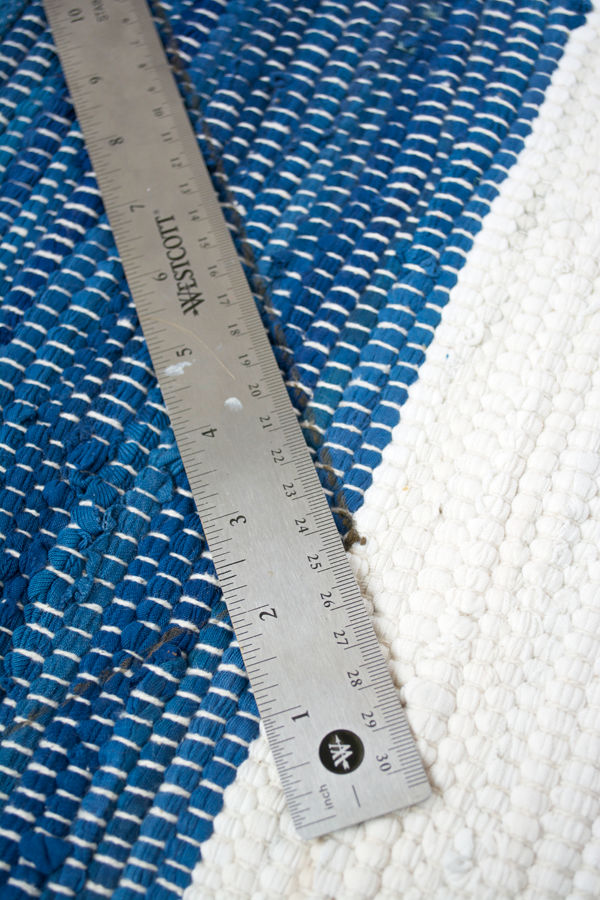 I started at the top left corner and used a pen (with the point clicked in) to help push my yarn through the rug. I left about an inch and a half of yarn hanging out the back and then just tied a knot on the front side. Since the rug is already woven and essentially had "rows" I just pulled my yarn through on each row descending down.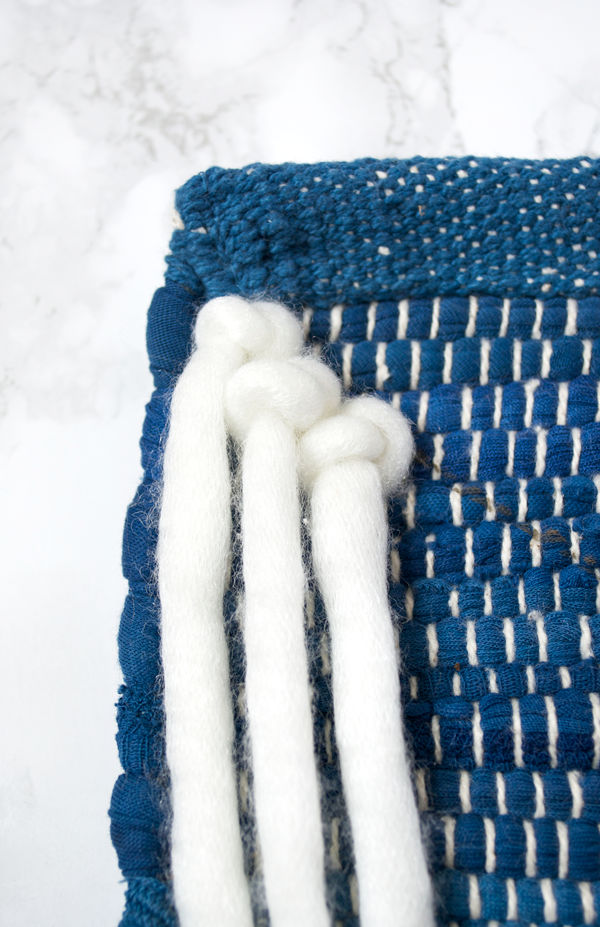 I continued this all the way down the line until I reached the top right corner.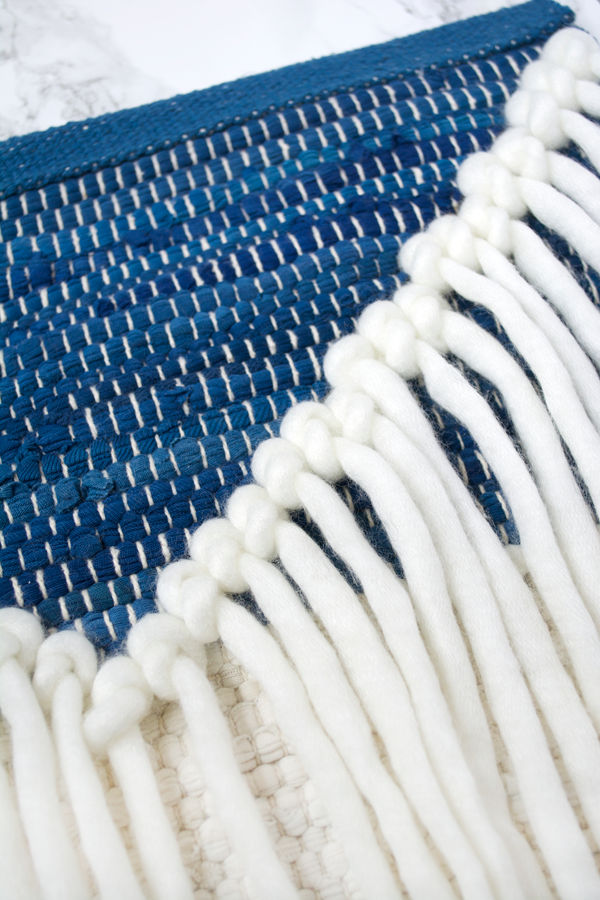 I wanted the yarn to follow a "V" pattern too so I trimmed the ends into that shape as well.
The only issue I ran into from using a rug, is that when I cut it on the one side, it started to unravel. So before I could attach my yarn to the bottom, I used some hot glue to hold it together and make sure it wouldn't completely fall apart.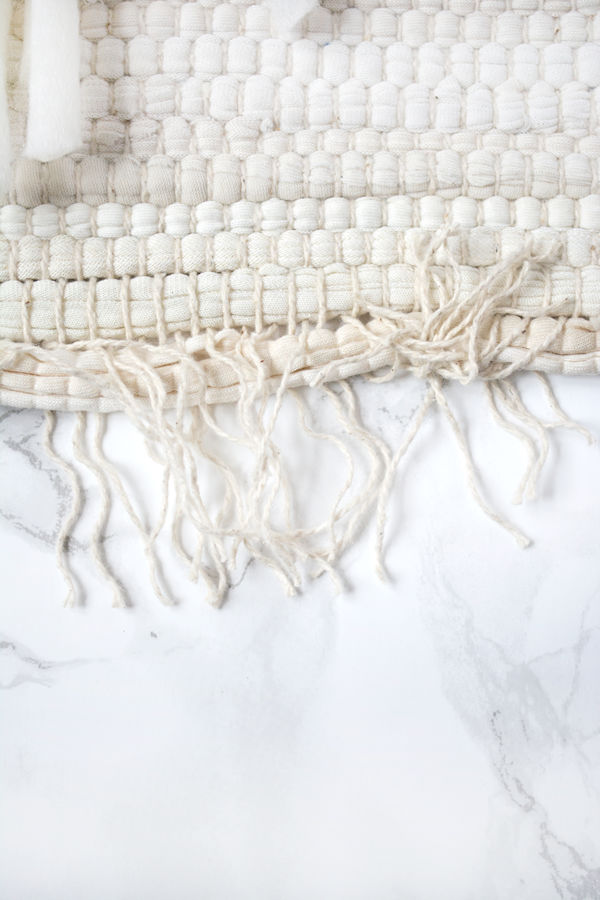 I switched to my gray yarn and did the same thing all across the bottom. But, this time I tied 3 knots to give it a more chunky look.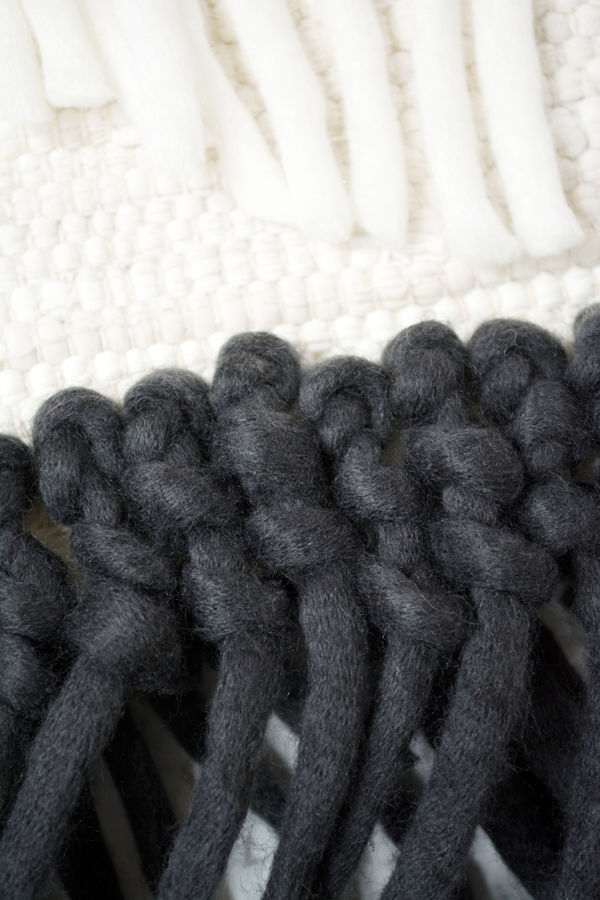 I trimmed the ends of these pieces as well into a wider "V"shape.
At this point I was jumping around like a crazy person because I couldn't believe how well it was turning out. The last thing to do was figure out how to hang it. A lot of the ones you see are hung from pieces of drift wood or weathered wood of some sort. That look wasn't really what I was going for… so I grabbed a piece of left over dowel rod that we had in the basement and gave it a quick coat of stain.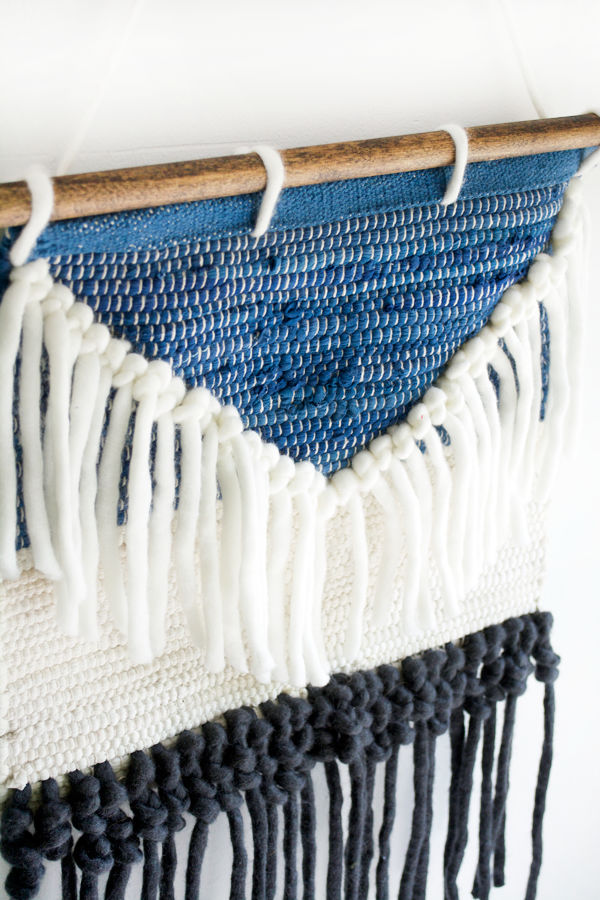 I looped four more pieces of yarn through the top and around the rod to help keep it in place. Then used another longer piece of yarn and tied it to both ends for it to hang from.
On the back, I just let the pieces of yarn hang out and trimmed down any that were excessively long. They're pretty secure since there are knots on the front and the rug is pretty tightly woven. I thought about taping them down and still might do that at some point, but it didn't seem necessary right now.
Seriously, I'm in love.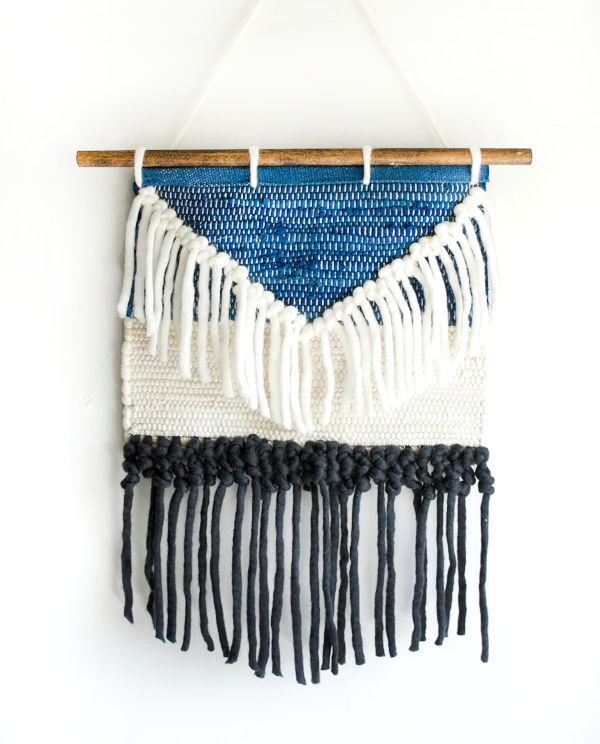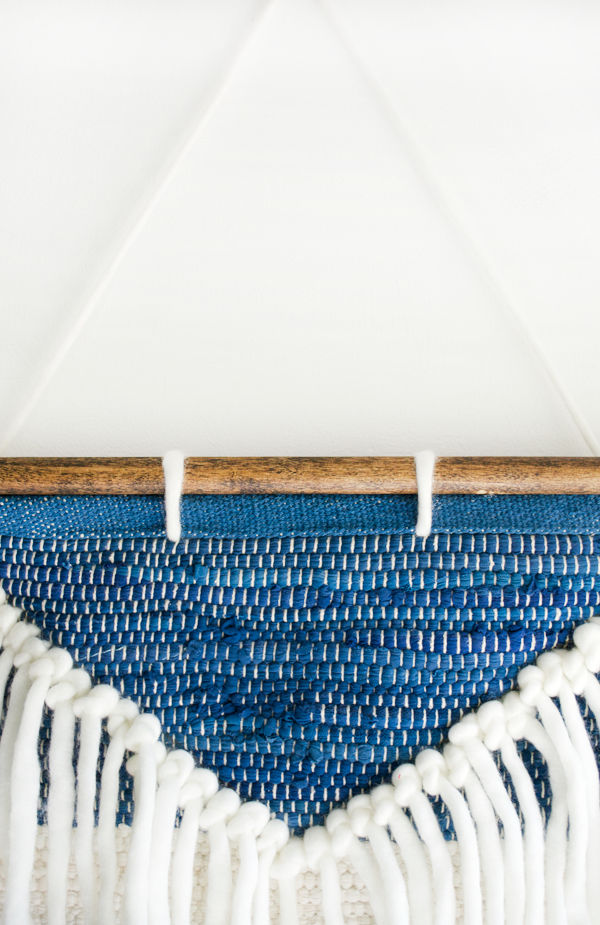 So there ya have it. You don't need to know how to weave to make one of these guys. And this whole thing only cost me like $15. Prob one of my favorite projects ever. It's going in our master bedroom. The room is slowly coming along and I can't wait to share it all with you guys!