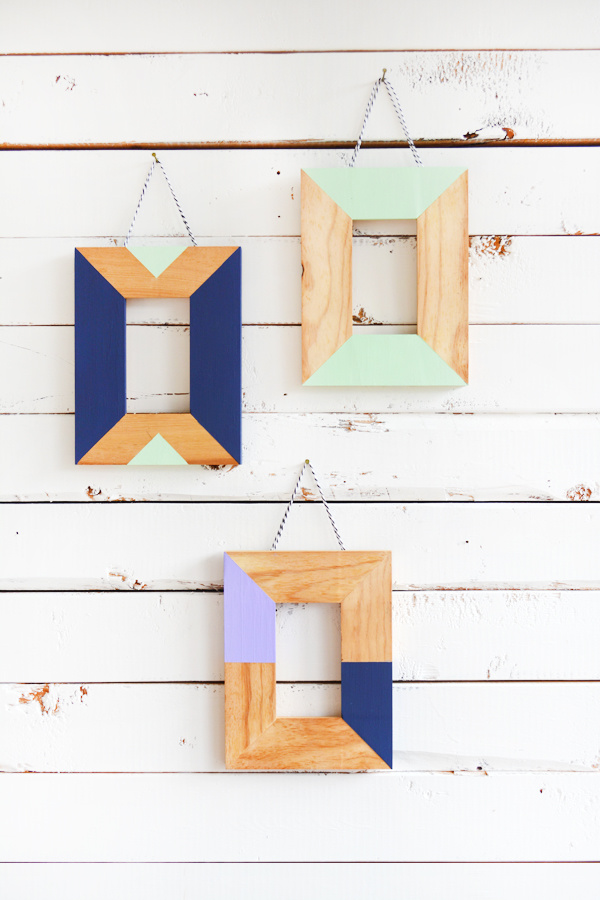 It's honestly a miracle that I got this project done in time. We got home Monday afternoon after an amazing weekend in NY and a fun little stay at this place in Ithaca for our two year anniversary. All I wanted to do was crash on the couch and savor the last hours of my long weekend and watch some terrible TV (aka the Bachelorette). But I really hate sitting out of challenges so I whipped up the fastest DIY I've ever done.
EASY PAINTED FRAMES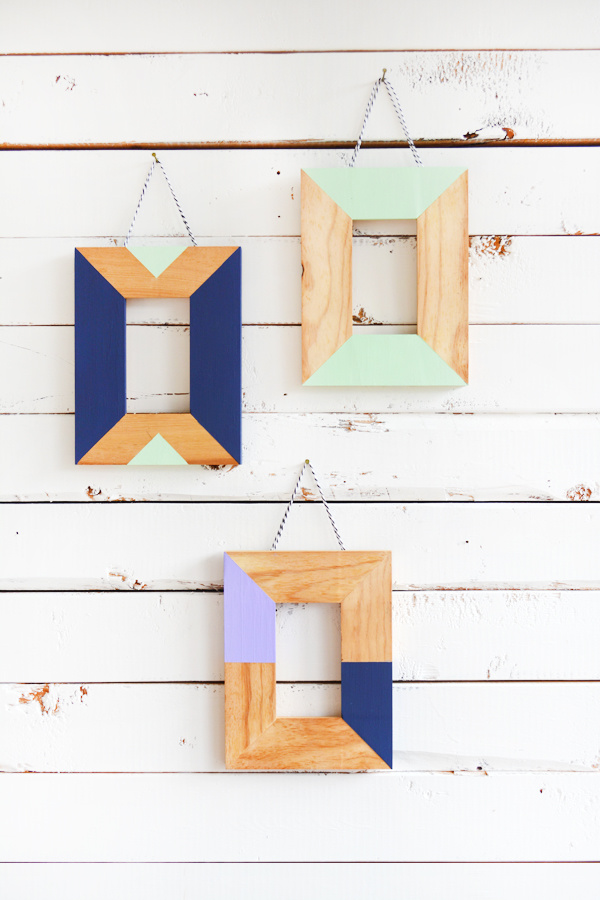 If you're new around here, our Monthly DIY Challenges take place the second Wednesday of every month. Me and my bloggy buds get together and create projects using the same theme or product and then share them with you guys! This month was paint. And oh how I wanted to do a piece of furniture. But my planning skills fell through on that one and I just didn't have the time. Luckily, paint is such a broad topic and I have plenty of it, that I didn't even have to go out and buy any supplies.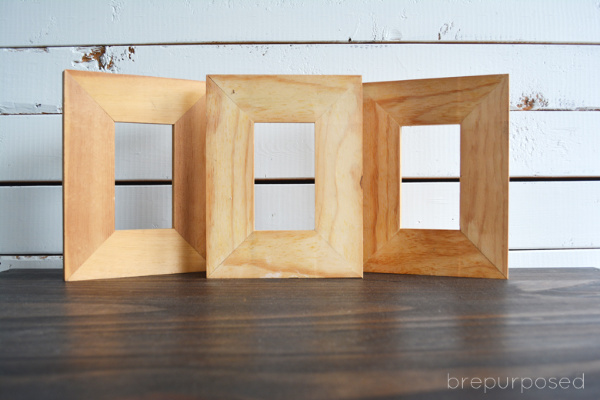 I got these cute little wooden frames when I bought this desk at a garage sale. I don't think I even paid for them; the guy just threw them in with the desk that I paid a whopping $5 for. I planned on using them in my staging, and kind of just liked them the way they were. But scurrying around trying to find something to paint, led me to these guys and I think they'll be an even cuter accessory to my furniture now.
---
Here's what you'll need:
:: Frames
:: Frog Tape
:: Paint
:: String
:: Staple Gun
---
Step 1:
Pick your paint colors. Navy and mint were obviously a given, but I went a little outside my norm with the purple. It's such a happy color though, I just couldn't resist.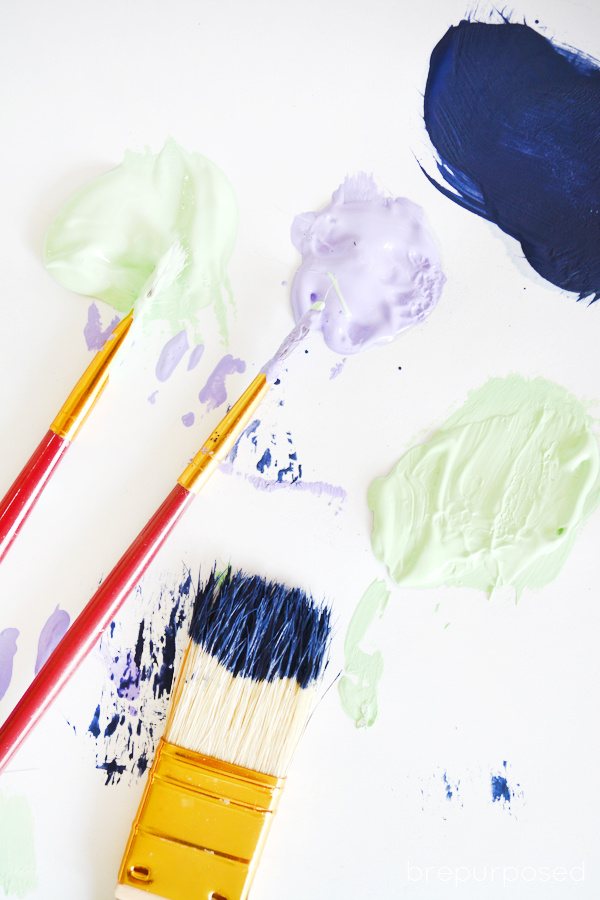 Here's where you can get a little creative. I knew I wanted to keep some of the wood showing, so I did some color blocking and stayed pretty symmetrical in my patterns.
Step 2:
Tape off the sections you want to paint with your Frog Tape and then paint away!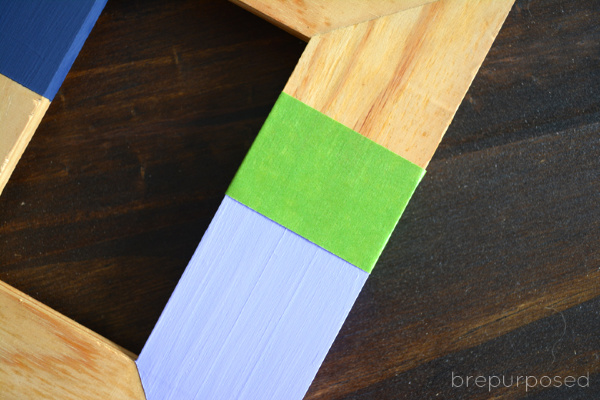 I had to do about 3 coats for each section and once I applied the last coat, I peeled the tape off. I had a couple little spots that bled through, but I just used an X-Acto knife to scrape it off the wood. Works like a charm.
As simple as these were, I wanted to jazz them up just a smidge. I thought about using some of my gold tape like I did with my Balsa Wood Planters but I just wasn't feeling it for the frames.
Step 3:
I headed back to my craft room and rummaged through all my random bags and boxes and finally came across some fun black and white string I had from a previous project.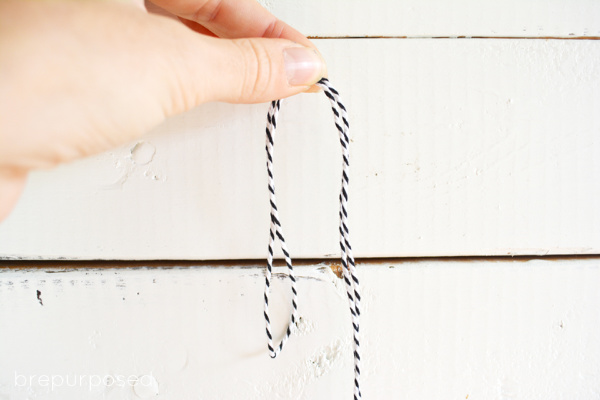 I doubled up on the string and then just used my staple gun to attach it to the back.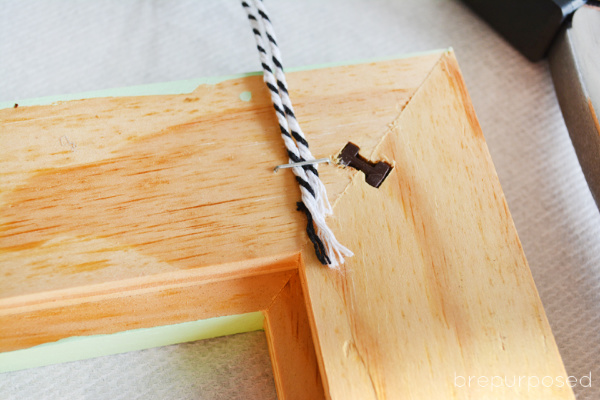 I'm pretty proud because I started, finished and photographed this whole project in probably less than two hours. And that was with a break for dinner in between 😉
Told ya it was the fastest DIY ever. And it really is so simple and such an easy way to add a pop of color to some plain, wood frames.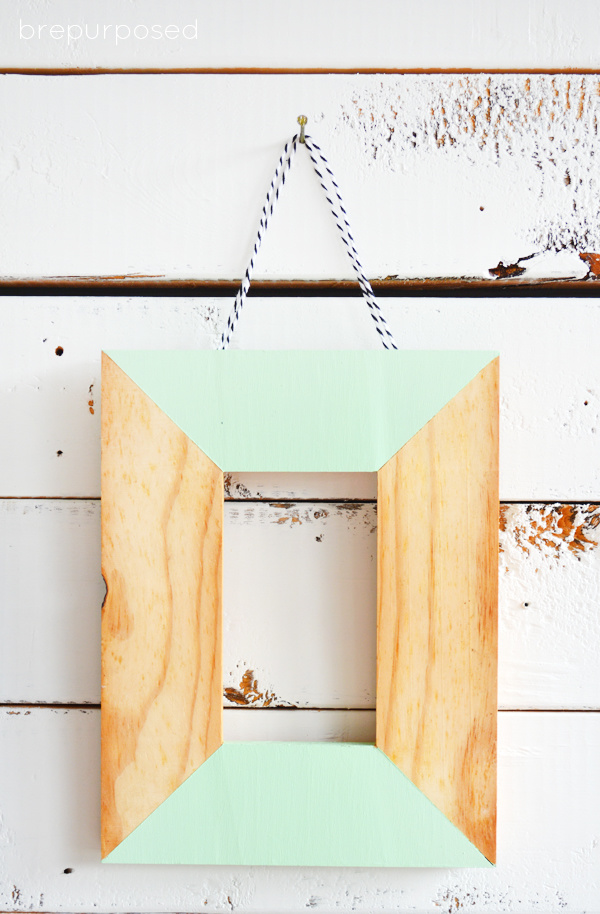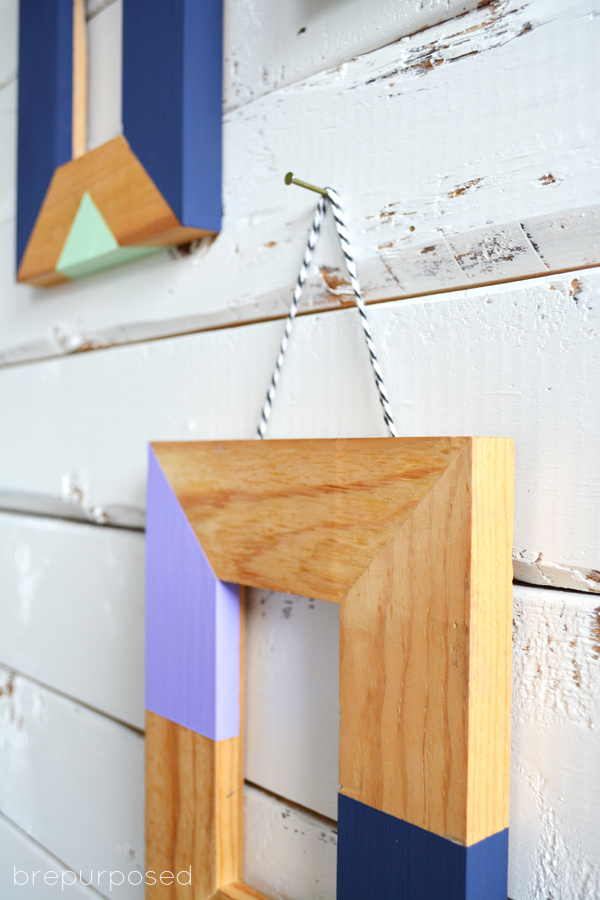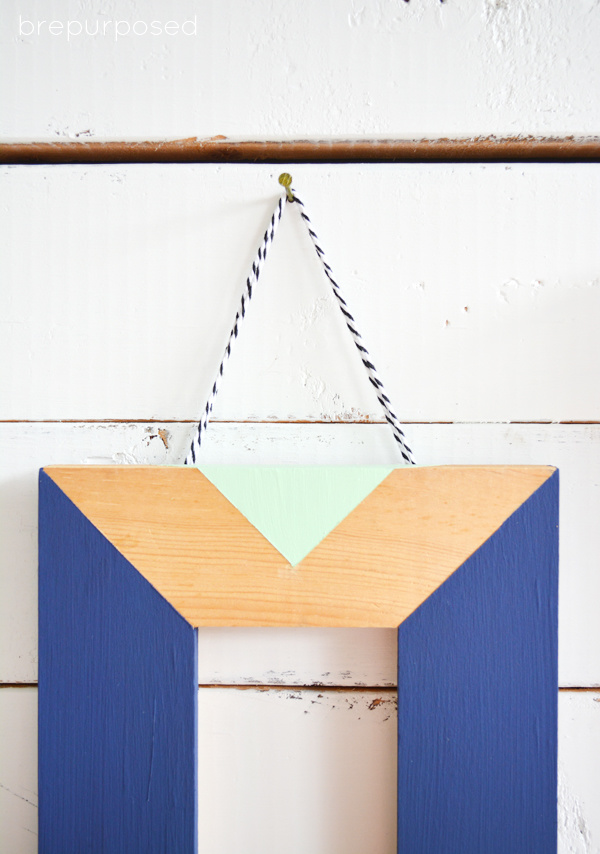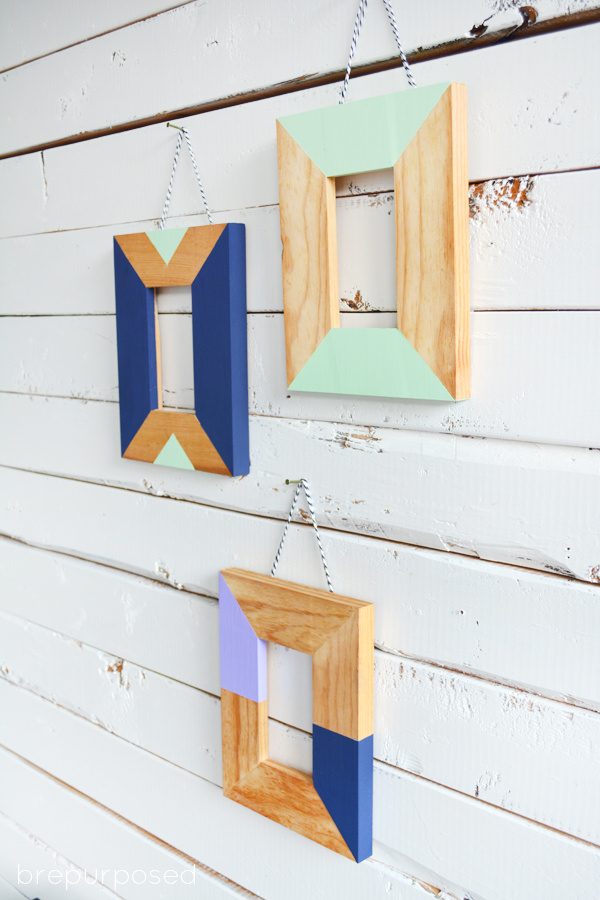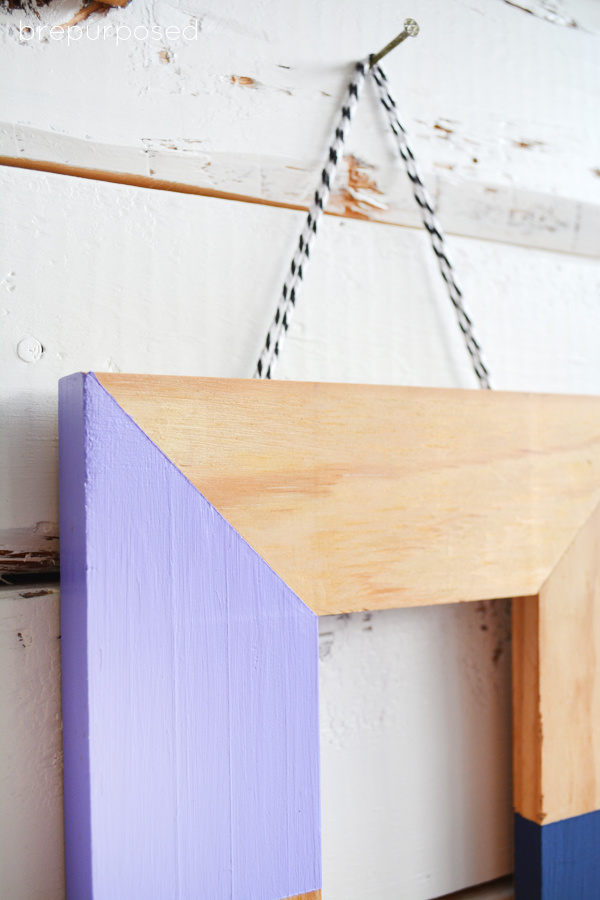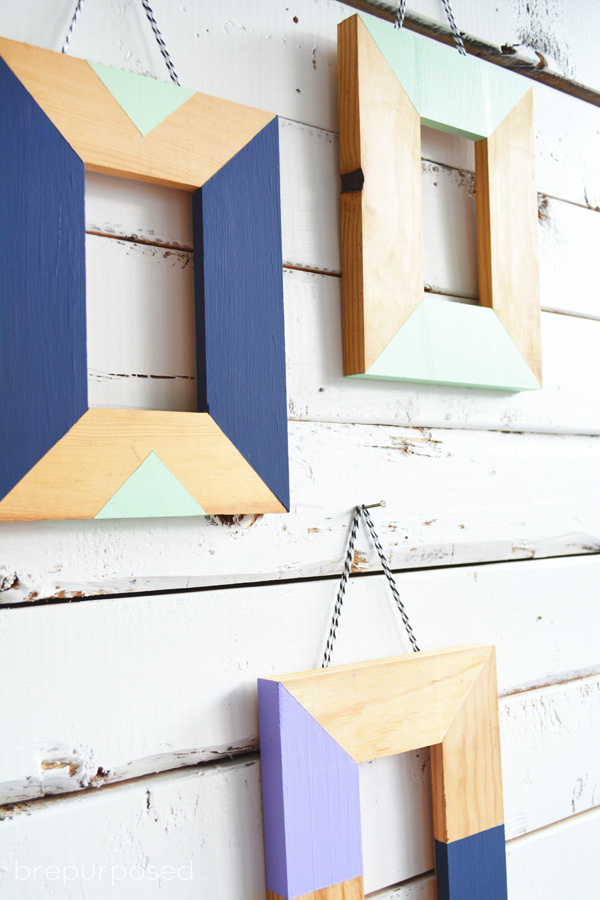 Be sure to check out the rest of the awesome paint projects from my talented friends below!