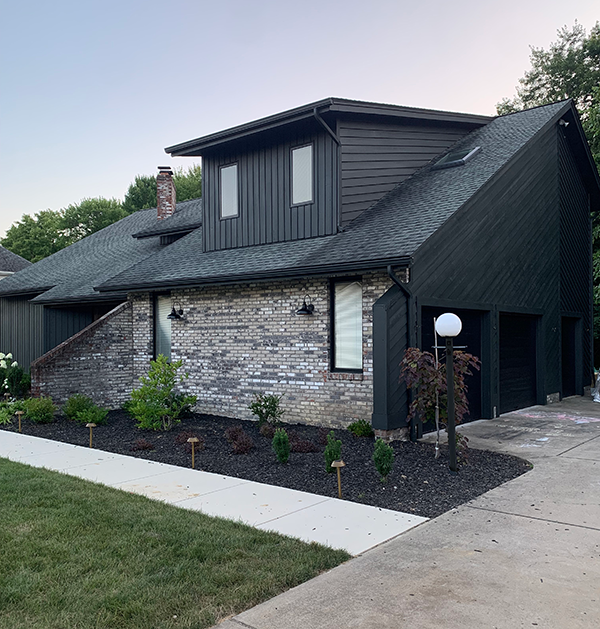 The first major part of our exterior makeover is done and I'm OBSESSED! Our house got painted and it has totally transformed it!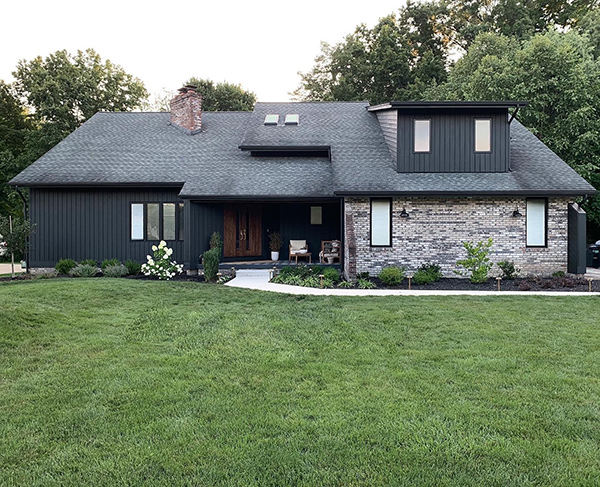 I've wanted to paint our house pretty much ever since we moved in over 5 years ago but honestly was worried that my FIL wouldn't be on board with my plans. Luckily, after I showed him what Yardzen came up with – he was convinced!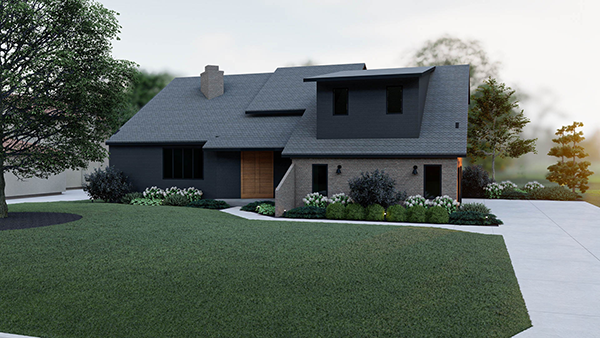 You know we're all about DIY around here, but we called in the pros for this one. Our house has some super high spots and weird angles and it just wasn't something we felt comfortable doing ourselves. Plus it would have taken us A LOT longer too.
We used Fresh Coat Painters of Canfield who we've used on some interior stuff as well. Our friends own the company and have always been so amazing to work with.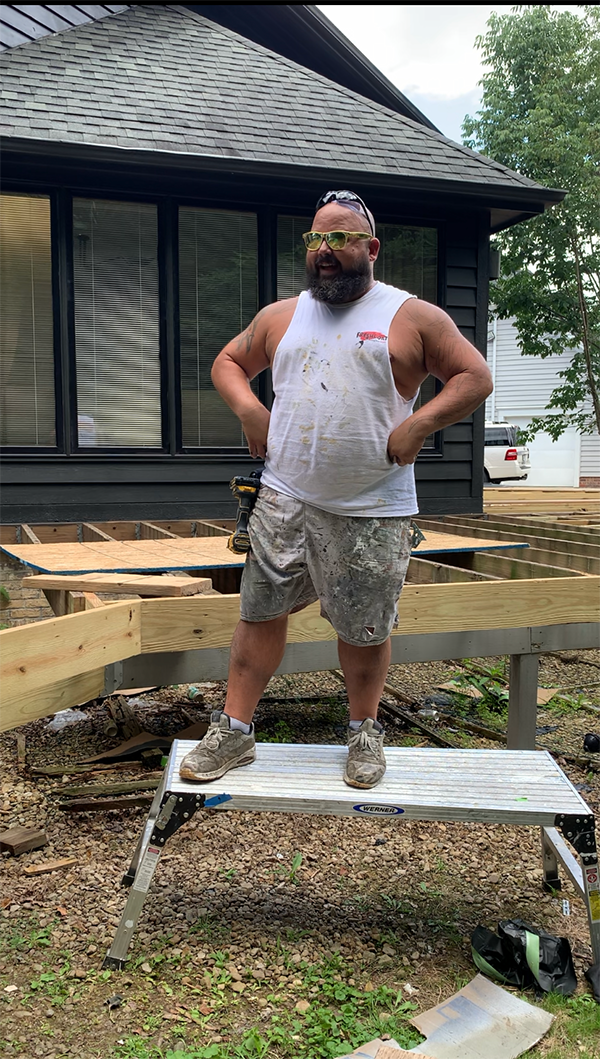 Their lead painter, Justin, instantly became loved by our family and all of my instagram followers too. He let me capture lots of video footage of him painting and even shared some of his best tips and tricks with us.
If you want to watch everything I captured, you can head to my instagram profile and check out my "house painting" highlights. There's two of them!
PAINT COLORS
Siding: Blacktop by Benjamin Moore color matched to Sherwin Williams Super Paint in a flat finish
Windows: Tricorn Black by Sherwin Williams, Emerald Paint in a satin finish
Now let me remind you of what it looked like before…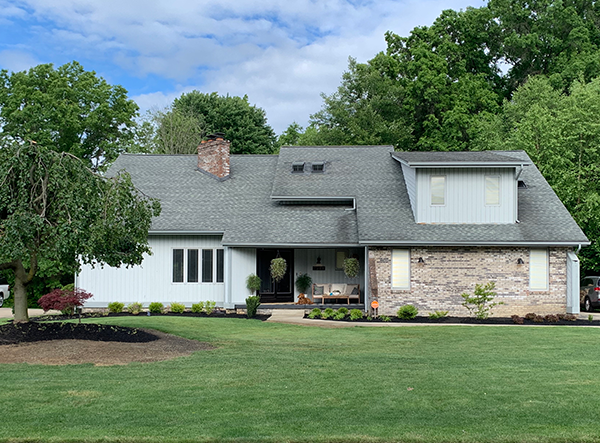 And now here it is today! CAN YOU EVEN?!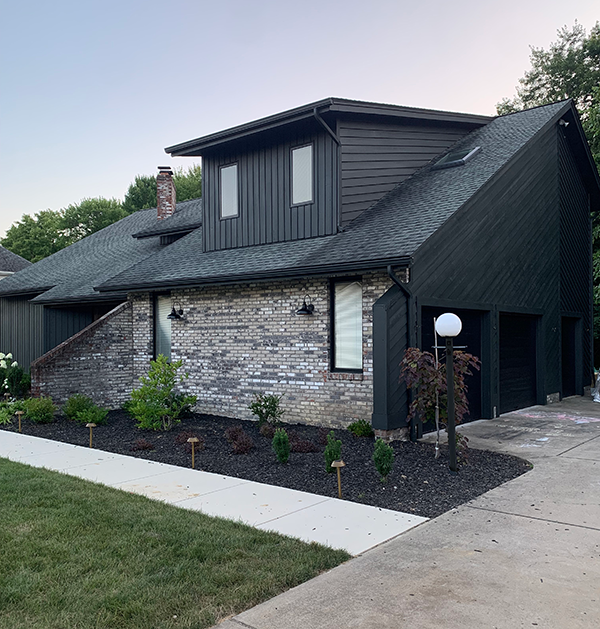 I'm so so in love and feel like this house was always meant to be dark, right?! It easily knocked off years of it's life and the darker paint made a lot of the architecture shine, when before it all kind of just blended together.
I've been super torn about what to do with the brick on our house. I was waiting to see how it looked when it was finished being painted and I've made the decision to limewash it.
I don't want to do solid coverage but just even it out a bit and make it more consistent looking. Right now the color is very cool and the it's just not my favorite. I love the texture and character it adds so I don't want to cover it completely but just give it a little facelift.
I'll be sharing that whole process as soon as I get started!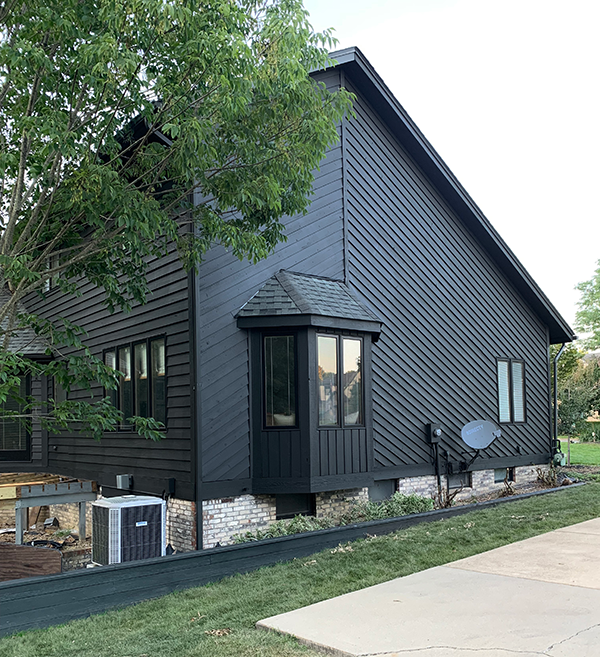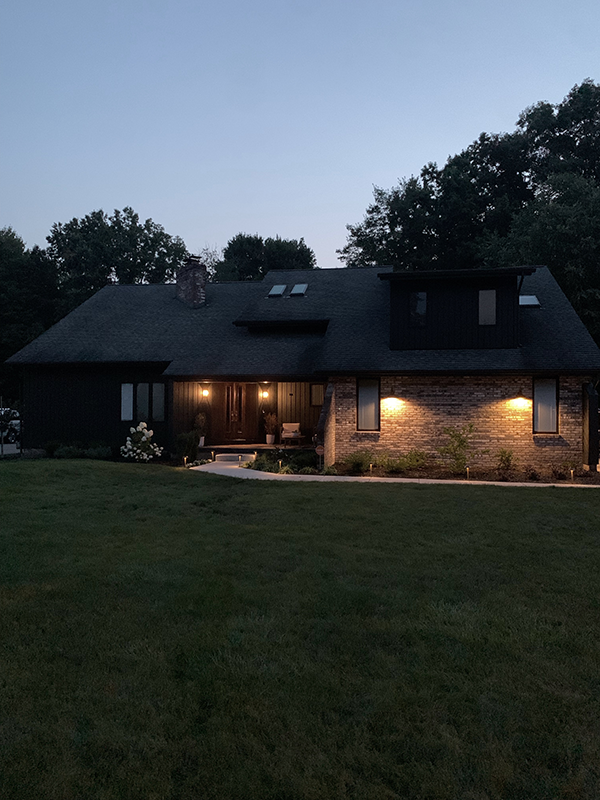 We still have LOTS to do, and we're underway on our deck as well which is starting to come along! We'll be lucky if we're done by the time we get our first frost :-p But at least we'll have something to look forward to next year!