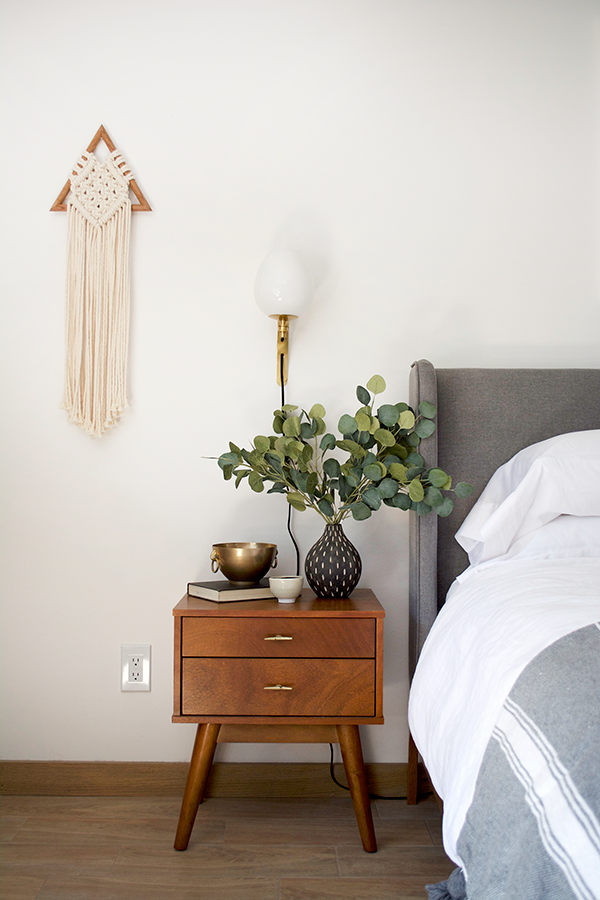 BEDROOM WALL SCONCES VS. TABLE LAMPS
This post is sponsored by Mitzi by Hudson Valley Lighting
I've been thinking about changing up the bedside lighting in our master for a while now and I finally jumped in and did it. I love the look of wall sconces in the bedroom and since we have so much wall space behind our bed, I thought they would work perfectly. Now that we've had both sconces and table lamps, I want to talk through some of the pros and cons of each!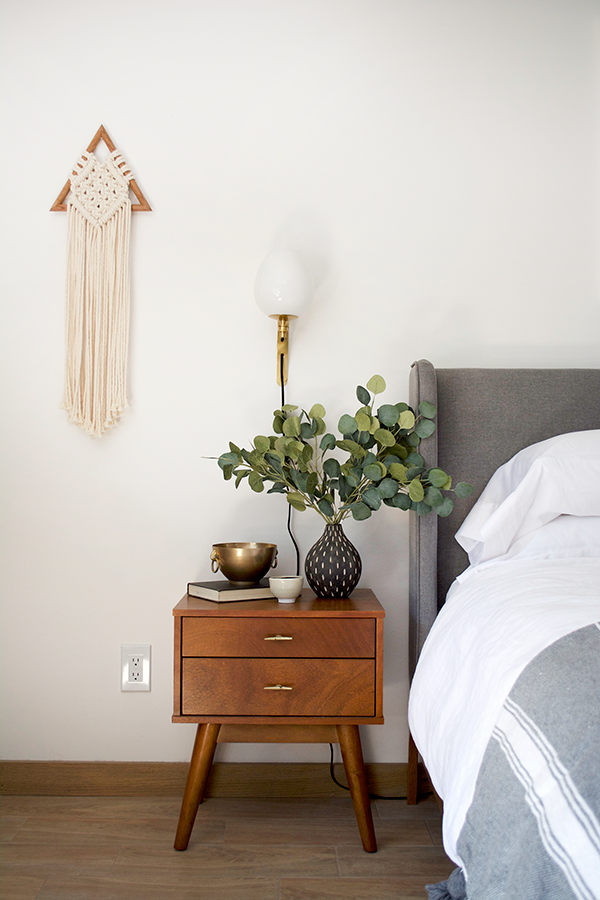 We recently got these gorgeous Mitzi Lindsay Wall Sconces and I'm obsessed. Since we didn't want to pay an electrician to hardwire new lighting, we went with plug ins which limited our selection a bit. But as soon as I saw these, I fell in love. And I really don't mind having the black cord showing.
My favorite part about these is their side profile. I mean helllooo gorgeous. Those curves are so sexy aren't they?! They're modern but the shape softens them up a bit and creates the perfect aesthetic.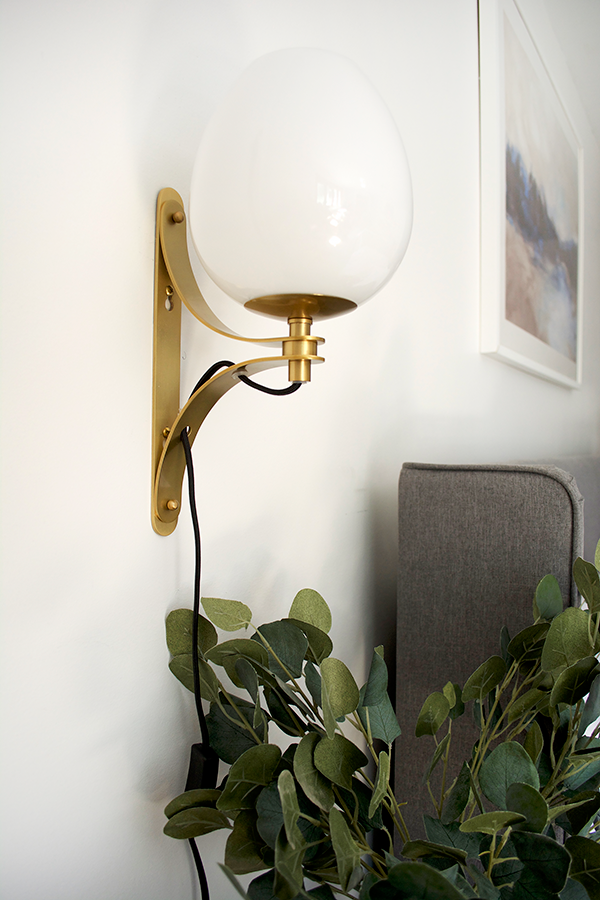 Our master bedroom is quite large and there is a lot of white space behind our bed so that gave us plenty of room to bring in some sconces. I definitely think we could have gone larger, but our nightstands aren't super big so I wanted to keep things proportionate there.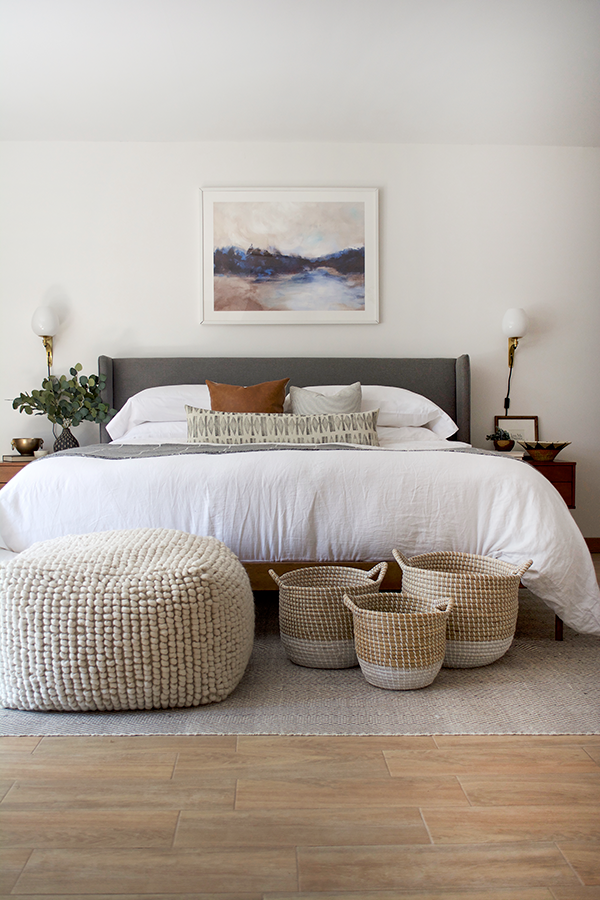 PROS TO HAVING BEDROOM WALL SCONCES
More Space on Your Nightstand
This is probably the most obvious advantage to having wall sconces. With your lighting attached to the wall, it opens up a lot more space on your nightstand for larger decor items and places to put things like a glass of water or other night time essentials you use.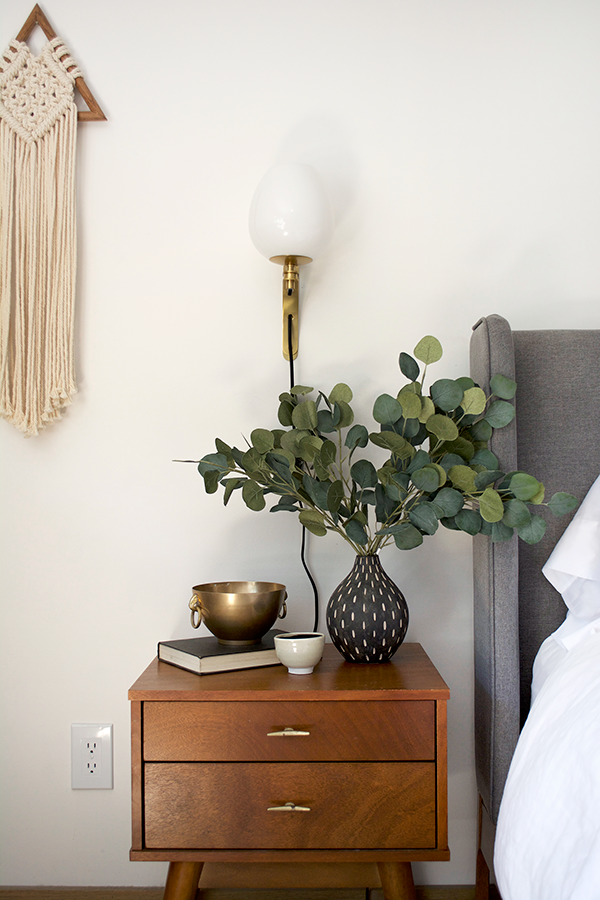 Easier to Turn On/Off
Now this might not be true for every single wall sconce, but it was for ours. I did love our table lamps but they were SO hard to turn on and off! The switch was on the cord and it always got stuck behind my nightstand and I could never reach it.
With our new sconces, the switch is still on the cord, but because it's hanging on the wall, it's so much easier to reach. I don't have to struggle every night to find it and it's one of those little things that makes such a big difference.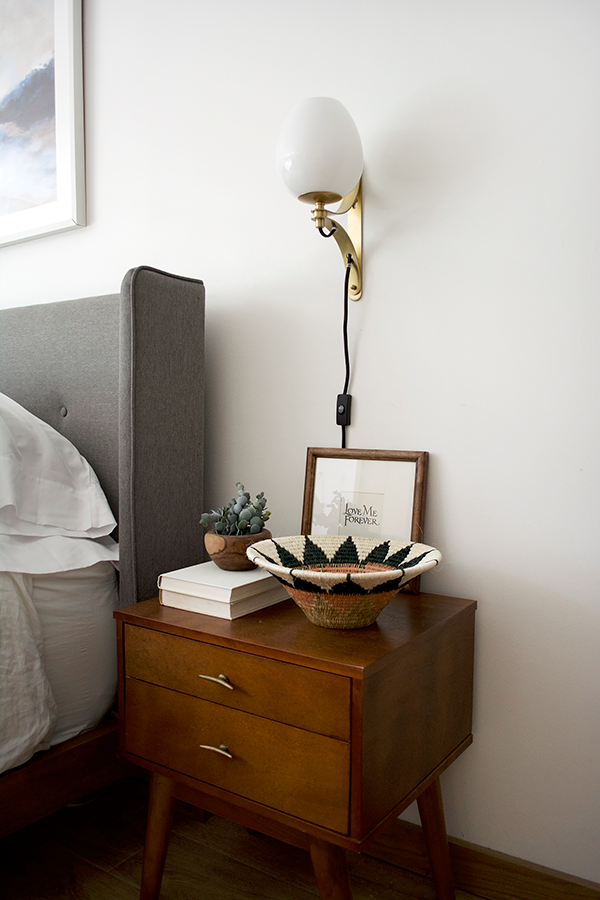 Height of the Lighting
If you've ever wondered how high to place your bedroom wall sconces – the general rule of thumb is to sit up straight in your bed and measure from the floor to about 3″-4″above your shoulder. That is where the bottom of the shade should go. Or you can measure from the floor to between 50″-60″ to the top of the fixture.
With the light coming closer to your head, you're going to have much better lighting when reading. Just be careful not to place the light too close to where your face is or you'll feel like you're under a spot light. This should be considered more closely when your sconce has a swing arm.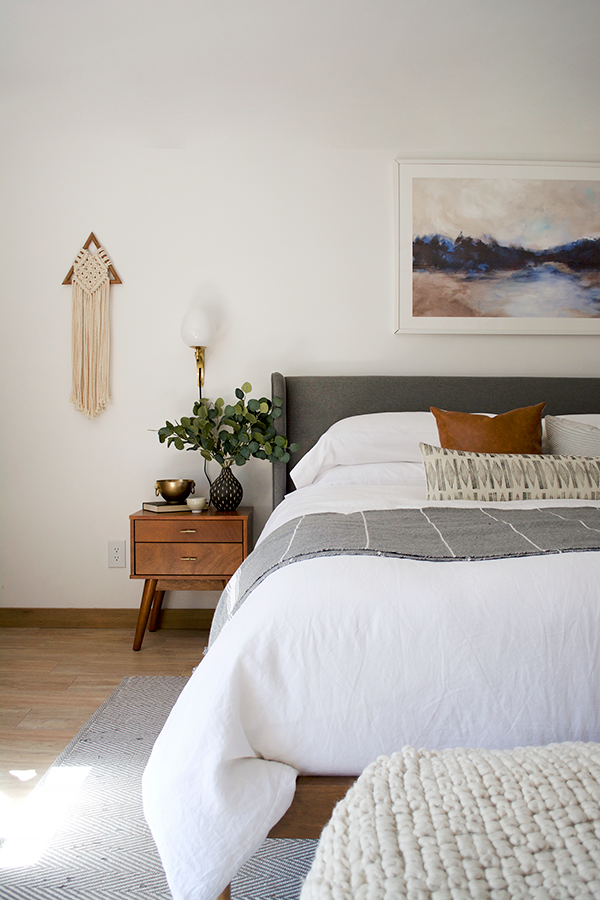 PROS TO HAVING BEDROOM TABLE LAMPS
No Hardwiring Needed
Obviously if you're using table lamps you wouldn't need to have your lighting hard wired into the wall. Even though you can get plug in sconces, a lot of people don't like the look of visible cords.
Easier to Change out
If you want to change out your lighting, it's much easier to do when you have lamps. With our new sconces, we had to drill holes into the wall, and if we ever want to get different ones, the holes may not match up the same.
Below is a recent photo of our bedroom when we had lamps. I always felt like our nightstands were cluttered and we didn't have room for anything. And Dan never even turned his light on because he couldn't reach the switch on the cord.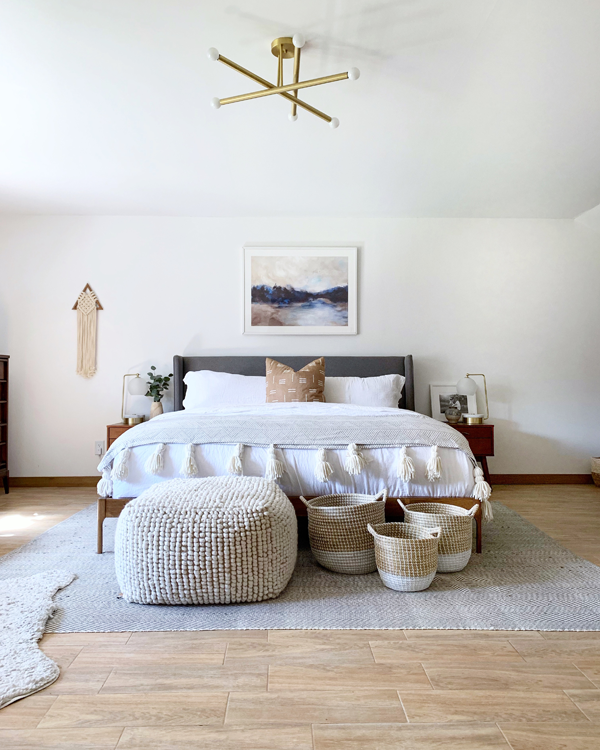 I don't think there is a right or wrong time to use sconces vs. table lamps – it's definitely a personal preference and depends on the size and shape of your bedroom as well. Having the wall space we do, I feel like it made sense for us to make this switch and so far I have no complaints.
It gave me a reason to switch up the decor on our nightstands too which was fun.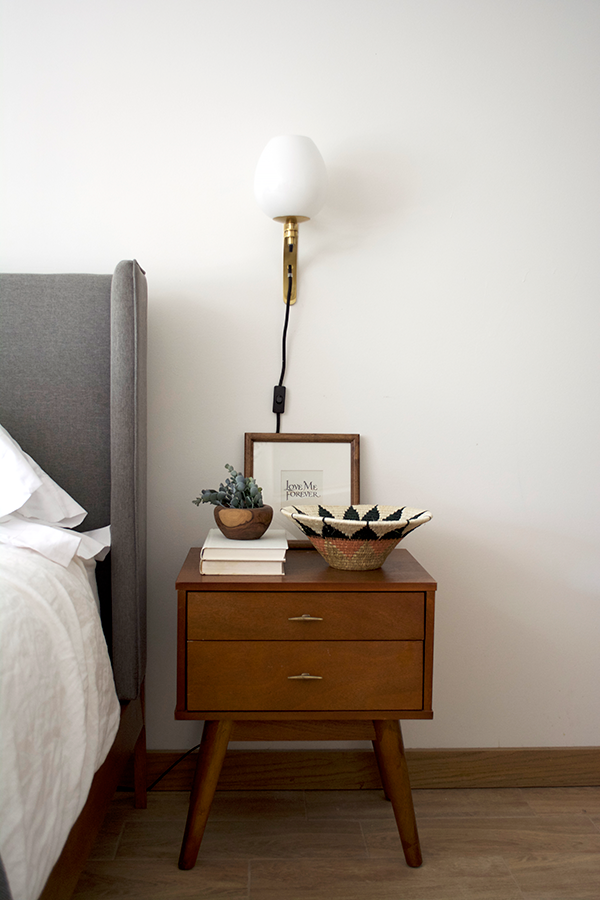 Fun story about the frame on Dan's side of the room – I bought it from HomeGoods and planned to put a photo of us in it but our printer is broken and I didn't have time to run out before I took these photos.
The white hardcover books I found a couple years ago at salvation army. They work great as decor around the house. I thought it would be cute to frame some words but had no idea what the books were even about.
I picked one up and the title was "Love Me Forever". I flipped through to the title page and ripped it out and framed it.
Cheap and easy 😉
On my side, I had to use some of my favorite greenery (eucalyptus) for some height and then added in some bowls in various sizes for all my random things. I always take my jewelry off before bed, including my wedding rings, so that little ceramic bowl is perfect for those items.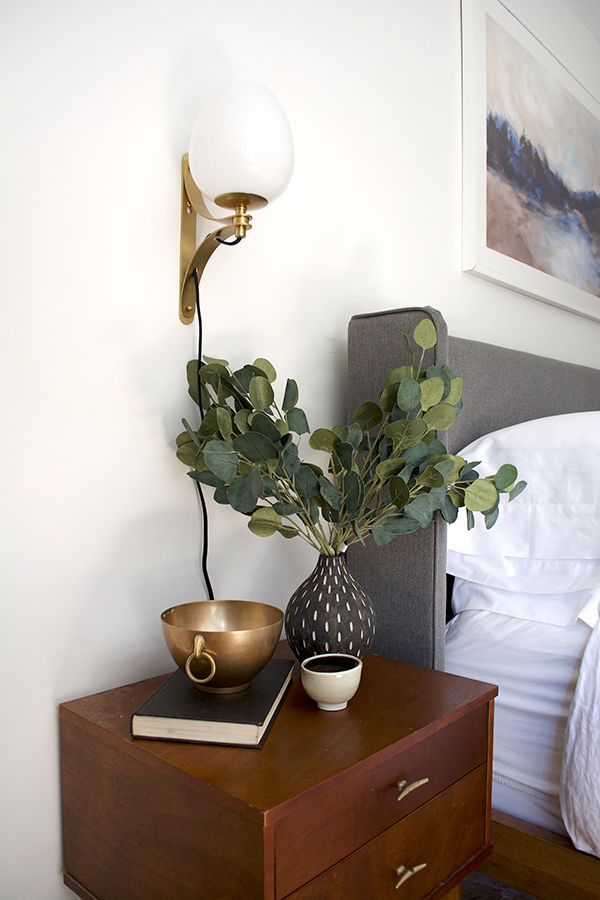 If you're interested in some other options, this list of chic and affordable wall sconces is a great place to start!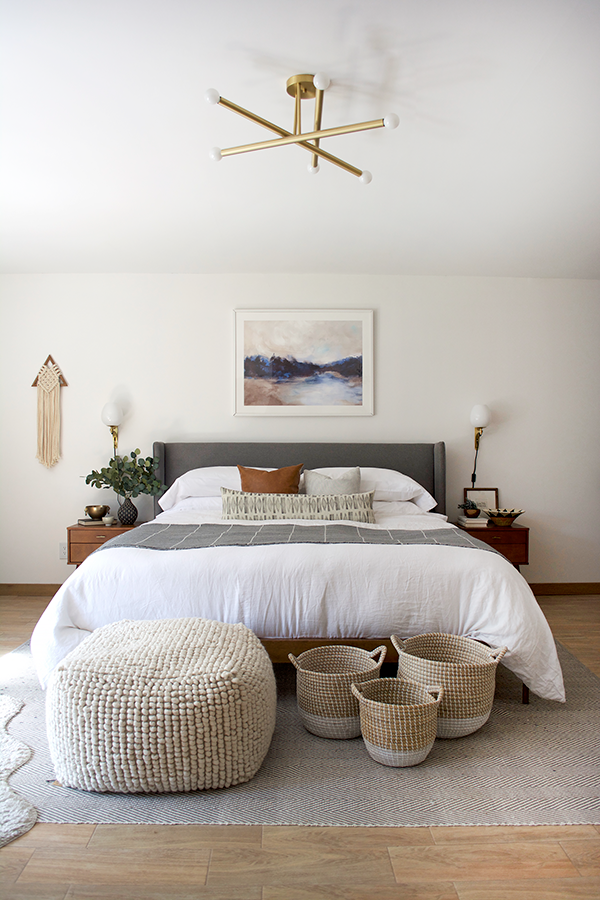 NOT LISTED ABOVE
Sconces
Vases – thrifted
Eucalyptus – Hobby Lobby
Lumbar Pillow
Basket/Bowl on Right Nightstand – HomeGoods
I'm so happy we decided to switch things up in here and our Mitzi Lindsay Wall Sconces were the perfect way to do it. Hopefully this break down of Bedroom Wall Sconces vs. Table Lamps was helpful! I'd love to know – what do you have in your bedroom?