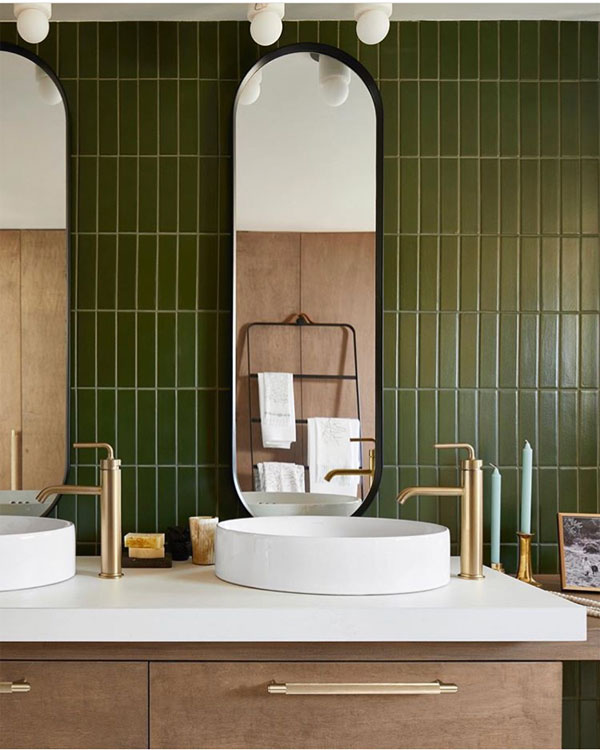 We're kicking off 2019 with another room makeover and I'm pretty excited about it. Even though it's a small room, I'm using it to stretch my creative boundaries a bit and try something different. So today I'm going to share with you my Modern Half Bath Plans.
Our half bath on our main level gets used daily and ever since we replaced all our flooring, it's been sitting there unfinished. Eloise probably uses it the most, but with no sink currently, it's becoming a bit of an annoyance and I can't take it any longer.
MODERN HALF BATH PLANS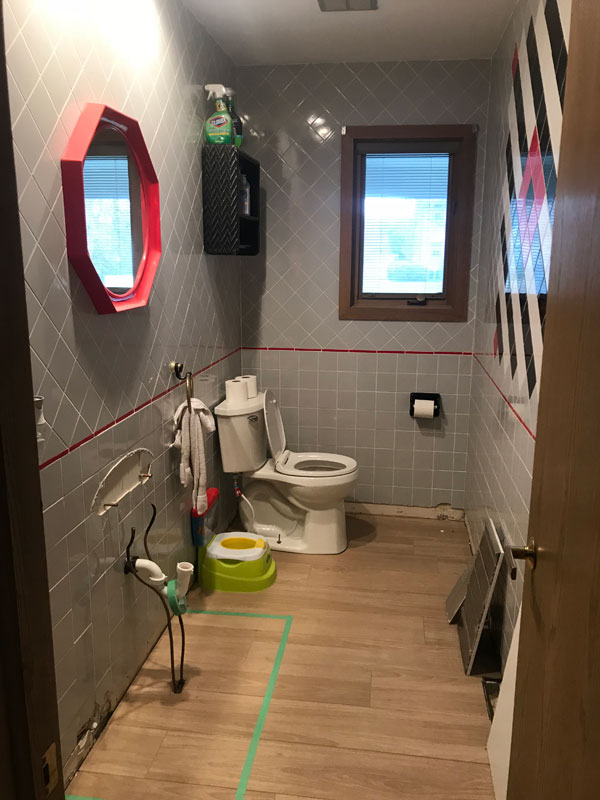 My in-laws decided on this interesting tile pattern and my FIL put it in years ago. To say it needs an update is a huge understatement. Because it's floor to ceiling tile and ripping it all out would be a major mess, we're going to just tile right over the old stuff.
We waited on this room because I had no idea what I wanted for it and didn't want to jump into something right away. So I just let it be and felt pretty indecisive for a while until I had a light bulb moment. I love the look of breaking up a bathroom with two different wall treatments like board and batten or just tile on the bottom and paint on top and vice versa. I don't do a lot of dark walls in our house but one I did that I still love is Hawk's room.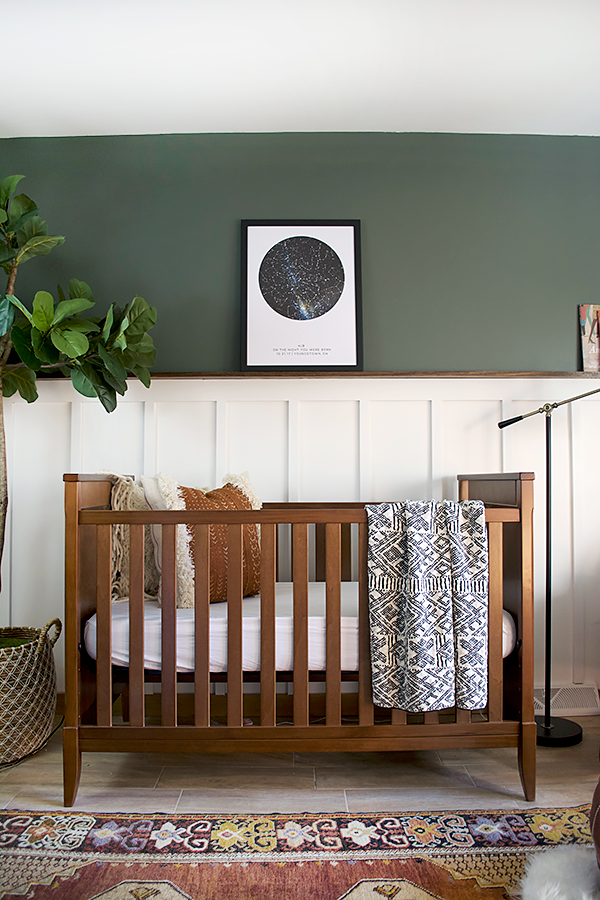 So I thought to myself – what if I recreated that in the half bath but with tile?? I was hooked and on board 150%. And to break it up I would still do a shelf which I knew would be possible since we did something similar above our bathtub.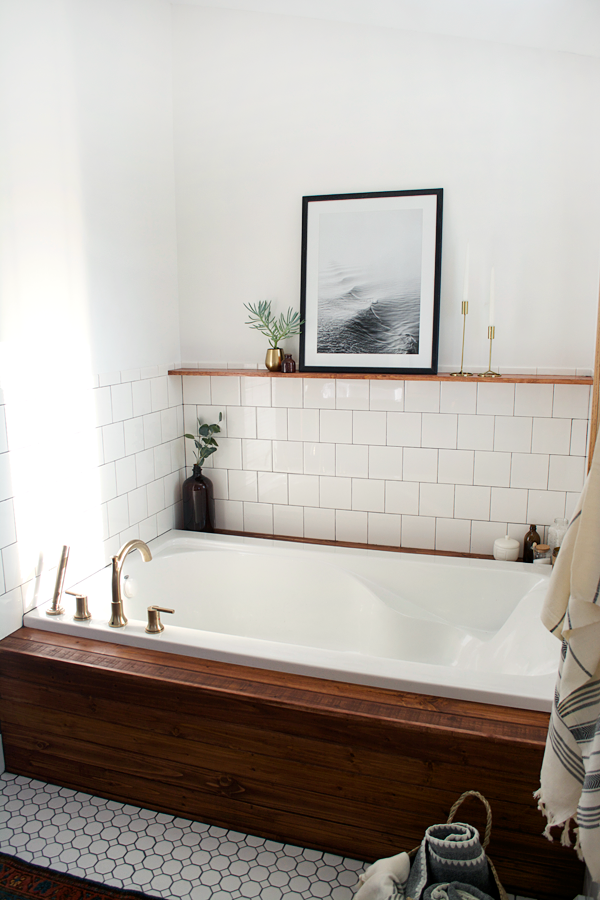 I also wanted to try a different tile pattern and decided on skinnier rectangular tiles stacked vertically. In my head I loved it but I'm a very visual person and seeing it in a photo helps reassure me it really is what I want. So I searched and searched for green stacked tiles and finally came across this beauty that Fireclay tile shared from AND Design.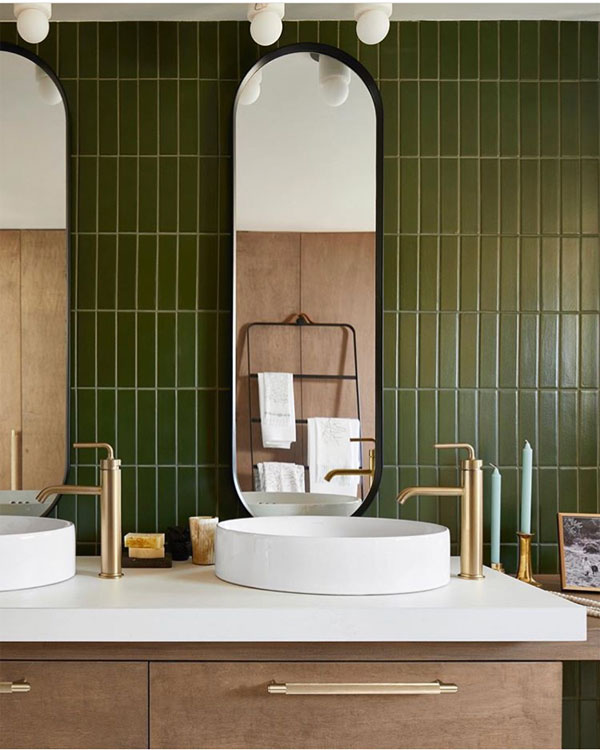 Boom. Obsessed. Although we'll probably use larger sized tiles since the space is a decent size – but this definitely helped affirm that this is the route I want to go.
Then of course I had to create a mood board to again help me visualize it all and this is what I came up with.
MODERN HALF BATH PLANS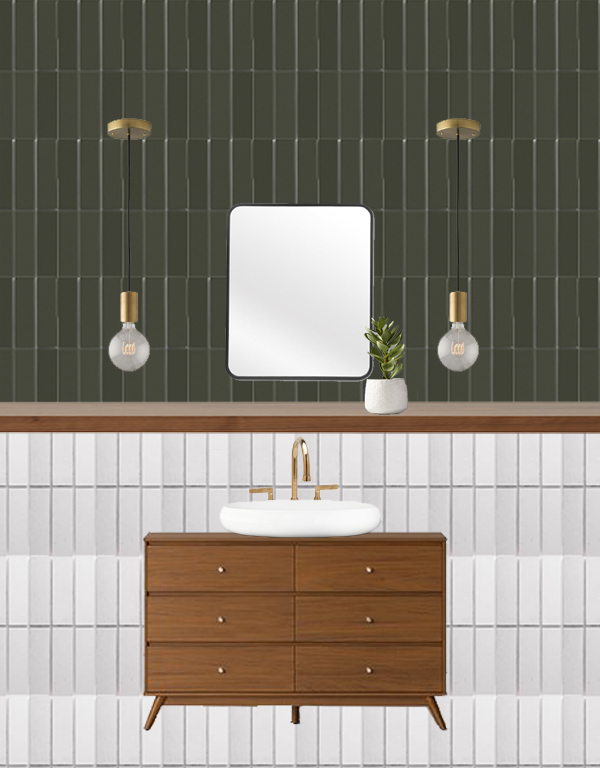 So the white will be on the bottom and the green will be on top with the wooden shelf breaking it up in the middle. I may go solid white on the bottom or I was thinking of possibly marble too.
I still have some decisions to make on specific pieces but this is my overall vision. Finding affordable dark green tile in the size I want is proving to be quite tricky. The ones from Fireclay are gorgeous but they are just a smidge outside my price range 😉 So I'm still on the hunt!
I went to our local tile shop the other day and brought some samples home and there is one that I love that is 3×12 and a little more darker grey with a hint of green that could be the winner. It's the one on the very top.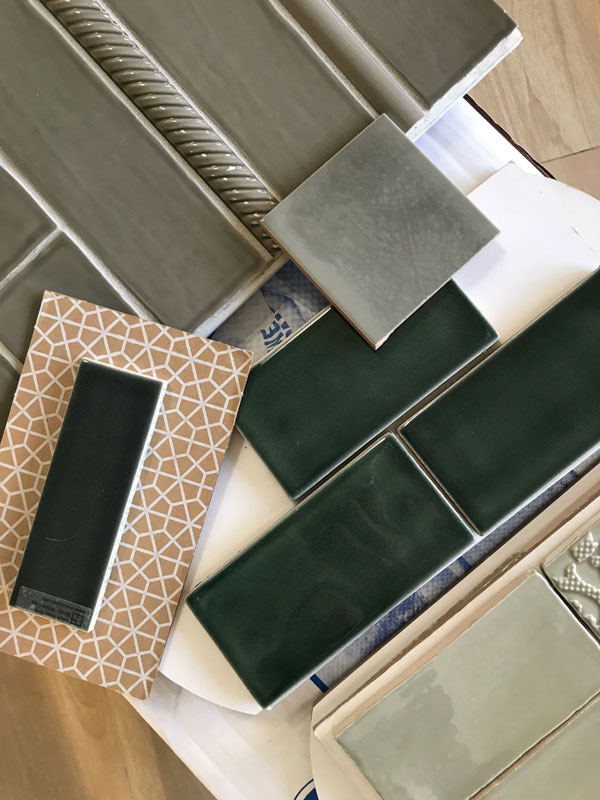 I also have to decide if I want to do the half and half tile on all 4 walls or if I want to just keep it to this main wall and then do solid white or solid green on the rest. I'll probably do a poll in my insta stories and see what you all have to say after seeing the space! Feel free to leave your comments here too!
For the vanity – I shared on instagram this beautiful vintage cabinet I scored on facebook marketplace that I already sanded down. I'm going to stain it and add new hardware and then we'll have our plumber come over and help install the sink and hook all the pipes back up.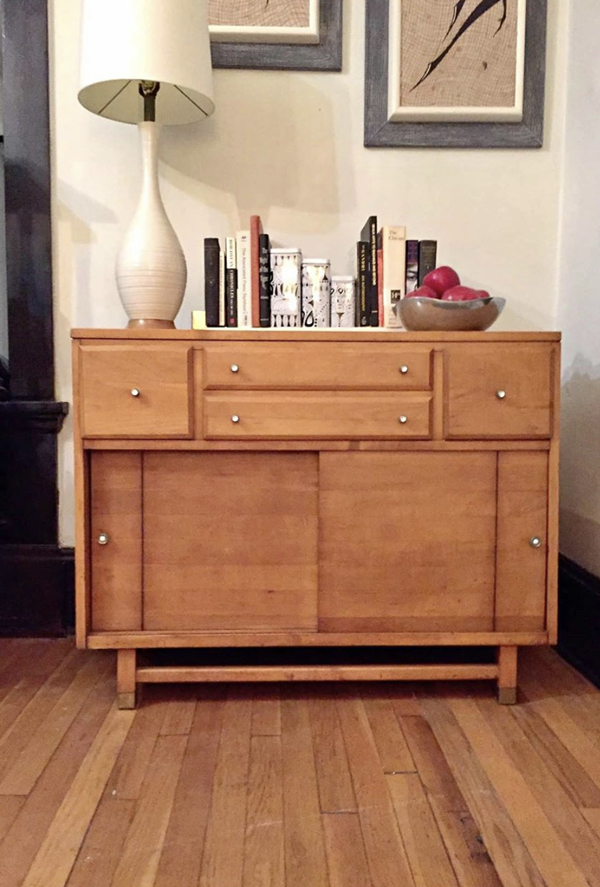 I'm excited that I finally figured out what I want to do in here and can't wait to find some tile I love so we can get started. Hopefully it's soon so we can get a sink back! Luckily the laundry room is right down the hall so we'e been using that for now.
What projects are you kicking the new year off with??