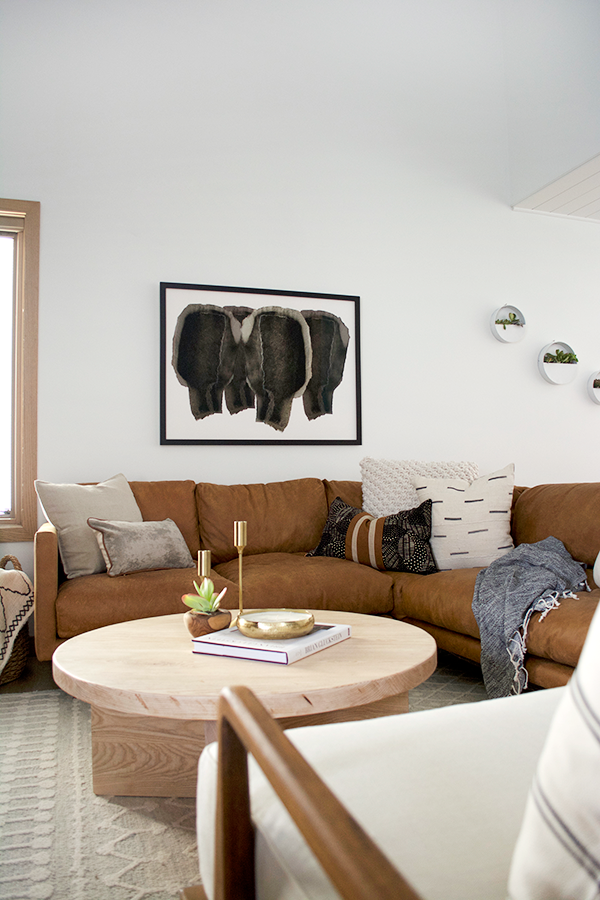 It's hard to believe that another year has passed and we're full force heading into another one. I hope you all had the most wonderful Christmas and New Years and are feeling refreshed and ready to take on the coming days. I always like to look back and reflect on what I accomplished, both personally and professionally, and recap all the projects we've done around here. Plus I've got some exciting plans for what's next around here!
LOOKING BACK AT 2018
So let's start from the beginning. I was still in a bit of a baby fog at the start of the year after having Hawk in October of 2017. Getting used to life with two kiddos was especially challenging. So there really wasn't too much going on in terms of projects. I was just kind of floating along and doing whatever I could in between nap times and feedings.
DIY BOARD AND BATTEN WITH SHELF
I managed to post Hawk's nursery reveal late in 2017 but there were some DIY projects that I didn't get up until the following year. The first was this easy DIY Board and Batten with Shelf that I just absolutely love.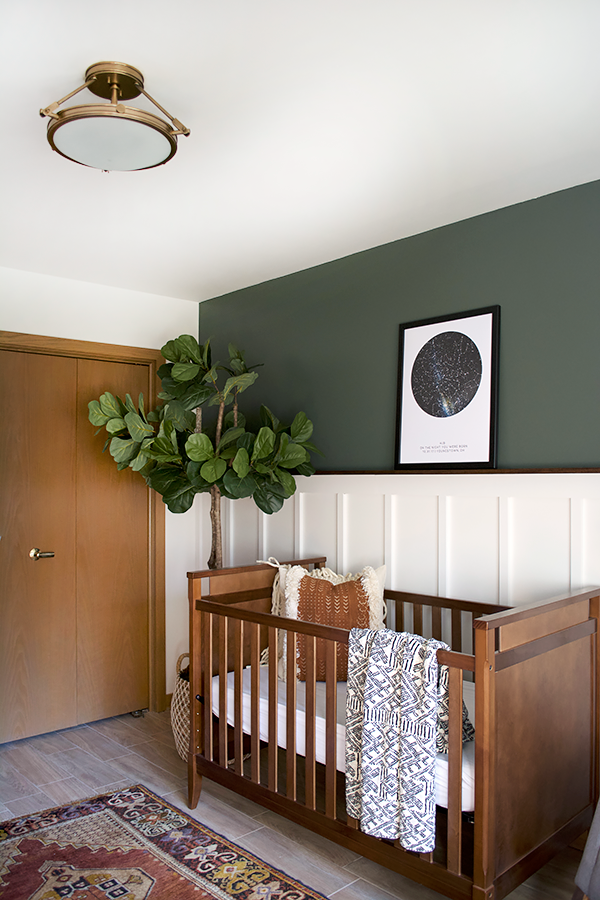 It's probably the project that you guys recreate the most and share with me and I LOVE to see it in your homes! It's also inspired me for our half bath downstairs that I'll be sharing more on soon.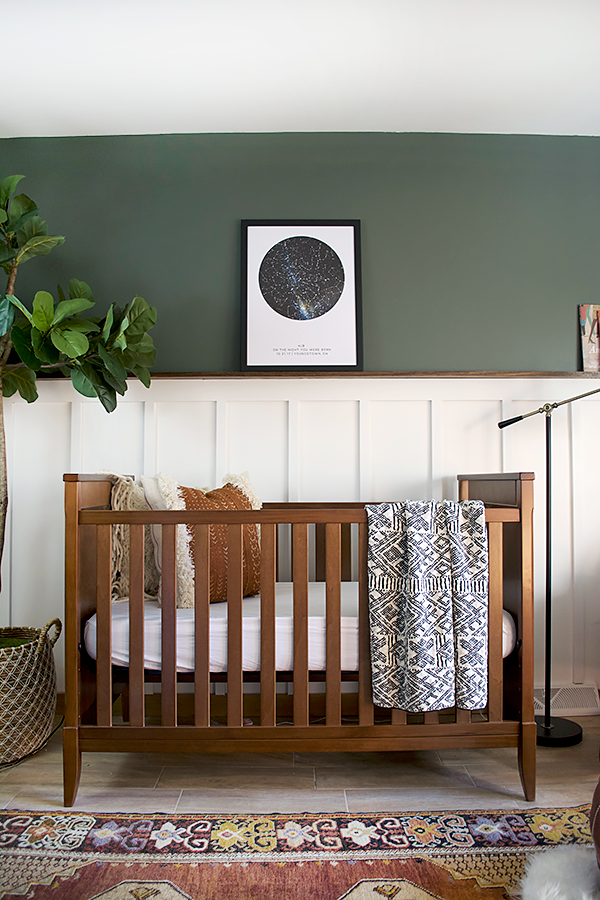 LAUNDRY ROOM REFRESH
Once the spring started to roll around I got the itch to change things up in our house but we didn't have any plans for any big renovations at that point. So I decided to give the laundry room a little update which was just what I needed.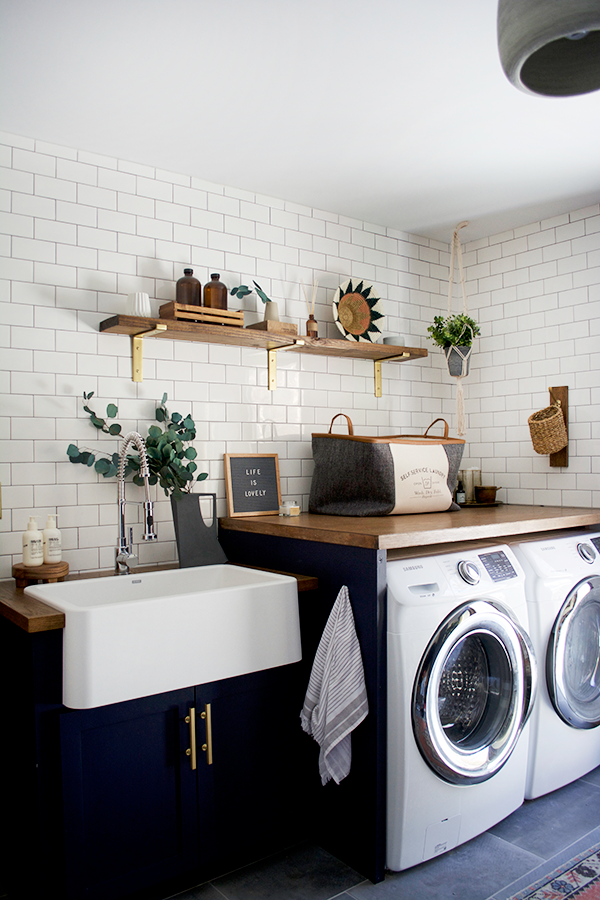 Since the layout of this room obviously can't change, it's fun to switch things up from time to time with new decor.
DESIGN SERVICES
This was a big one for me and something I was so terrified and excited to do. In the middle of February I announced that I was going to start offering design services, both locally and online with e-design. I really felt the push to go in that direction and after getting so many DMs and messages asking me if I offered anything, I decided it was time I gave it a try.
I love designing our own home, but I want to be able to share my gift with others too and really feel like that is the next natural step for me. I will say, it didn't go quite as well as I thought it would and I didn't have a year packed full of clients but I got my feet wet and it was fun.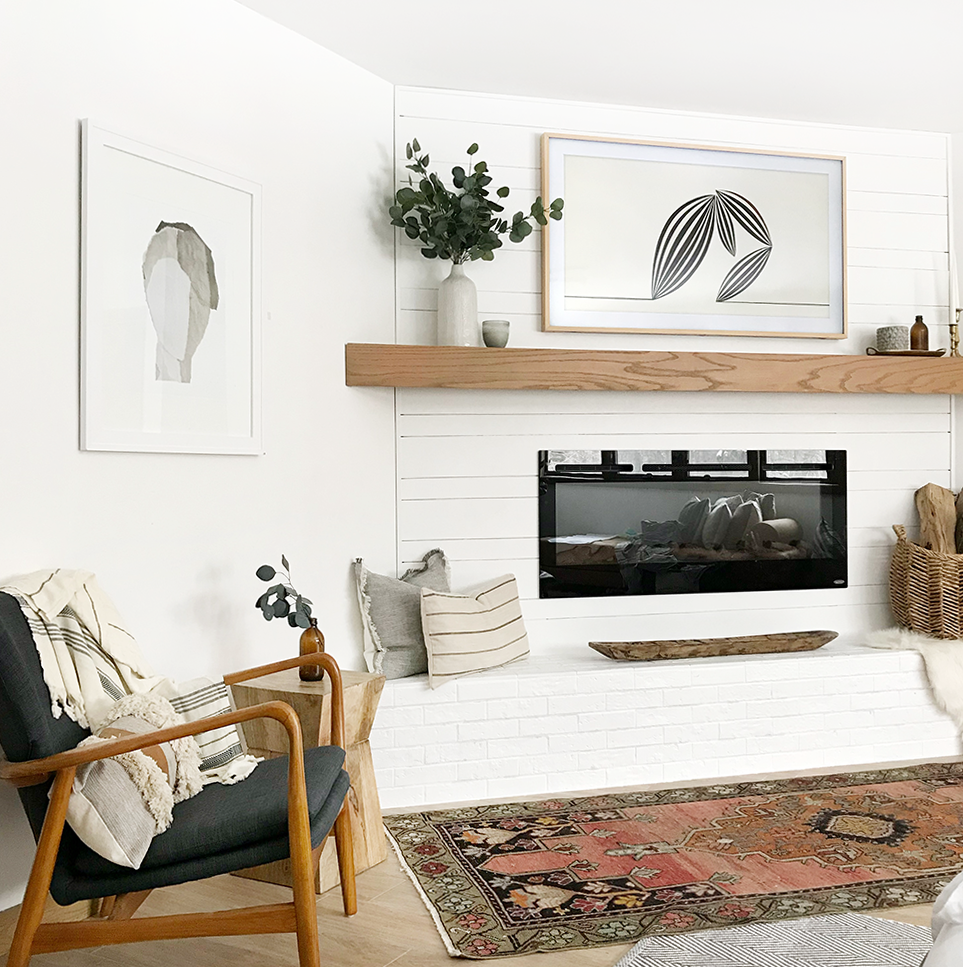 I got my first local client right away who I am still helping today. There was a lot of back and forth and planning to do, but things are finally getting ordered and renovations are going to start in February! She's changing up a lot, but her kitchen is the main space and I'm so excited to share it with you guys! Even though it's been almost a year since we first chatted, it will be worth it to see my first client's home come to life.
I also had one other local client but it was more of just a consult and directing them on a few decisions they were making with a basement reno.
I had a lot of interest in my e-design but only a handful that actually went through the whole process. My first client wasn't quite what I expected and it definitely had me reconsidering it all, but luckily that was followed up by a dream client who was so easy to work with and made me realize I wanted to continue doing it.
So all in all, it was definitely a learning experience. I already have a couple of new e-design clients to kick off the year and I'm helping my friend locally with her nursery which I am beyond excited about. I still feel pushed to this kind of work and am a firm believer that God has me exactly where he wants me.
GLITTER GUIDE HOME TOUR
This was a super big moment for me in 2018. I always saw my friend's and other bloggers sharing their home tours from Glitter Guide or Apartment Therapy or other big name design sites and dreamed of one day having my own. And then I did! A local photographer came and shot our entire house and I'm so grateful for that experience.
I have some photos of me and the kids I will cherish forever and it just felt good to be recognized by someone like Glitter Guide for all the hard work I've put into our home.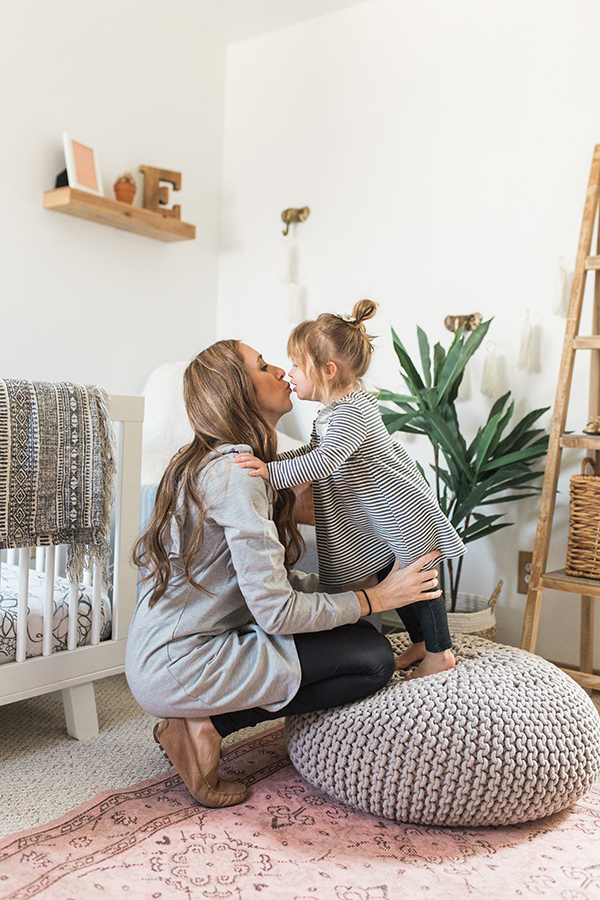 BETTER HOMES & GARDENS STYLEMAKER EVENT
Something I didn't share on my blog, but did on social media was that I was asked to attend the Better Homes and Gardens Stylemaker Event in NYC. I was asked the previous year but would have been 9 months pregnant at the time of the event so it didn't quite work out 😉 So I was SO excited to be able to attend this past year as it truly is an honor to be invited.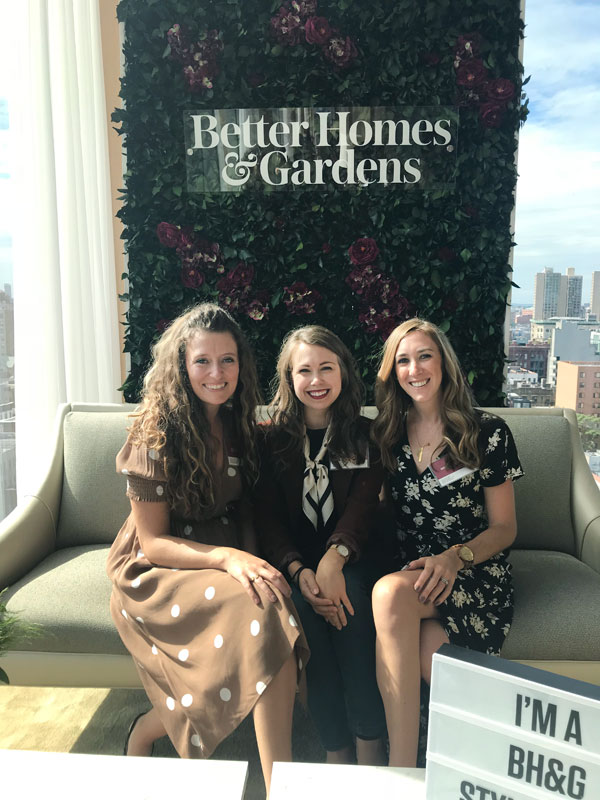 BHG invites bloggers and influencers from areas of interior design, DIY, and food for a one day event full of networking, workshops and fun. Not only was it amazing to attend, but what's even better is getting to hang out with my bloggy buddies in real life. No one quite understands this crazy world as much as other bloggers and some of my very best friends I've never actually met in person. It was such an incredible experience to finally meet some of them and enjoy a few days together soaking up the city and chatting blog stuff.
It's something I'll never forget and look forward to hopefully being invited back again this year.
OUR NEW WOOD LOOK TILE FLOORS
This was NOT in our plans for 2018 but I sure am glad they ended up happening. Probably the biggest renovation we've taken on since we moved in 2 1/2 years ago. I thought it wasn't something that was even on the table, but my FIL brought it up himself one random day as we were chatting about different house projects. I was in shock and quickly started researching floors so he wouldn't have a chance to change his mind 😉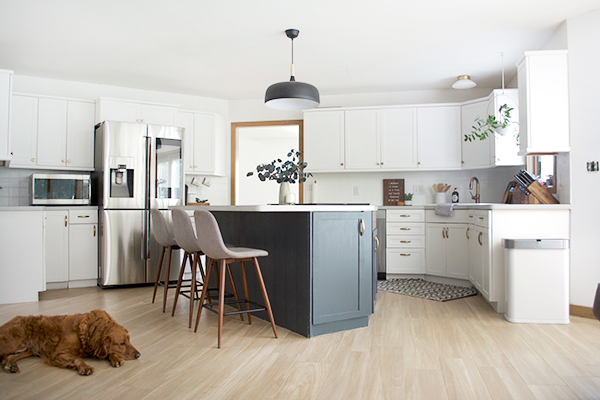 I still can't believe how much different new flooring can make a house feel and we are still loving them today. It feels like they were always meant to be in here and although it was a ton of work, it was totally worth it. You can catch up on all the posts from that project below!
Why We Chose Wood Look Tile for Our Floors
Installing Wood Look Tile and Tips from a Pro
THE ONE ROOM CHALLENGE
To finish off the year I was asked to be a Featured Designer for the One Room Challenge which was a huge honor. Ever since I started doing the ORC it was a goal of mine to be one and I'm so grateful to Linda for asking me! It was amazing to be amongst such other big name bloggers who I've looked up to for quite a while.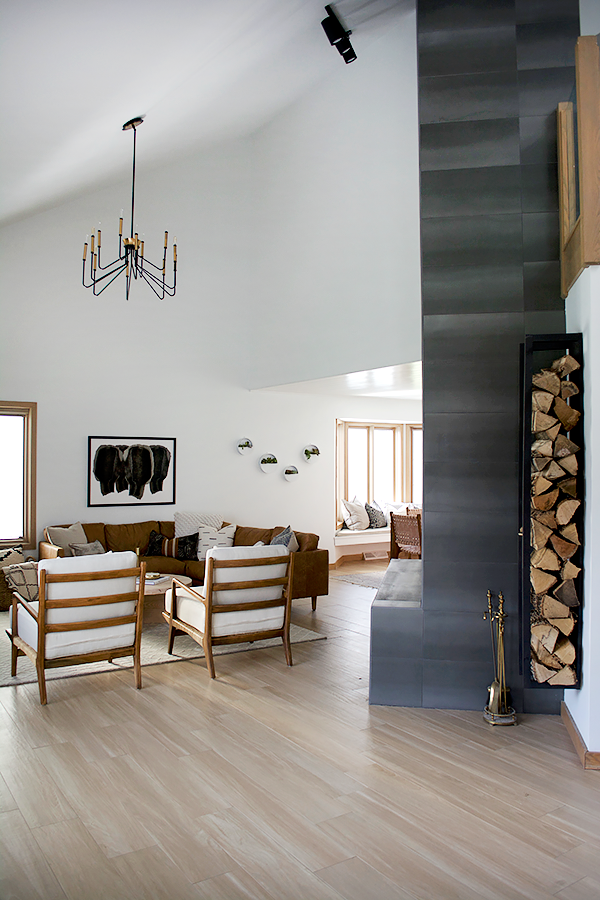 I decided to go full force and take on TWO rooms – our family room and dining room. It was a lot of work but we pulled it off and it was so nice to have those rooms completed just in time for the holidays.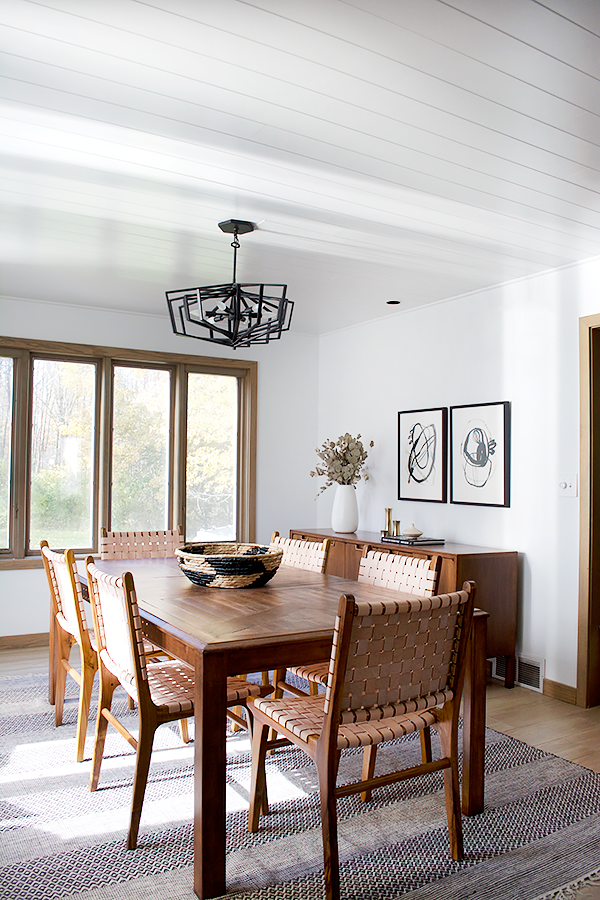 I will say, rushing to finish a room in 6 weeks sometimes makes you question things and forces you to make decisions you may not have otherwise. There are a couple small corners that I still want to tweak that I'm not 100% in love with, but that will come with time.
LOOKING AHEAD
So what's next?? Here's a list of the projects I want to tackle in 2019.
OUR HALF BATH
This will be the first project we dive into. We carried our new wood look tile into the half bath on our main level, but haven't changed anything else yet. We ripped out the old sink and toilet and have only replaced the toilet since I wasn't sure of my plans yet for the room.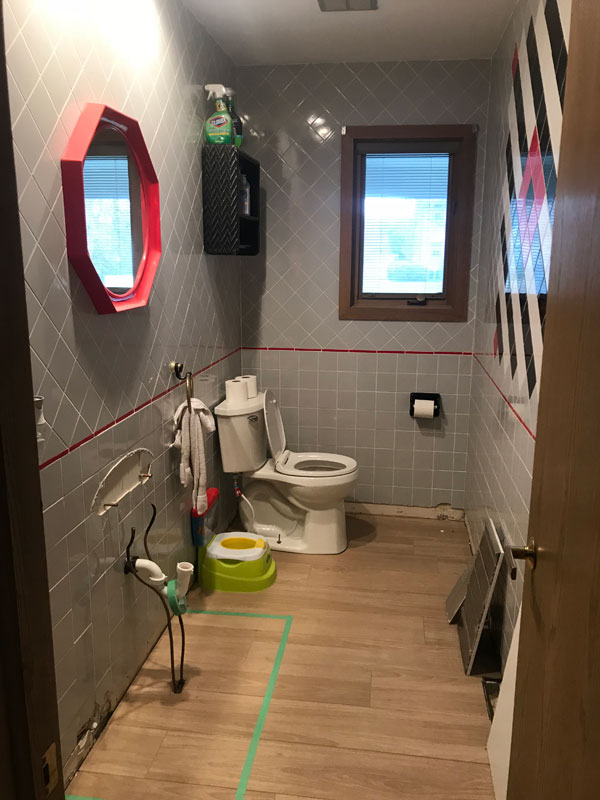 There is full floor to ceiling tile that we are going to just tile over with new tile, and I picked up a little vintage cabinet on facebook marketplace that I started to sand down to repurpose for the vanity. You can follow along with that on instagram!
I'll be sharing my full plans for the room soon, so stay tuned for that!
THE KID'S PLAYROOM
The only other room on the main level that we haven't done anything with is what used to be our old living room. It's off the kitchen and has another fireplace and we decided we are going to turn this into the kid's playroom. It doesn't make sense to have two family rooms and we have the space to give them a designated playroom, so we're going for it.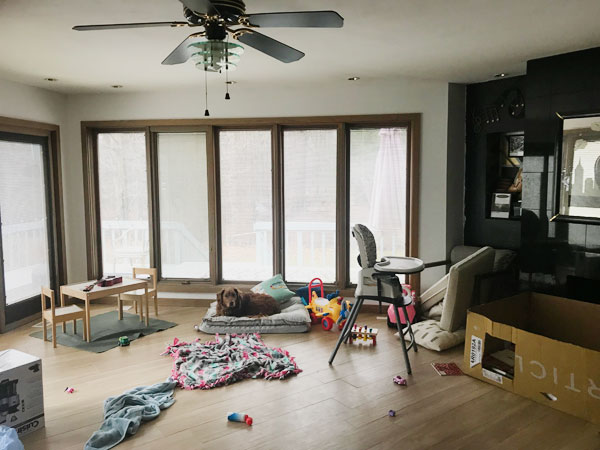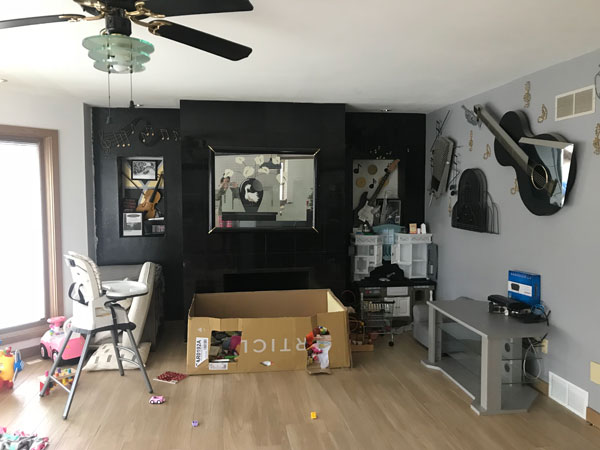 I have a general idea of what I want to do in my head, but still need to figure out some specifics. We have a new small couch coming for the space sometime in the next week or two and I'm hoping once that's in it will help me decide on the rest.
A NURSERY FOR A FRIEND
I am SO excited for this you guys! My friend who lives here is due in March with her second baby girl and she's asked me to help her with her nursery! It's going to be a full room makeover and we've already got some things planned. I'll be sharing my mood board with you soon and will be taking you along on that whole process!
ElLOISE'S BIG GIRL ROOM
Eloise is still rocking her crib but I'm pretty sure she's going to be out of it soon because she hardly fits in it! Whenever that time comes this year, I'll be ready to give her a new big girl room and I cannot wait.
BACK PORCH MAKEOVER
This isn't something set in stone but it is something we want to tackle eventually and would love to see it happen this year. The size of our back porch is amazing but it's definitely in need of a face lift. We restained it last year but the paint is already chipping off again and there are so many loose and cracked boards. We spend a lot of time out there when the weather is nice so it would be great to turn it into something a little more functional and beautiful.
GOALS
I'm not a huge goal setter but I do think about things for the coming year and what I want to accomplish. Last year I was just trying to survive with a toddler and a new born so I didn't set too many goals for myself other than starting to offer design services.
For this year, I really want to grow my clientele and hopefully gain more local and e-design clients.  Even though last year was a slow start, I still want to explore this direction and see if its something I want to pursue even more on a professional level. Part of my insecurity comes from not knowing much about the business in terms of how to work with clients and not knowing any design programs like sketch up to be able to create my own design plans.
I need to just put all of that aside and be confident in the skills that God has given me and hopefully I'll figure things out as I go along.
Something that I want to reprioritize this year is social media – mainly instagram – it's such a double edged sword. On the one hand it's an amazing community where I have created so many amazing relationships and I love that aspect of it. It's also helped me grow my business and blog and be able to do a lot of sponsored content on there.
But there were so many times over this past year when I felt so icky about the app and let it control my mood when a photo didn't do as well as I thought it would. The algorithm affected so many people and we all saw our numbers change and it was hard not to feel upset about that or compare myself to others who didn't see as much change as I did.
So one thing I want to focus more on this year is not letting instagram affect me personally and just be myself on there and focus on the relationships and not the number of likes or followers I have. Although I still want to grow, I'm just going to let it happen when it happens. I've grown organically from the beginning and I'm not about to change that.
Finding a balance between using it as a business tool and using it for personal enjoyment is hard – but I'm going to do my best to find a happy medium.
There are some more specific blog goals I set for myself this year that I won't bore you with but overall I want to just continue to enjoy the process of renovating our home and not rush through it just to get it done. My head is constantly flooded with ideas and I always want to jump in head first and get things done ASAP but I want to enjoy the journey more and enjoy the progress and share more of that with you even if it isn't the prettiest. It's real and we all go through it.
Overall, I just want to be more present and enjoy each and every minute of every day and stop thinking ahead so much. I want to be a more present, mother, wife and business woman and listen to where God is leading me.
Lastly, I just want to say THANK YOU to each and every one of you for being here on this journey with me. Every comment, every like, every message – I see them all and it means more to me than you know. Your support keeps me going and I'm grateful that I get to share this little piece of my life with you.
I wish you all a happy, healthy and present new year.