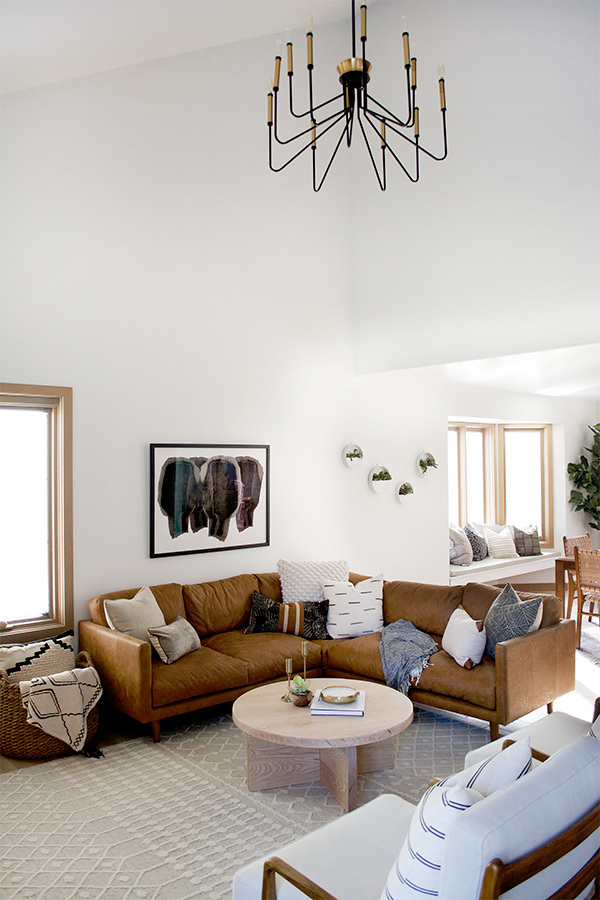 Choosing the right sofa for your space can be a daunting task. There are SO many options out there and everyone's home is shaped differently and will need the right size and shape for them. It can be hard to envision what will look best and sometimes you won't know until you get it in the room. We recently went through this process with our new Nirvana Sectional from Article in our family room so I wanted to share some tips on How to Choose the Best Sofa for Your Space.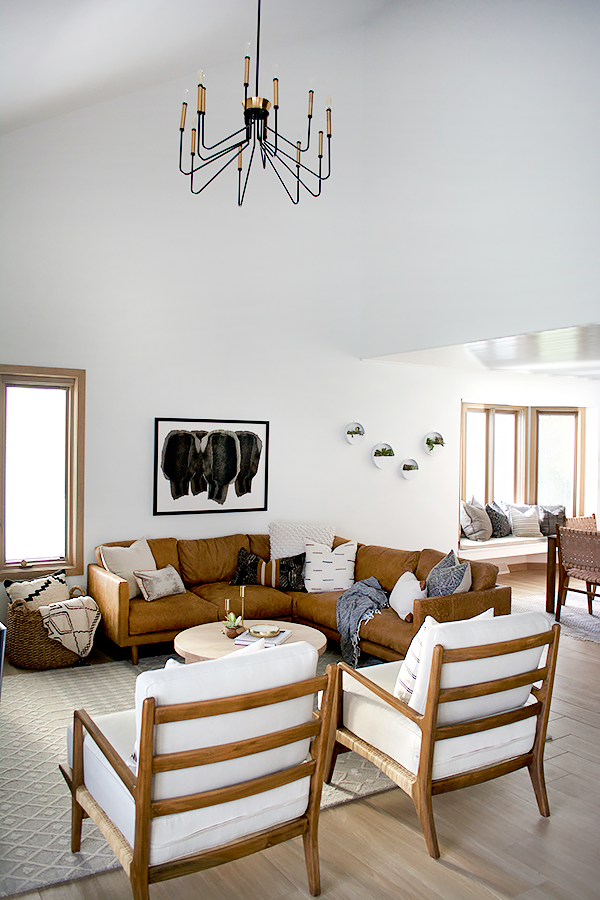 HOW TO CHOOSE THE BEST SOFA FOR YOUR SPACE
There are a lot of factors that go into making the right decision when it comes to a new sofa. It isn't as easy as this or that, so let's break it down into a few different categories to help the process become easier.
HOW MUCH SPACE DO YOU HAVE
Whether you're buying a new sofa and adding it to an existing room or starting completely from scratch, you'll want to think about size first. You may only have one wall where the sofa can go which will make things easier. Or you may have a larger space that could accomodate many different sizes.
Something you'll want to think about is the other seating and furniture in the room. Will there be a coffee table? Will there be other seating? Whatever your needs are, a great way to make sure your new sofa will fit, is to tape it out. Grab some blue painters tape and map it out on your floor so you know exactly how much room it will take up.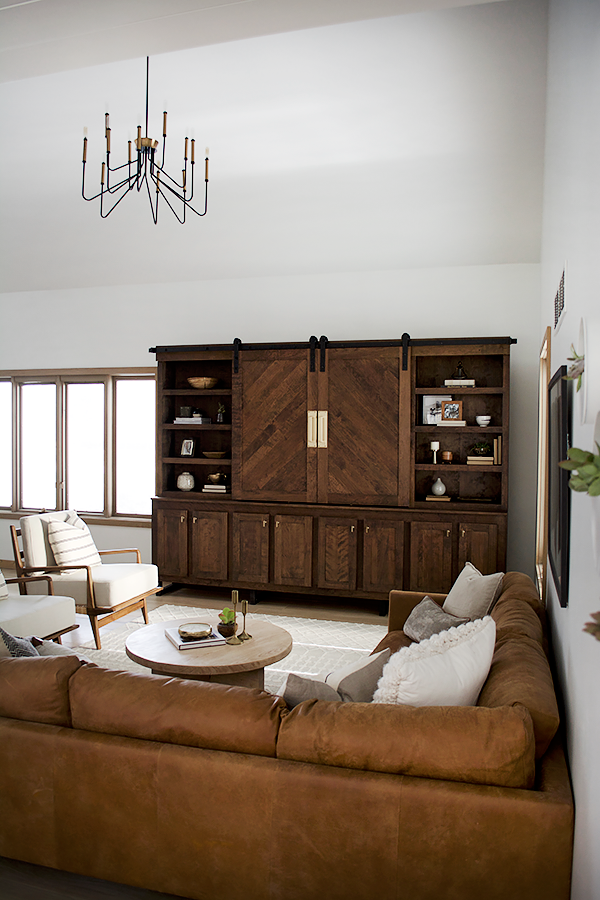 You also want to think about the focal points in the room. If there is a tv, that is usually where you want your sofa facing. Or maybe a fireplace. We have both, but I decided to make the furniture face the television since that was more practical for us. By having the sectional against the wall, it helps keep the space near the fireplace open and allows it to still be a statement.
SECTIONAL OR SOFA?
I personally love sectionals (and that's what we went with). The Nirvana Sectional in Dakota Tan from Article was the perfect size for our new family room that allowed us to have two accent chairs for additional seating. But that isn't always the best choice for everyone. I love how two sofas facing one another looks, as well as one sofa and some additional chairs.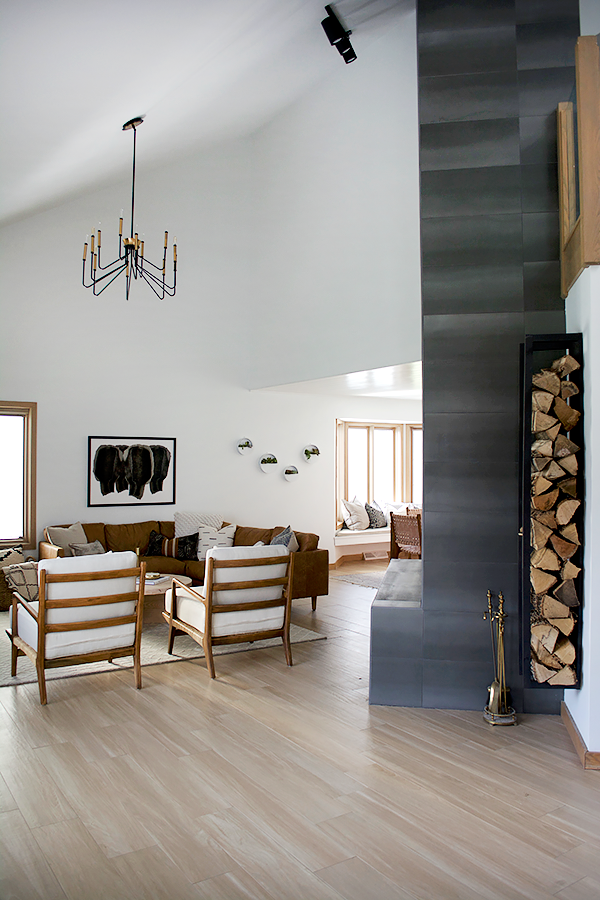 A sectional can help define a space and almost close it off a bit and make it more cozy. Since our family and dining room are one large connected space, the Nirvana Sectional acted as a great divide between the two, but because it's low, didn't block the view from room to room.
There are so many layouts – it can be helpful to look online and see if you can find something similar to your space so you can get an idea of what it will look like.
TRY IT IN PERSON – OR READ REVIEWS
Of course if you can try out a sofa in person, that is the most helpful way to decide if you're going to like it or not. But that's not always possible, and with all the online options these days, it's just easier to purchase from the comfort of your home. If you can't see it in the store, then make sure you read reviews. If there aren't any reviews, I'd hold off for something else.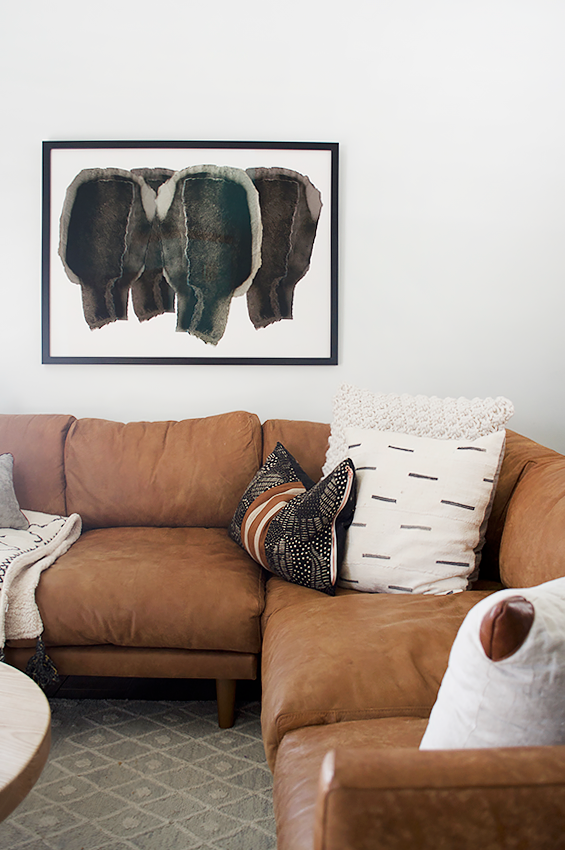 You need to get some type of information on what the piece is like, and if you're just going on a whim and crossing your fingers, chances are it probably won't be something you love. Plus, the hassle of returning it will be a major pain in the butt.
I read all the reviews on Article's site over and over again and seeing as it got a 4.5/5 I knew we'd be making a good decision.
FABRIC/COLOR
When I started planning the mood board for our family room, I was leaning towards a white sofa. I just love the way they look and with all the darker wood pieces we were going to have in our space, I thought it would be the perfect contrast. But then I got reasonable with myself and thought about the fact that we have two kids and a large dog and the idea of constantly cleaning a white sofa started swaying me in a different direction.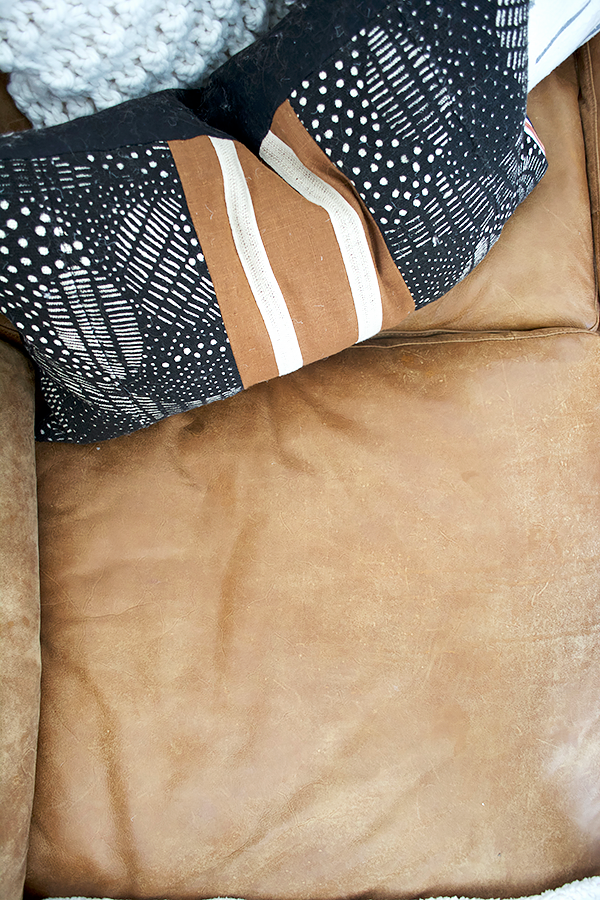 Now don't get me wrong. There are SO many stain resistant fabrics out there these days, that a white sofa with kids can totally work. I know lots of people who have them. I wasn't as brave as them so I decided to go the leather route which we are absolutely loving. The Nirvana Sectional is upholstered in semi-aniline Italian-tanned leather which is stunningly beautiful and oh so easy to keep clean. I don't have to worry about the kids eating snacks or spilling their drinks – everything just wipes right off!
For us at this time in our lives, leather was the sensible choice. But, like I said, so many companies are now offering stain resistant fabrics which is amazing. For our kids playroom that I'm starting to brainstorm now, I ordered a sofa with a darker gray fabric that is kid and pet friendly.
As far as color goes, I always say making a mood board is the best way to envision your space. If you can't quite visualize how it will look, create a mood board with all your pieces and go from there.
CUSHION MATERIAL
Most sofa cushions are made from either feather (down) or foam. The upside of down is that it's usually more comfortable and squishy. However, over time it may start to droop a little and look saggy. Foam will tend to be more firm and hold it's shape longer but may not be as comfortable. This is usually personal preference and depends if you like a hard or soft feel.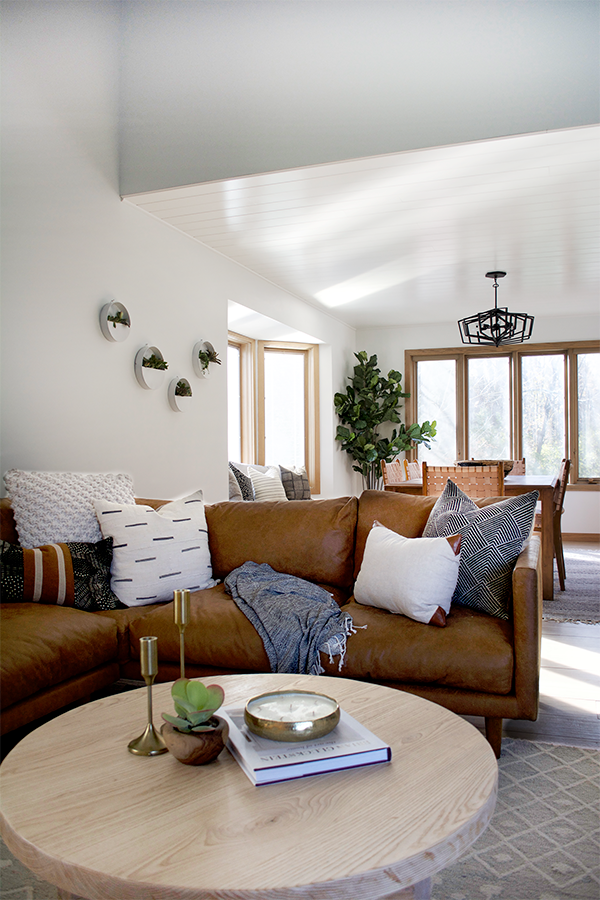 Our sectional has seat cushions that are foam core wrapped in a fiber down blend so it's kind of the best of both worlds. The back cushions are a fiber down blend. It's super soft and comfortable which is what I want in a sofa. I want to be able to sink into it and get as cozy as possible. Just make sure you read the description of your sofa carefully so you know what you're getting.
The Nirvana is definitely one of Article's squishiest sofas but if you're looking for something that isn't quite as sinkable you could look into the Sven, which is a perfectly middle of the road medium firm. The Burrard has a firmer feel with a little give thanks to it's down feathers, and the Ceni has a much more firmer and springy feel.
STYLE
The style of your sofa is of course a more personal factor and my one suggestion here would be not to sacrifice comfort for style. I love mid century design but most mid century looking sofas are not so comfy. But you also have to think about where it's going in your home and what it's purpose will be. If it's the main source of lounging then make sure it's comfortable. If it's going in a room that isn't used as much, then maybe you can go with something a little fancier.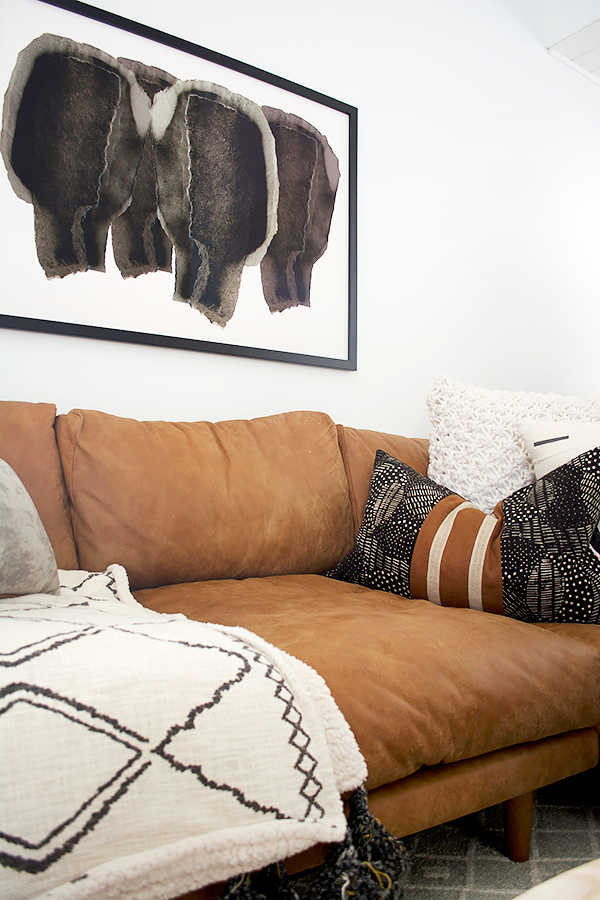 I love the Nirvana Sectional because I feel like it is such a diverse piece and can compliment so many different styles. Plus it's got some masculinity to it which is a bonus for husbands 😉 Even if my style changes as I grow, I'm confident that this will be a piece I always love and will always fit in our home.
PRICE
If you think about the most used piece of furniture in your home – it's most likely your sofa. It gets a lot of action and you want it to be sturdy, comfortable and last for a long time. I wouldn't skimp when it comes to a sofa – even if you have to wait a little longer to save up, it will be totally worth it.
It's an investment worth making and you'll be happy you did when you still have the same one ten years later.
Overall, there is a lot that goes into buying a new sofa but it doesn't have to be overwhelming! I hope that these tips are helpful and will make things a little easier for you when it's time to buy your next sofa.
After having our sectional for over a month now, we are so happy with our choice and the quality of the piece. From the frame, to the leather to the cushions, everything is sturdy and beautiful and we would definitely pick the Nirvana Sectional again if we were starting all over.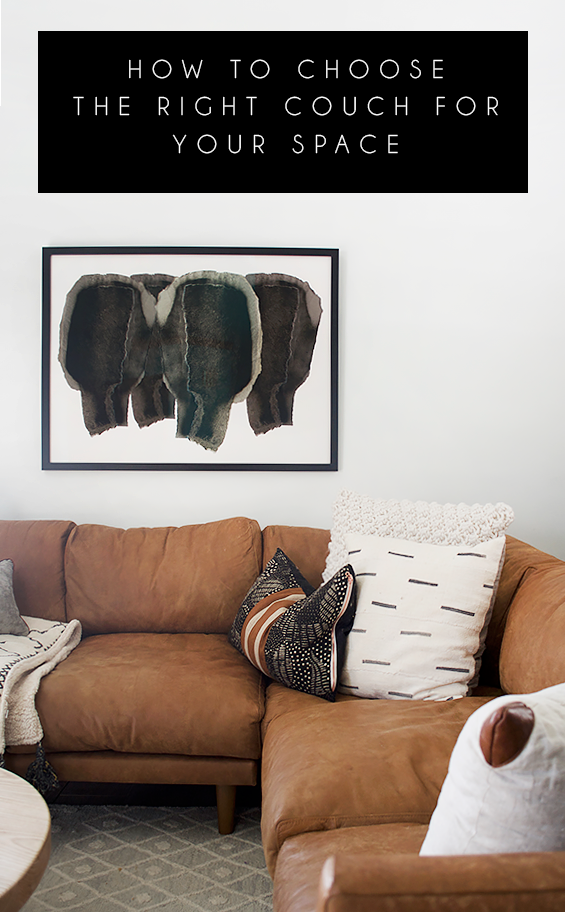 Huge thanks to Article for providing the Nirvana Sectional as part of my One Room Challenge design!