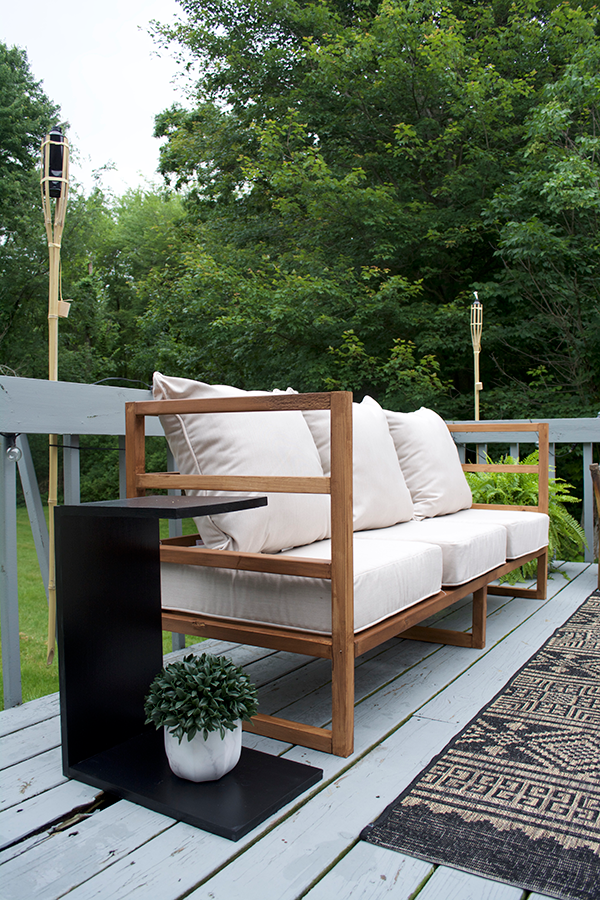 Ok I know you guys have been patiently waiting for this and I'm finally sharing all the details on the outdoor sofa we recently built for the Think Outside the House Campaign with BEHR®. If you didn't check our little updated porch makeover, head HERE to see the full reveal. I wanted to save the tutorial of the sofa for a separate post since it's going to be more in depth – although very easy, promise! So let's get right to it and I'll show you how we built an outdoor sofa that we love!
TUTORIAL FOR DIY MODERN OUTDOOR SOFA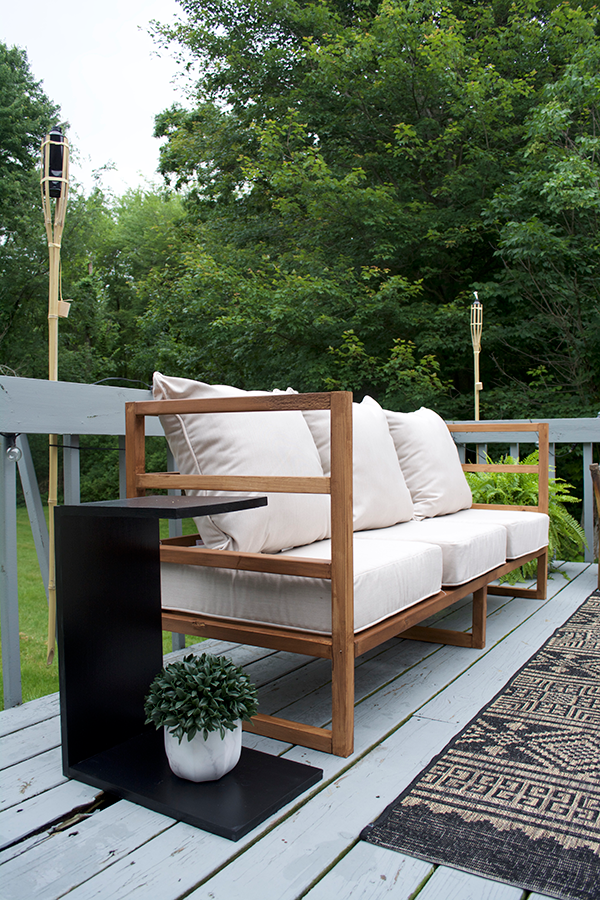 We had an empty little corner on our porch and I purchased THIS fire pit for it, but we had no furniture. I searched and searched online but couldn't find any pieces I liked that were reasonably priced and were my style. It worked out perfectly that BEHR contacted me to be a part of a campaign all about creating weekend projects so I figured we would just DIY our own sofa!
I looked online for a long time trying to find plans we could follow but everything I came across wasn't exactly what I wanted. A lot of the tutorials out there used 2x4s which made the sofas look kind of bulky and chunky and I really wanted something a little more modern and sleek. I came across this couch and fell in love with it. But not the price tag. So this guy became our inspiration and we just went for it.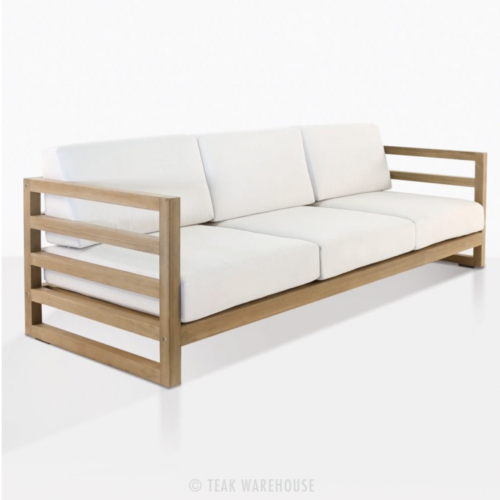 *please read all the way through before making your cuts. The wood we used isn't perfectly straight and may cause some measurements to be slightly different*
SUPPLIES FOR DIY MODERN OUTDOOR SOFA
*affiliate links included
14 2x2x8 cedar boards from The Home Depot ($7.98/piece)
Kreg Jig Pocket Hole System
2 1/2″ Kreg Jig Screws (we got two boxes of 50)
Miter Saw
Stain
Wood Cleaner
Bristle Brush
Plastic Gloves
Foam Brush
Drop Cloth or protective tarp/sheet for staining
CUTS FOR THE CEDAR BOARDS
31 pieces cut at 22 3/4″
4 pieces cut at 31″
5 pieces cut at 6′
6 pieces cut at 6″
2 pieces cut at 8 1/2″
I tried to make a little diagram for you – don't laugh, it's the best I could do haha.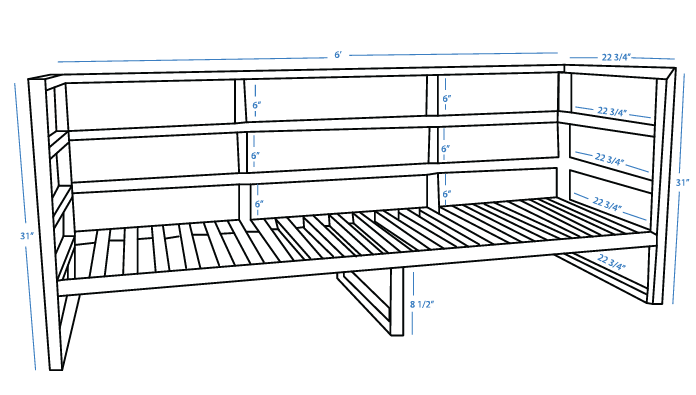 First up, we made both the end pieces. Each one will use 5 of the 22 3/4″ boards and 2 of the 31″ boards.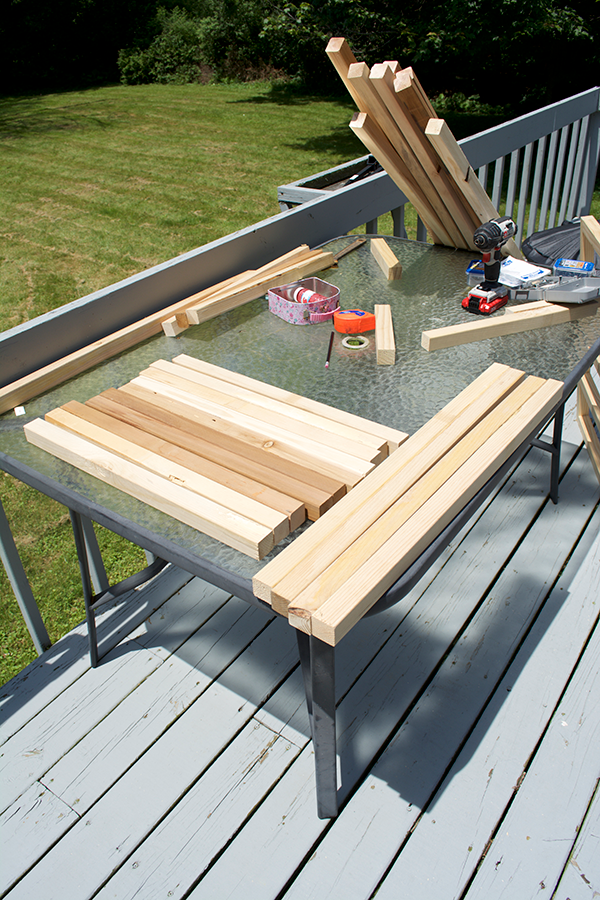 We used the Kreg Jig because A) it's amazing and B) it hides all the screws so you have a nice clean look. You could definitely build this by drilling straight into the wood but that's totally up to you. If you aren't familiar with the Kreg Jig, it's super easy to learn so don't be scared by it!
For the size wood we were using, 2 1/2″ screws were needed.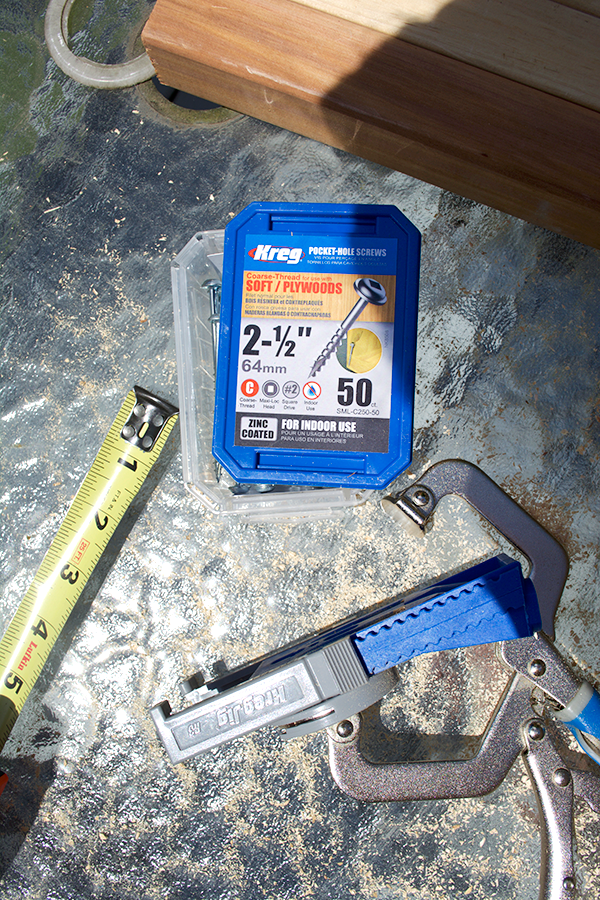 Then we just set up the Kreg Jig and got to work!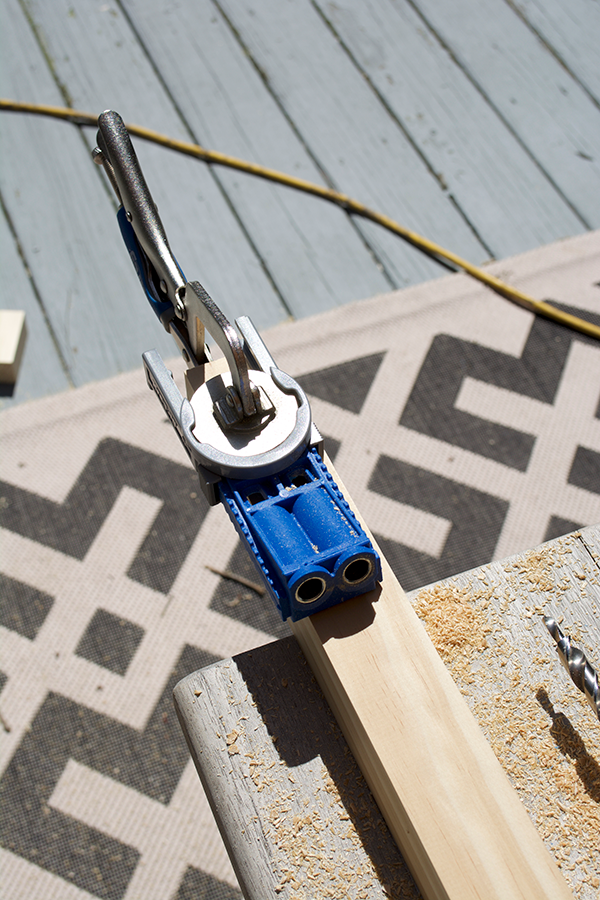 For the side pieces, drill TWO holes on each 22 3/4″ piece of wood. One on either end of the board. Do this first, then you can attach them to the longer side pieces with your screws.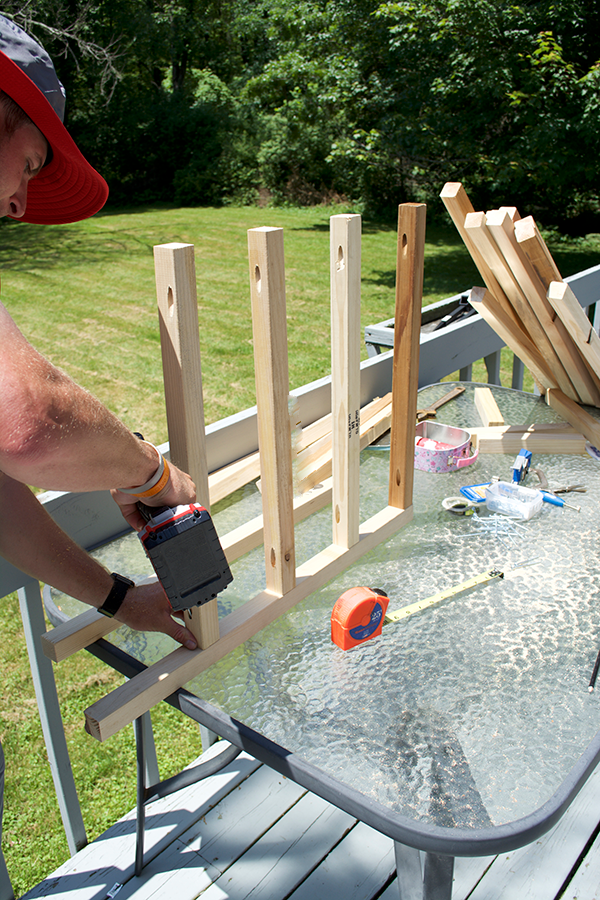 When you're done you should have two pieces that look like this: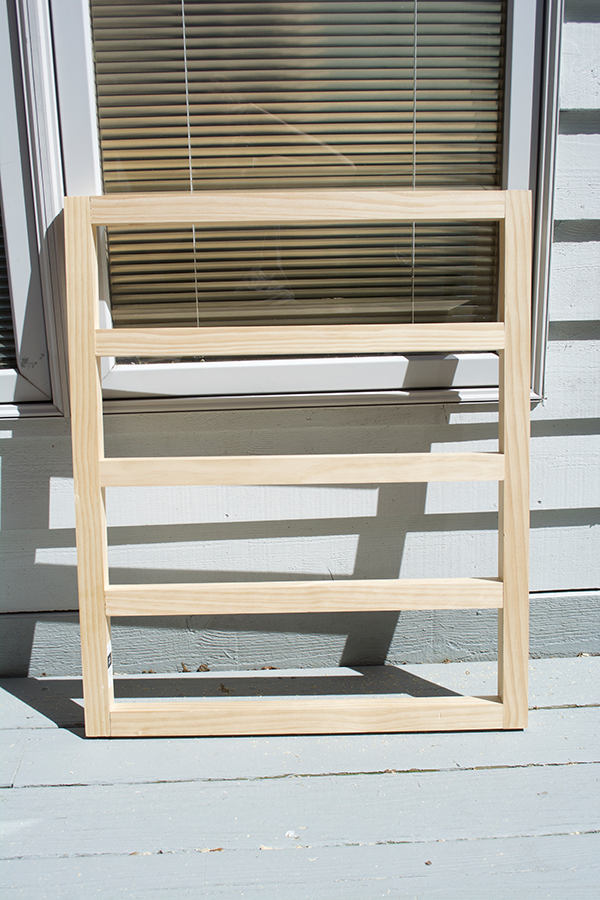 Next up, we built the bench part of the sofa. For this piece, you'll need the two pieces of wood cut at 6′ and then 20 pieces of wood you cut at 22 3/4″. Do the same as the side pieces, making two holes on either end of the smaller boards. We spaced ours about 2″ apart but yours may vary slightly. Ours weren't spaced perfectly even :-p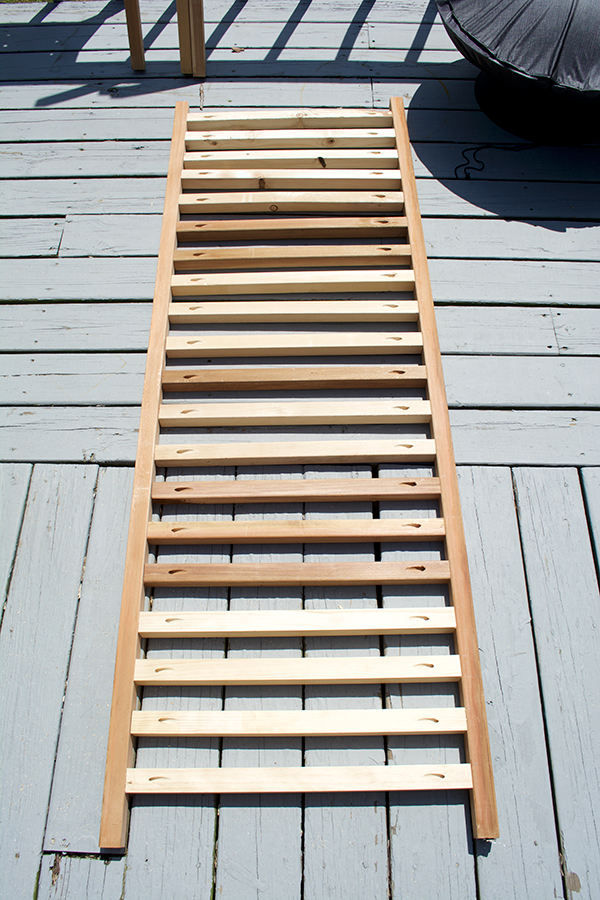 You'll also want to drill four holes at the ends of each of the 6′ boards. Once you've done that you can attach this piece to the side pieces. You'll want to attach it to the second board up from the bottom.
For the back, you'll need 3 more boards that are 6′ long and you will attach them evenly with the boards on the two ends.
Once those are attached, you'll add the six smaller pieces in between the back boards for extra support. These go at approximately 24″ in and 48″ in. Attach them the same way you did the rest of the wood.
Make sure you measure these smaller pieces. Ours weren't all exactly 6″ since our back boards weren't perfectly straight.
*(note that your pocket holes will run into each other a bit since the wood is so short but it will still work just fine).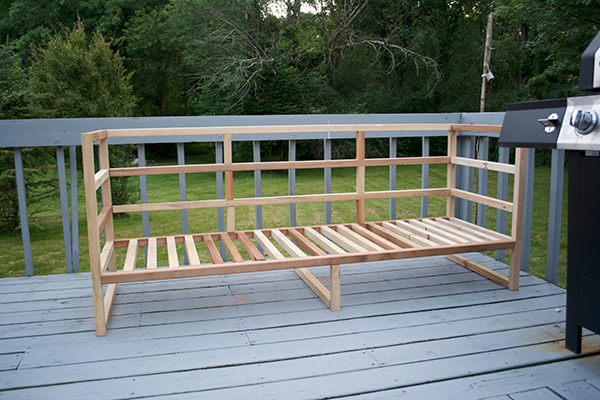 We were stumped for a bit on how to make this more sturdy because as you can see in the inspiration photo, there is no middle support underneath. But the wood just wasn't strong enough and it sank really bad so we decided to add a matching piece like the sides directly in the middle which made it SO much stronger. You'll use another 22 3/4″ piece along with the two 8 1/2″ pieces and that's the final piece!
Now on to the stain. I'll admit I've never actually stained anything that was going to be outside so this was all new to me. I usually use Minwax stain but that's for indoor use only. There are a handful of different outdoor stains you can use, but since I was working with BEHR on this project, I used their product (and loved it!).
Make sure you put a tarp or drop cloth down underneath your sofa before you start.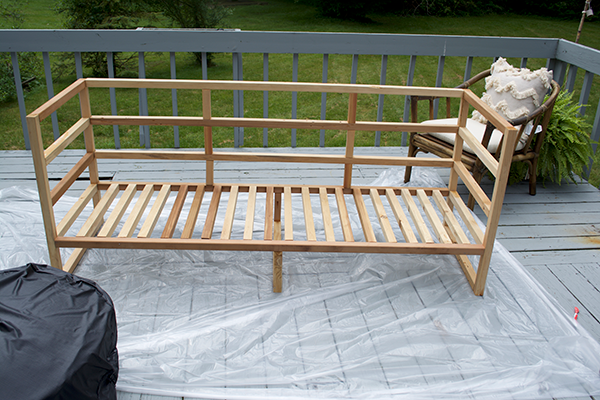 When you use their stains, you need to use a wood cleaner first to help remove all the tanins and yucky stuff and to help the stain stick better. Their All-In-One Wood Cleaner is what they recommend and although it takes some time, it's worth it. You can follow the directions right on the bottle, but you need to mix it with water in a 1:1 ratio. Then you liberally apply it to the wood all over and let it soak for about 10-15 minutes.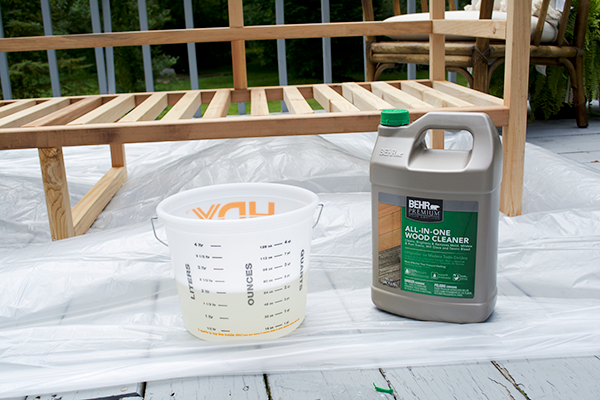 After that, you grab your bristle brush and scrub it all off. The bottle says that the solution should foam, but mine didn't. I think because it was so hot, it dried within those 15 minutes but it still got the job done. You basically just want to give it a good scrub to remove all the bad stuff and create a good surface for the stain to soak into.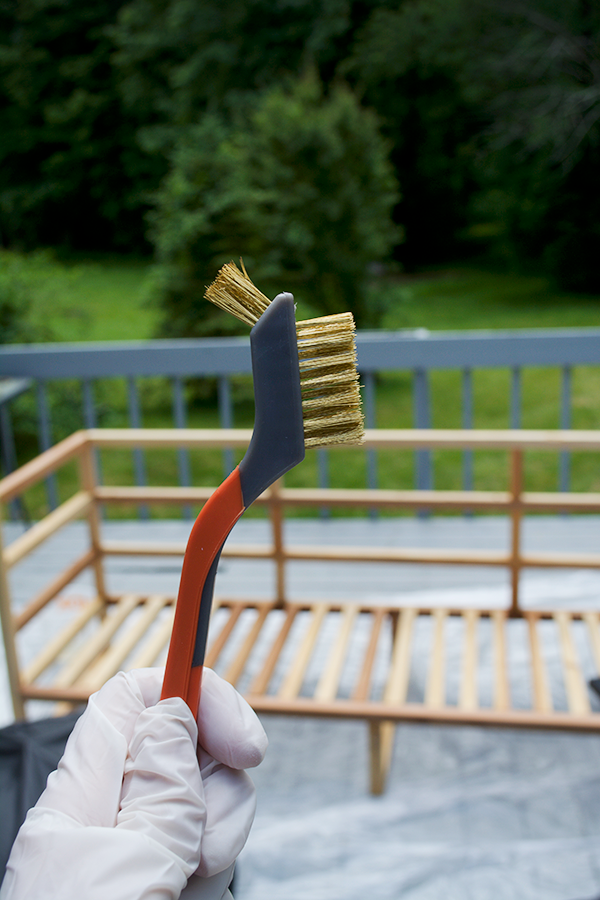 Once you're done with that, you need to spray it off with water. They suggest using a hose but ours was too far away so I just used a wet rag. After your piece is dry again, you can get to staining!
I used their Semi-Transparent Waterproofing Stain & Sealer in the color Chocolate and it was perfection.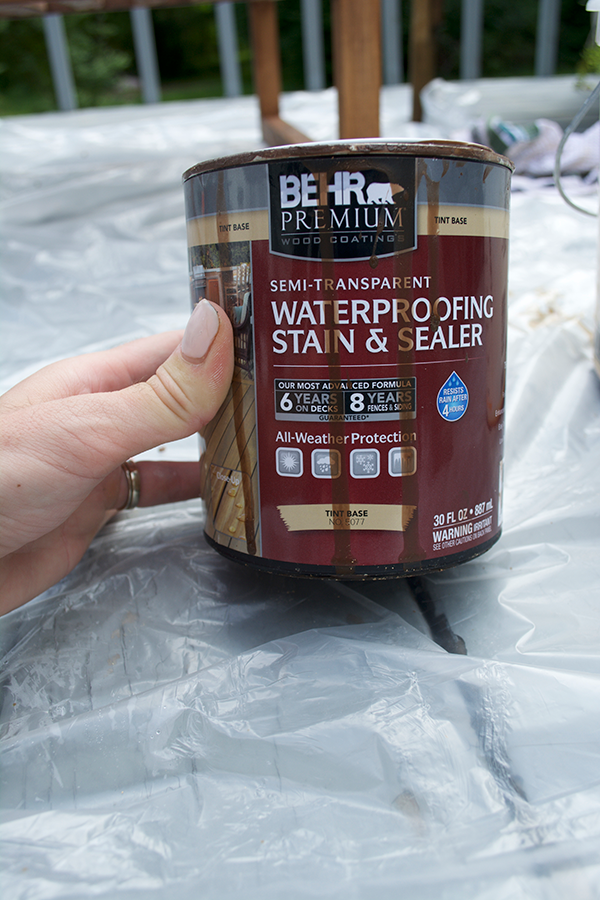 On the can it suggests using a pad applicator. I got this lambswool one which I used for some parts but for the smaller crevices I just used a black foam brush which worked just as well.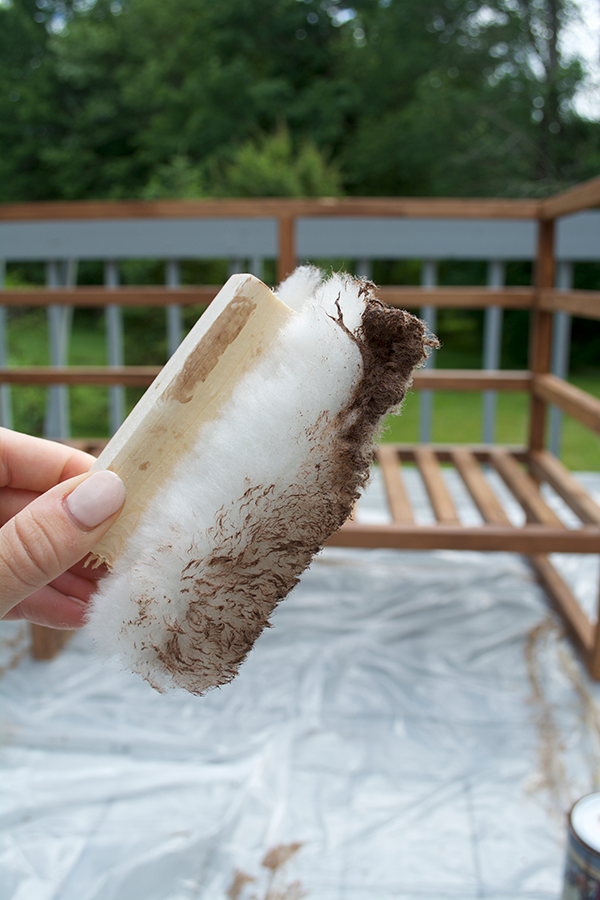 This stuff dries super fast and can be exposed to rain in 4 hours so you can use it very soon after you're done.
The last piece of this project was the cushions. I got THESE ONES that I absolutely love, however I will say they are a little pricey. The only reason I got them was because we had a Home Depot gift card to use. They were $129 a piece totaling almost $400 which is a little crazy if you're building this to save some money. But there are a ton of other options out there. Just make sure if you're following our measurements, the cushions you buy will fit a 6′ long couch. Ours are each 24″x24″. Wayfair and IKEA are great places to look!
I'm seriously super impressed with how well this turned out. I made Dan help me on father's day when it was 90° here and he was such a good sport about it. Love you babe 😉 But he totally agrees that it was worth it and we've been enjoying it ever since!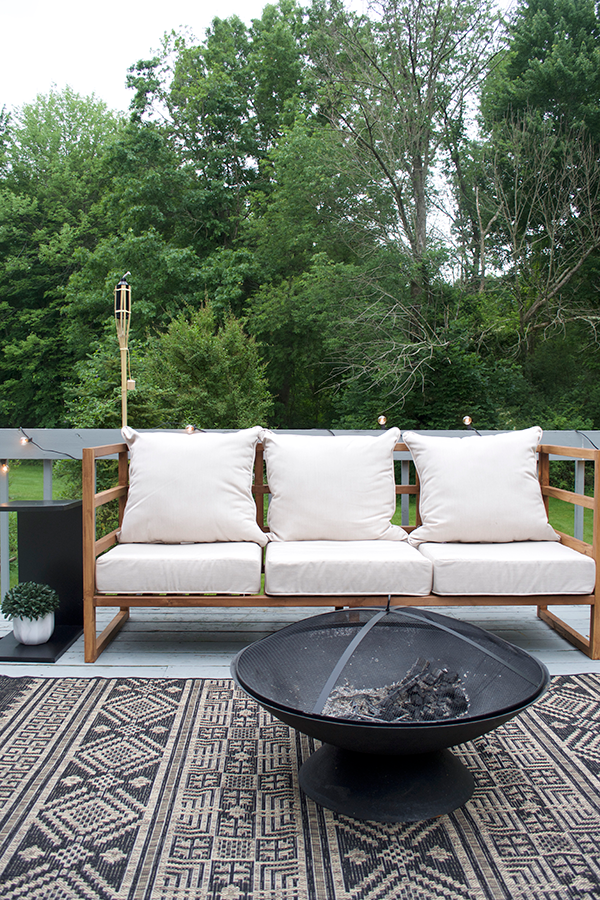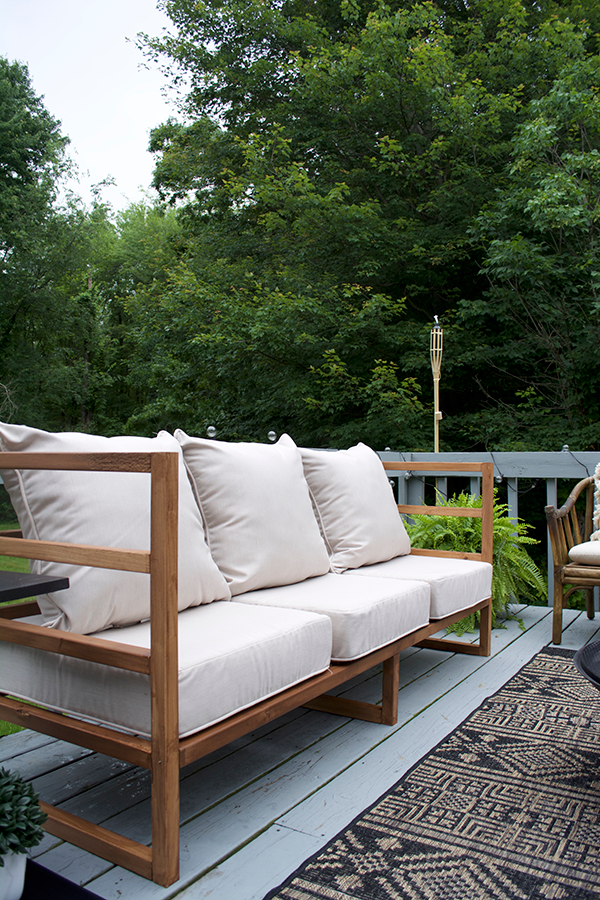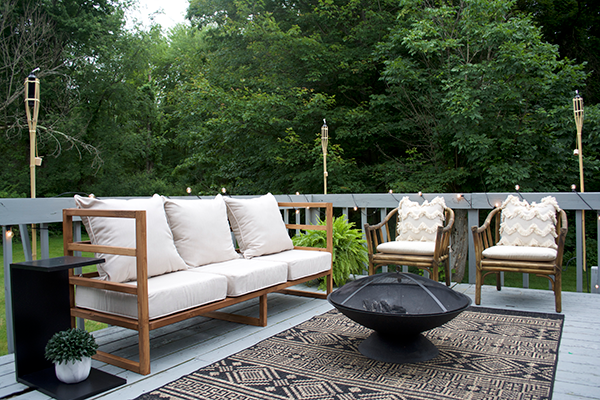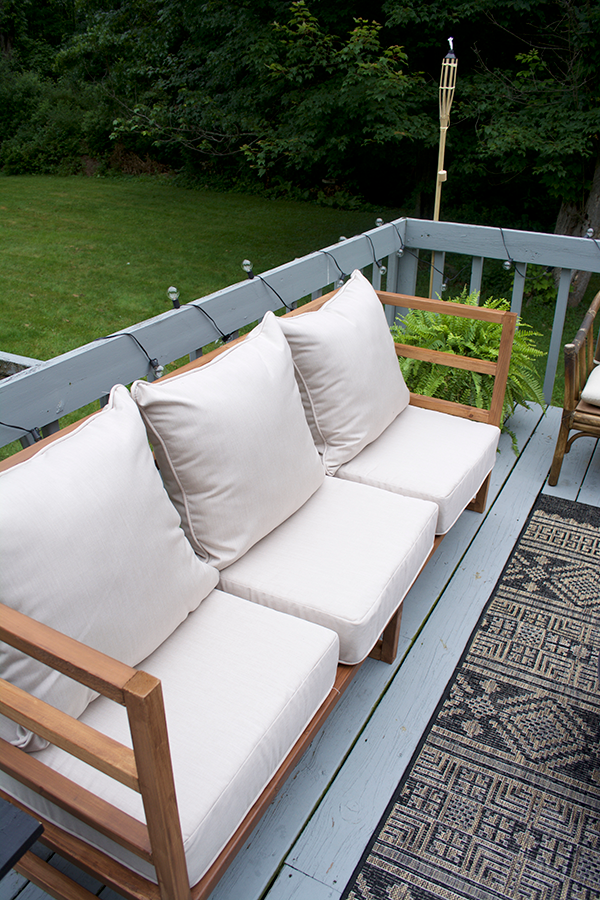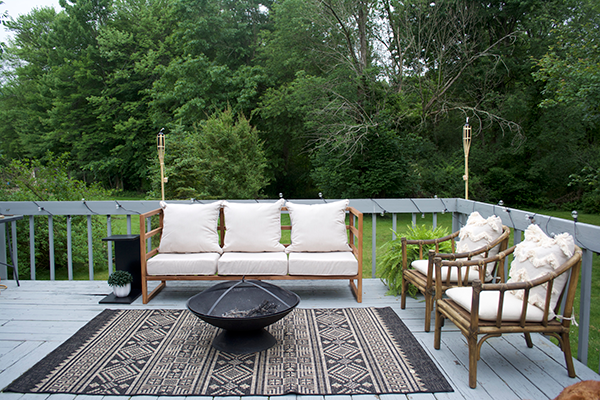 Hopefully this is easy to follow, but if you have any questions, don't hesitate to ask! And if you do build this, PLEASE share! I'd love to see how they turn out!
SHOP THIS POST

PIN FOR LATER!