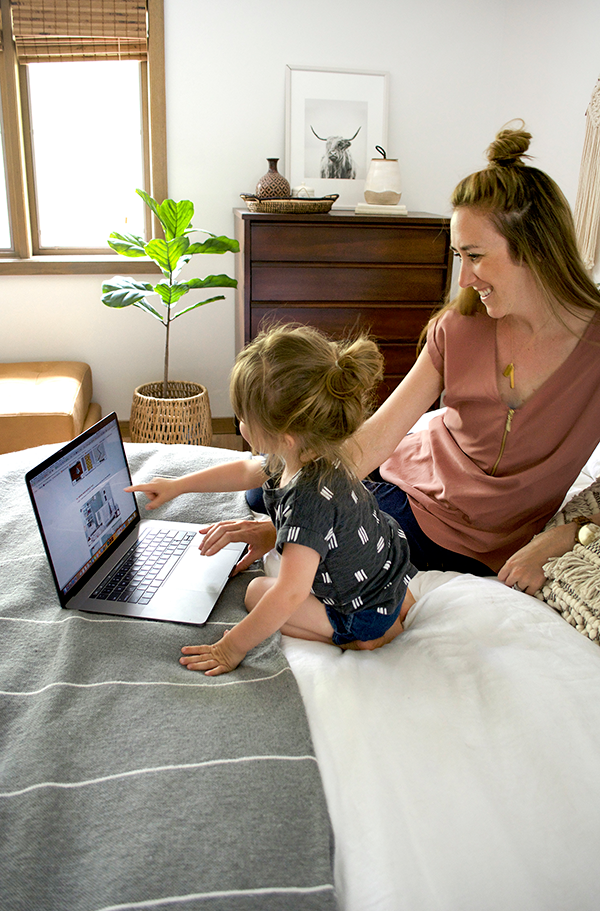 This post is in partnership with West Elm, but as always all thoughts and opinions are 100% my own.
It's not every day one of your favorite stores teams up with another one of your favorite stores to create the cutest kids collection ever. But it happened and it's amazing. If you don't know what I'm talking about from the title of my post you can probably guess – West Elm teamed up with Pottery Barn Kids to create the most adorable line of kids furniture and decor and it does not disappoint. West Elm is by far one of my favorite stores so I was super excited to team up with them to share some of my favorites from this line. It was hard to choose because I basically love everything and want to design another nursery asap. I'm in no rush for baby #3 but luckily Eloise is almost ready for a big girl room which I'll definitely be planning around some of these gorgeous pieces.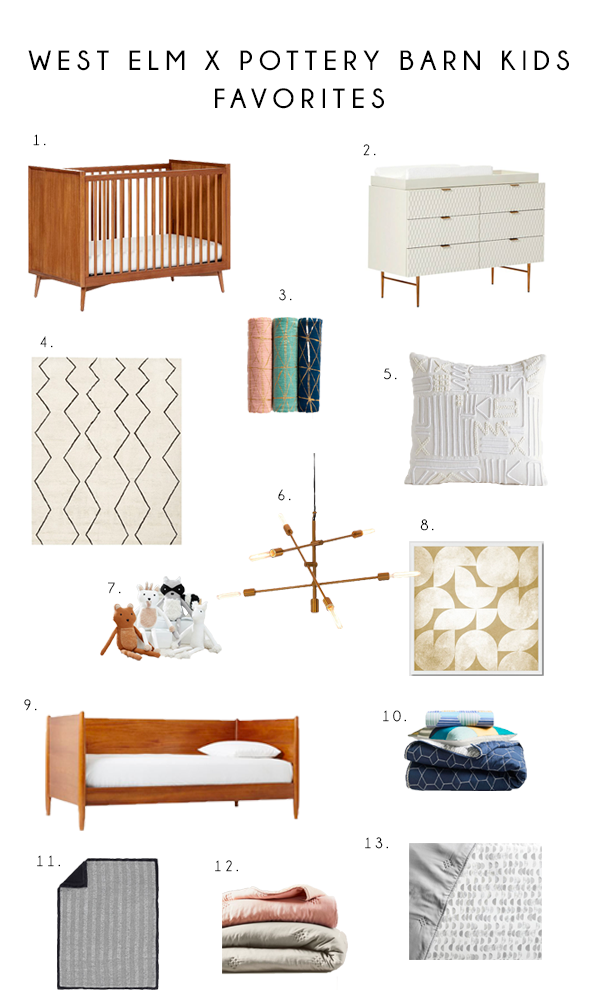 WEST ELM X POTTERY BARN FAVORITES
*affiliate links included
1.  Mid-Century Convertible Crib in Acorn – Hello gorgeous! I love the wood crib I used in Hawkins' nursery but it isn't sold anymore. This is a similar option that I love!
2. Audrey 6-Drawer Changing Table – I loove the subtle pattern on the front of this piece and those gorgeous legs too. I went vintage for both the changing tables in my kiddo's rooms but I could definitely get on board with this beauty.
3. Metallic Print Muslin Swaddle Set – You can never have too many swaddles. I like to use them as light blankets too and the metallic accent on these ones is perfection.
4. Baby Souk Nursery Rug – Ok I would totally put this in any room in our house and not just a nursery or kids room. It's so stylish and looks so soft.
5. Embroidered Linework Sham – This pillow cover has such a pretty sophisticated pattern and again, I would totally put this anywhere in our house!
6. Large Mobile Chandelier – There are some seriously gorgeous lighting options in this collection and this one is one of my favs.
7. Plush Collection – When I was decorating Hawkins' nursery I searched high and low for neutral colored stuffed animals that would match his decor. These little guys are the perfect accent for a more modern nursery!
8. Framed Print – Lunar White – A simple and pretty piece of art that would look good in any baby or kid's room. It also comes in black!
9. Mid-Century Daybed in Acorn – This is one of my favorite pieces of the whole collection. Like I mentioned, Eloise is almost ready for a big girl room and I would LOVE to get this piece to use as her new bed.
10. Honeycomb Baby Bedding – This gorgeous quilt is organic, can be personalized and comes in yellow as well. I always struggled to find a cute blanket for my kid's cribs that weren't ugly and overly "baby".  I would end up using a throw blanket from HomeGoods or Target but this I could get on board with.
11. Tweed Sherpa Baby Blanket – Another modern and gorgeous blanket. I might be getting this one for Hawk!
12. Washed Tencel Baby Bedding – One more blanket/quilt because it just looks so comfy and soft and I love the subtle color/pattern to it.
13. Organic Half Moon Fitted Crib Sheet – I adore this crib sheet and feel like I basically have to get it for Hawkins because it would match so perfectly with his constellation print above his crib!
Like I mentioned, Eloise is still in her crib, but is definitely going to be ready for a big girl bed soon along with some much needed updates to her room. Some of the furniture pieces in this collection would be so perfect for her and I've already got my creative wheels turning. I let her look through everything with me but she was more interested in playing with mommy's "puter" 😛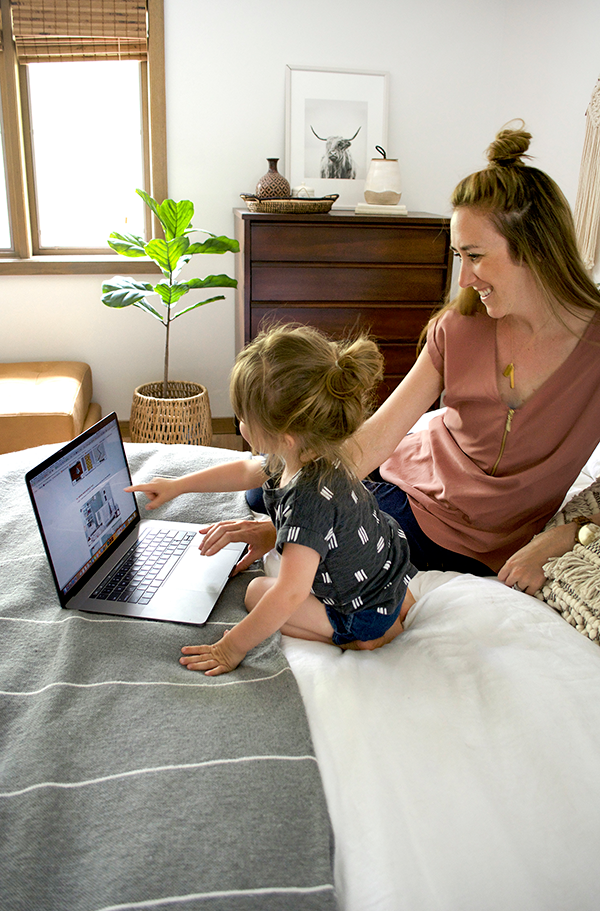 There are definitely some decor items I want to get for Hawkins', especially a blanket or two. You can never have too many right? And hopefully by the time I'm ready for baby #3 this collection will still be out 😉
I honestly want some of these pieces for other rooms in our house – they're so good! Which is no surprise because I love everything from West Elm already.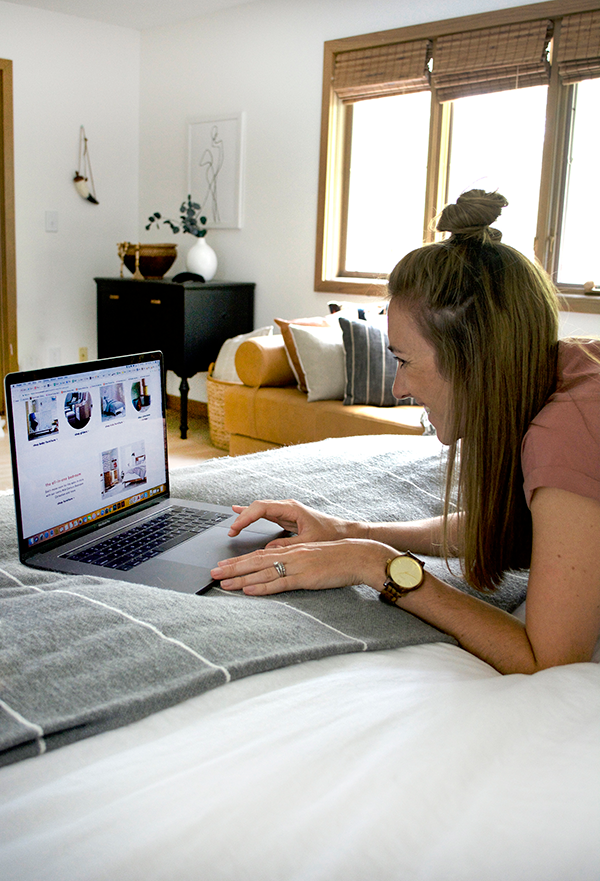 SCROLL THROUGH AND CLICK TO SHOP

You can scroll through my favorites above or check out the whole collection HERE. I'd love to know what you think! What are some of your favorite pieces?