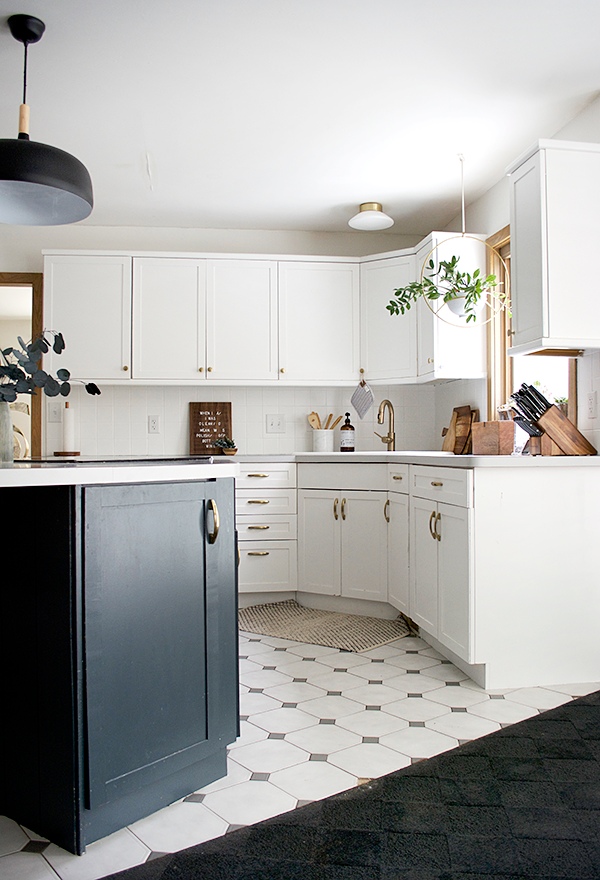 *This post is sponsored by eBay, but as always all thoughts and opinions are entirely my own.
Winter has been playing a cruel joke on us now for a while, but spring is slowly creeping in. We've had a couple days in the 70s (!!!) and it's been absolutely amazing. Especially with two kiddos, I've been dying to get outside. I can't take another day cooped up inside trying to think up ways to entertain them! It's crazy how a change in the weather can totally affect your mood and lift your spirits. But it also makes you want to clean EVERYTHING. Just opening the windows and smelling that fresh air makes you want your house to feel as good as it does outside. And trust me, with two kids and a dog that sheds like crazy I had a lot of work to do. Thanks to eBay and their Spring Cleaning Event I was able to snag a refurbished Dyson for a great deal to help get our house fresh and clean.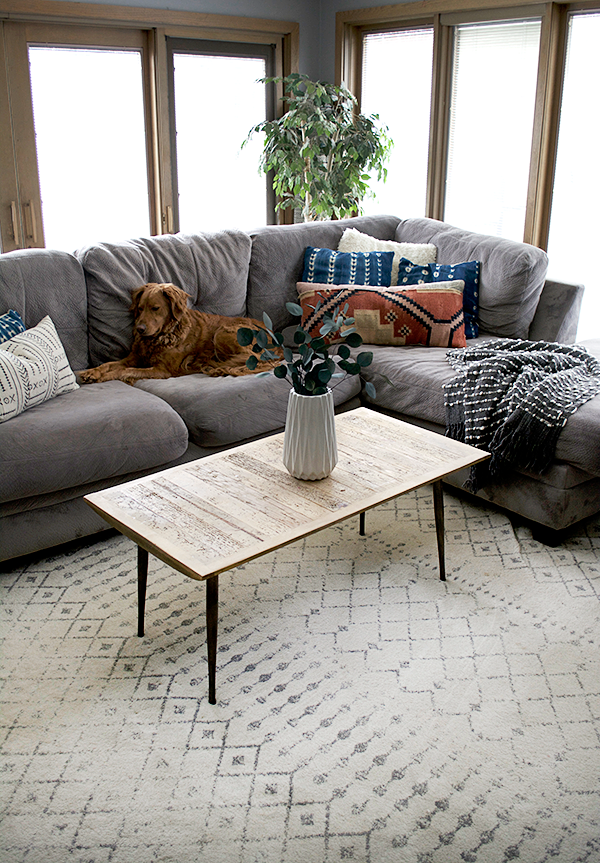 I'll be honest, our living room doesn't get a lot of love. I hardly ever share it on the blog or my instagram and you know why. It's got a long way to go before it's a space I love, but that's life! It's still mixed with some of my FIL's decor and just hasn't been a room we've put any effort into yet. But it's also one of the rooms we spend the most time in. This is probably the cleanest it's been in a looong time. I usually don't ever have anything on the coffee table because Eloise will just play with it and her toys are usually all over the place. Even though it's not my favorite room, simply giving it a good deep clean put a huge smile on my face and made me content with what we have.
I'm not a fan of carpet. At all. But that's what we have, and on top of that, it's black. UGH. Dan's parents put it in after he moved out and their dogs had all gone to doggy heaven so for them it was more practical. (If black carpet ever is?) ha. But with a baby, a toddler and a dog it shows literally everything. I feel like I spend most my days vacuuming goldfish and dog hair off the floor so it was important to me to have a vacuum that works.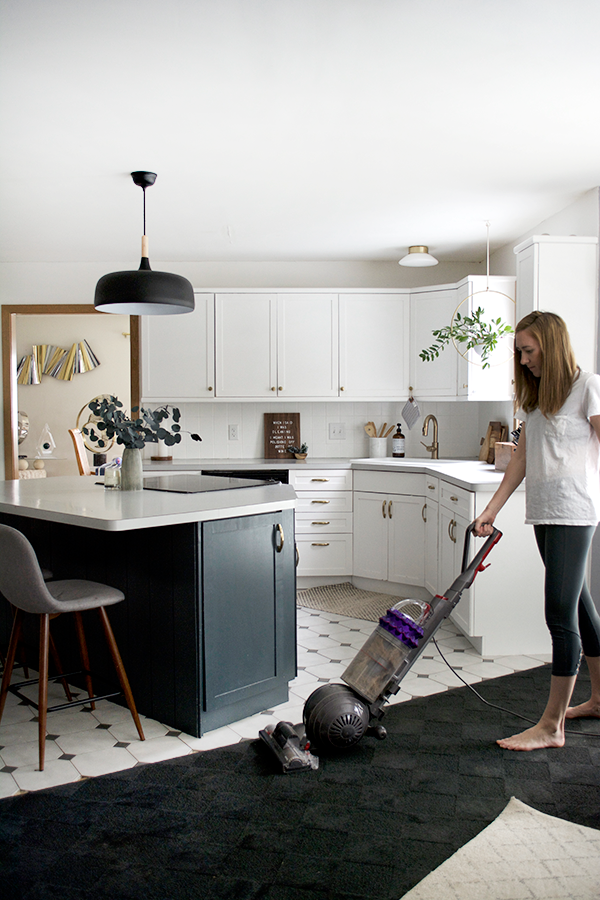 I've always wanted a Dyson but like a lot of people didn't want to pay for one. When I found out about eBay's Spring Cleaning Event I felt like it was finally time to bite the bullet and get one. Vacuums including Dyson, Shark and Bissell are all up to 50% which is a killer deal! I needed something that could handle Oakley's hair so I chose the Dyson Cinetic Big Ball Animal Upright Vacuum and this thing is a beeaasst. I absolutely love it. I've always bought cheapo vacuums and it's crazy how much of a difference a good, quality one makes. The amount of dog hair it picks up is both disgusting and satisfying ha.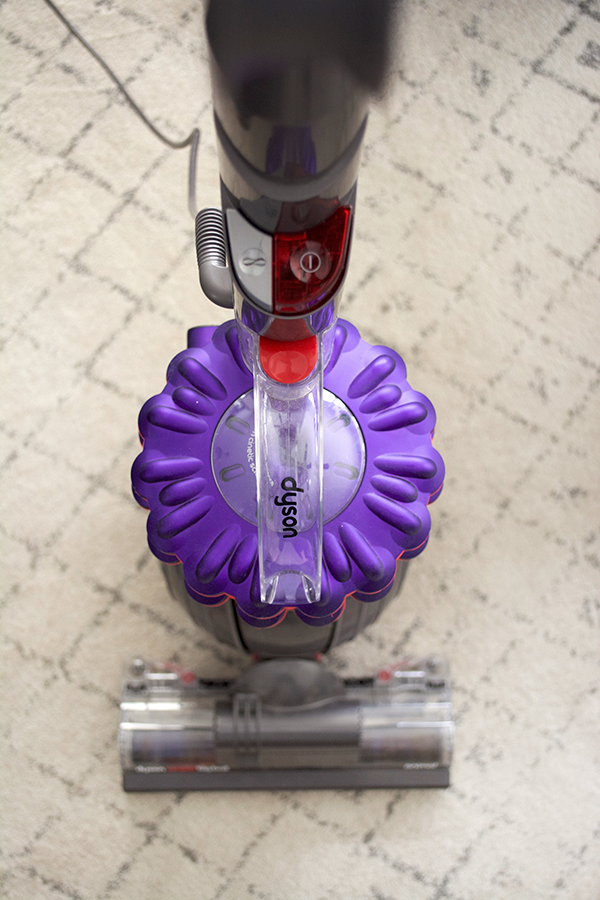 Our living room really isn't that big but every time I vacuum it gets filled to the brim. Oaks is a goldendoodle and wasn't supposed to shed at all but we clearly got jipped. He sheds like crazy! But it's hard to be mad at a face like this.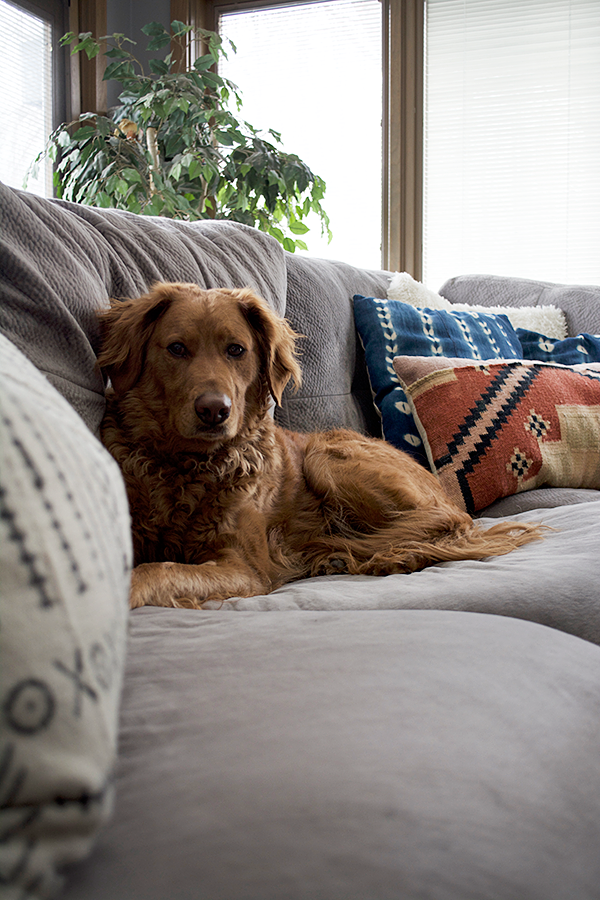 Another thing I love about this vacuum is how good the handheld function is. It's super powerful and can stretch super far so I can reach under the couch and other hard to get to places.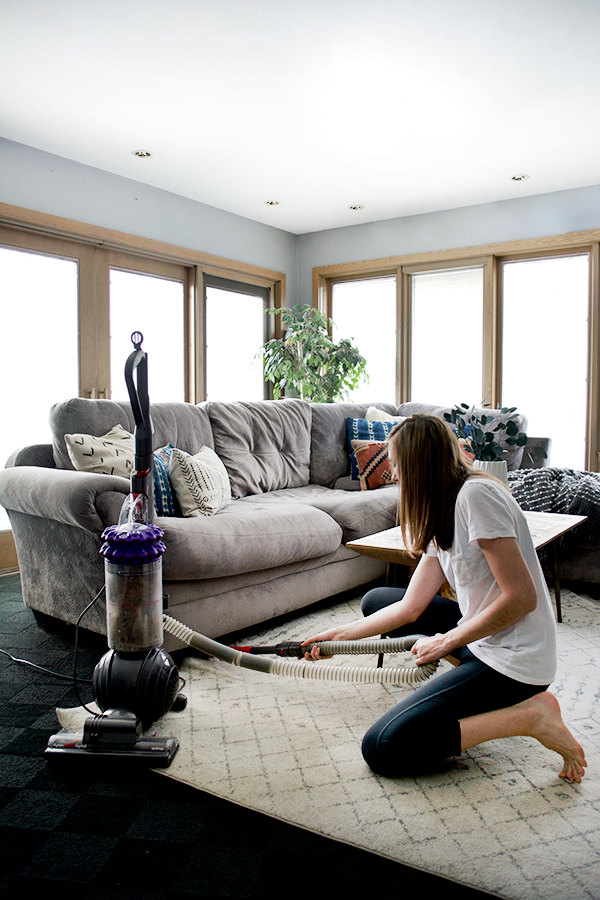 Eloise loves the vacuum and every time I get it out she asks if she can help. I let her put her hand on it and let her watch it suck little crumbs up and she gets so excited. After I'm done in the living room, I'll take it around the kitchen and quickly clean up all the dirt, hair and food that's accumulated on the ground throughout the day.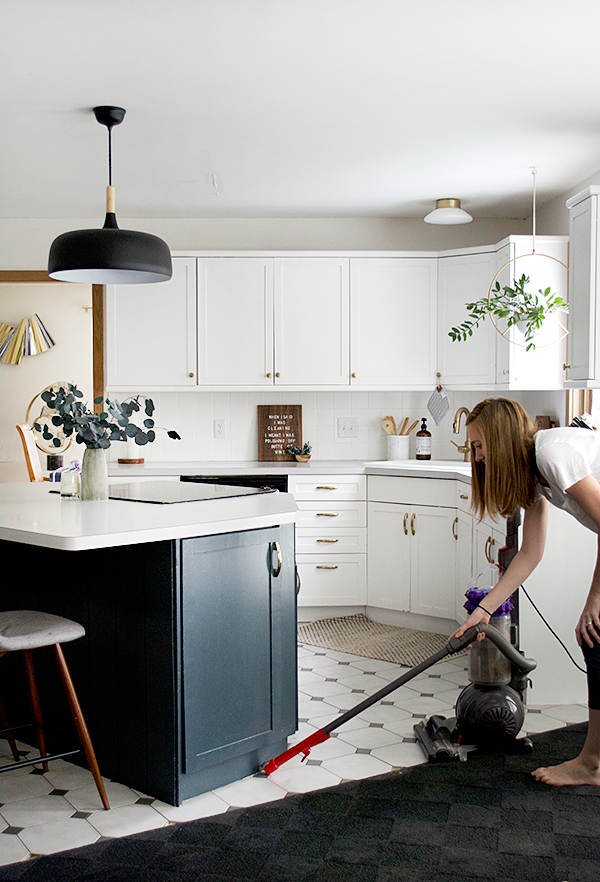 If you're in the market for a new vacuum this is your chance – the Spring Cleaning Event ends at the end of the month! And if you've never bought anything on eBay don't let that stop you. I was always scared about placing bids and stressing out about whether or not I'd get an item, but 81% of all merchandise sold on eBay is new and available with the "Buy it Now" option which is what I stick to. Plus 69% of items ship for free – and who doesn't love free shipping? They have tons of daily deals that you can check out here, including tons of home decor (like our rug!) and even bedding. So many great products for a spring refresh at an affordable price.
I'm eyeing some other products too like this little handheld guy. It would be perfect for the car and smaller hard to reach places. I totally wouldn't be mad if I got a vacuum for Mother's Day. I mean, what mom doesn't want something that makes cleaning their house easier?
Once I got my Dyson I went all out on our living room and kitchen and it felt so good. Even though it didn't last long it made me happy for a little while 🙂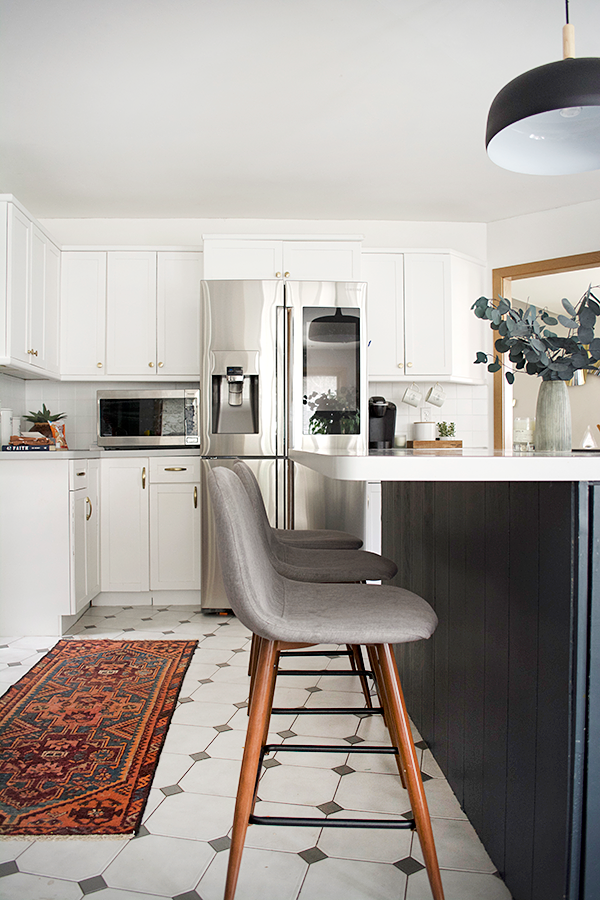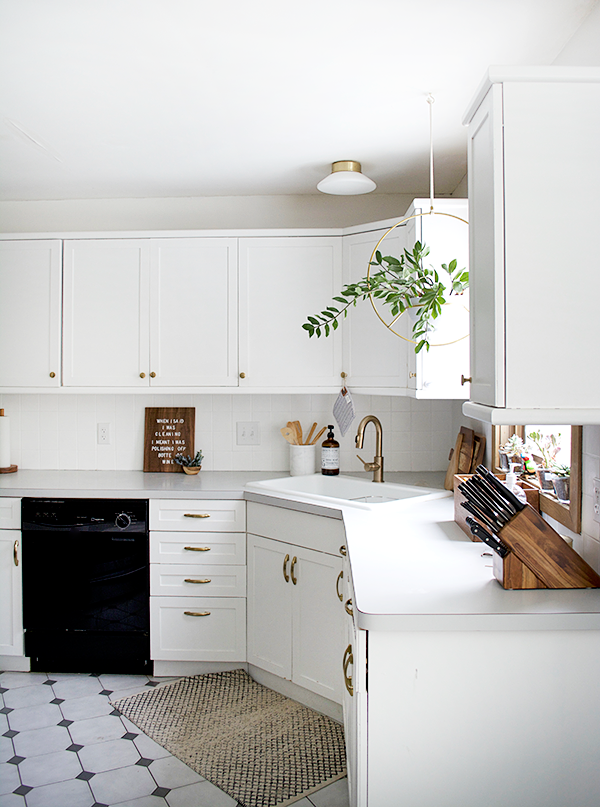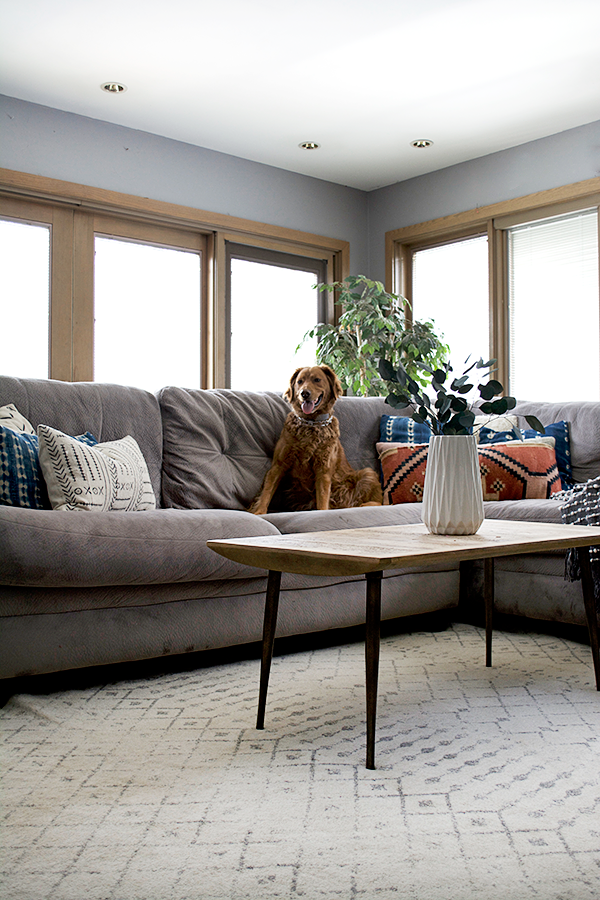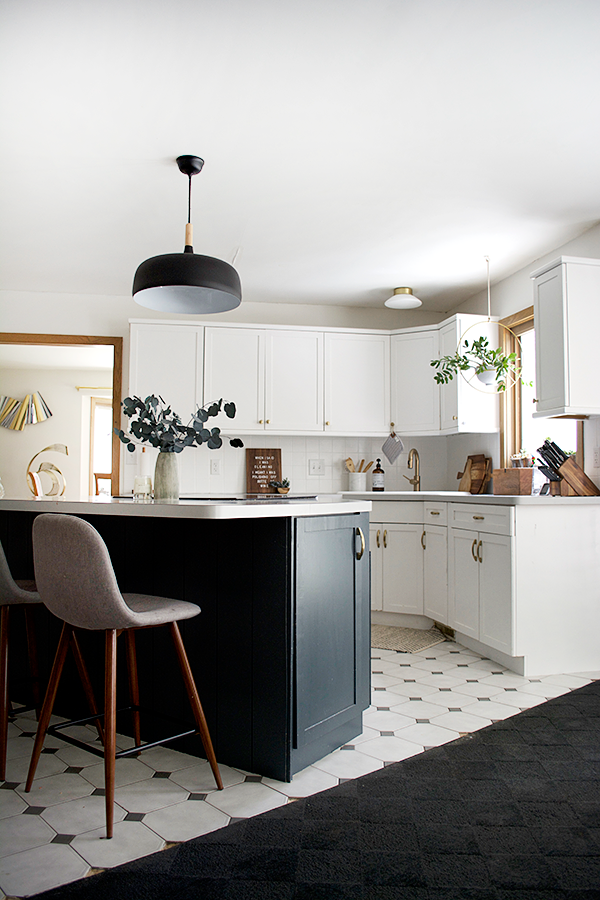 CLICK THROUGH TO SHOP!

We're hoping to do something about these floors this summer (more on that soon!) but until then, I'll be sucking up all the dirt and dog hair with my new Dyson which honestly does make vacuuming more fun, I promise 😉