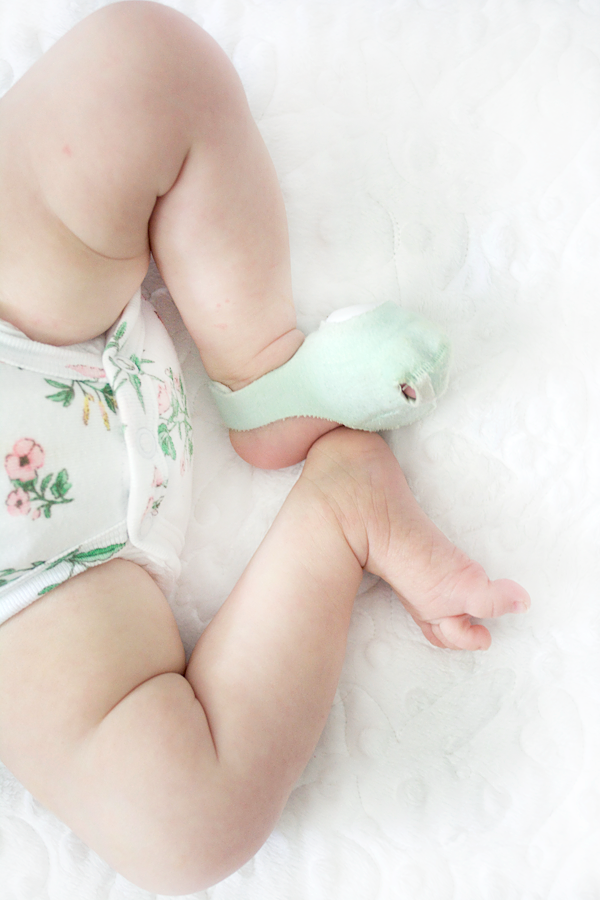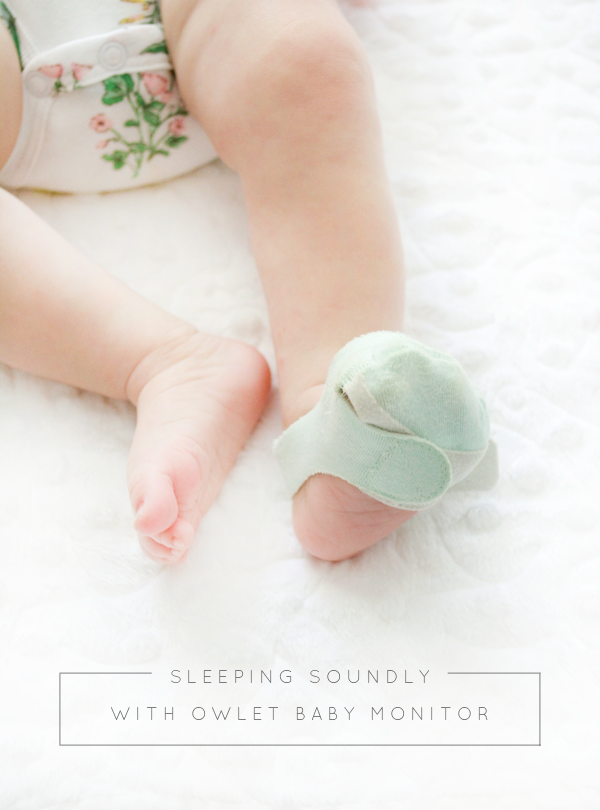 After we moved Eloise out of her bassinet and into her crib around 3 months, I was a nervous wreck. There was just something in the comfort of knowing that she was sleeping right next to us that made me feel like she was okay. I honestly didn't worry that much. Of course I would still listen for those little baby breaths and secretly reach my hand over to make sure she was still breathing, but I had peace of mind.
Then when she made the move, my first time mama paranoia struck hard. After we would put her to bed, we would bring the monitor downstairs with us while we hung out or watched tv. The video part of it had a one hour timer and as soon as it turned off I instantly turned it back on. Or if it was out of my reach I would yell at Dan to do it. To which he would respond "I bet she's in the same exact position as she was 2 seconds ago." And yes he was always right, she was always perfectly fine, but that didn't stop my worrying.
Fast forward another month when we transitioned her out of her swaddle and she started to roll over and my nervousness was at an all time high.
That's when I knew I needed something to help me fall asleep with peace of mind and stay asleep until Eloise was ready to get up.
Enter, the Owlet Baby Monitor. Aka, every mom's new best friend.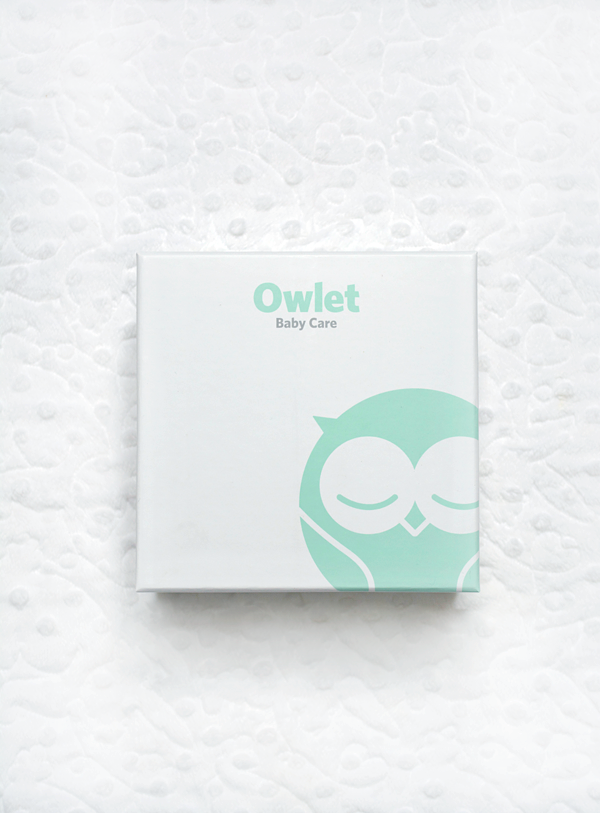 If you aren't familiar with it, it's based on a technology called pulse oximetry. You know that little clip they put on your finger at the hospital? It measures blood flow and oxygen levels and that's exactly what the Owlet does for babies, but it's in the form of a cute little sock.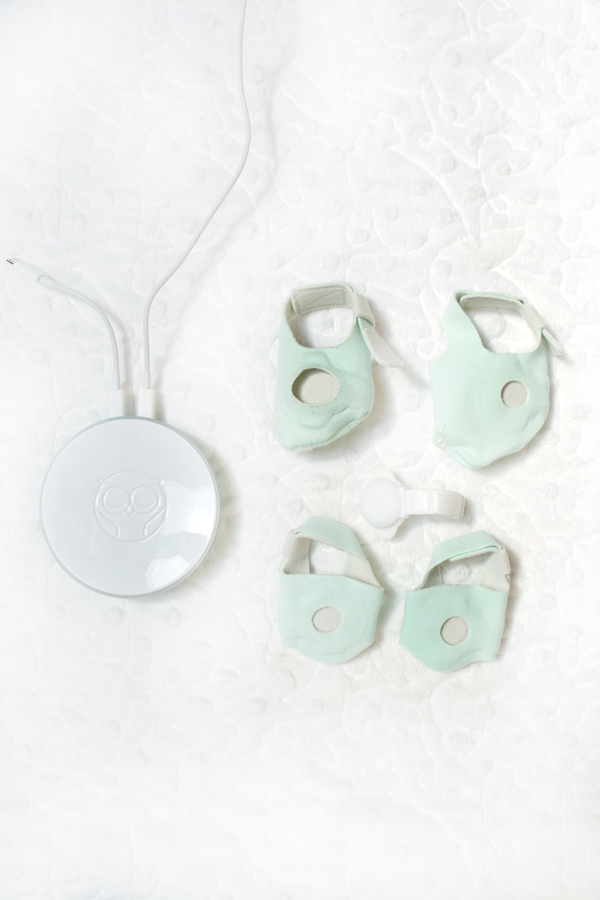 You can read more about how it works here.
It comes with the base station, which is the round white thing you see, the monitoring device that slips into the sock and the sock itself which comes in various sizes.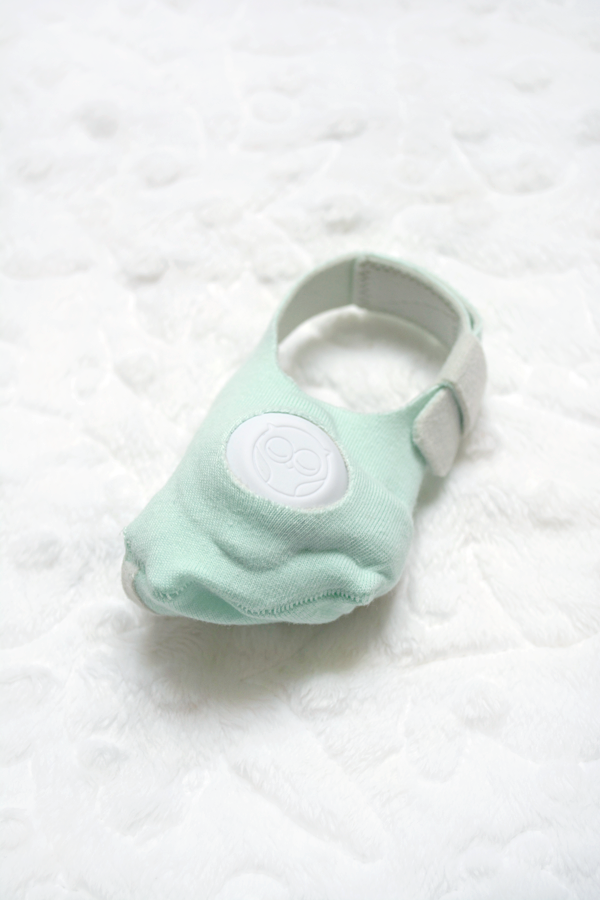 You simply slip the monitor into the sock and put the sock on your babe. Just hook up your Owlet to your wireless network, download the app, answer a few questions and you're ready to start monitoring.
I really didn't know what to expect with the Owlet, and honestly didn't really even know how it worked. The set up was pretty simple and I love being able to monitor Eloise's heart rate and oxygen levels right on my phone.
When you log into the app when the sock is on, you'll see this if everything is normal.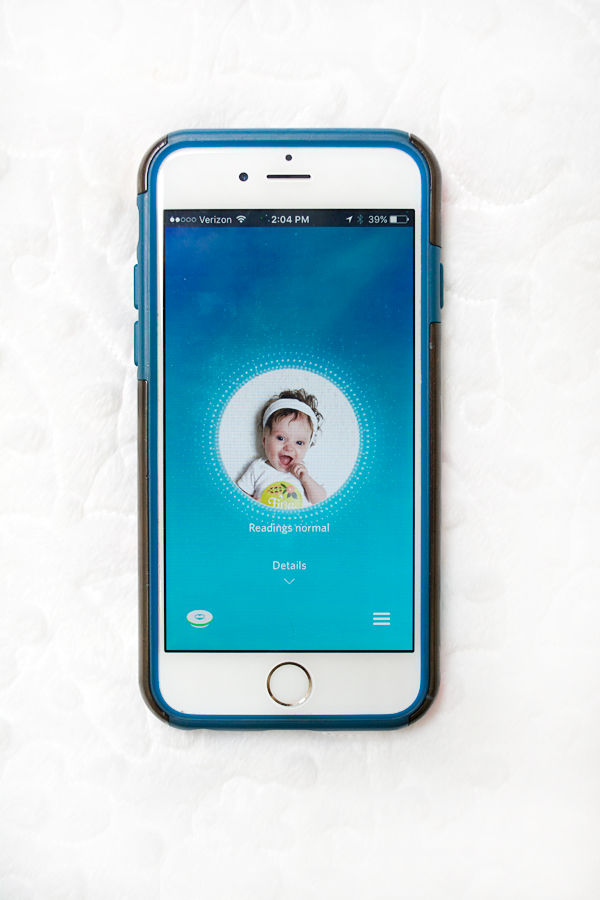 Then you can click on "details" to see the actual readings. Every time this picture pops up I can't help but smile 🙂
I'll admit, our first night with the Owlet didn't go as smoothly as I envisioned. We brought the base station into our room with us and I had it on my nightstand. All was well until 4 am when the alarm started going off and woke us both up out of a deep sleep. To break it down for you, there are 3 different alarms. Blue and Yellow both play the same sweet little nursery jingle. Blue means there is a connection problem. Something like the base station being too far away from baby, or a person or object is blocking the bluetooth signal could set this off. At 4 am, the base was blinking blue. I went in to check on Eloise and she was still sound asleep and perfectly fine so I just turned off the alarm and reset the base. Then it went off again. We were both so tired and out of it, we decided to just turn off the Owlet for the night and look into it more the next night. Which is also really cool. You can disable monitoring at any time right from your phone, even if the sock is still on.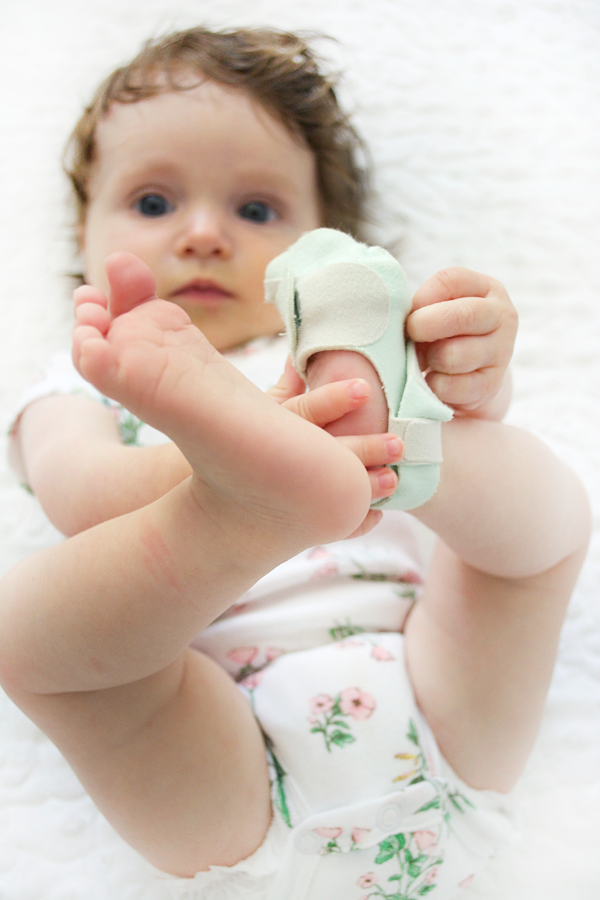 So the next night, we realized we didn't have to have to base in our room. You can totally keep it in your baby's nursery. So that's what we did and I think it definitely helped with the connection issues we were having. We haven't had a blue alarm since then.
The yellow alarm goes off when the sock gets kicked off or repositioned and Owlet can no longer get a reading. I was nervous about this happening because Eloise is a MAJOR foot rubber and kicker. This is the only issue we've had. It happens from time to time and sometimes I wish there was a setting that would just automatically disable the monitoring and not alert you. Usually if it falls off it's when she's awake and starting to wiggle around so I can adjust it without worrying about waking her up. We put her in a sleep sack for naps and bedtime which helps, otherwise I'm pretty sure she would eat it. Which she tried to do when I was taking these pictures :-p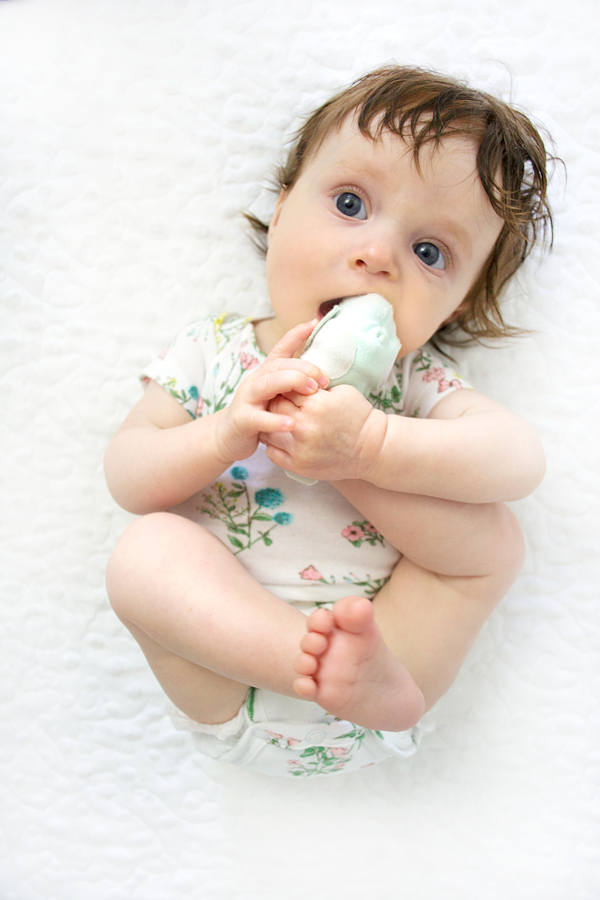 But it's totally cool because the Owlet still works perfectly fine through the sleep sack. You can even put a sock over it if it's cold, or to help prevent it from falling off.
The other alarm that can go off is the red alarm. And this makes a different noise. It's designed to go off when the Owlet detects heart rate or oxygen have fallen out of range. Thank God we haven't had any of those, but knowing that this little device is designed to alert us if something is wrong, gives this mama peace of mind.
We also figured out that you can lower the sensitivity on the yellow and blue alarms so they don't go off as much. That has definitely helped too. You cannot adjust the red alarm though, so you always know it will still go off if there is a problem.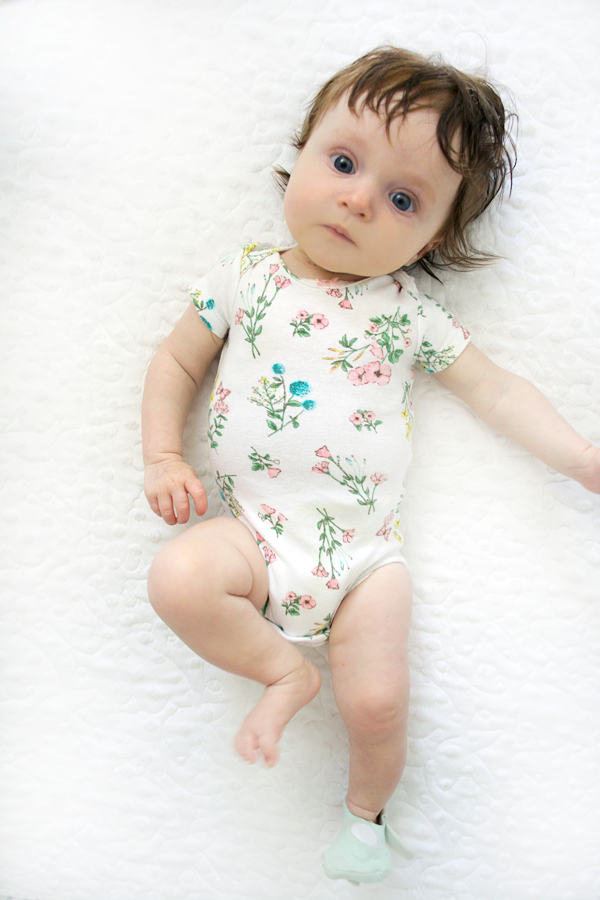 When the sock is off during the day, you just plug it into the base to charge it. Easy to set up, easy to use and easy to love.
Since we got the Owlet I've been able to get more done during nap time and fall asleep easier at bed time, because my face isn't glued to our video monitor trying to figure out whether or not Eloise is still breathing. My only regret is that we didn't get it sooner. Every first time mama needs the peace of mind the Owlet gives. We need all the sleep we can get, and the Owlet makes it possible to make that sleep worry free.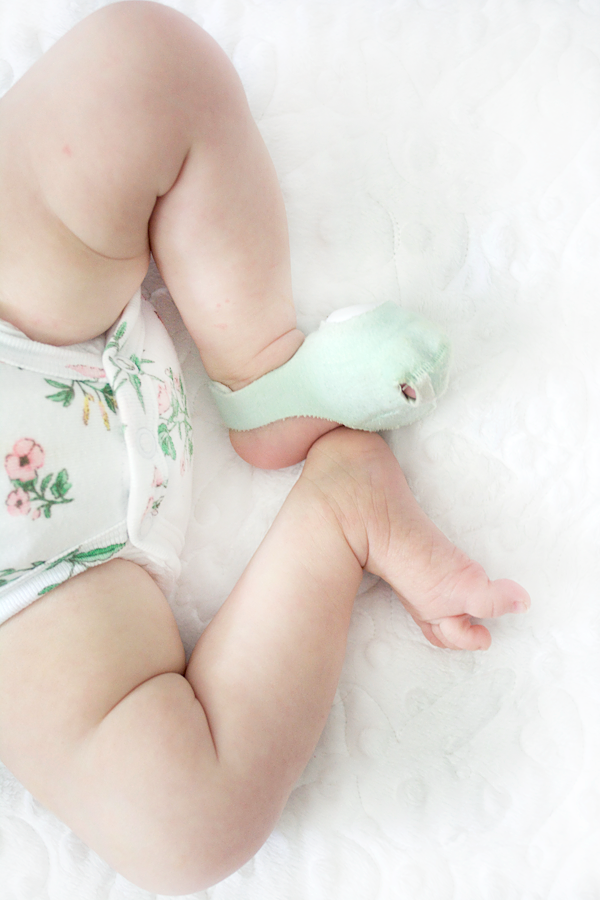 Are your ovaries exploding yet? I seriously can't handle her cuteness. I was excited to write this post and tell you all about the Owlet, but was also secretly excited for an excuse to have a photo shoot with Eloise <3
If you're a mama in desperate need of a good night's sleep, do yourself a favor and get yourself an Owlet. I promise, you won't regret it.
This post was sponsored by Owlet. All thoughts & opinions are 100% my own. Read my full disclosure policy here.