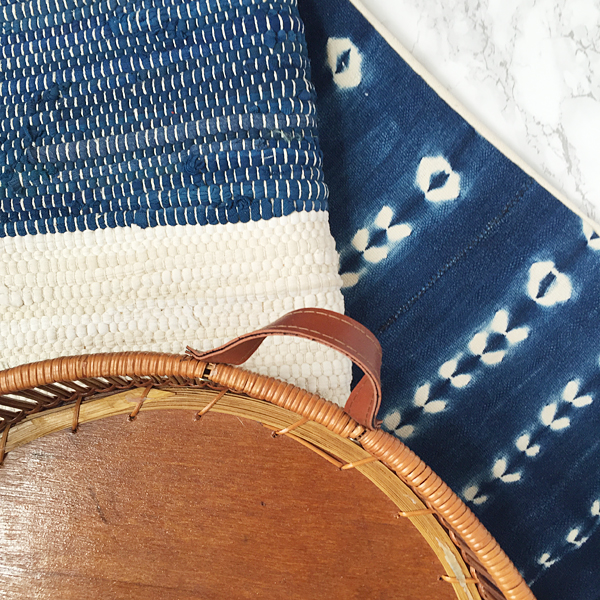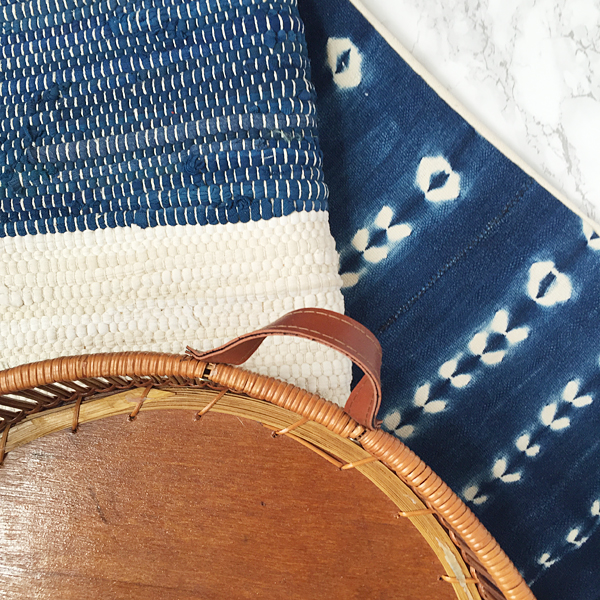 I feel like this week flew by. Anyone else? Luckily whatever I had last weekend only lasted a day and I was feeling much more myself by Monday. The stomach bug is no joke, and I can't even remember the last time I've been that sick. I ate a hot dog at the 5k walk I did on Saturday, so I'm blaming that. But who knows. Just glad to have my head out of the toilet 🙂
I'm slowly making some progress in our master bedroom and I've got a new obsession. Indigo mudcloth. I've been searching all over for some decently priced pillows and finally found one on etsy. It's even more beautiful than I imagined so I went back and ordered another. And I'm really excited about it 🙂 I'm trying to take my time and really piece together items that I love and I'm finding that those things are wooden tones, blues and neutral patterns and textures. I did a little thrifting yesterday and picked up a few things to use in the little sitting nook I'm working on now. Then mama needs to find some nightstands.
Little E has some serious boogers going on. She doesn't seem too bothered by them though and I'm just hoping it doesn't turn into a cold. But it gave us the opportunity to try our NoseFrida for the first time. I remember friends recommending it for my registry and talking about how amazing it is, and they were right. It's basically a tube you stick in your baby's nose and you suck out the boogers. Sounds kinda gross, but it's actually super fun and rewarding when you get them out.
The hubby has his regional tournament this weekend which we're hoping to go to (first road trip for E!) but the weather looks pretty crappy so we're gonna play it by ear. If they win, they go on to Districts and if they lose, their season is over. It's always bittersweet coming to the end of a season. He's got such a great group of guys who've been through so much this year I just want to see them succeed. They have the talent, so hopefully they can pull out some wins.
Hope you guys have an awesome weekend!