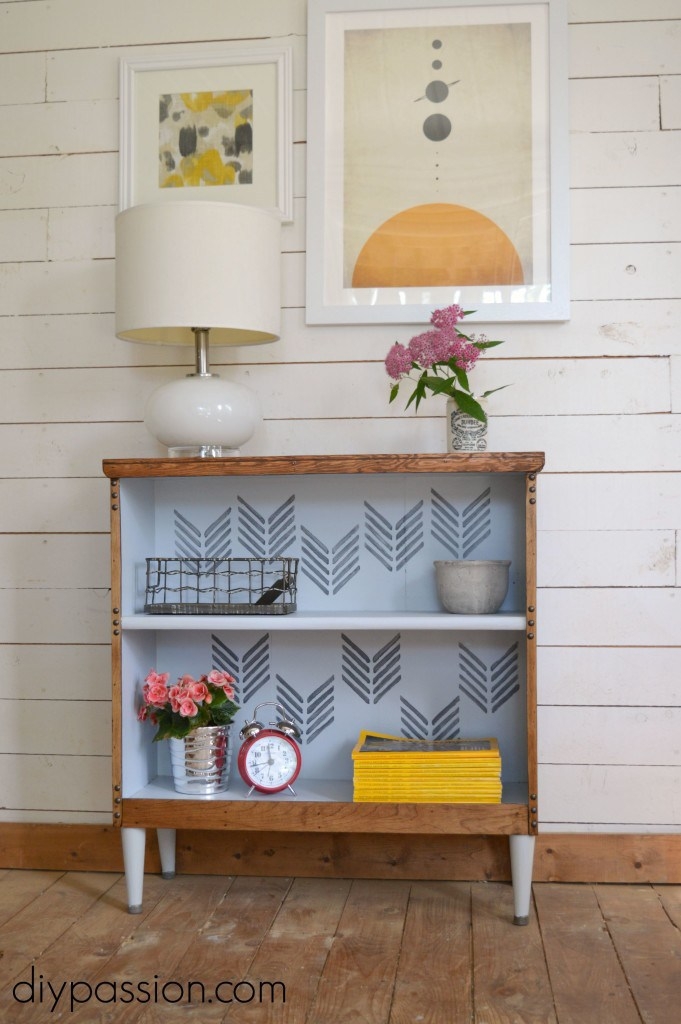 Hi everyone! It's Erin from over at DIY Passion and I'm thrilled to be over here at Brepurposed today with a sweet little project post. If you have a chance, check out the links at the bottom and visit or give us a follow on the ol' Instagram! Like Bre, I love a good furniture flip and I'm pretty handy with power tools 🙂
Alright, let's get to it. Today I'm sharing this Thrifted Bookshelf Makeover with you.
A while ago, I picked up this little pine bookshelf at the thrift store. Just to be clear it was FIVE DOLLARS!!
It started out this way.
I really liked the natural wood idea, but wasn't a fan of the dark red toned stain that was on the shelf. So the first thing I did was clean it thoroughly to get rid of the gross thrift store smell, and then I used my palm sander to strip the sides and the front bits of stain.
I used Frog Tape to protect the edges while I primed and painted the inside of the shelf. I used PARA Paints Carved Out Glacier as the main colour. I wanted something that wasn't quite white and wasn't quite blue. I actually really enjoy redoing furniture with latex paint – you can see all my tips here!
Once that was dry, I taped off the other side and restained the bare pine with Minwax Gel Stain in Aged Oak. It is much more in line with the wood tones we have running through the house.
Now for finishings 🙂 Enter – brass tacks and arrows. Literally 🙂
I used some basic brass upholstery nails to add detail to the sides of the shelf – and also to hide some of the nails that were peeking through the stained wood.
Then using a stencil I already had (Drifting Arrows from Cutting Edge Stencils), I added a pattern to the back of the shelf in a graphite grey. I just used basic acrylic craft paint for this part.
A couple of coats of Polycrylic sealant and she's brand new! I'm not sure I could love this makeover anymore.
It's going to go at the top of the stairs in the foyer. In fact, the sneak peek of the new accent wall is in the before shot! Squee! Can't wait to show you all the crazy details we managed to squeeze into the space (that isn't even really a space..)
But before we go, let's just reiterate that this bookshelf cost me FIVE DOLLARS 🙂 I heart thrift stores. Thrift stores? Will you marry me?
Thanks so much for reading our post on Brepurposed! If you're into furniture flips, you should check out our Harvest Table Makeover and our Before & After page that is full of dozens of furniture projects!
If you'd care to give me a follow, that'd be swell too!
DIY Passion on Instagram | DIY Passion on Facebook | DIY Passion on Pinterest
Thanks for having me Bre 🙂
– Erin