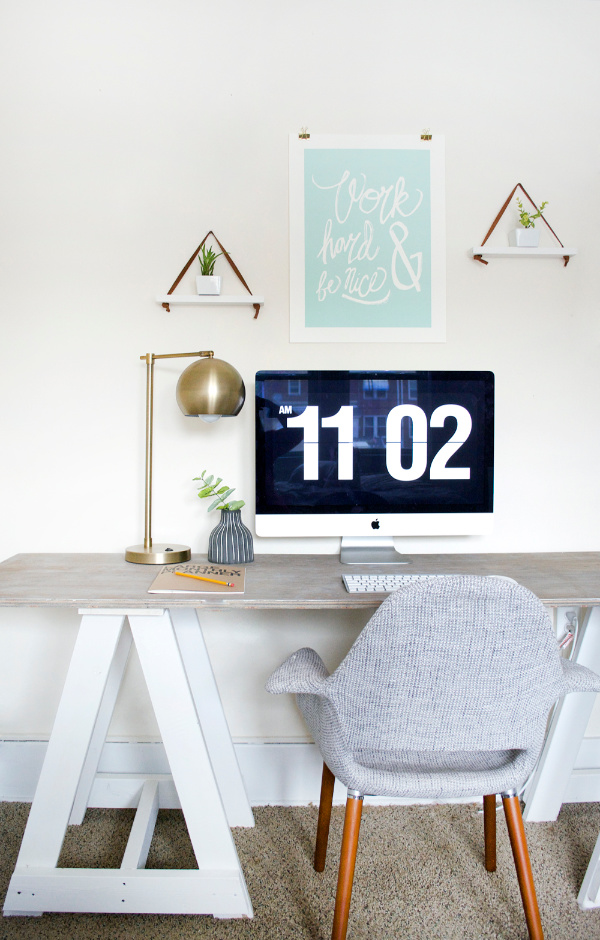 New year, new logo, new makeovers! Here's how it works; every month I get together with some fabulous furniture flippers and we all create a piece of furniture based on a certain theme. And this month is Shades of White. I thought I was going to have to bow out of this one, because painting furniture has really been the last thing I've been wanting to do lately with this giant belly. It's hard work to begin with, and even harder when you're 8.5 months preggers. But then I remembered I already had something I could share. The desk my hubby built me for my birthday!
DIY SAWHORSE DESK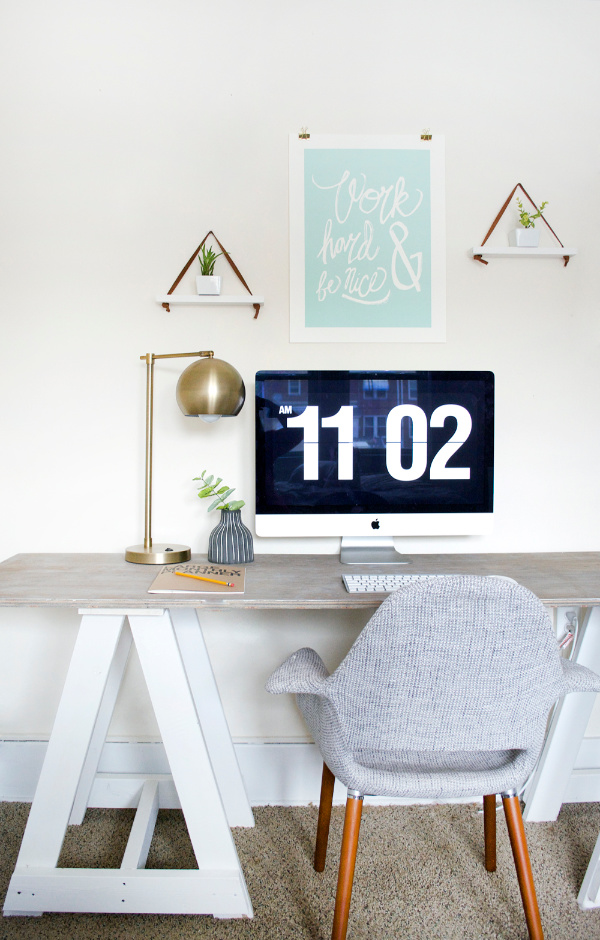 Now he's no blogger, so there aren't a ton of process pics. And he was trying to keep it somewhat secret, so he was building it at a friend's house. But once all the parts came home and I was deciding on finishes, I made sure we snapped some pics.
He built the sawhorse legs out of 2x4s and used a piece of 3/4″ thick plywood for the top. I have this perfect little nook in our spare bedroom where I'm making my little office space and I wanted the desk to fill most of that space, which is about 7.5 feet long.
---
WOOD
(all 2x4s except the top piece)
4 legs measuring 28″ long
2 cross bars measuring 21″ long
1 middle connector measuring 18″ long
1 top piece measuring 22″ x 7.25″ (3/4″ thick)
*note this is for one base
---
The legs were cut at an angle and then everything was nailed together and the above is what he brought home to me 🙂
Now if you know me, you know I am the absolute worst at making decisions. I couldn't decide how I wanted this thing finished. I spent hours on Pinterest looking at similar desks trying to figure out what looked best. One step at a time, I FINALLY decided I wanted the base to be painted white. So the hubs got to work again. This was his project. I wasn't doing any work 😉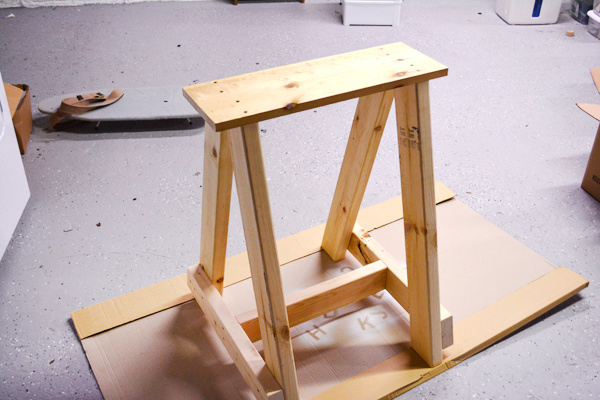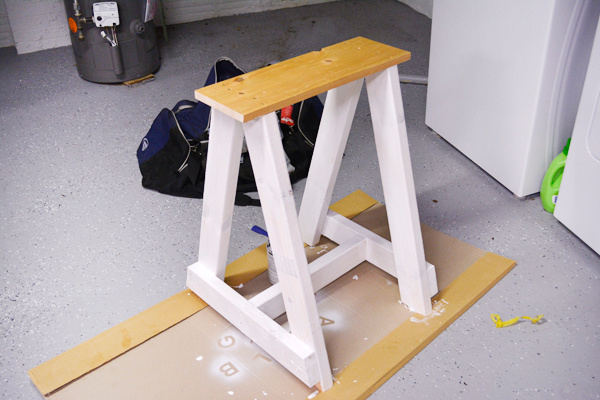 Once that was done it was time to figure out what I wanted for the top. We brought the bottom pieces outside and placed the top on so I could get a better idea of what it was looking like.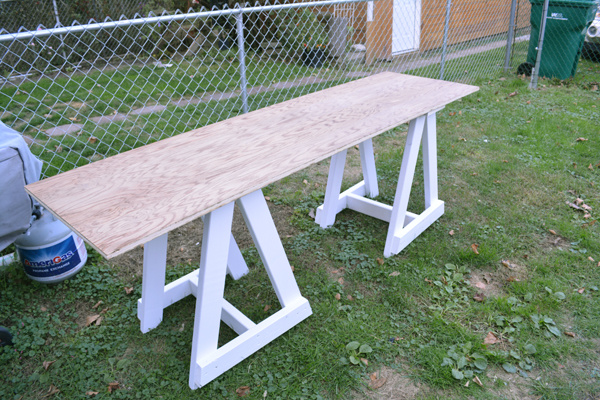 I seriously considered keeping the top raw wood, but being plywood it didn't really look all that great. So we started with a coat of a light colored stain. But it just wasn't doing it for me.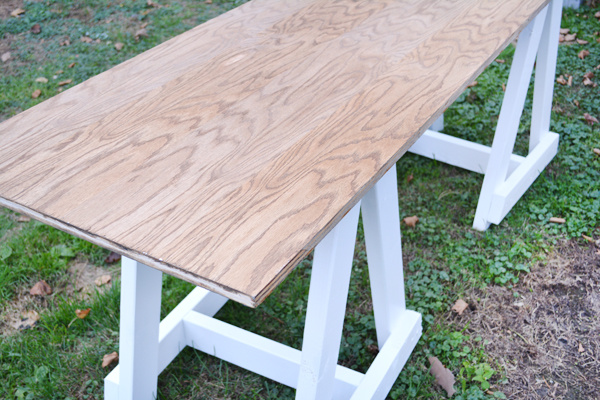 Way too light and not enough contrast with the bottom. So we brought in some white wash. I discovered this stuff as I was researching what type of finish I wanted. Usually I make my own white wash, but why do that when you can buy it already made?!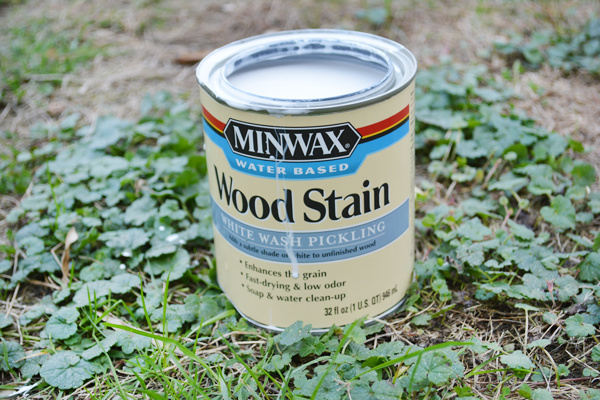 I was a little nervous as he was putting it on…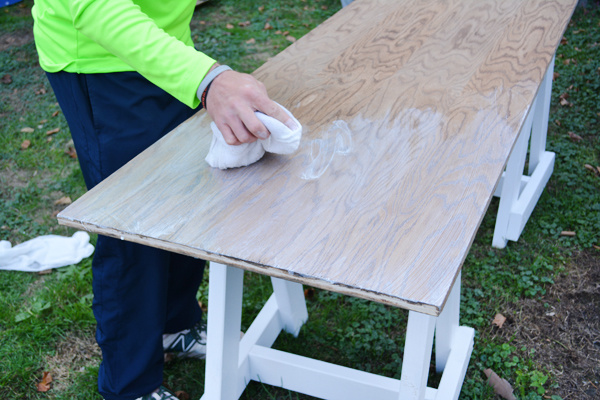 I'm sure he enjoyed me standing there, judging his technique and questioning how this was looking 😉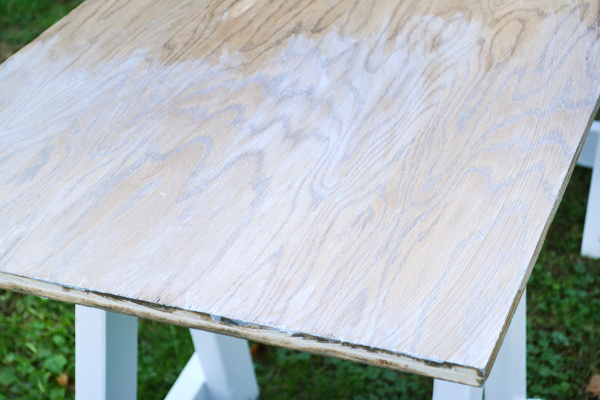 You don't want to leave this stuff on for too long. Make sure you pretty much wipe it off immediately. It will still give you that white washed look.
After that, I still wasn't happy. Now it felt washed out again and too close in color to the bottom. I literally stood outside staring at it forever trying to figure out what the heck I wanted. Told ya I'm bad at making decisions 😉
I liked the look of the white wash, but it needed to be more saturated. I think if we had started with a darker stain for the base then it would have been perfect. But we didn't. I had some Minwax Grey stain I never really had success with before. It never really did much for me and I never really liked the results. But I thought maybe putting a coat of that on top of the white wash would get it just where I wanted it.
Bingo.
It darkened it up just enough, while still maintaining the look of the white wash and giving it the perfect finish. Pretty sure the hubs wanted to punch me after all my indecisiveness, but he was a champ and I have to say I was pretty impressed with his DIY skills. He did an awesome job and I couldn't love it more. I loooove how big it is and all the space I have.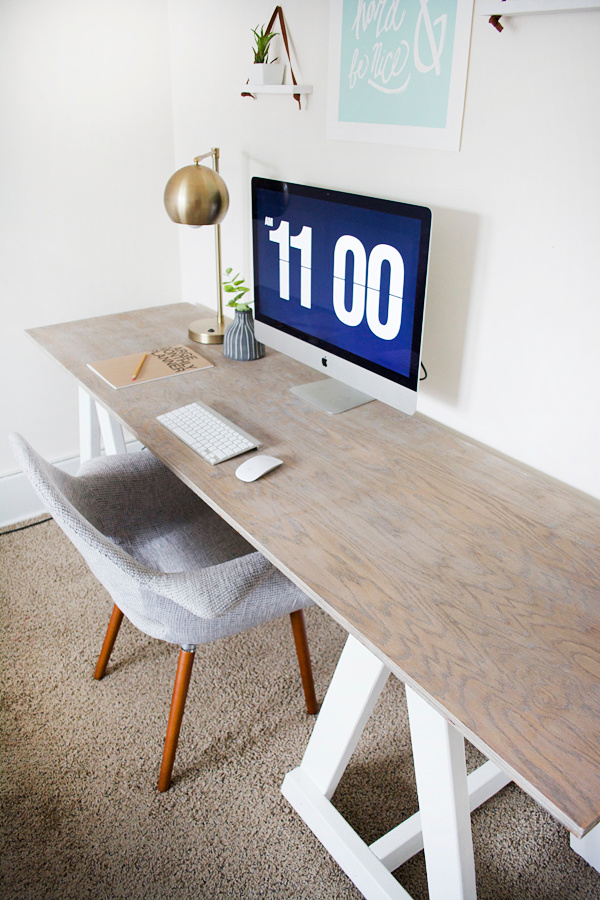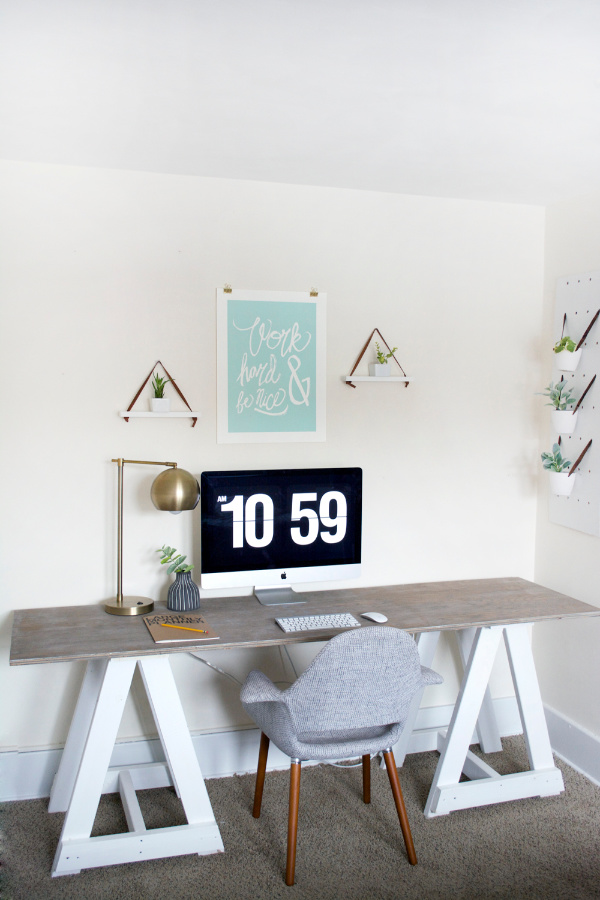 \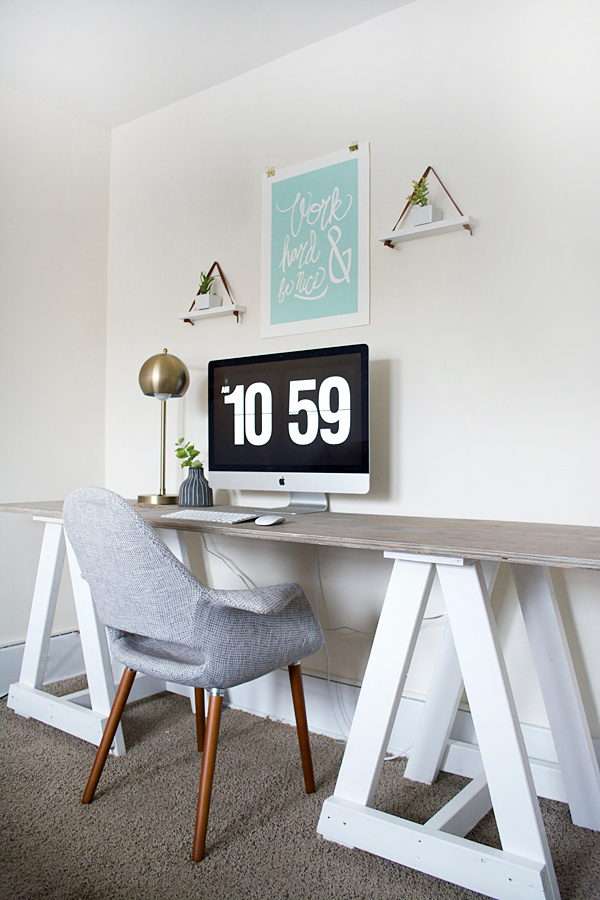 Now this is just a little peek into my office. I didn't want to give it all away quite yet 😉 I'll be sharing the full reveal next week!
And don't forget to check out all the other Shades of White makeovers below. Enjoy your weekend!