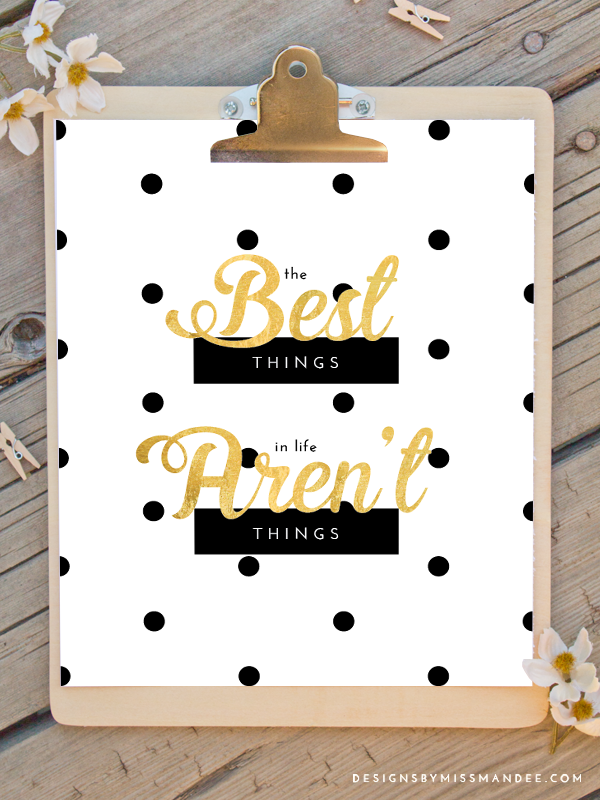 Hello hello! Mandee from Designs By Miss Mandee here to share today's Fab Freebie with you. So excited to be sharing my work on this amazing blog. Bre is on a vacation in Costa Rica, and asked me to create a printable for her lovely readers. I was hoping she was going to ask me to come with her to Costa Rica…(sigh) maybe next time. If you are a fan of free printables and lovely designs, you should be sure to hop on over to my blog when you get a minute—you won't be disappointed! I share new printables and downloads each week. Now, on to today's freebie: "The best things in life…"
Love this quote! I think it's a good reminder of what is NOT important in life—namely material possessions. Even though we often spend a lot of time thinking about the things we want and dwelling on what we can't afford (at least I hope I'm not the only one in this boat), those things aren't what really matter. Coveting is definitely one of the things I need to work on. I have so much to be grateful for, and I should focus on those things instead!
I hope you enjoy the fab freebie! Have an awesome weekend!
---
I love everything Mandee does so I knew I was going to love whatever she created for today's freebie! Don't forget to swing by her blog for more amazing graphics! Thanks again for helping me out!