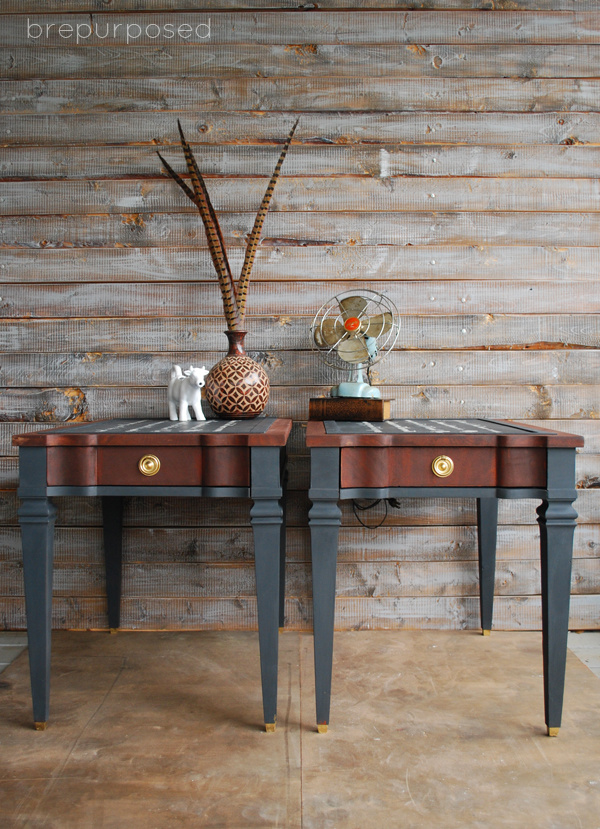 It's Themed Furniture Makeover Day again! I get so excited for this day every month and always look forward to what this super talented bunch of ladies have created. This month's theme was Words/Letters and it challenged me to do something I've never done before, which was fun 🙂
FRENCH SCRIPT TWO TONED END TABLES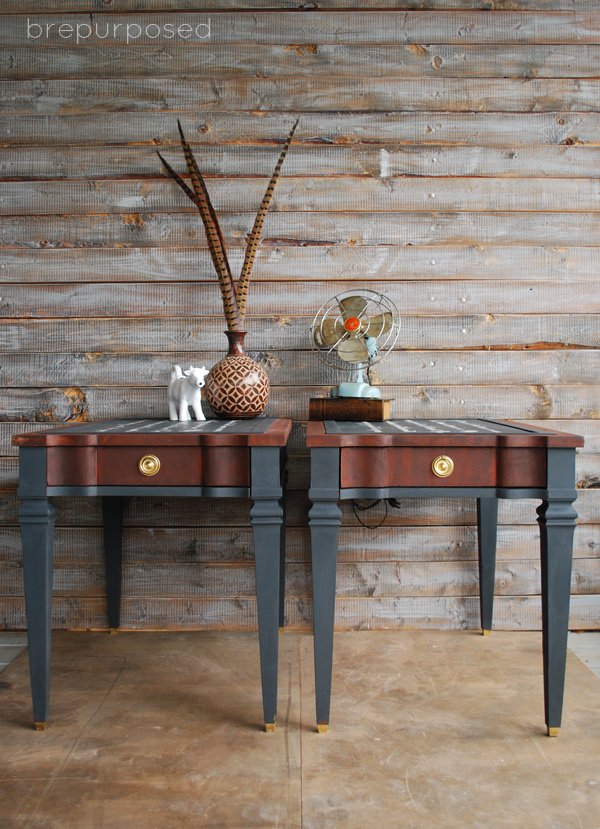 this post contains affiliate links
These were picked up by my parents for me at an antique show this summer and I was super excited to work on some matching tables again!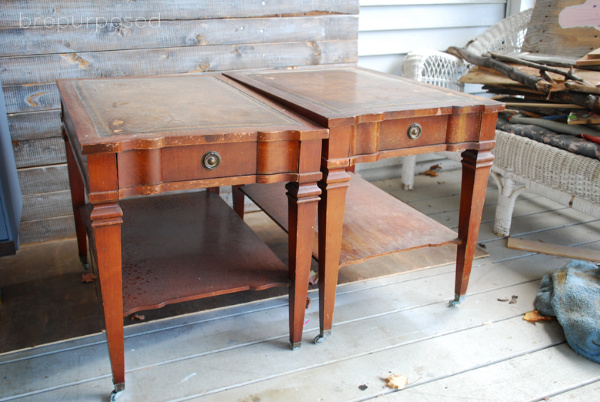 As you can see, the tops were covered in some worn out leather that needed to go. I tackled this first by sanding it off with my orbital sander. Unfortunately, the edges, where there was a lot of glue, were being quite stubborn and didn't want to come off as easily as the rest of it. Grrr.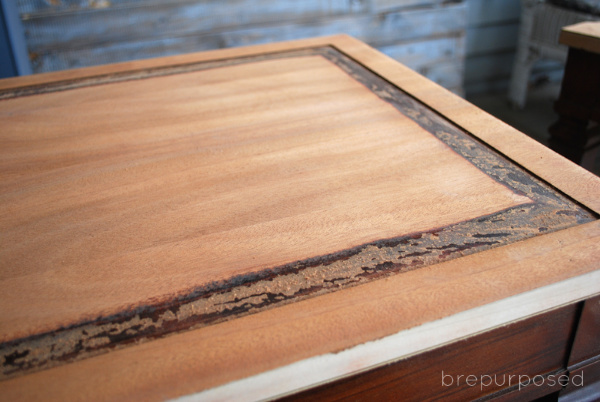 I wasn't quite sure what I was going to do with it so I avoided it and worked on the rest first 🙂 I used some Gel Stain on the top edge and the drawers.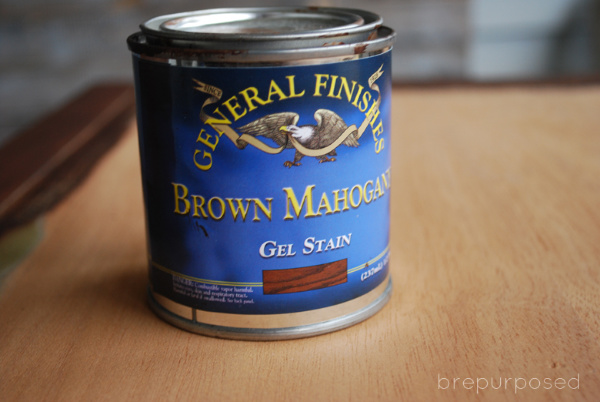 After that, I needed to fill in some deep holes in the legs. If you remember in the "before" image, these tables had a shelf on the bottom. No more! I just wasn't feeling it, so away it went 🙂 These actually weren't as big of a pain as I thought they were going to be.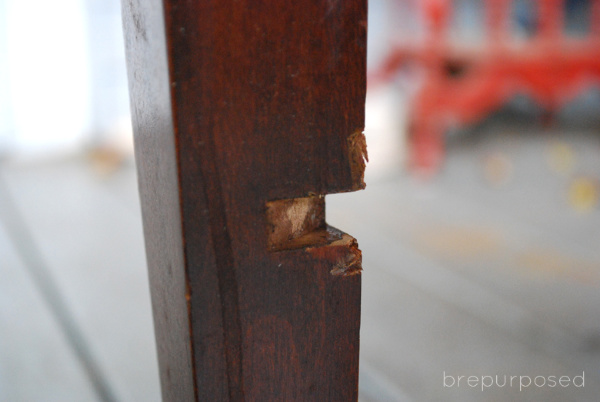 I used this awesome new wood filler I found that starts purple and turns white when it dries. Stuff's awesome. It only took me two cycles of applying and sanding before I got a smooth surface. Definitely recommend it!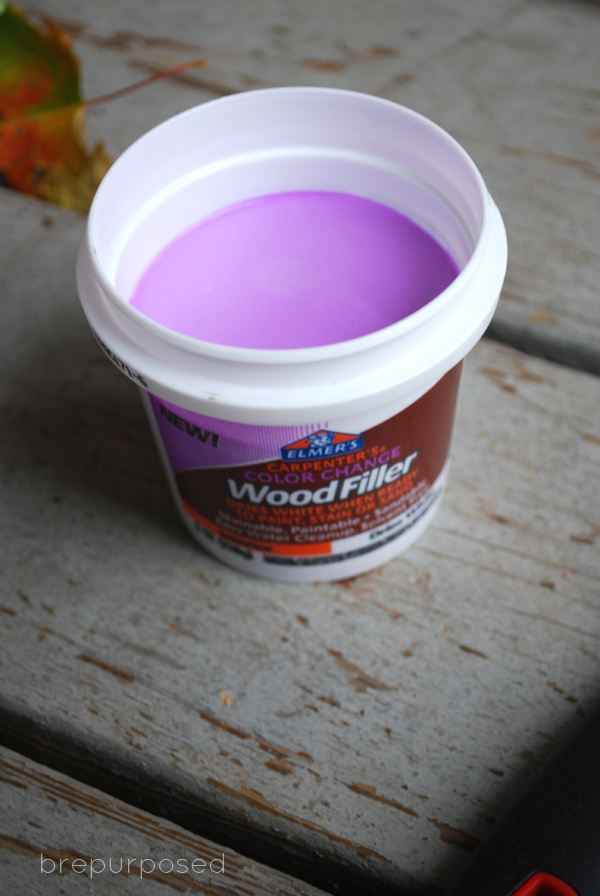 Once that was done, I painted the table in Annie Sloan Decorative Paint® in Graphite and then applied my stencil.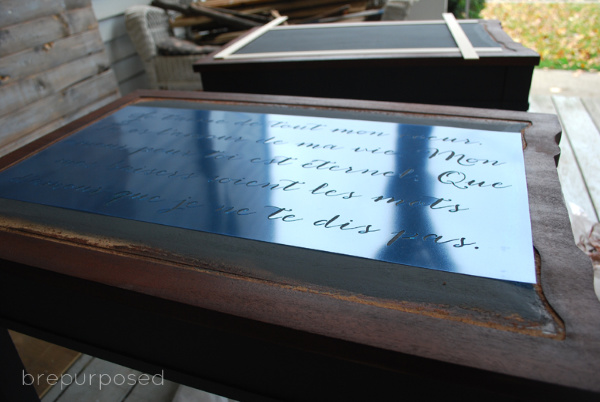 My stencil is from this Etsy shop and the translation is:
"I love you with all my heart. You're the love of my life. My love for you is eternal. Let my kisses be words of love that I don't say."
Five years of French and all I could make out was I love you. Guess I should have paid more attention in class hehe.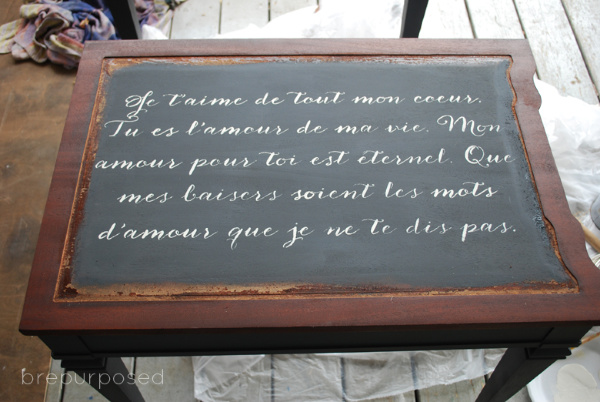 Now for those edges…I decided to just paint over them and see how it would look.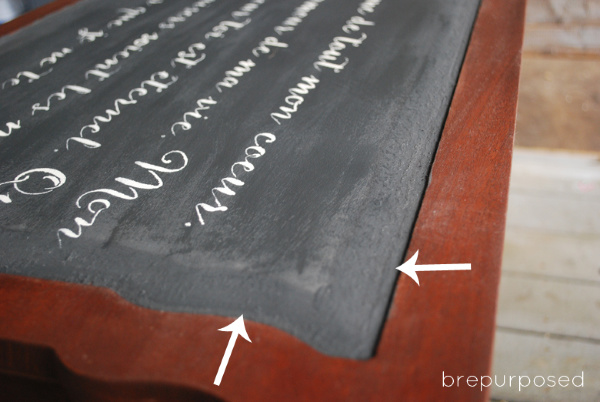 I don't know if it was just because there was still some residue left over or what, but it was a slightly different shade then the rest of the table. To be honest, I probably could have left it as is and it would have just looked like an affect around the words but it really bothered me.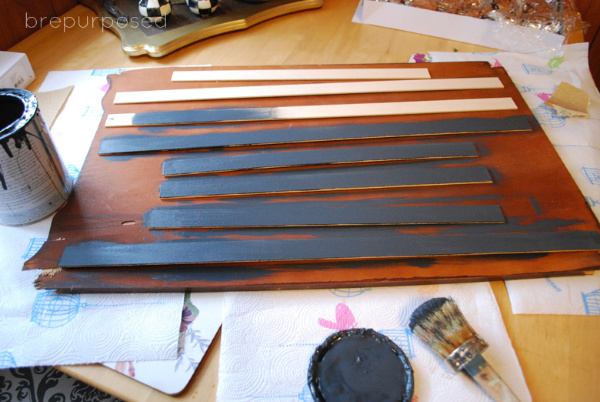 I picked up some strips of plywood from Hobby Lobby, cut them to size and painted them in the Graphite to use as a frame around the words. Problem solved!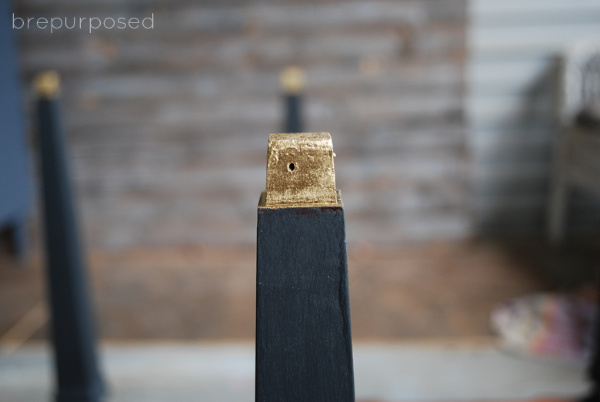 Final touch was spray painting the ends of the legs gold. There were originally wheels on them, but one leg was missing a wheel so I decided to just take them all off.
I think this is the first piece that I've left the original hardware on. I gave it a fresh coat of gold spray paint but they just fit so well with the tables I couldn't bare replacing them.
The tables are sealed with clear wax where they were painted, and a flat top coat where I used the gel stain.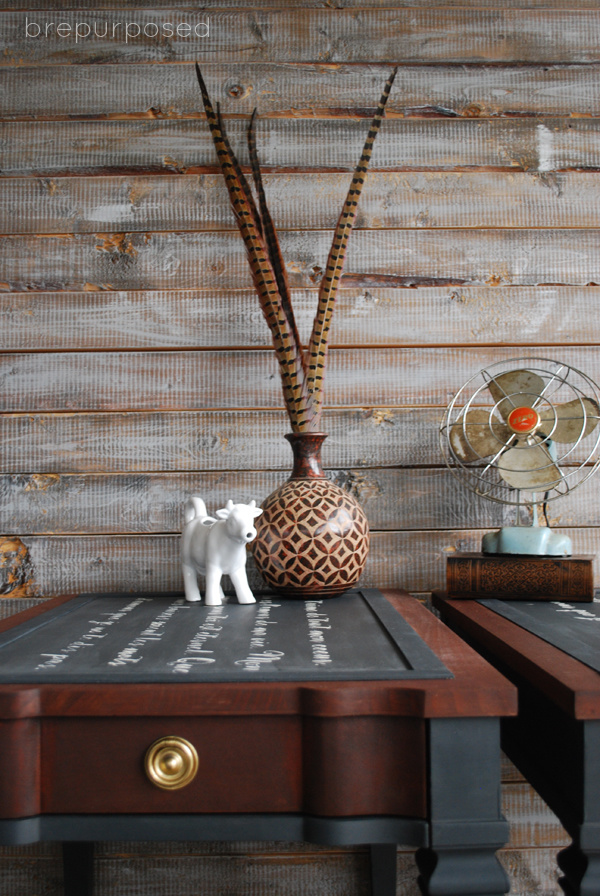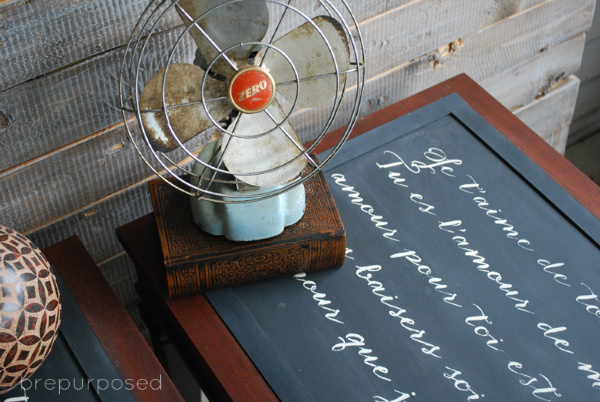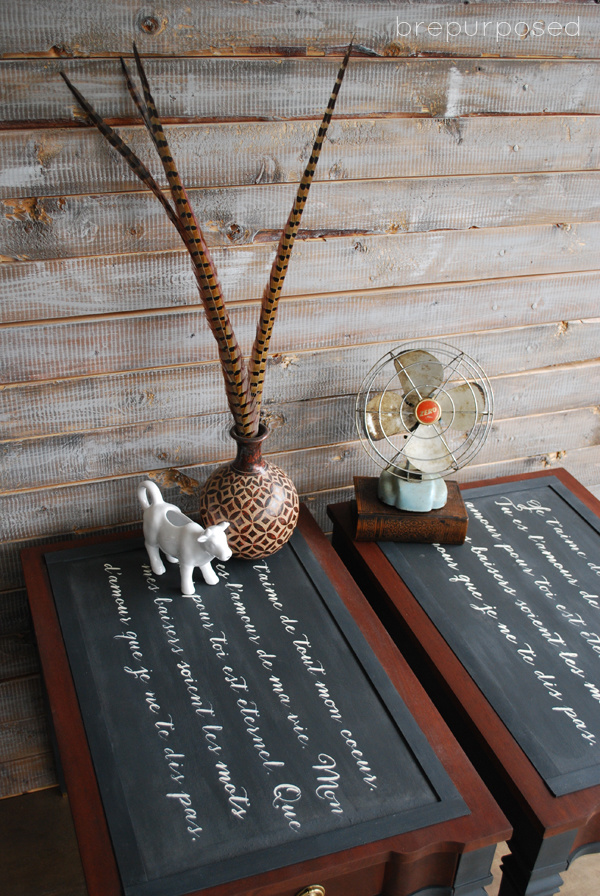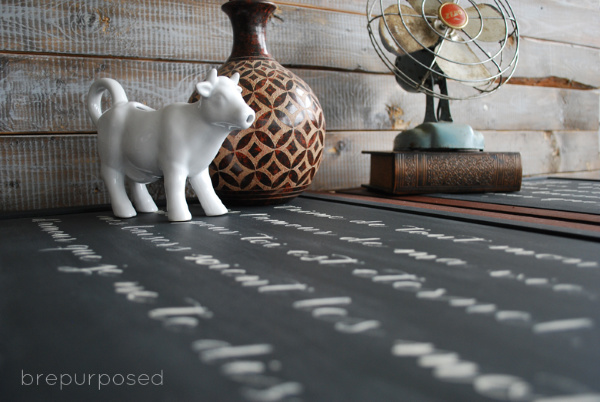 I'm also really excited about some recent additions to my staging accessories 🙂 I got those pheasant feathers at an antique show when I was home a couple weekends ago. I'm obsessed. And that fan! I've been hunting for one for a while now and was PUMPED when I finally spotted one. #happygirl
This was my first time using words on a piece of furniture like this. What do you think?! Have you used stencils or words/letters before? Where are some good places to buy your favorite stencils?
Be sure to check out all the other fabulous projects below! Have a wonderful day my friends!
[inlinkz_linkup id=457245 mode=1]