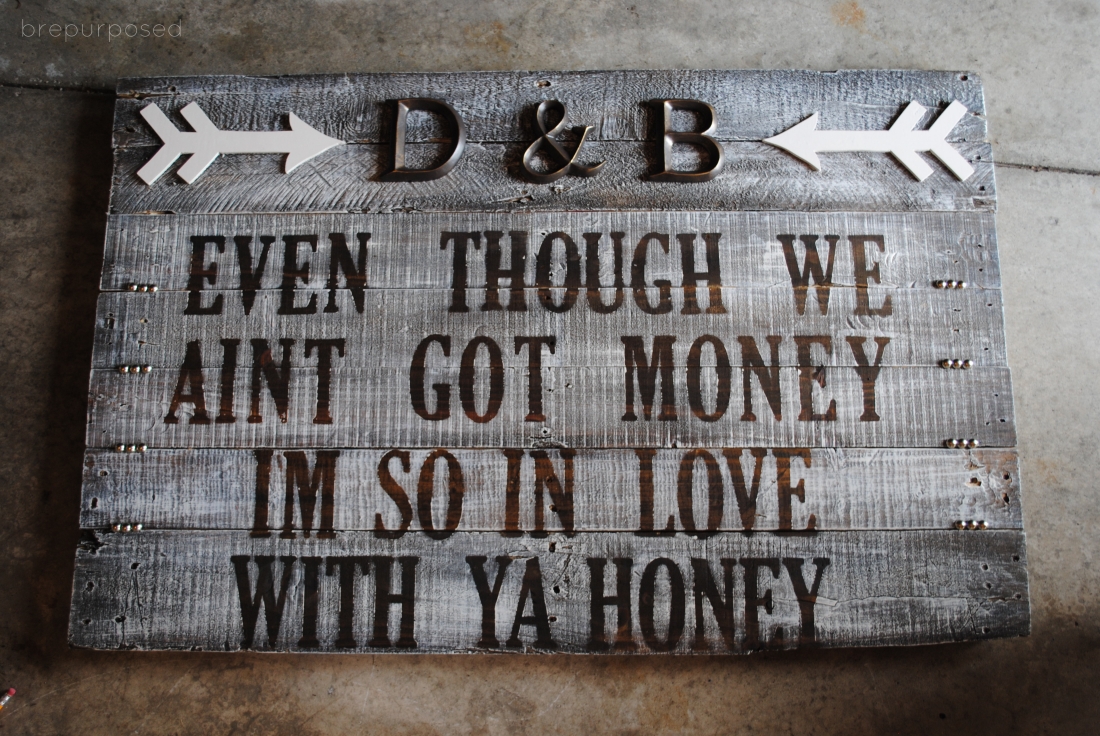 I guess this week is all about love and marriage! As you know, me and the hubbers celebrated our one year anniversary this past weekend and on Monday I shared a little look back on our big day.
Today I'm here to share with you my present that I made for him. We went out to dinner last night which was phenom. I'm still drooling over the dessert we had. Grilled watermelon with green tea ice cream and a basil reduction. Unreal. We're also going to take a little trip in August, but I wanted to make a little something too. And of course it was brepurposed 😉
This was a pretty last minute idea and it turned out even better than I imagined in my head. Our first dance song at our wedding was Danny's Song by Kenny Loggins and Jim Messina and this lyric has kind of turned into our little saying 🙂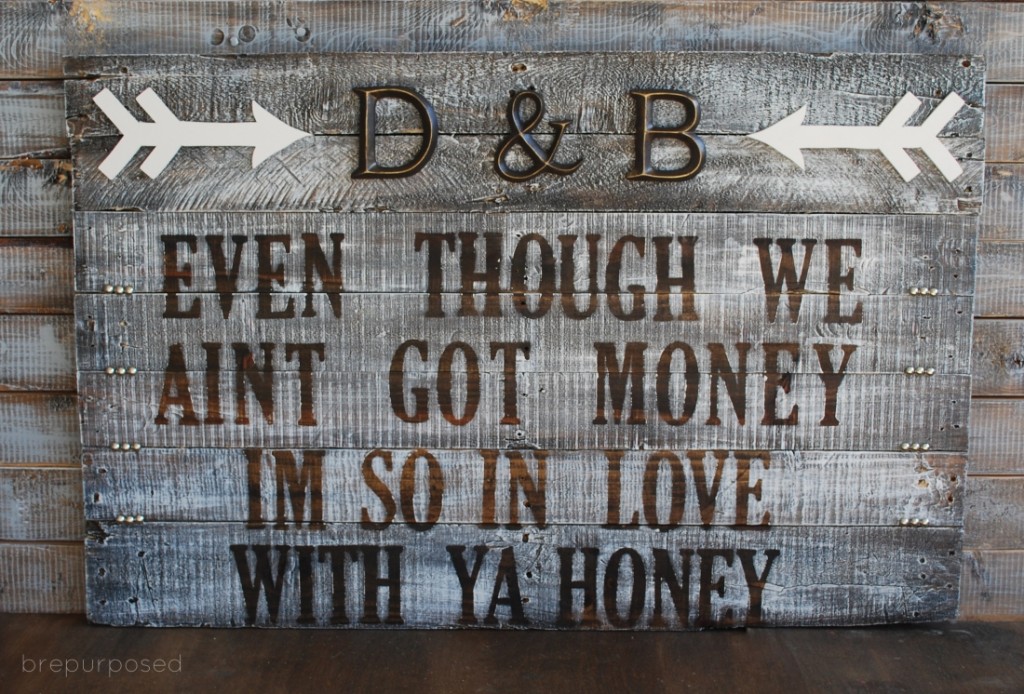 this post contains affiliate links
I used the pallet wood that I had originally planned to use for my backdrop and pretty much used the same technique as well. I wasn't quite sure how I was going to approach doing the letters but knew I wasn't going to free hand it. It would have looked atrocious; trust me 😉
My Dad helped me put this together while I was home for the weekend and simply glued the boards together and then screwed a frame on the back for easy hanging and support.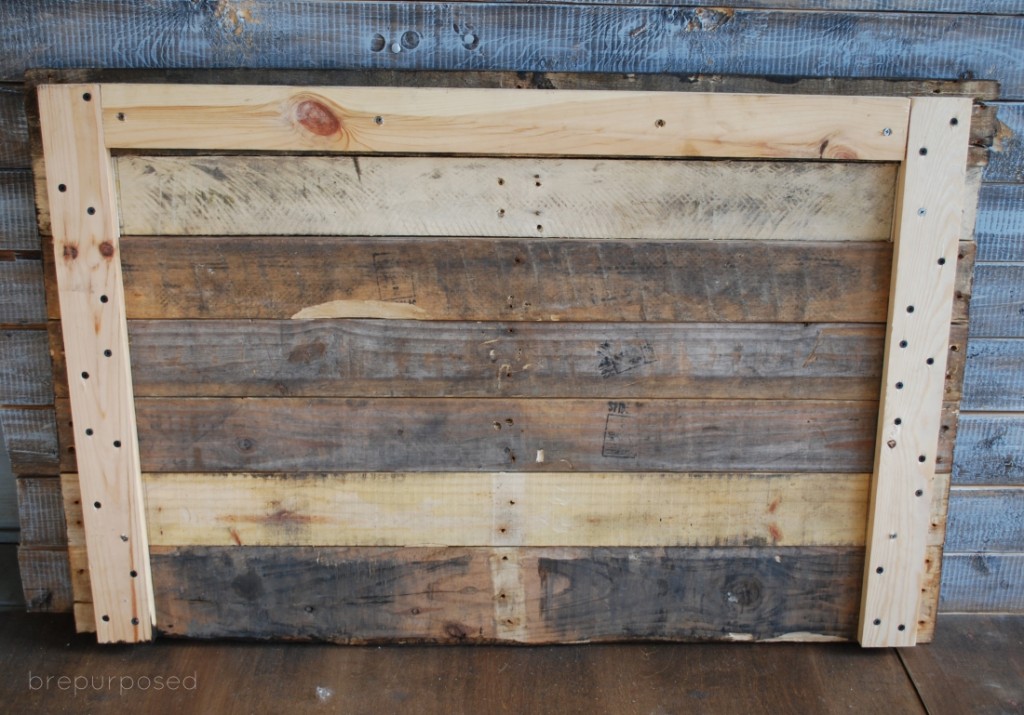 The boards got a light sanding and then I stained them using Minwax's Dark Walnut. I found some stickers at Hobby Lobby that were the perfect size and I laid them down in place.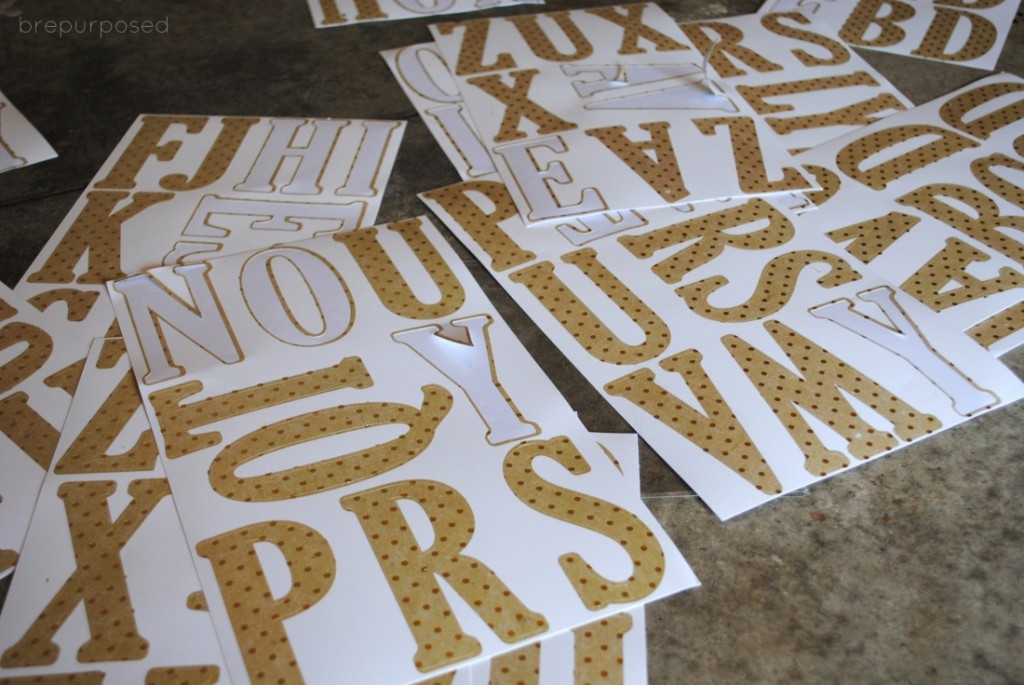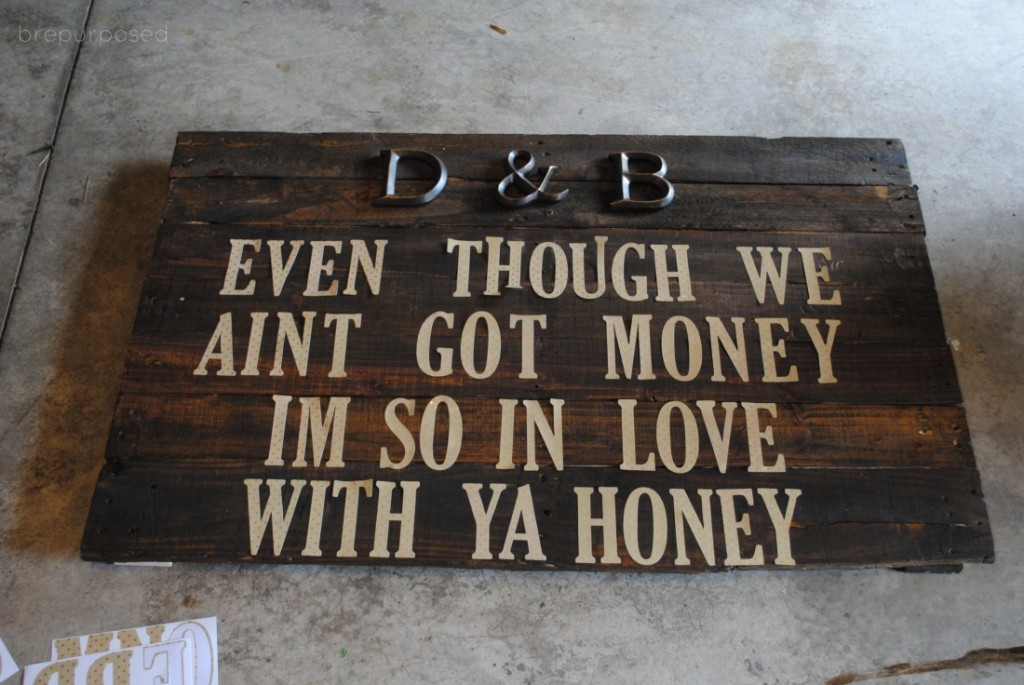 I also found those awesome "D" and "B" letters at Hobby Lobby and I love how they add a little dimension to the sign.
Next up was the paint. I made sure all the letters were sticking to the boards and used the white wash effect with very little paint on my brush.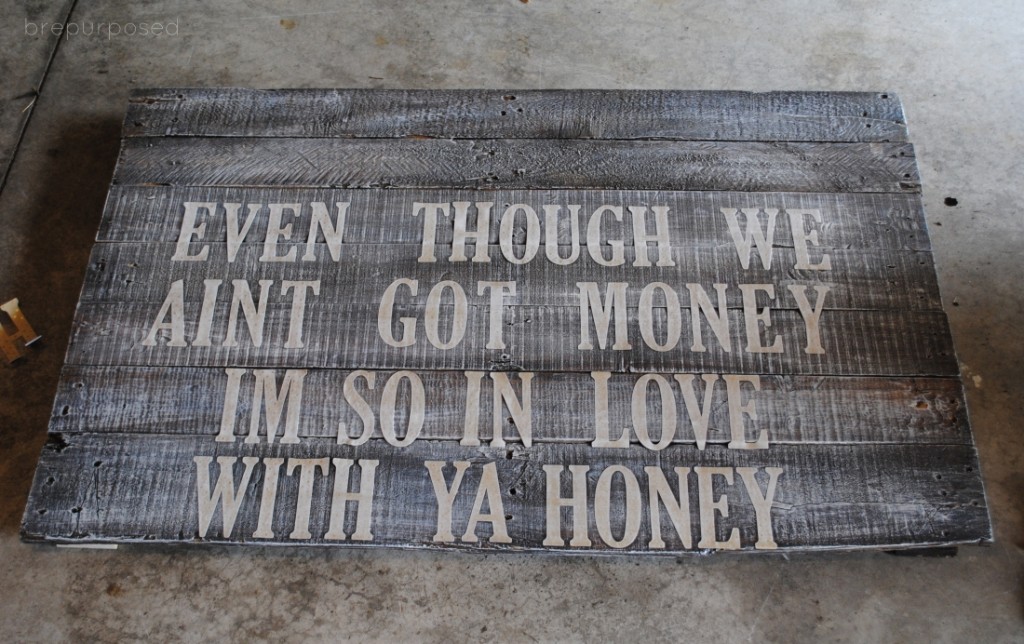 Once that was done, I just peeled off the letters and was left with that beautiful stain showing through!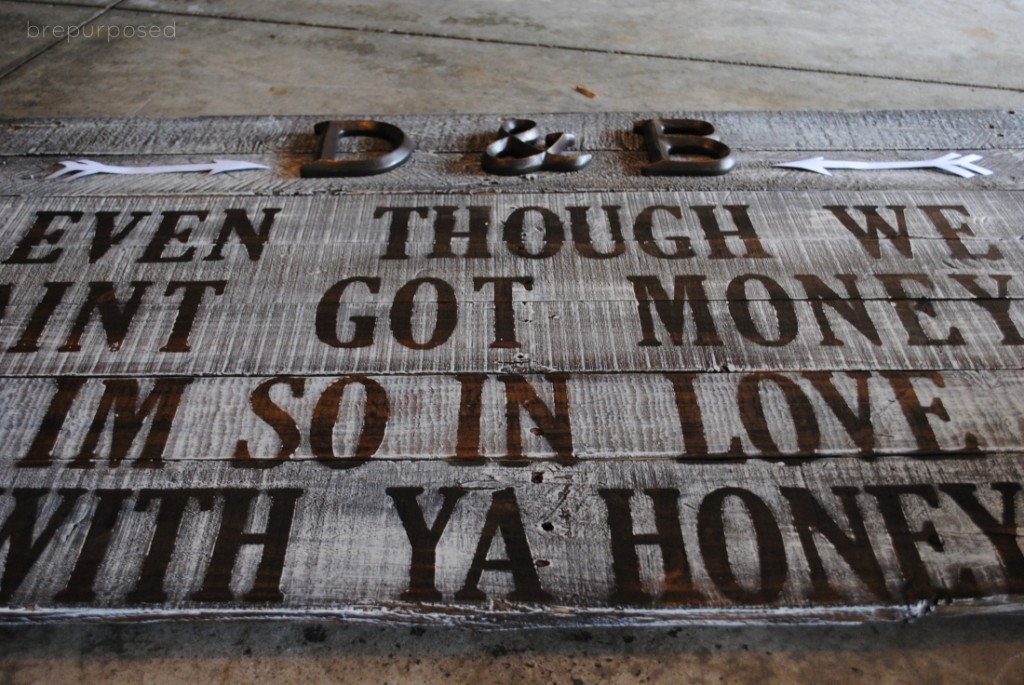 I wanted to add something extra to it and love the use of arrows in home decor lately. I found one online I liked and adjusted it slightly to fit my sign and printed it off the computer. I was originally going to paint them on but wanted something with cleaner edges and a little depth.
My dad helped me big time on this and cut them out of some plywood using a band saw. I think he surprised himself with how well they turned out; they were perfect! I painted them white and glued them on using some epoxy. Final touch was some nail head accents on the sides.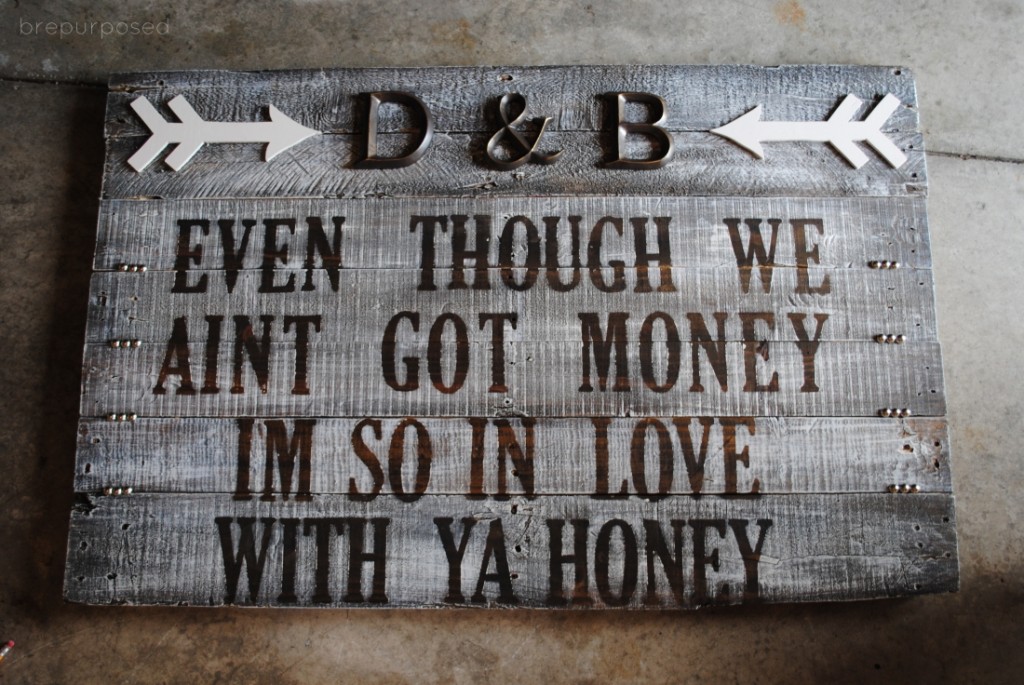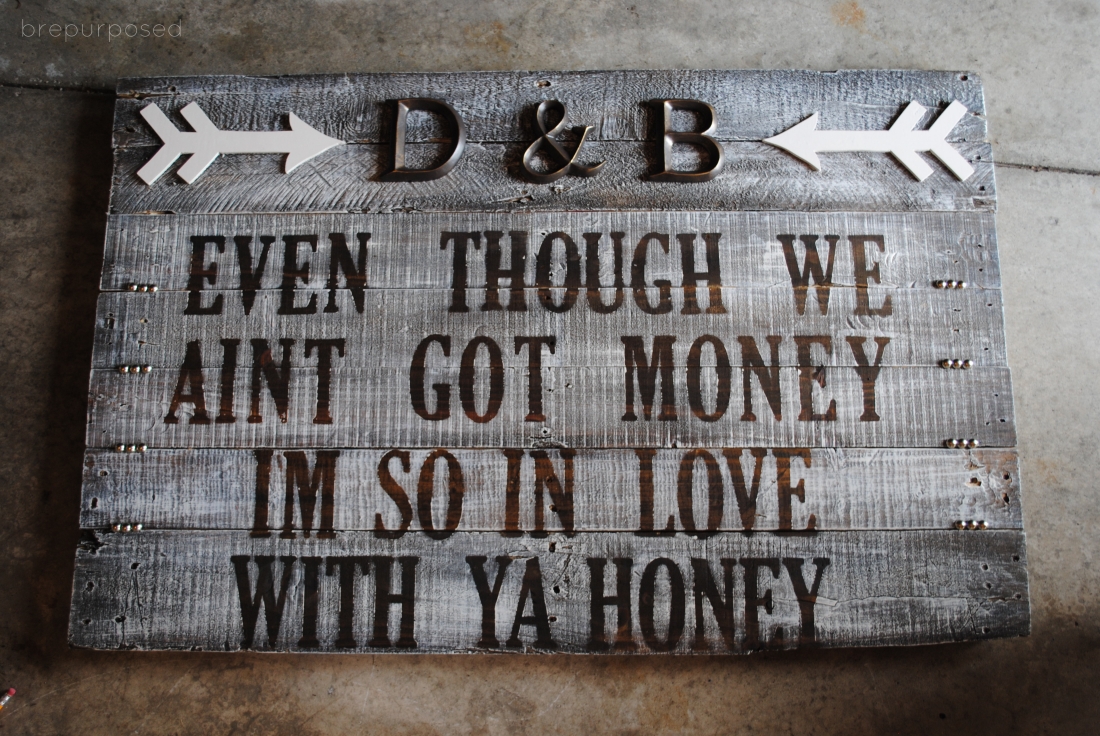 I'm not sure where we're going to hang this yet but all that matters is that the hubbers loves it. And I get some new wall swag 😉 That's a win win!
What was your first dance song? I'd love to know! Have a fabulous day everyone!