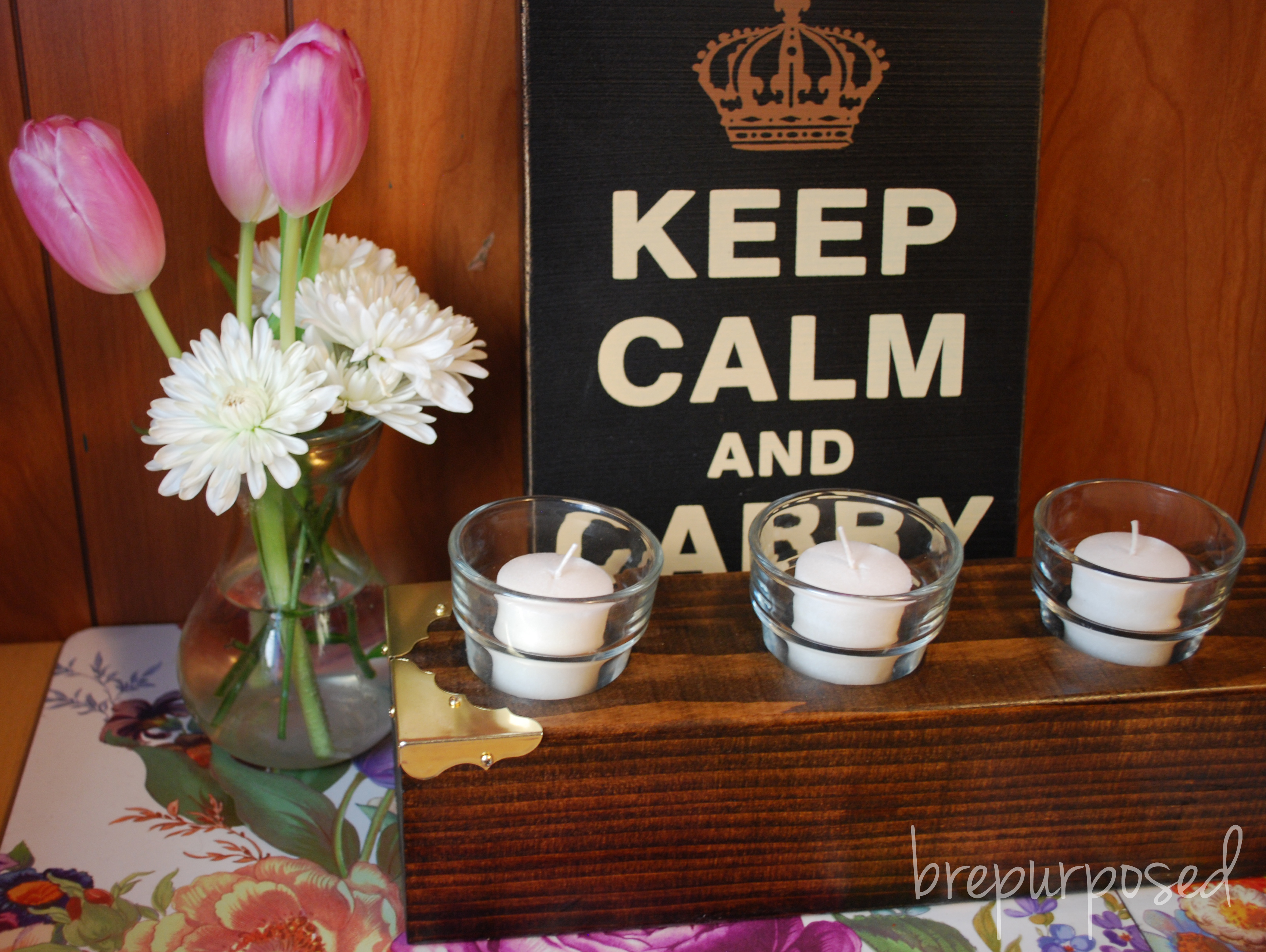 As I was browsing the web the other day I came across a site called Dot & Bo. This was my first time hearing of it, but some of the items they sold caught my eye. They're a flash sale site that sells home furnishings and decor and have a daily deal and various themed collections. Essentially an Ideeli or Haute Look but for home items. After doing some research on them, I read a couple negative comments stating that they sell cheap knockoffs of original furniture, but I'm not sure how true that is. Either way, they have some fun stuff and I got inspired by one of their pieces.
The fact that someone would pay $98.00 retail or even $69.99 on sale for a slab of wood with holes in it is beyond me. I mean, does this thing even come with the candles?! As soon as I saw this Decorative Votive Centerpiece, I knew I wanted to recreate it. I even pizazzed it up a bit with some gold corner braces. Take a look: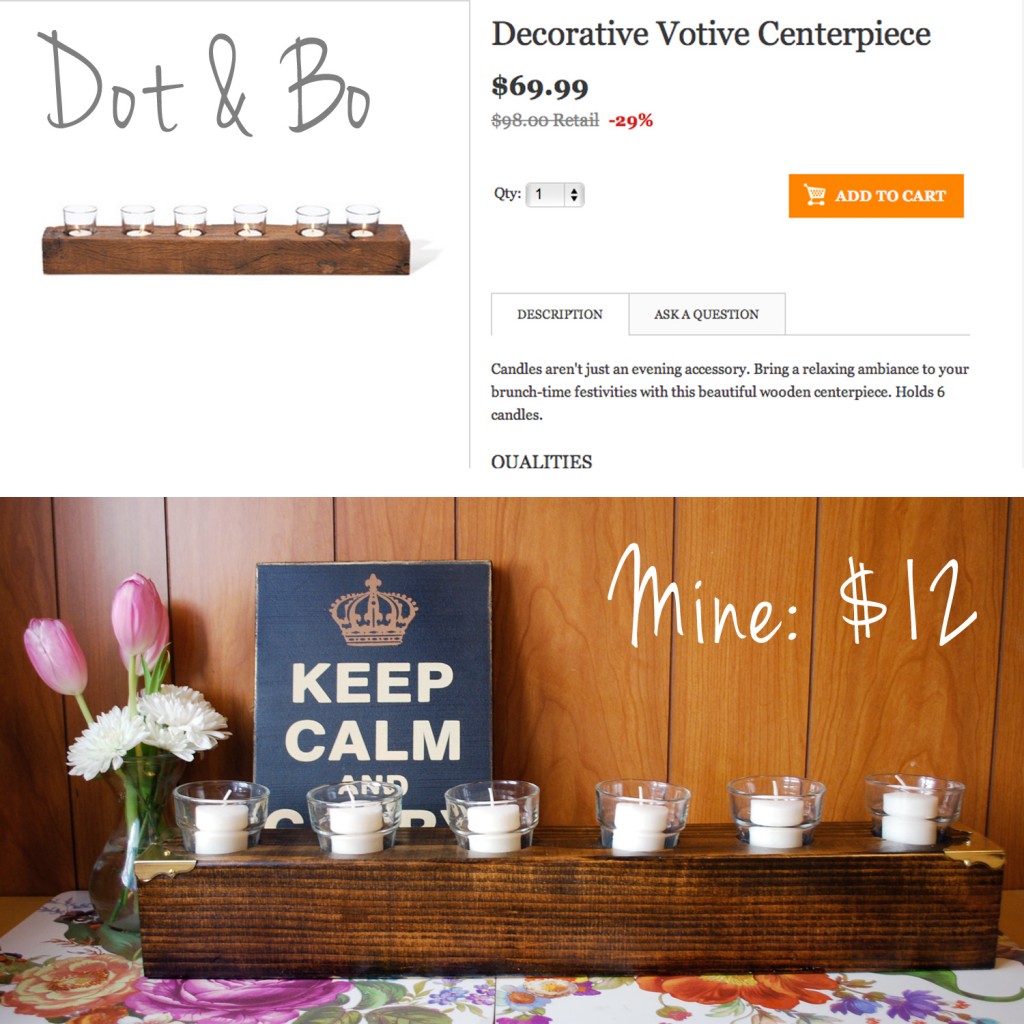 So here's what you need.
–> 24″ W x 3.5″D x 3.5″H piece of wood
–> Candles and Votives
–> Stain and Polyurethane
–> Gold Corner Braces (found here) (optional)
Tools:
–> 2.5 inch Forstner Bit
Things started out a bit rocky with this project. I went to Home Depot first to look for some wood and showed the guy what I wanted to make. He brought me over to the pre-treated pine which looked great to me and I asked if I could stain this right away. He called another guy over and he said I needed to let it dry out a bit first and to just bring it inside for a day or two and I needed to use outdoor stain. No minwax? Ugh. Ok whatever, sounds good. I really only wanted 2 feet of this wood but it came in 8 foot long pieces. I played nice and told the guy I would take half of it for half the price. He agreed, but then ended up throwing in the whole thing and I only paid $2.50 for it (originally $8 or something like that). Deal! I was pumped. I had forgotten some screws or something that I needed for another project on my way home, so I stopped at a local hardware store. I figured I'd ask a second opinion about staining this pressure treated wood. The guy looked at me like I was crazy, with those big cartoon popping out eyes. He told me you usually have to wait months before staining that kind of wood, but a test I could do was drop some water on it and if it soaks it up, you can stain. If it beads up on the top, it's still too wet. Well either way, I wasn't too upset because I only paid $2.50 for my wood. But I'm impatient and wanted to make my centerpiece that weekend.
I texted my brother and gave him the deets of my situation. He didn't know too much about staining pressure treated wood but told me I was better off going to a lumber yard and looking for something there. Along my thrifting journey the next day, I stopped at Kraft Lumber and met some fine old gentlemen. Pretty sure they knew I had no idea what I was really looking for, but they hooked me up! Usually what they gave me would have been super expensive, but they had a scrap piece that was crooked that they were able to cut a straight piece from for me. It was a beautiful piece of Douglas Fir. I waited patiently as one old guy yelled to the other, "Hey Johnny! How much you want for this?" "Ehhhh, let's say $3." (little victories!) And they threw in some foam brushes for free. Things were looking up.
Now that I had my wood, I needed to figure out how to drill my holes. I originally thought I could use a Spade Bit, but they only run up to 1 1/2 inches. The votives I got needed a 2 1/2 inch diameter hole. After trying a Hole Saw, and almost twisting my arm off and getting nowhere, I turned to google and read about Forstner Bits. Some people said you should really use them with a drill press, which I don't have so I was a little nervous. I have to thank my friend Adam for the help on this. He went out and bought a whole kit of Forstner Bits, just so I had what I needed. He loves tools more than anyone I know and was just excited to add these to his collection. Although, I'm sure his fiance wasn't too happy about it, sorry Brittany!
It actually came in handy having that original wood I bought because I ended up using it to practice on before drilling my final holes. Make sure you have something laid down underneath your wood if you're like us and did this inside in our kitchen. This bit makes a big mess with the excess wood that looks like giant pencil shavings. Great for a hamster cage, bad for your dog… Here's some of the practice holes:
Once I got the hang of it, I marked up the wood where I wanted to drill my holes. With a 2 foot long piece, I started 2 inches in from the end and made a mark every 4 inches.
Time to drill! Aren't my jammies sexy??
The key to using this kind of bit, is making sure you keep the drill straight. Hence, why using it on a drill press would be much easier, but it worked very smoothly and gave me clean holes. The wood was already very smooth, but I gave it a quick sand around the edges and holes and then I was ready to stain.
I love the pattern the wood has and the contrast of the dark and light. Gorgeous! Uploading this picture is making me really want cake now…I really need to put my wedding crafts in storage.
After letting the stain dry overnight, I applied a coat of Polyurethane. Once that was dry, I was ready to add my corner braces which I found at home depot (see above link) and they come in a pack of 4.
Voila! So let's see. I paid $3 for my wood, $.50/piece for the candles and votives, $2.98 for my corner braces and I already had my stain and poly. For a grand total of….$12!! I'll take that over $69.99 any day! The great thing about this too is that you can use it for flowers! I bet succulents would look phenom in there as well. So many possibilities!